Green Bay Packers: Rookie Predictions for Training Camp and the 2012 Season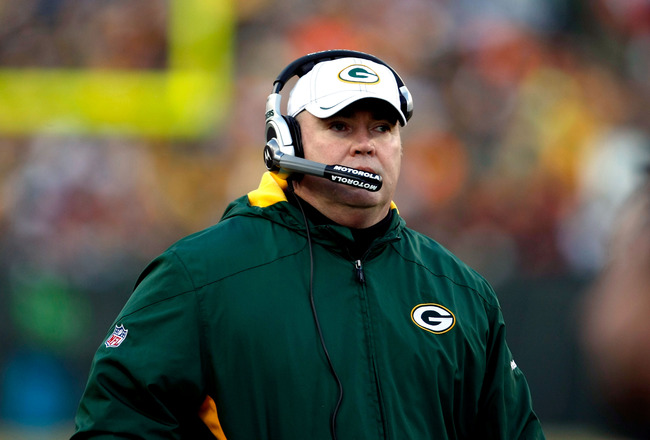 Scott Boehm/Getty Images
As is usually the case the last few years, the Green Bay Packers had an outstanding draft.
In 2011, they focused on the offense, getting wide receiver, running back and offensive line depth. In 2012, they flipped the script and went nearly all defense.
It's no wonder—after all, the defense collapsed last year and needs improving.
The keys are here thanks to Ted Thompson—now it's up to Mike McCarthy to make them fit.
Nick Perry, OLB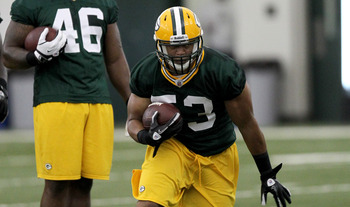 Mike McGinnis/Getty Images
Nick Perry was a defensive end at USC, and there was early concern he may not move to outside linebacker if asked to.
That didn't happen, and he has happily moved across from fellow Trojan Clay Matthews to form what could be an incredibly productive linebacker corps.
He needs to be able to perform, though, and fairly quickly. This is a defense which desperately needs a better pass-rush, and an effective Perry will not only improve that on his own, but by freeing up Matthews a bit by pulling coverage away from him.
I expect to see a few rough edges on Perry in training camp and to start the season, but am a true believer that he will have a very solid rookie season for the Pack and a long, productive career in Green Bay.
Jerel Worthy, DE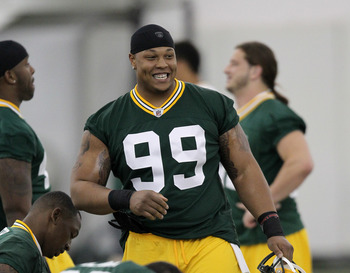 Mike McGinnis/Getty Images
As important as Nick Perry is to the linebackers, Jerel Worthy could be to the defensive line.
Worthy played tackle in college, but a lot of the tape I saw on him showed him getting into the backfield nonetheless. Moving him to end makes a lot of sense—it can be tough for a tackle to get into the backfield (depending on scheme), but move him to end and you can take advantage of his burst and explosiveness on every down.
With Anthony Hargrove suspended for a huge chunk of season, Worthy will have to step it up quicker than expected.
Like Perry, I expect some rough spots but a largely successful training camp and solid year in 2012.
I'm not expecting Defensive Rookie of the Year numbers, but solid production which, again, as with Perry, will help the entire defense as a whole.
Casey Heyward, CB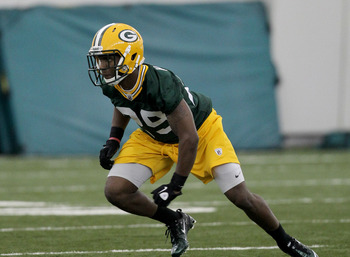 Mike McGinnis/Getty Images
Casey Hayward is an instinctive corner with tremendous ball skills and a knack for making plays. That said, he can be slow to react at times, which is a problem, as he has a tendency to play too far off the receiver, but also lacks the speed to recover.
It's going to take time with Hayward, which is fine since Charles Woodson and Tramon Williams are in front of him.
In fact, it's almost a perfect situation. While he won't get a ton of starter snaps in camp, he will get an education from the guys ahead of him.
While I don't see him standing out during training camp (in part because he'll be so buried on the depth chart), I expect steady progress all season long whenever he gets a chance to be in the game.
By the time they need him when Woodson retires or moves permanently to safety, Hayward will have been prepared very thoroughly.
Mike Daniels, DE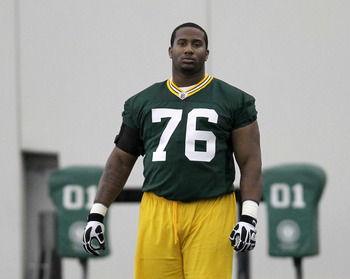 Mike McGinnis/Getty Images
Daniels is still buried on the depth chart despite Anthony Hargrove and Mike Neal's suspension, but could sneak in more playing time than he would have otherwise if they were in the lineup week in and week out.
He's a bit undersized and can get swallowed up by bigger linemen and get lost in double teams, but given the talent around him, he probably won't see a lot of those.
That allows him to use his speed off the snap and cause some trouble while the attention is elsewhere.
He's unlikely to ever be a marque, All-Pro starter, but he can develop into a very solid starter at some point in the near future.
Expect a quiet training camp and a mellow season—with flashes of upside, we'll see come to fruition down the road.
Jeron McMillian, S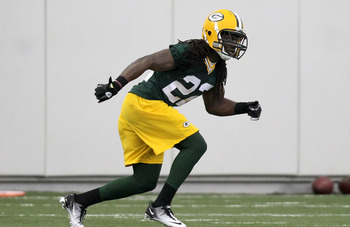 Mike McGinnis/Getty Images
For a guy who was a compensatory pick in the late fourth round, McMillian could quickly find himself regularly in the lineup.
He's got the size and speed to be a factor and is a physical presence in the run game.
That's vital and could be the tipping point as he battles veteran Charlie Peprah (not the most physical guy and someone who was burned in coverage a lot in 2011) and MD Jennings, who has looked great in spring practices, but may not have enough of the rawness of his game shaved off.
Someone will fill the void left by Nick Collins, and McMillian could do it with a good camp.
My prediction is he has a good camp, but ends up on the bench to start the year behind Peprah. However, as the season progresses, I expect McMillian to get more and more playing time as Peprah continues to struggle in coverage—until the rookie ends up with the starting job by season's end.
Terrell Manning, ILB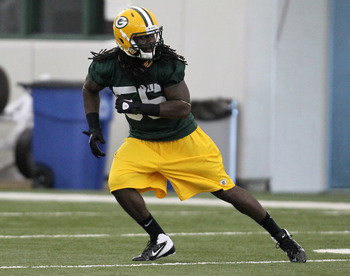 Mike McGinnis/Getty Images
Manning is another pick who could play far better than his draft stock indicates.
He's a tremendous run defender and excels at reading the offense and getting a jump on the line. He was a bit light for a position outside, but should hold up well in the middle of the field—the position change is a wise move by the coaching staff.
He's not the best in coverage and sometimes gets left behind if a runner gets by him, but again, the move inside could make him valuable in a way keeping him outside never would.
Manning is a little buried on the depth chart, and while I expect him to have a solid Training Camp, I believe it may take some time for him to get his chance.
Expect sporadic production, but when he gets into the game, he should make some noise.
Andrew Datko, OT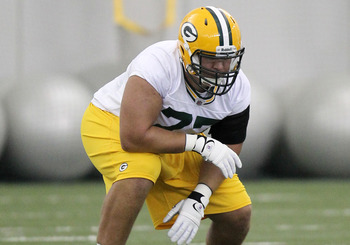 Mike McGinnis/Getty Images
Datko is a hard worker who is quick off the snap, though not terribly explosive. He does all right in pass protection, but is a much better run blocker.
More than anything, Datko needs to work on technique and consistency. As he is behind Bryan Bulaga for the foreseeable future, he should have plenty of time to get that down.
Datko is the kind of player the Packers do well with—a hard worker with some work to be done, who after some time will become a reliable starter for them.
You won't hear too much about him in training camp and, football gods willing, shouldn't hear a lot about him during the season (if you do, bad things happened to Bulaga).
However, you will see slow and steady progress over the year if you follow the practice reports closely enough.
BJ Coleman, QB
Mike McGinnis/Getty Images
Despite the very late round, this has become one of my favorite picks in the Green Bay draft.
Coleman has some mechanical issues, so he's not a threat to jump Graham Harrell and would be a dangerous guy to have to rely on this season.
That said, his arm strength and accuracy make him a perfect Mike McCarthy quarterback.
You actually might hear both good and bad things about Coleman in camp, but just know that for a guy like him there will be plenty of bumps in the road.
He's got the will and work ethic to overcome his issues, though, and while you shouldn't see him in 2012, he will be the next Packers quarterback we'll be raving about in a few years.
Keep Reading

Green Bay Packers: Like this team?