What Christian Ponder Needs to Do for Minnesota Vikings to Prove Doubters Wrong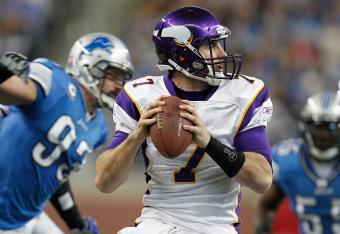 Gregory Shamus/Getty Images
"With the 12th pick in the 2011 draft, the Minnesota Vikings select Christian Ponder, quarterback, Florida State."
With those 17 words, NFL Commissioner Roger Goodell announced the new plan for the Minnesota Vikings organization. The pick was viewed as a reach by most experts, as most of those in the know had Ponder slated as a second-round pick.
The Vikings, however, in desperate need of a franchise quarterback and having watched Cam Newton, Blaine Gabbert and Jake Locker fall off the board before their pick, chose Ponder early in the first round and thus tied their short-term future to a quarterback who was nowhere near a star in college.
The Vikings front office, led by GM Rick Spielman and head coach Leslie Frazier said all the right things after the draft, that they had Ponder way higher on their draft board than anything you saw on the Internet and that Ponder would prove worthy of such a high pick.
They immediately sold Ponder as a quick study, a kid who eats and sleeps football and whose acumen for the game would lend itself to a shorter learning curve of playing at the highest level.
The reaction of the football world was along the lines of a shrug of the shoulders and a "huh, we'll see."
Year one, with all of it's twists and turns and ups and downs and learning and re-learning is in the books, and the reaction of the football world is once again a shrug of the shoulders and a "huh, we'll see."
Will Christian Ponder Ever Be a Great Quarterback?
The truth of the matter is that after watching Ponder play 10 games in 2011, the people who said he should have been a second-round pick have a slight lead on the Vikings front office in trying to determine Ponder's value.
The good news for Vikings fans is that the uproarious 2011 season didn't shed much light at all on Ponder's capability. We're one round into a 12 round fight.
Ponder might have lost the first round, but there's a long way to go.
We hope.
Ponder showed a lot of everything over the course of his rookie season. He has a decent arm, he has above average running ability and he showed a few glimpses of having that X factor you want in your starting quarterback. (He showed way more X factor than Blaine Gabbert, but not as much as second-round pick Andy Dalton. Again, we're only one round in.)
He also made some brutal throws into coverage, didn't show enough responsibility with the football and put himself into too many precarious spots, where he took on brutal shots that you never see the likes of Tom Brady, Peyton Manning and Aaron Rodgers take.
Never has the quarterback position been as important to winning and losing as it is now in the NFL. As a starting quarterback in the league, Ponder has to learn that the two most important things to protect are the football and yourself.
It's currently a quarterback league, and the teams that are thriving are led by signal-callers who are smart, accurate and consistent.
Does Ponder have a mountain of reasons that year one was on the shaky side?
Of course.
A terrible offensive line and a CFL-like receiving corps top the list. Ponder had very little time to get comfortable in the pocket and other than Percy Harvin, didn't have many options to choose from when he got that chance to throw.
Having said that, Ponder absolutely must improve in several areas.
His completion percentage of 54.3 has to come up. His ratio of 13 touchdown passes to 13 interceptions must improve. His quarterback rating of 70.1 has to rise.
Beyond that, he has to take more command of the game.
To Ponder, as a rookie, it looked as though the game was moving at warp speed, and he seemed to be hanging on for dear life much of the time. That's certainly understandable as it was his first go-around and he was leading an awful team.
Unfortunately for Ponder, his position takes most of the blame for the bad times, and there were plenty of them last season.
He starts 2012 with a clean sheet and a vastly improved environment around him. He'll be given every opportunity to succeed and to prove that the Vikings front office was correct in its pre-draft evaluation of him.
If Ponder fails, he may take the head coach and GM down with him. Such is life in the NFL. Spielman and Frazier were willing to put a lot of their job stake in him.
For now almost all evaluations of Ponder are still up in the air.
The Vikings organization and its fans are hoping he takes a huge step forward this year. Nobody wants to be asking all the "what if?" questions that might come from another bad season.
What if we would have taken Dalton? What if we would have waited a year and had a chance at Luck or Griffin?
What if 2012 is the year Christian Ponder becomes the answer?
This article is
What is the duplicate article?
Why is this article offensive?
Where is this article plagiarized from?
Why is this article poorly edited?

Minnesota Vikings: Like this team?