The Houston Rockets have had arguably the busiest offseason of any team, but it appears they are far from finished.
Their most recent move? Using their amnesty on 32-year-old Argentine power forward Luis Scola.
The news comes from Yahoo! Sports' Adrian Wojnarowski:
Houston has decided to use the amnesty provision on Luis Scola and will likely file with NBA on Friday, league sources tell Y! Sports.

— Adrian Wojnarowski (@WojYahooNBA) July 12, 2012
Let's take a closer look at this newest development.
What It Means
Where will Dwight Howard be playing in 2012-13?
The Rockets are getting rid of a productive player. Scola took a step back in 2011-12, but 15.5 points and 6.5 rebounds per game can still help a lot of teams.
Of course, the Rockets aren't just throwing away a player with arguably some of the best footwork in the NBA for nothing. This is all reportedly part of a bigger plan.
According to Wojnarowski, it's strictly a move to open up space for a potential trade to acquire Dwight Howard—the dominant center we can't stop talking about.
Wojnarowski goes on to tweet that this move frees up the necessary space for the Rockets to acquire Howard, Jason Richardson, Hedo Turkoglu, Chris Duhon and maybe even an arena or two.
What's Next
Look for the Rockets to make a serious move for Dwight Howard. With the Nets now out of the picture, Orlando will be looking for a new trading partner, and it looks like Houston might be the perfect match.
With plenty of intriguing prospects, picks and the cap space to take on Orlando's worst contracts, Houston offers Rob Hennigan and the Magic a potential deal that would help jump-start the rebuilding process in a big way.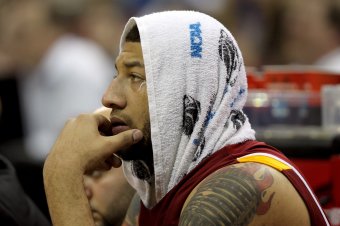 Jonathan Daniel/Getty Images
Daryl Morey has been making intriguing moves since before the draft, and it appears he had a master plan all along.
What's more, with Scola leaving town, the power-forward position in Houston is now up for grabs. Assuming they aren't traded, Terrence Jones, Royce White, Marcus Morris, Patrick Patterson and others are all in line to grab a starting spot.
As far as Scola goes, it sounds as if the Dallas Mavericks are interested in his services (via Wojnarowski, again), but it's likely that other teams will also make a play for the big man.