MLB Trade Deadline: Signs That Show When It's Time to Sell or Time to Buy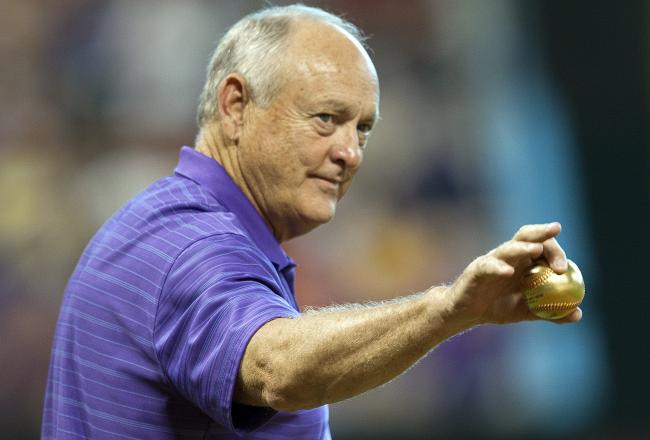 Nolan Ryan's Texas Rangers promise to be one of MLB's biggest buyers at the trade deadline this season.
Bob Levey/Getty Images
Things are going to be pretty intense in Major League Baseball over the next two-and-a-half weeks. That's the amount of time left until the July 31 trade deadline, a day that will make or break a lot of clubs' seasons.
The question general managers will be asking themselves over the next two-and-a-half weeks is how they should approach the deadline. They can either be buyers or sellers. The deadline is no time or place for do-nothing'ers.
This is not news (or at least, it shouldn't be). What's different this year is that the question of whether to buy or sell is going to be a lot harder to answer. There's an extra wild-card berth to be had in each league, and 19 of MLB's 30 teams are .500 or better. Some contenders that should be selling will have a hard time convincing themselves to do so, and some contenders that could be buyers should probably be sellers instead.
If only there was some sort of helpful guideline in place for when to buy and when to sell at the MLB trade deadline...
There is no such guide that I'm aware of. I took that as an excuse to draw one up.
Here it is.
It's Time to Sell When...
You're a Bad Team with Good Players
Duh. This one's obvious. The very term "seller" is synonymous with bad clubs when it comes to baseball.
Despite the fact that there are more teams in contention than usual this year, there are still some bad clubs out there. The Houston Astros are 20 games under .500. The Colorado Rockies, Chicago Cubs and San Diego Padres are each 19 games under .500.
These are the clubs that should have a very easy time deciding to sell in the coming weeks, and they certainly have players that they can sell.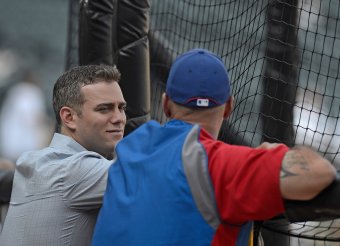 Cubs boss Theo Epstein should be looking to sell, sell, sell at the deadline.
Jonathan Daniel/Getty Images
The Astros, for example, have veteran pitchers like Wandy Rodriguez and Brett Myers that they can deal, as well as shortstop Jed Lowrie. The Cubs have two veteran pitchers of their own in Ryan Dempster and Matt Garza.
The Padres don't have many stud veterans left after fire sales in recent seasons, but the word from ESPN's Buster Olney is that young third baseman Chase Headley could be had for the right price.
The only downside of selling for clubs such as these is that they can't hide what's really going on to their fans. Choosing to sell at the deadline is equivalent to waving a white flag, and fans tend to stay away from the ballpark as soon as they see one of those.
But for these clubs, it's worth it. And it's worth it because their badness stretches beyond the major league level. The Padres are pretty well set in terms of prospects, but the Astros, Cubs and Rockies are each lacking in that department.
Selling is a means to an end. For the really bad clubs, it's a means to get better later. It's a dirty business, but it must be done.
All Hope Is Lost
Some bad clubs simply aren't supposed to be bad clubs. On the contrary, some were supposed to be very, very good clubs.
Take the Philadelphia Phillies, for example. Though everyone knew the Phillies were going to start the season without Chase Utley and Ryan Howard, the general consensus was that they would be fine because they had outstanding starting pitching and a brand-new closer in Jonathan Papelbon. They rode their pitching to a fifth straight NL East title in 2011, and they could do so again in 2012.
Except not. Roy Halladay underperformed and then got hurt. Cliff Lee also spent some time on the DL, and he too has spent much of the season underperforming. A couple other members of Philly's starting rotation are guilty of that same crime. Though Papelbon has been good, the rest of the team's bullpen has been awful.
The Phillies entered the break 13 games under .500 at 37-50 and in last place in the NL East. An utter disaster.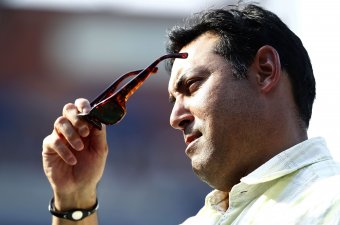 Ruben Amaro should give up the ghost.
Jeff Zelevansky/Getty Images
General manager Ruben Amaro Jr. said earlier this month, via the Philadelphia Inquirer, that the goal is still to make the playoffs this season. To do that, the Phillies need to keep Cole Hamels and Shane Victorino, who have been identified as their top two trade targets.
This is a noble gesture on Amaro's part...but an unrealistic one. The Phillies are basically going to have to play .600 baseball the rest of the way in order to nab a postseason berth, and that's not happening. They're doomed.
Because Hamels and Victorino are both free-agents-to-be, and because the Phillies are already out of it, selling is the thing to do.
The Phillies are obviously the big example of an all-hope-is-lost team, but the Milwaukee Brewers fit this mold as well. If they can get an impressive package of prospects for Zack Greinke, they should pursue that deal.
It's all about seeing the writing on the wall. For teams such as these, two words are hiding in plain sight: "It's over."
The Hope That's There Isn't Really There
There are bad teams, there are doomed teams and there are teams aren't quite either. They're good, but not as good as their records indicate. For lack of a better word, these are the overachievers.
The Oakland A's come to mind as a good example. They were a trendy pick to finish last in the AL West this season, but they're hanging tough at 43-43. They're at the .500 mark thanks mainly to the performances of young players such as Josh Reddick, Jarrod Parker, Tommy Milone and Ryan Cook.
This is an excellent sign for the A's. It means their youth movement has a bright future. If these players are this good now, just wait until they accumulate more experience.
But that's the thing about the A's. Their goal wasn't to win this year, and the team's 43-43 record shouldn't change that. They're better than they should be, but they're still a mediocre team that has many improvements to make.
Besides, they're nine games out in the AL West and 2.5 games out in a wild-card race that features teams that have a lot more talent than they do.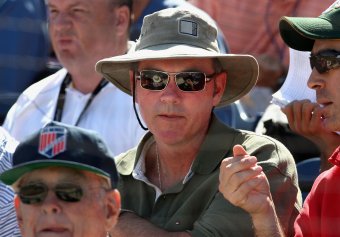 Don't worry, A's fans. Billy Beane knows what he's doing.
Christian Petersen/Getty Images
The A's have some tradeable players that they can deal away as a means of boosting their already strong farm system. According to Danny Knobler of CBSSports.com, Billy Beane and his staff are well aware of this. The A's see themselves as sellers, not contenders.
One team that should be following their fine example is the Toronto Blue Jays. They made a statement on Friday when they signed Edwin Encarnacion to a three-year extension, but it doesn't change the fact that their odds of making the playoffs are slim. They have more than enough power in their lineup, but their pitching is a wreck, and there's little indication that it's going to get significantly better.
Besides, the Jays are in the same boat as the A's. They have a very strong farm system, and some of their youngsters (i.e. Brett Lawrie and Colby Rasmus) have enjoyed fine seasons. They're set up to be perennial contenders in the very near future. Why rush it?
The Baltimore Orioles should be asking themselves this same question.
You Have More Players Than You Need
Not every seller is a bad team or a mediocre team. Some are decent/good/really good teams that simply have more players than they need.
Teams such as these are indeed rare, and even the ones that do have depth to spare tend to be wary about parting with their depth.
And for good reason. Any team with a surplus of pitchers should hold on to them because you just never know with pitchers. Any team with a surplus of position players should hold on to them because injuries can and will happen.
But there are teams with a lot of depth, and there are teams with too much depth. Teams that belong in the latter category should feel free to sell at the deadline.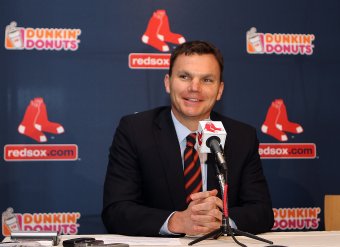 Ben Cherington is in a position to sell while NOT waving a white flag at the same time.
Jim Rogash/Getty Images
This year, the team that comes to mind is the Boston Red Sox. Some, such as John Tomase of the Boston Herald, have suggested that the Red Sox should go into fire-sale mode at the deadline, but that's a foolish notion seeing as how the team stands to get a lot healthier than it's been at any point in the season. The Red Sox are about to blessed with an abundance of talent after achieving a record of 43-43 with a roster with relatively little talent.
The one area where the Red Sox are going to have an embarrassment of riches is their outfield. With Jacoby Ellsbury and Carl Crawford due back soon, one outfield spot will be available for five players: Cody Ross, Ryan Sweeney, Daniel Nava, Scott Podsednik and Ryan Kalish.
One of them can be dealt without hurting the team. Since plenty of other areas aren't nearly as strong as the club's outfield, dealing away one of their outfielders is a no-brainer.
In short, the Red Sox have a problem other teams would love to have.
It's Time to Buy When...
You're Too Injured
The Red Sox are an example of the nasty effects injuries can have on a ballclub, but not every team is so unlucky when it comes to injuries. Some manage to withstand a few injuries while continuing to win ballgames. Business as usual.
The dilemma facing these teams is one of security (or lack thereof). How much longer can they keep winning despite their injuries?
One team that comes to mind is the New York Yankees. They're a virtual lock to make the playoffs at this point, and there's not much to complain about when it comes to either their lineup or their pitching staff.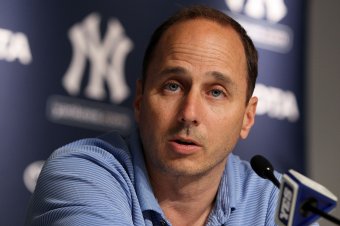 Brian Cashman has moves to make at the deadline, whether he likes it or not.
Jim McIsaac/Getty Images
Their pitching staff, however, could use a couple of able bodies. Andy Pettitte is not going to be back healthy any time soon, and there's no telling how long Freddy Garcia can keep pitching well in his stead. The Yankees have fared well without Mariano Rivera, but it goes without saying that they don't have as much depth as they did when he was healthy. Going out and finding either a cheap starting pitcher or a cheap reliever couldn't hurt.
The St. Louis Cardinals, meanwhile, are more desperate for pitching help now that they know Chris Carpenter has been lost for the season.
The Atlanta Braves have a similar need for starting pitching now that Brandon Beachy has been lost for the season due to Tommy John surgery.
The list goes on and on. No contender is perfect, and they're not perfect in large part because of their injuries. Some (such as the Red Sox) are in a position to wait for good health. Others don't have that luxury and therefore must make a move.
You Just Don't Have Enough
I mentioned in my treatise on sellers that the Orioles should think about selling rather than buying because they should be focused on winning later instead of winning now.
They, apparently, disagree.
ESPN's Buster Olney noted a few days ago that the Orioles are "perceived" to be interested in dealing for Zack Greinke. ESPN's Jayson Stark tweeted on Thursday that the Orioles have kicked the tires on Matt Garza and Jason Vargas.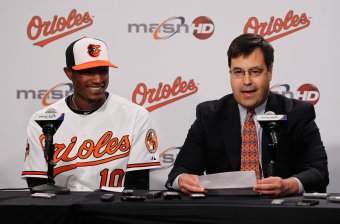 Dan Duquette made a big splash by signing Adam Jones to a contract extension. He aims to shock the world again at the deadline.
Rob Carr/Getty Images
Starting pitching is without a doubt Baltimore's biggest shortcoming, and these rumors suggest that general manager Dan Duquette is intent on solving it.
Common sense suggests that he's making a mistake, as the Orioles have faded after a very strong start, and the level of talent they had at the major league level never matched up with the team's strong record. They're a sub-.500 team since early May, meaning they've been mediocre longer than they've been good.
But if Duquette wants to go for it, so be it. It's hard to blame him given the team's long playoff drought. To get there, they need more, and more is what he's after.
Other contenders that need more are teams like the Detroit Tigers and Los Angeles Dodgers. Both clubs have talent, but it's clear that both need more talent in order to ensure a postseason berth.
There's a big difference between being good and being good enough. That difference is exactly what these clubs are trying to eliminate.
The Future Is Now
This is a category that Dan Duquette wants the Orioles to fit into, but a better fit for this category is the Pittsburgh Pirates.
The Pirates were in first place as late as July 25 last season. They attempted to improve their fortunes by trading for Derrek Lee and Ryan Ludwick, two players that cost them relatively little.
Those were small moves, so it's no surprise that they didn't really pan out. The Pirates stumbled down the stretch and ultimately finished in fourth place in the NL Central.
The Pirates are in first place now, but aside from that, the 2012 team doesn't have much in common with the 2011 team. The 2012 team is better.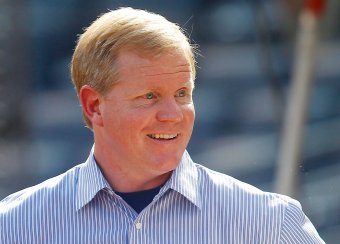 Neal Huntington has done a fine job in Pittsburgh.
Jared Wickerham/Getty Images
Pittsburgh has benefited from solid starting pitching all season long, and its bullpen boasts the lowest ERA of any bullpen in the majors. To boot, the Pirates scored more runs than any team in baseball in June, and they've scored more runs than any team so far in July.
Things are coming together for these Pirates in a way that didn't happen last season. They have every excuse to go for it.
General manager Neal Huntington is thinking the same thing. According to a recent report from Jon Paul Morosi of Fox Sports, Huntington has checked in on Carlos Quentin and Justin Upton, two very big bats who could help a Pittsburgh offense that is already pretty good.
The Pirates have been building for the future for a long time. It's clear that it's arrived. There's no point in trying to delay it any longer.
It's Championship or Bust
In the next couple weeks, you're going to see teams making moves for the sole purpose of boosting their chances of making the playoffs. A select few will be making moves meant to bolster their chances of making it to the World Series.
Only one team will be making moves with a mind to win the World Series, and that's the Texas Rangers.
The Rangers know they're good enough to make it to the World Series. They've done that each of the past two seasons with virtually the same team they have now. They came this close to winning it in 2011, only to fall just short.
Judging from what the rumor mill has had to say about the Rangers, they don't intend on having that happen again. They're looking to buy at the deadline because they want to be damn sure they have enough talent to win it all this year.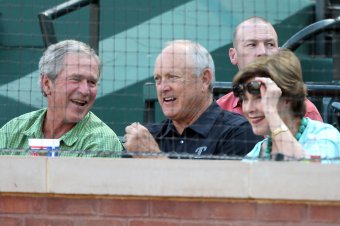 Nolan Ryan has powerful friends to impress, you know.
Layne Murdoch/Getty Images
Jon Paul Morosi has reported that the Rangers have scouted the two best starting pitchers on the market this season: Cole Hamels and Zack Greinke. If they make a move for either one of them, they'll be making a splash as big as the one they made when they traded for Cliff Lee back in 2010.
The Rangers have pretty good starting pitching to begin with. Their rotation has been bitten by the injury bug, and a couple of their starters have been hit or miss, but their 4.08 rotation ERA is plenty good enough given how much punch they pack on offense. Moreover, the Rangers have a ton of talent in their bullpen.
They just think they need an ace pitcher, and they're not wrong. Having an ace is never a bad thing, and the Rangers don't have one.
That's about the only thing they don't have. If they get one, the World Series will be theirs to lose.
If you want to talk baseball, hit me up on Twitter.
This article is
What is the duplicate article?
Why is this article offensive?
Where is this article plagiarized from?
Why is this article poorly edited?