Los Angeles Galaxy vs. Portland Timbers: Analysis, Reaction and More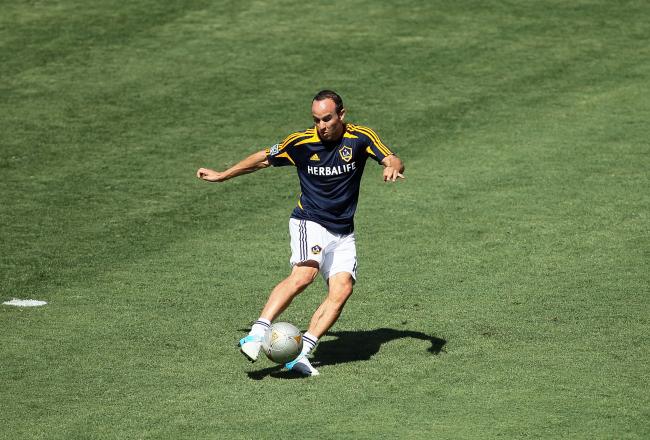 Victor Decolongon/Getty Images
Bruce Arena's Los Angeles Galaxy continue their three-game road stand this Saturday when they face John Spencer's Portland Timbers at Jeld-Wen Field in Portland, Ore.
The Galaxy have a record of 7-10-2 (23 points) and are in need of some positive results to remain in the Major League Soccer Western Conference race.
The Timbers have had it even more difficult, managing just a record of 5-8-4 (19 points), but they are only four points behind Los Angeles and can get back in the thick of things with a win at home.
The Galaxy will have all three of their stars available for action: Landon Donovan, David Beckham and Robbie Keane. A big question heading into this weekend's match is whether or not defender Omar Gonzalez makes just his second start of the season.
Kickoff is scheduled for 8 p.m. PT/11 p.m. ET and will be televised by NBC Sports. Keep it right here on Bleacher Report for continuing coverage of the 2012 MLS season and all things world football.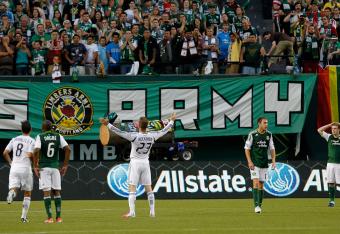 Bruce Arena's Los Angeles Galaxy finally exorcise the demons of Jeld-Wen Field from last year and run it up on Gavin Wilkinson's Portland Timbers, 5-3.
In the 75th minute, a corner for Steven Smith was cleared. Portland nearly benefitted from a bad giveaway in the 76th minute but the backline was there to deny the chance.
In the 78th minute, another set piece for the Timbers was barely cleared by Galaxy goalkeeper Josh Saunders and it forced another corner for Portland.
A scary situation in the 79th minute saw David Beckham feel a little bit woozy. A few minutes later, he was subbed in the 82nd for Bryan Gaul. Robbie Keane nearly secured a hat trick in the 83rd minute but couldn't get a good touch. A chance for Jack Jewsbury in the 88th minute was eventually smothered by Saunders.
Jewsbury had yet another chance to pull one back in the second minute of stoppage time, but it sailed wide left. Kris Boyd tried to look for a hat trick in the last minute of stoppage time but it was not meant to be.
Stay tuned for a recap of the night's action on Bleacher Report and the View from Victoria Street.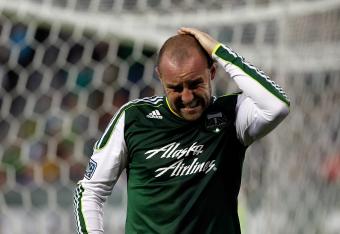 Can you believe it: the goals continue to come here at Jeld-Wen Field. Where is the defending from both teams? A free kick from the Portland Timbers's Kris Boyd has made it 5-3 in the Rose City.
In the 72nd minute, a corner for Steven Smith was cleared, and Eric Alexander was cautioned second later for a harsh challenge on Landon Donovan.
It already has been a wild night of soccer in the Rose City. A goal festival. And once again, the question has to be asked: who would want to be a defender on either team? Nobody on a night like this.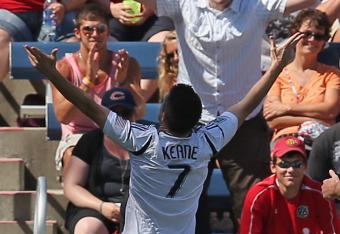 This has been a wide-open night of football here in the Rose City, and it has no intentions of ending. Robbie Keane has a brace thanks to Sean Franklin's delivery. It's a wild night here in Portland, and the Los Angeles Galaxy traveling supporters that have made their way barechested to Jeld-Wen Field, have not been disappointed. Bruce Arena's Galaxy now lead 5-2.
In the 62nd minute, a chance for David Beckham sailed over the crossbar. In the 64th minute, Bryan Jordan's substitution proved to be beneficial, as he helped set up Franklin on the right side to give Kean a opportunity to convert inside the box for a tap in inside the far post.
In spite of the efforts of Kris Boyd and Kosuke Kimura, the star power that has driven the Galaxy in 2011 has stepped up to the challenge. Keane and Beckham have braces and Landon Donovan converted a penalty. However, with over 20 minutes and stoppage, the goals could be coming again.
The goals were coming in the first half, but there has been nothing but poor finishes on both sides. It's still 4-2 Los Angeles over Portland.
Early on in the second half, a speculative volley from Landon Donovan in the 46th minute was a sign that this could be one of those halves in MLS. Seconds later, a chance for Eric Alexander was collected by embattled Galaxy goalkeeper Josh Saunders. Robbie Keane tried his luck in the 47th minute but only won a David Beckham corner that was cleared.
In the 48th minute, Portland's Darlington Nagbe was locked in a 1-v-1 with Saunders but it was the Galaxy netminder that won the duel. In the 51st minute, Kris Boyd nearly got open for a brace, but was stopped. Robbie Keane nearly got his brace a minute later. A cross from David Beckham seconds later was whiffed by David Junior Lopes.
In the 54th minute, Landon Donovan nearly got through on a breakaway but his tap-in sailed wide right.. Kalif Alhassan had a look in the 57th minute but it was collected by Saunders. Michael Stephens was unable to convert an open look in the 58th minute. A.J. DeLaGarza had to come off his line to bail Saunders out seconds later.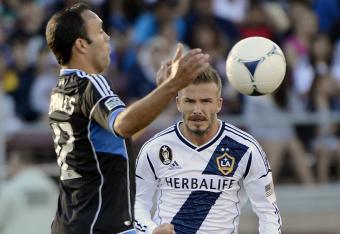 In a league as parity-driven as Major League Soccer, a two-goal lead is not much, and Bruce Arena's Los Angeles Galaxy are fully aware of it as we head into the break.
After an opening goal from Kris Boyd three minutes in, a brace from David Beckham as well as goals from Landon Donovan and Robbie Keane were followed up by one from Kosuke Kimura. All in all, the Galaxy lead the Portland Timbers in a good one: 4-2 at Jeld-Wen Field in Portland, Ore.
In the 44th minute, a chance for the Timbers to pull another one back was called back for offsides. The first minute of stoppage time, Los Angeles had a chance to create a sequence but elected to melt the clock.
The inept play of goalkeeper Josh Saunders has kept Portland in this game, as both goals scored by Boyd and Kimura were helped by a lack of simple fundamentals in net. Saunders must improve on his play or a dream rally by the Timbers could be in the books.
With a six-goal first half to show for it, don't be surprised if the goals continue to come.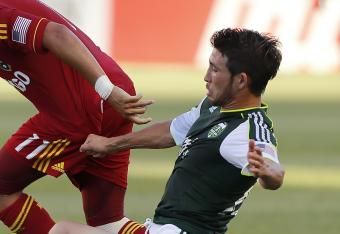 Well, well, well. Who would want to be a defender? Or a goalkeeper? Nobody on a night like this.
It's a goal festival at Jeld-Wen Field as the Los Angeles Galaxy lead the Portland Timbers, 4-2 thanks to Kosuke Kimura, who was the goat in LA's second goal.
In the 33rd minute, Darlington Nagbe was challenged rather harshly, and the ensuing free kick in the 34th minute was converted in the 34th minute by Kimura off a rebound. The goal was his second of the season.
In the 36th minute, a chancer for David Horst was collected by Josh Saunders, who has had a difficult time in goal for the Los Angeles Galaxy.
Who would have thought that this match would be a total barnburner here in the Rose City? The Bold Predictions on Bleacher Report called for a 3-2 victory, but now it's a 4-2 game. We are just under 40 minutes in, and it doesn't look like the goals are going to stop coming.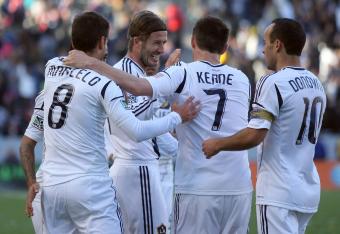 Two goals in as many minutes. It is all crumbling to pieces for Gavin Wilkinson's Portland Timbers as they now trail the Los Angeles Galaxy 4-1.
All of LA's DPs have scored. David Beckham. Landon Donovan. And Robbie Keane. Major League Soccer, watch your back, the Galaxy are on their way.
Once again, this is turning into a rout at Jeld-Wen Field. A bad penalty conceded by Kosuke Kimura in the box while trying to challenge Michael Stephens has allowed Landon Donovan to convert a penalty, straight down the center.
A minute later, a chance for Robbie Keane was converted inside the box and as a result, he celebrated in trademark fashion.
A chance for Portland's Jack Jewsbury in the 32nd minute was parried away by Josh Saunders.
The Kris Boyd goal by Portland apparently gave the Timbers Army some false hope, some false pretenses that it would be a dream victory. That dream…is now tattered and torn by the goalscoring storm from Los Angeles.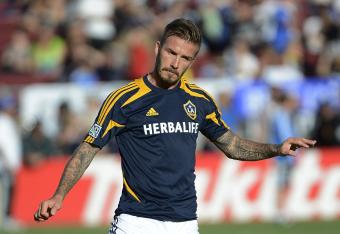 Two goals in six minutes. It's a new game in Portland, as a 19th minute scorcher from David Beckham followed by a 24th minute free kick has made it 2-1 between the Los Angeles Galaxy and Portland Timbers
The target for Gavin Wilkinson's Timbers is to secure 45 points for the remainder of the year in order to remain in the running for a playoff spot. More than 20 minutes in, it doesn't look like they could be even on their way to their first
Portland have dominated possession so far this match, but in the 13th minute, a threatening cross from Los Angeles was wasted due to Sean Franklin's inability to connect. Kris Boyd, the hero so far this match, nearly found someone on the transition a minute later.
A chance for Hector Jimenez in the 18th minute sailed wide left, but a minute later, Robbie Keane was able to feed Beckham for a possible Goal of the Week selection.
Five minutes later, a set piece from Beckham was converted in the top right corner to make it 2-1.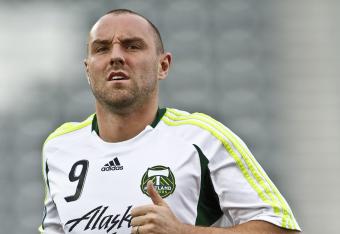 Jeld-Wen Field, historically, has been a difficult place for Bruce Arena's Los Angeles Galaxy to get a result despite just playing one game. It doesn't matter what record the Portland Timbers have; they will score goals on any opponent when they have space.
Kris Boyd, who was highlighted in the 10 Bold Predictions for this contest on Bleacher Report earlier this past week, has opened the scoring for the Timbers at Jeld-Wen, who now lead 1-0.
This past week, the Timbers earned an interim manager in Gavin Wilkinson who doubles as the team's general manager, and his first assignment was a tough one: stop Bruce Arena's Los Angeles Galaxy.
Early on in the first half, Portland had their first chance on goal with a second-minute corner that was cleared, but after they regained possession, Boyd was able to pick his spot and convert.
Robbie Keane nearly equalized in the fifth minute of play but the shot was collected by Timbers goalkeeper Troy Perkins.
This is not the start Arena had in mind and it is going to take some time if their cannot respond quickly.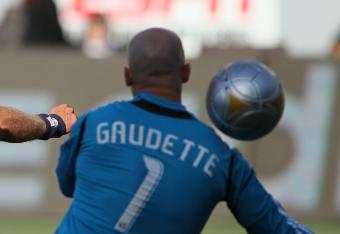 Bruce Arena's Los Angeles Galaxy have made some trades over the past week in an attempt to bolster their roster. Backup goalkeeper Bill Gaudette was traded to the New York Red Bulls in exchange for their second-round pick in the 2014 MLS Supplemental Draft.
Gaudette was signed by the club in February after impressing on a preseason trial with the club. He appeared in three regular season games for the Galaxy this season, recording a 0-2-1 record with a 1.33 goals against average.
Continuing with the goalkeepers, Los Angeles signed Brian Rowe, a UCLA product in the MLS League Pool. Rowe was selected by Chivas USA in the 2012 MLS Supplemental Draft and was a backup goalkeeper for the Galaxy in May.
Rowe started all 44 games that UCLA played in during the 2010 and 2011 season and earned 20 clean sheets, while securing a 37-8-5 record, a 0.91 goals against average and 21 shutouts.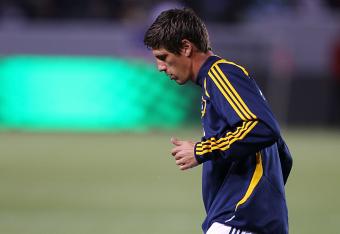 Bruce Arena's Los Angeles Galaxy received some good news this week with defender Andrew Boyens set to return to action after sports hernia surgery. The New Zealand international will be set to contend for playing time with fellow defenders Omar Gonzalez and David Junior Lopes, who is the current starter in central defense along with A.J. DeLaGarza.
"I'm still not a hundred percent, but it feels great to be out with the team and feeling the grass under my feet again," Boyens told LAGalaxy.com's Adam Serrano. "[Rehab has] been good, you always feel like it's too slow as a player because you want to be back quicker, but it's important that you take the right steps and come back as strong and as fit as you are when you're ready."
Defender Todd Dunivant took the news in stride and is confident that the Galaxy's depth is starting to return.
"It's great for him and good for us; he's another big body that we need back there that's going to help us down the line," Dunivant said.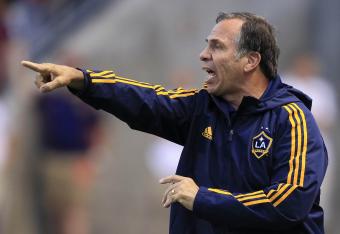 Currently, Bruce Arena's Los Angeles Galaxy are fifth in the MLS Western Conference heading into Saturday night's tilt with the Portland Timbers (kickoff: 8 p.m. PT/11 p.m. ET). However, the Galaxy have bigger aspirations. As in, better seeding and maybe some home field advantage.
However, Los Angeles have a lot of ground to cover, and this road trip to the Pacific Northwest will demand a lot from Arena's men.
"If you haven't noticed, this league is pretty bunched up and it's going to remain bunched up," Arena told MLSSoccer.com's Luis Bueno. "It's probably going to get tighter than anyone getting distance from each other."
"I kind of look at it from time to time," Galaxy defender Sean Franklin said of the standings. "I try and not look at it because things are kind of close right now; it's always changing week in and week out.
"We have our goal with what we want to do the rest of the season and if we do that we're in the playoffs."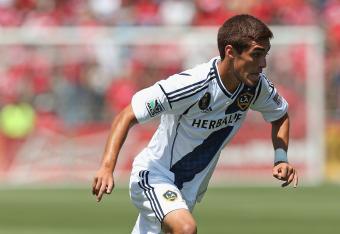 Hector Jimenez's potential to be a fixture in the midfield has been validated by his play the past several week for the Los Angeles Galaxy. There is no sophomore slump for this young Berkeley product, who started the last four games and is looking to start again this weekend against the Portland Timbers (kickoff: July 14, 8 p.m. PT/11 p.m. ET, NBC Sports).
"Bruce is giving me the chance and I'm taking good advantage of it," Jimenez told LAGalaxy.com's Larry Morgan. "My teammates have been giving me pointers here and there and I'm trying to build on that and hopefully keep performing well.
"I think I feel way more relaxed than what I did last year and at the beginning of this season. I'm just thankful the opportunity has come to me."
"He's doing well," Galaxy manager Bruce Arena told the press on Wednesday. "He's done a good job. We don't get a whole lot of width out of our attack sometimes, and he certainly gives us that."