NFL Training Camp: Predicting Winners of the Most Exciting Position Battles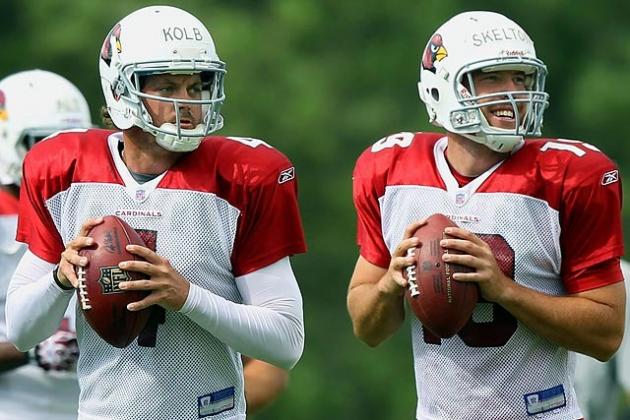 NFL training camp may not be the most exciting time if you're a fantasy fanatic, and there certainly is nothing like the thrill of watching wins or losses on NFL Sundays, but there is plenty of football fun to be had in the summer if you know where to look.
Position battles crop up all across the league at this time of year, and the outcomes of these fights for jobs set the stage for the entire year to come.
These battles can be vets vs. rookies or no-names vs. stars, because unless your name is Brees, Rodgers, Manning or Brady, nobody's job is really ever safe in training camp.
Here are the most exciting position battles set to start in training camp.
Begin Slideshow

»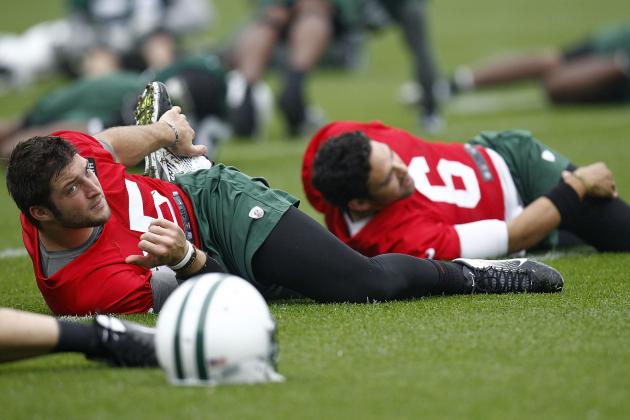 Jeff Zelevansky/Getty Images

The New York Jets love to make splashy offseason moves, and no move has ever been splashier than the acquisition of Tim Tebow.
After the way "Tebowmania" swept the world during the 2011 NFL season, it shouldn't have been surprising to anyone that the Jets made this move.
The Jets insist that Mark Sanchez's job is safe and that Tebow is solely the backup and Wildcat quarterback.
Does anyone really believe that?
Given Sanchez's spotty play over his first three seasons and Tebow's status as a national sensation, it is possible that he will wrestle the job from Sanchez.
It is highly unlikely to happen in camp, but it could happen during the season. Sanchez will still need to avoid screwing up in camp if he wants to keep his "guaranteed" starting job.
If the Jets stumble out of the gate, watch out for the Tebowmaniacs.
Winner: Mark Sanchez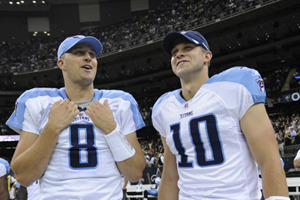 Here's a case of the young gun vs. the savvy veteran. Jake Locker, once considered a possible No. 1 pick, will face off with decorated veteran Matt Hasselbeck for the starting job.
The Titans have declared this a wide-open battle, so it should be exciting to see if Locker learned enough in his year on the bench to dethrone the still-talented, but injury-prone Hasselbeck.
Locker is talented enough to win, but if Hasselbeck has enough left in the tank, it will be a struggle down to the end of the preseason.
A fierce battle is being set up for Tennessee's training camp this summer. The winner will have surely earned his place under center.
In the end, however, the Titans will want to see what their youthful quarterback can do and hope the No. 8 pick from 2011 is the franchise guy that Vince Young never was.
Winner: Jake Locker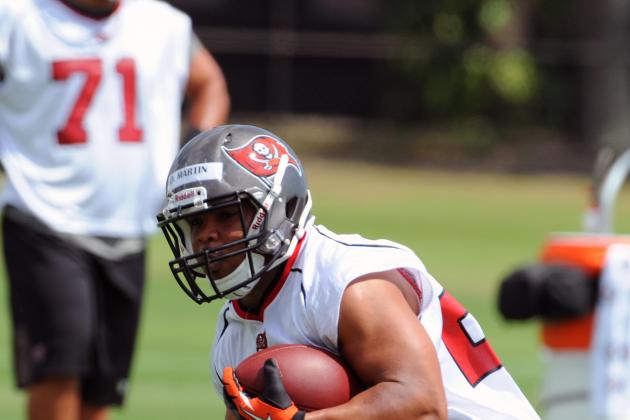 Al Messerschmidt/Getty Images

The Tampa Bay Buccaneers have an interesting running-back controversy shaping up for training camp, between first-round pick Doug Martin and incumbent LeGarrette Blount.
Blount has been a very solid starter, but his fumbling problems and mercurial attitude have not endeared him to rookie head coach Greg Schiano.
Blount is a fan favorite, especially for his plays like this one, but the odds are stacked against him here. Let's look at the facts:
The Buccaneers traded up in the draft to get Martin at the bottom of Round 1, while Blount went undrafted.
Blount can't catch, while Martin is a sure-handed receiver who has been compared to Ray Rice (whom Schiano coached at Rutgers).
Blount doesn't block, and Martin does.
Martin has the skill set of an every-down guy, while Blount is pure power.
The odds are looking like Blount will be relegated to a short-yardage power back, if he even gets to play at all.
It's a long shot, but if the 1,000 yards-in-10-games guy from 2010 shows up to camp, Blount might have a chance.
Winner: Doug Martin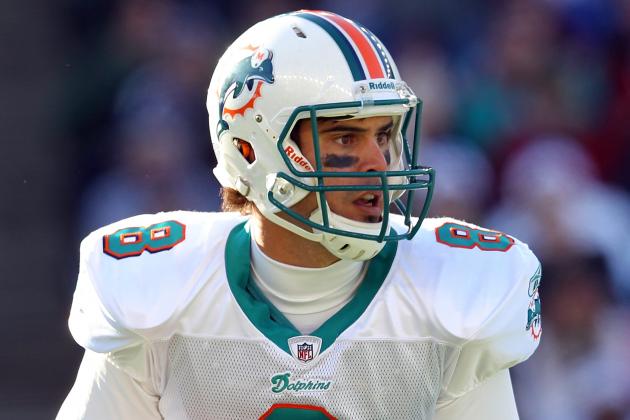 Jim Rogash/Getty Images

When it gets to the point that your fans are standing outside your stadium protesting your front office with picket signs, you know it's time for a change.
The Miami Dolphins have three quarterbacks vying for the starting job, with no clear-cut winner in sight.
The incumbent, Matt Moore, has proved himself to be reliable and fairly talented, but we've seen his ceiling and it falls short of the NFL playoffs.
David Garrard was playoff-caliber at his peak, but who knows what the Dolphins are going to get from the former Jaguars quarterback at this point in his life? A year off from football, combined with a subpar final season with the Jaguars, does not bode well for a comeback.
Ryan Tannehill was the consolation prize as the No. 8 pick in this year's draft, the guy they drafted because Andrew Luck and RG3 were gone and they couldn't land Peyton Manning or Matt Flynn.
Tannehill has talent and tremendous upside, but it doesn't seem as though he is ready for an NFL starting job. The coaching staff will likely want to keep him on the bench for a year or so to learn from the veterans.
The steaming-hot mess that the Dolphins call their quarterback situation is not looking too good. Maybe in the near future it will, but right now, odds are that Miami will have a career backup starting under center.
Winner: Matt Moore
Patrick McDermott/Getty Images

The Achilles-tendon injury to Terrell Suggs has left a gaping hole in the Baltimore Ravens' roster. They'll look to their slew of potential replacements to step up in training camp.
The smart odds are on Courtney Upshaw. The Ravens' top selection and Defensive MVP of the 2012 BCS title game, Upshaw is a first-round talent who simply dropped a bit in this year's draft.
One of the best players from Alabama's record-setting 2011 defense, Upshaw is easily the most likely candidate to take the job. It would take a poor training camp or an injury for him not to get the job.
Incumbent backup Paul Kruger will put up a fight, but Upshaw was drafted for exactly this reason.
Winner: Courtney Upshaw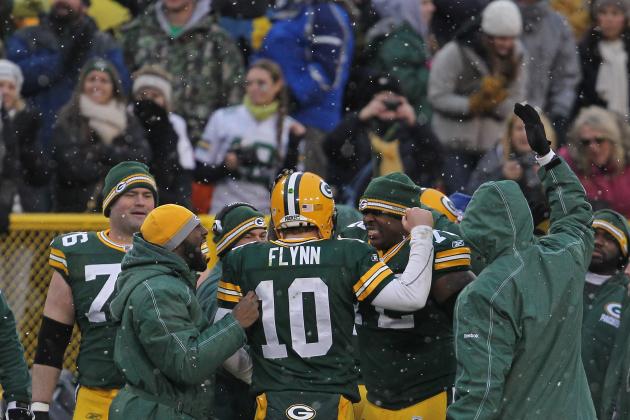 Jonathan Daniel/Getty Images

Welcome to the NFL's other battle royale at quarterback this offseason. Unlike the one happening in Miami, this one is actually between three guys who could earn the job on other teams.
At first, this was going to be a semi-interesting competition, with everyone expecting Matt Flynn and his gaudy $19.5 million contract to sweep away incumbent Tavaris Jackson.
Back in May, Russell Wilson changed the landscape of the whole training camp for Seattle, as he apparently blew Pete Carroll away at rookie minicamp.
The battle in Seattle should draw a few headlines this month, and though it will be exciting, the Seahawks paid Matt Flynn almost $20 million for a reason. Odds are, he'll take the job.
When in doubt, follow the money.
Winner: Matt Flynn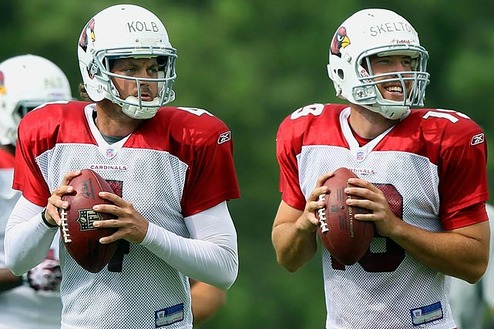 The Kevin Kolb experience has thus far been a complete failure. After trading a second-round pick and promising cornerback Dominique Rodgers-Cromartie for Kolb, all the Arizona Cardinals got in return was a hefty contract and an injury-plagued season.
Even when he was on the field, Kolb didn't exactly light up the box score.
Meanwhile, former fifth-rounder John Skelton stepped into the starting role and led the Cardinals to some surprising late-season wins, including handing the San Francisco 49ers one of their three 2011 losses.
Though Skelton has some serious juice and fan support, Kolb received a $7 million roster bonus back in March. As with Seattle, follow the money. Kolb is getting paid like a franchise guy; odds are he won't be relegated to the bench at the start of 2012.
Winner: Kevin Kolb