Predicting 12 Late-Chargers for Major MLB Awards in 2012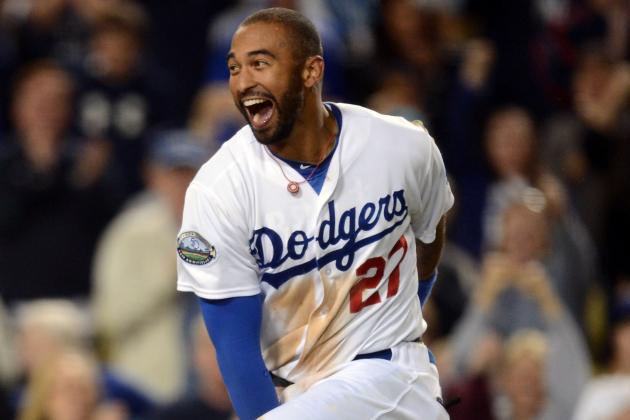 Harry How/Getty Images
After missing much of the first half, Matt Kemp is going to shake things up in the National League in the second half.
The first half of the 2012 Major League Baseball season is in the books. On Friday, the second half will we get underway.
In the immortal words of Han Solo, "this is where the fun begins."
With roughly two-thirds of MLB clubs in contention heading into the season's final weeks, we can all rest assured that the second half of 2012 is going to be a wild one. More teams than usual are in the hunt for a coveted postseason berth, and all of them are going to need their respective heroes to step up.
Sort of like how Han Solo stepped up in the Battle of Endor.
But I digress. The point is that it's not just the postseason races in either league that will be heating up as we speed toward October. The races for the individual awards will be heating up as well.
Presently, there are a handful of players who are hanging around the edges of the award chases in each league. Here's a look at 12 players who are going to make their move in the second half. They could end up walking away with some hardware when all is said and done.
Note: All stats come from Baseball-Reference.com unless otherwise noted.
Begin Slideshow

»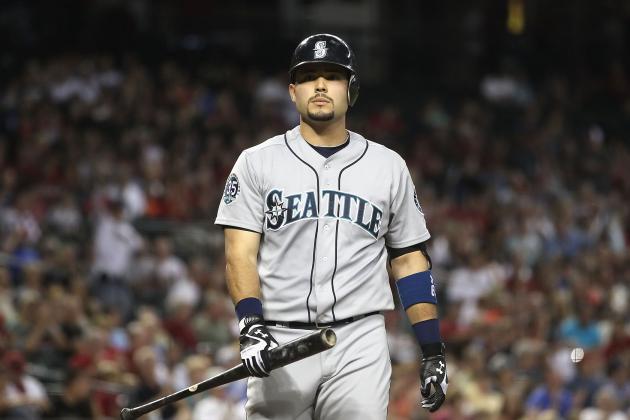 Christian Petersen/Getty Images

Jesus Montero has played in more games than any other rookie in the American League with 73 games. No other rookie has played in more than 64.
So he has that going for him—he just doesn't have a whole lot else going for him.
Montero was billed as an elite hitting prospect, one who could bring some much-needed thump to Seattle's thumpless lineup. He's had his moments, but he hasn't been Seattle's savior because he lacks the one thing that all great hitters must have: patience.
Per FanGraphs, Montero is walking just 4.8 percent of the time he appears at the plate. That's an alarmingly low walk rate, and it's the key reason why Montero has an ugly .281 on-base percentage.
However, there is upside where Montero is concerned. He walked better than 10 percent of the time he came to the plate in his brief stint with the New York Yankees in 2011, and he also hit .328 with a .590 slugging percentage during that stint. He looked like the hitter all the scouts said he was supposed to be.
If Montero starts taking his walks in the second half, the rest should be able to take care of itself. His batting average will creep toward the .300 mark, and he'll start driving the ball with more authority consistently.
Granted, Mike Trout will have to come plummeting back to earth for Montero or anybody else to have a legitimate chance at winning the AL Rookie of the Year award. But stranger things have happened.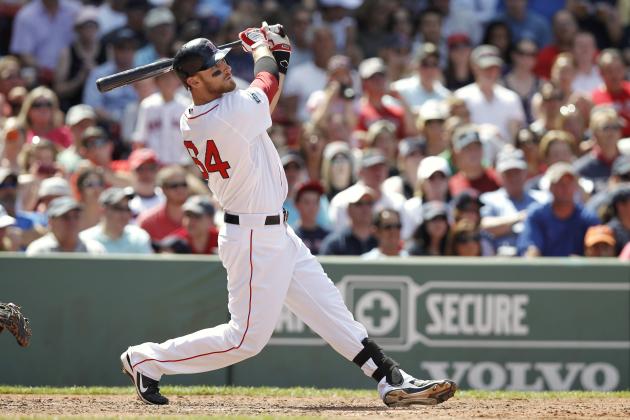 Winslow Townson/Getty Images

Will Middlebrooks managed to impress the Red Sox so much in the first few weeks of his career that they had no qualms whatsoever about trading veteran third baseman Kevin Youkilis.
Since that trade went down, two unfortunate things have happened. Middlebrooks went into a 4-for-27 slump, and then he came down with a hamstring injury that forced him to miss Boston's final seven games before the All-Star break.
The good news, according to the Boston Globe, is that Middlebrooks will probably make his return this weekend.
The Red Sox know that Middlebrooks can help and he's going to be a key part of the team's postseason push. He's struck out a few too many times and, like Montero, walked too few times. But, Middlebrooks has shown that he can be an effective power hitter and run producer. He's hit 10 home runs and driven in 37 thus far. Average that out over 162 games, and you'd get a 34 HR, 125 RBI season.
If Middlebrooks stays healthy and gets as hot at the plate as he was for much of the first half, he has a legit shot at ending the season with roughly 25 home runs and 80 RBI.
If he puts up those numbers while helping the Red Sox secure a postseason berth, Middlebrooks is going to loom even larger in the AL ROY race than he already does. If Mr. Trout comes back to earth in the second half, the ROY award will go to Middlebrooks.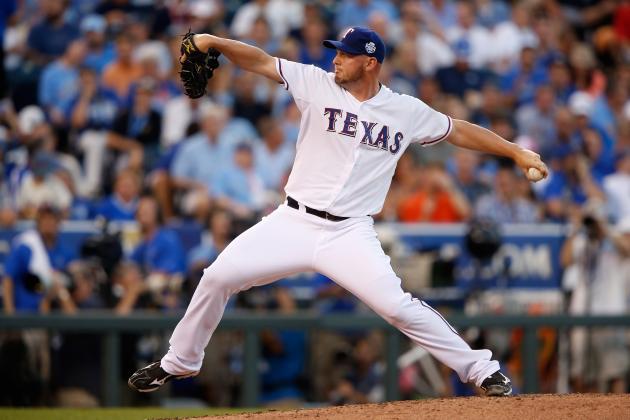 Jamie Squire/Getty Images

The American League Cy Young race is crowded at the top. Jered Weaver, Chris Sale and Justin Verlander all hold claims to being called the midseason award winner.
Meanwhile, Matt Harrison is lurking quietly in the background, waiting to strike. He's a guy who should be on everyone's radar heading into the second half.
The Rangers lefty went through a rough patch in May, but he's been as good as any pitcher in the American League over his last nine starts, allowing just 11 earned runs on 65 innings pitched. That's good for an ERA of 1.52.
For the season, Harrison is tied for the AL lead with 11 wins, and has an ERA of 3.10. At the rate he's going it won't be long before his ERA is under the 3.00 threshold, and he has a very legitimate chance of ending the season with 20-plus wins.
Cy Young voters don't put as much stock into wins as they used to, but any pitcher who can finish the season with 20-plus wins and an ERA under 3.00 is going to get plenty of love in the voting.
Consider Harrison a dark horse to win the award.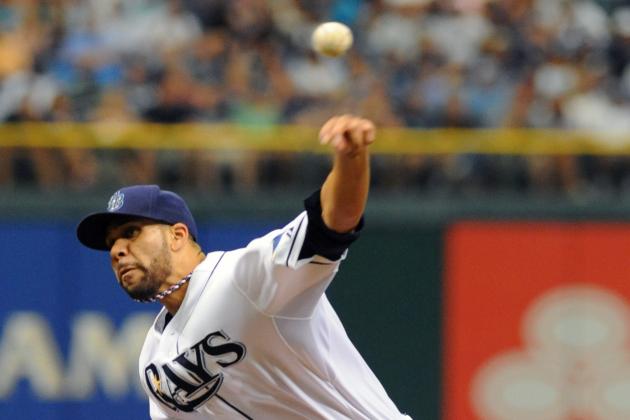 Al Messerschmidt/Getty Images

David Price has an 11-4 record and a 2.82 ERA. In 111.2 innings, he's struck out 105 hitters. The scary part is that he still hasn't put it all together quite yet.
As good as Price has been this season, he's had a habit of getting himself in trouble by putting runners on base. His walk rate is a little too high at 2.98, and he's been victimized by a .294 BABIP that is slightly higher than his career average.
The good news for Price is that these numbers represent improvements over where he was a couple weeks ago. He's been money in his last nine starts, where he's pitched 59.1 innings and posted an ERA of 2.58.
This is including a start against the New York Mets in which he gave up seven earned runs. Take that start out of the equation and Price has an ERA of 1.66 since late May.
Like Harrison, Price is a 20-plus win candidate this season. If he keeps pitching like he has over the past couple weeks, his ERA is going to keep creeping well below the 3.00 threshold.
The advantage Price has over Harrison is that, all things being equal, voters tend to favor the pitchers who can best rack up the Ks. That bodes well for Price's Cy Young push.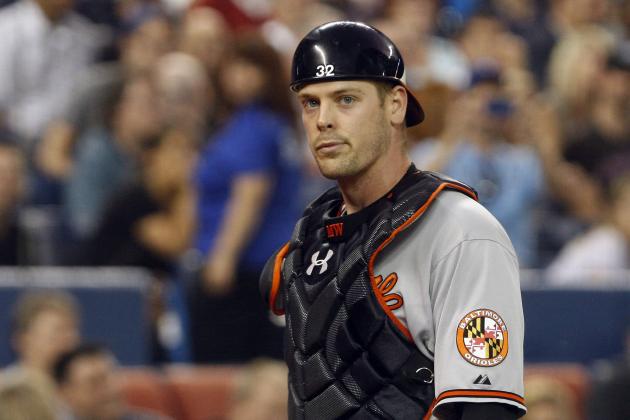 Abelimages/Getty Images

Earlier in the season, Matt Wieters was looking like the best player in the American League.
At the end of the day on May 4, Wieters was hitting .305/.387/.622 with seven home runs and 18 RBI. In addition to his outstanding offensive numbers, Wieters was also providing excellent defense behind the plate for an Orioles team that was a surprising 17-9 out of the gate.
Ever since then, Wieters has been in a slump. Over his last 55 games (54 starts), he's hit .224/.302/.353 with five home runs and 26 RBI. His defense has remained solid, but the Orioles have missed Wieters' offensive production. They're a sub-.500 team since early May.
But the Orioles aren't about to go quietly—they just need some of their players to perform like they were earlier in the season. And Wieters is at the top of that list.
Wieters posted an .840 OPS while hitting 14 of his 22 home runs in the second half of 2011, so he's shown that he can put up good numbers after the break despite the rigors of full-time catching duty. To sneak into the MVP race he's going to have to do that again.
In any event, Wieters isn't going to end up with the top offensive numbers in the league. But if he ends up with around 25 home runs and 100 RBI while leading the Orioles to their first postseason berth since 1997, he's going to get some MVP love.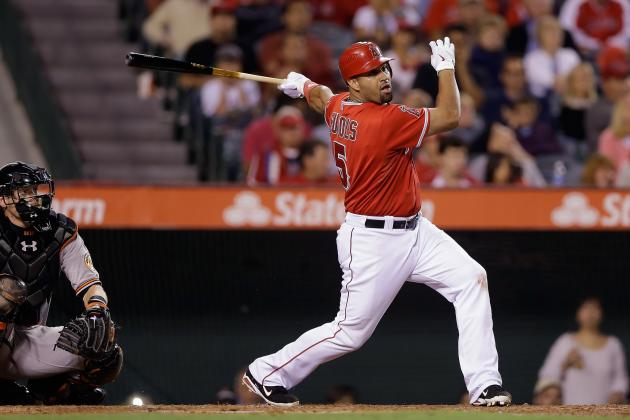 Jeff Gross/Getty Images

The Angels figured they were getting a perennial MVP candidate when they signed Albert Pujols to a monster contract this offseason.
They do have two MVP candidates this season, but neither of them is named Albert Pujols. Mark Trumbo is in the mix for the award, and Mike Trout is the man to beat in my book. But nobody should sleep on Pujols. He got off to a horrific start this season, but the numbers are coming along.
The key point in the season where Pujols is concerned is the day the Angels fired hitting coach Mickey Hatcher. Since then, Pujols has hit .313/.395/.599 with 13 home runs and 37 RBI over 49 games. Over a full season, numbers like those would average out to 43 home runs and 123 RBI.
At the rate he's going, Pujols should end up with more than 30 home runs and 100 RBI. If he gets really hot he could make a run at hitting upwards of 35 home runs.
As is the case with Wieters, the numbers won't be enough to draw the voters' attention. They'll be more inclined to give Pujols some MVP love if he puts the Angels on his back, and he can only do that if Trumbo and Trout slow down.
That's not out of the question. Trumbo has yet to be so productive over a full season, and this is Trout's rookie campaign. They could break down, leaving it to Pujols to carry the team.
That's nothing he hasn't done before.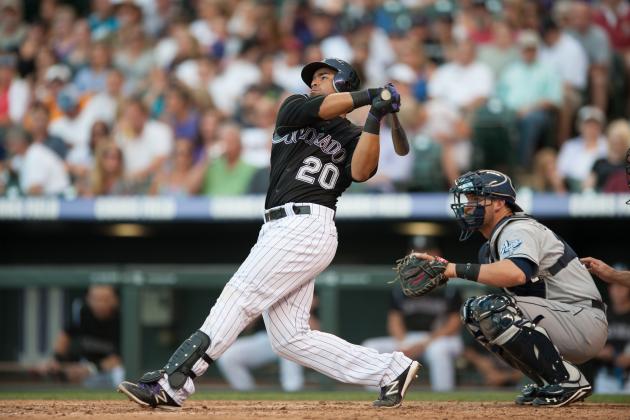 Dustin Bradford/Getty Images

While Mike Trout is running away with the Rookie of the Year award in the Junior Circuit, things are pretty wide open in the Senior Circuit. Bryce Harper is probably the man to beat right now, but he doesn't have a vise grip on the award like Trout does.
Among the youngsters who could steal the award from Harper is Rockies catcher Wilin Rosario.
He hasn't gotten much attention from the national media, but Rosario leads all NL rookies in home runs, and by a pretty comfortable margin to boot. He has 14 homers. No other NL rookie has more than nine.
Rosario also leads NL rookies in RBI with 36. Nobody else has more than 29.
Rosario finished the first half on a strong note, collecting three home runs in his final 23 at-bats before the break. In all, half of his home runs have come since the start of June.
All Rosario has to do is keep doing what he's doing. He's going to hit at least 25 home runs, and he could make a run at 30 if he stays hot at the plate. It doesn't hurt that the ball has been flying out of Coors Field this season (see ESPN.com).
The rest of the competition will have to stay out of his way, but Rosario definitely has a shot at NL Rookie of the Year.
Harry How/Getty Images

There were rumblings a couple weeks ago about the Reds possibly going after third base help after Scott Rolen got hurt (again), but those rumblings haven't been heard in a while.
This is thanks to Todd Frazier, who has established himself as a solid producer at the hot corner and in left field for a Reds team that lacked a balanced offensive attack earlier in the season.
Frazier has appeared in 60 games thus far, and is hitting .278/.345/.556 with nine home runs and 29 RBI. Only Rosario has more homers and RBI among NL rookies.
Before you chalk those numbers up to Great American Ballpark, know that Frazier is hitting the ball much better on the road this season than he is at home. He's posted an .846 OPS in 27 home games, and a .942 OPS in 33 away games.
This is something that's likely to change in the second half. Great American Ballpark is a launching pad to begin with. But the balls should start flying out of the park at an even more rapid pace in the dog days and in September.
All Frazier needs is steady playing time, and that shouldn't be an issue. Dusty Baker has shown a willingness to play him in left field when Rolen is healthy, and Frazier has held his own at the hot corner all season.
Seeing as how Rolen can't stay healthy for long, there should be plenty of action at third for Frazier in the second half. If he keeps the numbers coming and helps the Reds secure a postseason berth, he'll be at the top of the NL ROY discussion.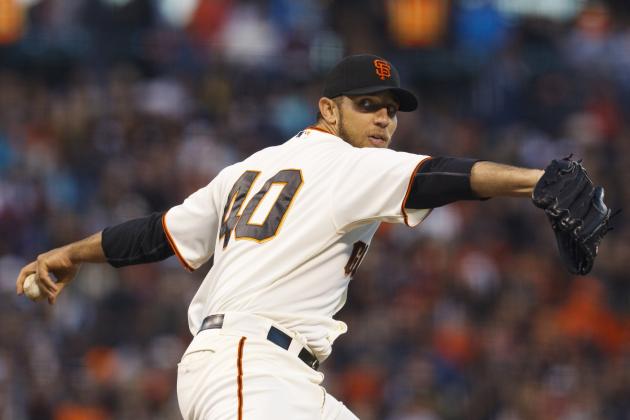 Jason O. Watson/Getty Images

Madison Bumgarner finished his first half on a down note, allowing seven earned runs in five innings in a loss against the Washington Nationals. It was easily his worst performance of the 2012 season, and it jacked his ERA up from 2.85 to 3.27.
The start before that, however, was a one-hit shutout of the Cincinnati Reds in which Bumgarner struck out eight and walked just two. That was his best start of the season.
It's starts such as those that have defined Bumgarner's season. He's made 17 starts thus far, and he's pitched seven innings and allowed two earned runs or fewer in nine of them.
It won't be long before Bumgarner has his ERA back under 3.00, and it's fair to expect him to keep the wins and the strikeouts coming. He's going to approach the 20-win mark when all is said and done.
And don't be surprised if he reaches it. Bumgarner showed last year that he can be a dominant second-half pitcher. He went 9-4 with a 2.52 ERA and a 5.21 strikeout-to-walk ratio in 15 starts after the break.
As good as Matt Cain and Ryan Vogelsong are, don't sleep on Bumgarner. He can be as good as anyone on a given night. He's going to be a Cy Young contender this year, and that will be par for the course for the rest of his career.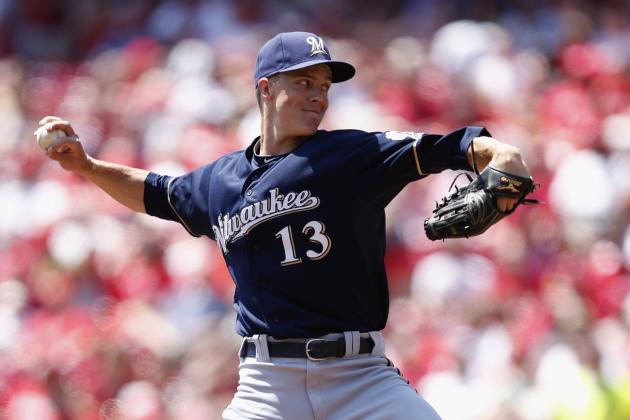 Joe Robbins/Getty Images

Statistically speaking, Zack Greinke has been the best pitcher in the National League this season.
There are pitchers with more wins and better ERAs to be sure. But according to FanGraphs, Greinke leads all NL hurlers in FIP (fielding independent pitching) and WAR. The pitchers that have supposedly been "better" than him have simply been luckier.
If Greinke's luck evens out, he should have no trouble getting his ERA below 3.00. The strikeouts will keep coming as well. Greinke has a K/9 of 9.00 and is on pace to strike out over 200 batters by the end of the season.
Like Bumgarner, Greinke showed in 2011 that he can be a dominant second-half pitcher. In 15 second-half starts he went 9-3 with a 2.59 ERA and 102 strikeouts in 97.1 innings.
By including him in this discussion I realize that I'm going out on a limb because of all the trade rumors. Greinke could get traded to an American League club at some point in the next couple of weeks, thus nixing his chance of winning the NL Cy Young.
But he could also get traded to an NL club, and there are more of those than there are AL clubs. I'm just playing the odds here.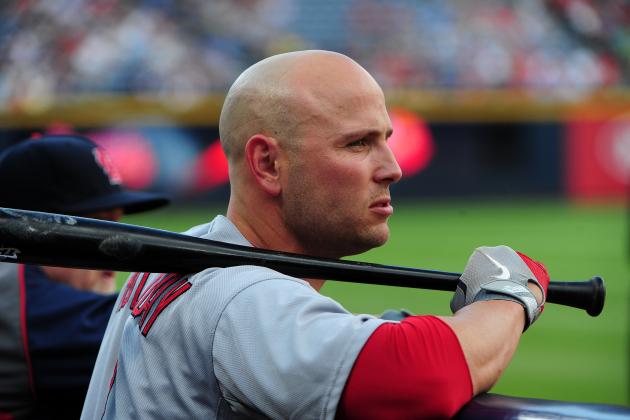 Scott Cunningham/Getty Images

Carlos Beltran has gotten a ton of attention for the season he's having in St. Louis. Relatively few have bothered to notice that Matt Holliday is having a heck of a season of his own.
Granted, it took a while for Holliday to get going. He was hitting just .267/.352/.442 with a .793 OPS in the middle of June—numbers hardly befitting of an MVP candidate. In his last 21 games, however, Holliday has been absolutely on fire.
Overall, Holliday is 37 for his last 79 with four home runs and 21 RBI. He ended the first half on a run that saw him hit .468/.526/.759 since the middle of June. And for the season, Holliday is now hitting .317/.397/.520 with 14 home runs and 56 RBI.
The Cardinals, meanwhile, won 13 of the 21 games in question. We've seen this kind of surge from Holliday before. After the Cardinals acquired him back in 2009, he hit .353/.419/.604 for them in 63 games. The Cardinals won 39 of those games.
There's no time like the present for Holliday to put the Cardinals on his back again. They've been a disappointment thus far, but they're still in a position to win the NL Central.
If Holliday leads the Cardinals to another division title, he'll have to be viewed as the NL Central's top MVP candidate. And that's saying something seeing as how the Central also includes Joey Votto and Andrew McCutchen.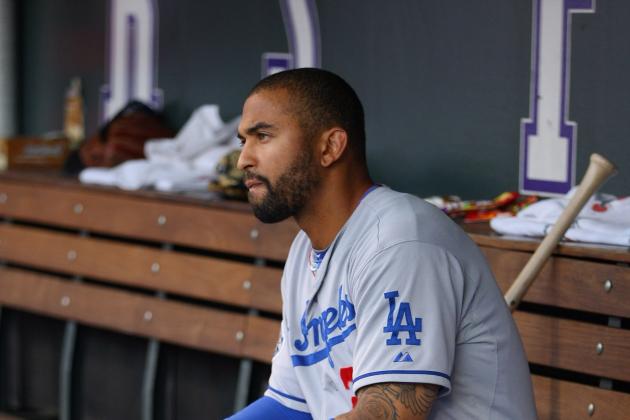 Doug Pensinger/Getty Images

Matt Kemp was the (huge) early favorite for NL MVP, but he has a lot of ground to make up after missing the last six weeks or so with a hamstring injury.
Fortunately for him, he has plenty of time with which to make up this ground, and he certainly doesn't lack the talent to get the job done.The word from the Los Angeles Times is that the Dodgers are going to activate Kemp on Friday. Goodness knows they've missed him. The Dodgers are 23-13 with Kemp, and 24-27 without.
If Kemp goes back to his early-season form, that will be just fine with the Dodgers. He finished the month of April hitting .417/.490/.893 with 12 home runs and 25 RBI.
If Kemp hits merely like he did in the second half of the 2011 season, that will be fine too. In 69 games after the break last year, he hit .337/.400/.590 with 17 home runs and 59 RBI, also tacking on 13 stolen bases.
When Kemp is fully healthy, he's a one-man wrecking crew. And it goes without saying that few players are more important to their clubs than Kemp is to the Dodgers. All he has to do is be himself. If he can do that, he'll once again have that solid shot at the NL MVP award.
If you want to talk baseball, hit me up on Twitter.