NBA Trade Rumors: The Dwight Howard Trade That Should Have Happened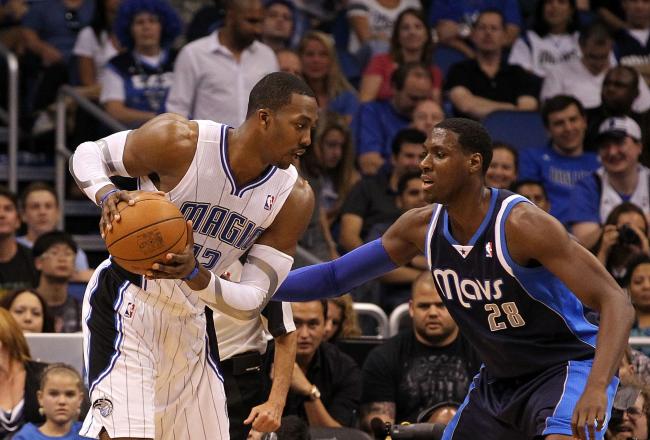 Sam Greenwood/Getty Images
Have you heard the latest Dwight Howard news? The Brooklyn Nets have withdrawn from the Howard trade talks and instead signed restricted free agent Brook Lopez to a new deal. Howard still wants out of Orlando, and the Houston Rockets and Los Angeles Lakers are rumored to be working on a blockbuster deal to land Howard in Los Angeles, with Andrew Bynum to Houston and a collection of the Rockets' young assets in Orlando.
But enough news and facts!
Here is the Dwight Howard trade that should have happened this summer. It won't, because Ryan Anderson has already been traded to New Orleans and Dwight Howard refuses to commit to resigning in Chicago, but it would have been the best outcome for all parties involved.
The Chicago Bulls, Houston Rockets and Orlando Magic should have put together a blockbuster deal landing Howard, Kevin Martin, Luis Scola and spare parts to Chicago; Carlos Boozer, Ryan Anderson, Joakim Noah and several future Chicago assets to Houston; and a haul of Houston picks and prospects to Orlando.
What exactly would that trade have looked like for each team? Let's break it down:
Chicago would receive:
Dwight Howard, Kevin Martin, Luis Scola, Chris Duhon and Quentin Richardson
Houston would receive:
Joakim Noah, Carlos Boozer, Ryan Anderson (resigned to a new deal) and Marquis Teague
Orlando would receive:
Terrence Jones, Patrick Patterson, C.J. Watson (team option), Ronnie Brewer (team option), Richard Hamilton, Kyle Korver, Chicago's future first-round pick from Charlotte and three future first-round picks from Chicago.
So, why would each team do this deal?
And why is this trade better than whatever Houston, Los Angeles or even Atlanta can come up with?
For Chicago, this deal is a no-brainer.
They pair Derrick Rose with Howard, keep Luol Deng and add the sharpshooting Kevin Martin and skilled forward Luis Scola—both capable players Houston would like to trade. Chicago would have the best contending core of any NBA roster and be set for both the present and the future.
For Houston, this trade gives them two all-star level players, another capable starter and a talented point guard of the future.
The Rockets would get Noah and Anderson—an all-star frontcourt—to lead them back to the playoffs.
Anderson thrives playing off a defensive center, so pairing him with Noah is the perfect match. And Boozer, though he is much-maligned, posted a 19.8 Player Efficiency Rating last season and is flexible enough to play in many different lineups. Houston would have been free to re-sign rising star Goran Dragic (while nurturing the talented Teague) and field a strong lineup of Dragic, Jeremy Lamb, Chandler Parsons, Anderson, Boozer and Noah.
For Orlando, the deal would give them the right mix of expiring contracts and intriguing future assets to rebuild.
Watson, Korver, Hamilton (who has a team option in 2013) and Brewer are only signed through 2012. The Magic would have significant cap room as early as 2013 and be poised to rebuild with potential star Terrence Jones and several future picks. Armed with all that cap space and draft firepower, the Magic would have been able to rebuild faster than most expected.
But, sadly for everyone, this trade was not to be.
Instead of teaming with Rose and winning championships in the NBA's largest single market, Howard might end up trudging through seasons in (gasp!) Atlanta, or who knows where else.
Ouch.
This article is
What is the duplicate article?
Why is this article offensive?
Where is this article plagiarized from?
Why is this article poorly edited?