MLB Season Predictions: Manny's Dodgers Return Equals Championship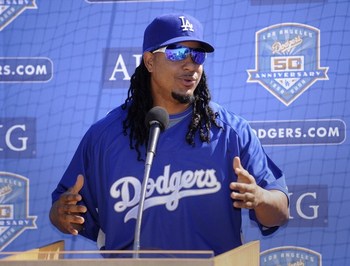 It's almost baseball season and spring training is right around the corner. It's time to make predictions and talk about baseball, not about A-Rod's steroids controversy or about Joe Torre's book.
We still have big free agents who haven't signed (Manny Ramirez, Orlando Hudson) and lots of questions.
Where will Manny Ramirez sign and why? How will the Yankees and A-Rod handle this controversy? Who wins the World Series and why? I have the answers and some people may be surprised by the predictions.
Where will some of the remaining free agents sign?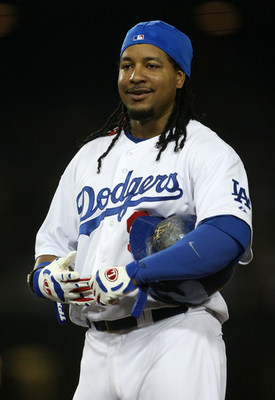 We still have plenty of big-name free agents unsigned, because of the economy issues and the fact that some players are simply asking for too much.
1. Manny Ramirez - He will end up back with the Dodgers. He's a perfect fit for them, Torre covets him, and they will give in and agree on a contract.
He doesn't fit well with any other team not named the Giants—but they don't seem to be as interested. Manny will come back with a bang and have a great season.
2. Orlando Hudson - He will sign with the Nationals, as they are desperate for some more stars after signing Adam Dunn, and they don't have a second baseman set in stone right now.
Because of the lack of interest Hudson's been receiving, look for him to come at a discount.
3. Orlando Cabrera - The A's seem like a perfect fit for Cabrera given Bobby Crosby's injury problems. Draft pick aside, Cabrera won't cost too much.
4. Ivan Rodriguez - The Marlins seem like a good fit; he's played there before and they need a catcher and team leader.
5. Pedro Martinez - The Pirates had interest and need some type of veteran starting pitcher. He will sign with them and help out the young starting staff.
There are plenty of other free agents, and look for Ben Sheets to be signed if he can recover from injury at any point this season.
Some team will take a shot at him when it comes playoff time because he will be cheap and won't cost a draft pick then.
AL Predictions: The Yankees Return to Paradise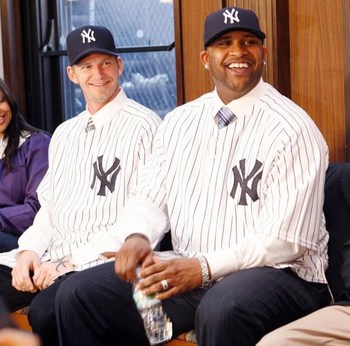 There's no question the Yankees have spent the most money this offseason, putting them in position to make the playoffs after a one-year absence in '08.
A-Rod and the Yankees will use recent controversies to come together and win. With many other teams poised to either suprise or dissapoint, here are my projected standings for 2009.
Surprise teams: Indians, A's, Tigers
Disappointing teams: Red Sox, White Sox, Twins
AL East:
1. Yankees - They got the two best free agents, CC and Tex, and they'll produce enough to finish first.
2. Rays - They are still one of the best teams in baseball and will prove last year was no fluke.
3. Red Sox - They did not do enough in the offseason to improve on last year. Look for the declines of David Ortiz and others to hurt the club.
4. Blue Jays - They lost Burnett to the Yanks and are not good enough to compete with the powerhouses of the AL East.
5. Orioles - They will improve this year with some young rising stars, but it won't be enough to escape the cellar.
AL Central:
1. Indians - They will rebound nicely with healthy versions of Travis Hafner and Victor Martinez. Grady Sizemore will have an MVP-type year, and the Kerry Wood signing will prove to be huge.

2. Tigers - They will also rebound, but their bullpen problems and lack of defense will hurt them.
3. White Sox - John Danks will make serious strides, but Mark Buehrle, like much of the team, is getting old.
Alexei Ramirez will have a breakout season, but this division is too tough to repeat last year's success.
4. Twins - They did nothing this offseason to improve, and even though the return of Francisco Liriano will help, it won't be enough to offset other problems in the rotation.
Mauer and Morneau aside, this club has no offensive guarantees.
5. Royals - They have a nice nucleus of young stars in Alex Gordon, Zack Greinke, Billy Butler, and Mike Aviles, but they don't have enough to compete in this stacked division.
AL West:
1. Angels - Despite losing Teixeira and K-Rod, they acquired suitable replacements in the forms of Bobby Abreu and Brian Fuentes. Although the tradeoff isn't completely equal, it will be enough to win a weak division.

2. Athletics - Billy Beane made bold moves when re-signing Jason Giambi and trading Huston Street and other prospects for Matt Holliday, who is a free agent to be.
They will compete and give the Angels a run for their money, but they'll lose momentum late in the year.
3.Rangers - They have a great young offense that will be one of the top offenses in baseball, but their lack of pitching can't put them over the hump. Josh Hamilton and Ian Kinsler will improve on last year's numbers, but with guys like Kevin Millwood and Vincente Padilla leading the rotation, it won't be enough.
4. Mariners - They did nothing to improve and are too young to compete. They will have to make a decision on Ichiro, who is aging and may want to get out of dodge.
NL Predictions: The Dodgers are the team to beat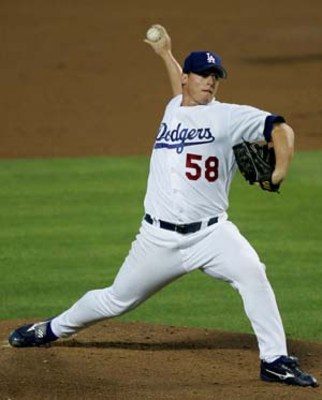 The LA Dodgers have the players to win the division, but they need Manny Ramirez to win more than that.
Ramirez will sign with them, giving this team a necessary spark. What other teams will surprise and disappoint?
Surprise teams: Braves, Reds, Brewers
Disappointing teams: D-Backs, Astros
NL East:
1. Phillies - The only thing they lost was Pat Burrell, and they replaced him with a better player in Raul Ibanez. They'll have more competition than last year, but that won't stop them from winning the division.
2. Mets - Last year they had one of the major's worst bullpens. That aspect of the team can only improve, as the team went out and signed both K-Rod and J.J. Putz. With the emergence of Mike Pelfrey and the re-signing of Oliver Perez, they should return to the playoffs.
3. Braves - They improved by signing Derek Lowe and Japanese pitcher Kenshin Kawakami, but their bullpen issues and lack of outfield depth will hurt them. If reports are true, the Braves will be the landing pad of free agent Ken Griffey Jr., helping their corner-outfield voids.
4. Marlins - They will compete, but it won't be enough—they will probably unload more players like Dan Uggla and Jorge Cantu. They don't have enough offense and pitching to stay in the division race.
5. Nationals - The Adam Dunn signing was big because they now have a true power hitter to replace Soriano's departure; however, that alone doesn't make up for their lack of pitching, namely in the bullpen.
NL Central:
1. Cubs - They did not lose much and now have one of the best rotations in baseball. Their offense will only improve with Milton Bradley in the lineup.
2. Brewers - I have them as a surprise team because they lost so much in the offseason. Yovani Gallardo will become their ace and help them stay in competition. Trevor Hoffman's signing helps the bullpen significantly.
3. Reds-This team is oozing with young stars and they'll be tough to beat on most nights. Unfortunately, it won't be enough to stay in the race.
4. Cardinals - They haven't done much to improve, but if Chris Carpenter can return to help them, then they can compete. A healthy Adam Wainwright will also be crucial for their success.
5. Astros - The Miguel Tejada controversy doesn't help. Their rotation issues behind ace Roy Oswalt won't help, either.
6. Pirates - The basement's become a familiar place for Pittsburgh, and it won't change this year.
NL West:
1. Dodgers - If the Dodgers can sign Manny, look for them to repeat as division champs. Joe Torre has been a savior. Watch out for Matt Kemp, James Loney, Chad Billingsley, and Jonathan Broxton to have breakout seasons.
2. D-Backs - The offseason hasn't been kind to the club. The losses of Adam Dunn, Randy Johnson, and Orlando Hudson is going to hurt them tremendously.
Justin Upton and Conor Jackson will have nice years, Webb will have his usual ace year, but the Dodgers are too tough to beat.
3.Giants - Surprised to see them here? If you haven't heard of youngster Pablo Sandoval, you will after this year. He can bring stability to the lineup, and the signing of Randy Johnson only helps their young starting staff.
4.Rockies - They made out well in the Matt Holliday deal, receiveing young talent like Carlos Gonzalez, but dividends will not be paid in '09.
Their pitching problems will continue to hurt the team, and their lineup won't make up for the loss of Holliday's power numbers.
5. Padres - They've done nothing to try and improve. If they trade Jake Peavy, they can write this year off.
Awards Predictions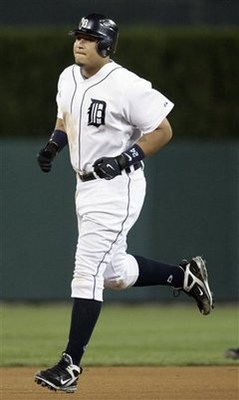 AL MVP - Miguel Cabrera is a triple-crown threat every year—and '09 could be the year he does it.
He will carry the Tigers offense and keep them in the race all year long. Despite the Tigers' awful '08 season, he still hit .292, with 37 home runs and 127 RBI. He also scored 85 runs. Cabrera should be the most feared hitter in the AL this year.
AL Cy Young - CC Sabathia. The Yankees were a powerhouse before signing Sabathia, but having one of baseball's premier aces will help both parties. He won't let the pressure get to him and will carry the Yankees rotation.
AL ROY - Matt Wieters will be this year's version of the '08 Evan Longoria.
He'll start the year in Triple-A, get called up, and give the Orioles the type of production from the catcher position that they haven't had since their winning days. He will make a statement and give O's fans hope for the future.
NL MVP - Manny Ramirez will get the award this year after his great success last year. Manny is everything the Dodgers need: a power hitter, clutch performer, and team leader. If the Dodgers don't sign him, they can forget about winning anything this year. My guess is that his return will carry them to the playoffs.
NL Cy Young - All Johan Santana needed was some bullpen help, and with the signings of K-Rod and Putz, he'll get that and more. The Mets offense should do better this year because they won't have a managerial distraction and a healthy Ryan Church will be big help. Santana was the NL's best pitcher down the stretch last year and with a little help, he will be again this year.
NL ROY - Cameron Maybin is one of the top prospects in baseball and will prove it this year. He'll be the Marlins' catalyst at the top of the lineup and set the table for Hanley Ramirez. He has all the tools to be a top player and he'll show everybody he can improve.
AL Manager - Eric Wedge will have the tough task of leading the Indians back to respectability after a disappointing '08 season, but with players returning from injuries and an ace to replace CC, he'll get it done.
The Indians improved significantly with the signing of closer Kerry Wood and Carl Pavano. Pavano will be out to prove critics wrong and needed a change of scenery. Wedge will get the job done and win the award.
NL Manager - Joe Torre will be dealing with questions about his book all season, but still has one of the best teams in baseball at his disposal. Torre got this team to the NLCS in his first year and expect him to be back there again.
Playoff Predictions: Torre Returns to Glory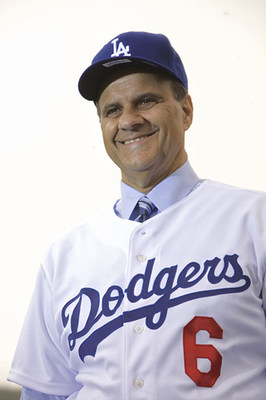 The Dodgers have all the tools needed to win once they re-sign Manny, and Torre's the man to lead them down the road to glory.
He got them to the NLCS last year, where they almost beat the Phillies and advanced to the Series. This year's team will only get better with the breakouts of Matt Kemp, James Loney, Chad Billingsley, Jonathan Broxton, and Clayton Kershaw.
Playoffs:
AL:
Yankees over Indians - The Yankees get their revenge after losing to the Tribe in 2007. CC will face his former team and make their life a nightmare in the postseason.
Mark Teixeira is the October hero the Yankees have longed for and helps them win the first-round.
Rays over Angels - The Rays will improve on last year and now have David Price in the rotation and Pat Burrell at DH. They'll prevail over the tough pitching of John Lackey and Ervin Santana.
ALCS: Yankees over Rays - CC Sabathia and company will be too much for the young Rays. Mark Teixeira continues his postseason hitting binge and gives them the boost they need to get back to the World Series.
ALCS MVP: CC Sabathia
AL Champs: Yankees
NL:
Dodgers over Phillies - They get their revenge after last year and sneak by the Phils. Billingsley becomes their much needed ace and Manny goes on a tear.
Mets over Cubs - The Cubs are cursed and nothing ever goes their way.
The Mets have Johan Santana for the playoffs and he'll right the ship. David Wright and Jose Reyes rise to the occasion and lift them by the Cubbies.
Dodgers over Mets - Manny makes the Mets and the rest of the NL pay for not signing him. The effectiveness of the Dodgers' staff ends the Mets season.
NLCS MVP: Manny Ramirez
NL Champs: Dodgers
World Series: Dodgers over Yankees
Joe Torre has the last laugh against his former team for not doing more to keep him in 2008. It's a close series in seven games, but Manny is too much and continues to be a "Yankee killer."
World Series MVP: Manny Ramirez
Let the MLB season begin!
Keep Reading