Stat Predictions for Green Bay Packers Key Offensive Players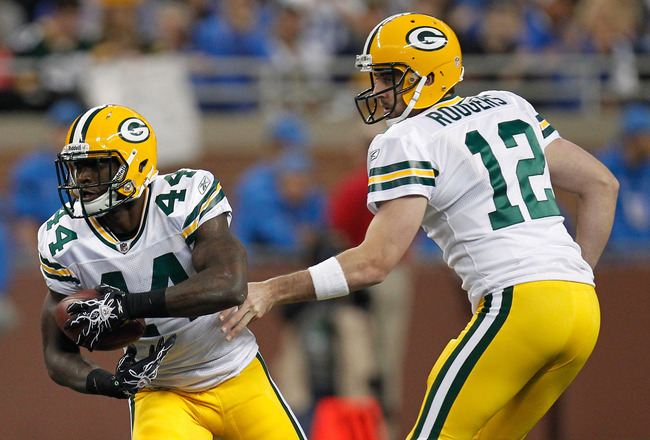 Gregory Shamus/Getty Images
Though there are still a few questions about the Packers' offense, one thing remains clear: It'll be explosive.
As long as the Packers have an MVP-caliber quarterback and are loaded with receivers, they'll put up huge numbers and be one of the top teams in the league.
While the roster may fluctuate and one of these players might not be on the Packers anymore, these Packers will be the key offensive players for their team next season.
Aaron Rodgers, QB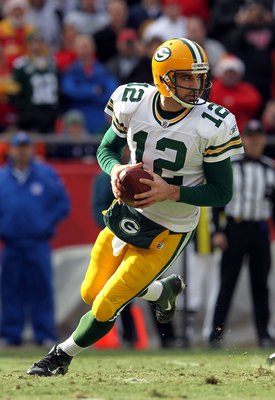 Jamie Squire/Getty Images
Rodgers' numbers should be better than last year's stat count, mainly because he might not sit out the season finale this year.
The former first-round pick is the league's premier player and should terrorize defenses yet again with his arm and his rushing ability.
It will be interesting to see if Rodgers can toss more TDs than he did last year, even with the extra game, and whether he can repeat his yards-per-attempt average.
Even if he doesn't, he's still primed for a great season and is the front runner to repeat as the MVP.
Stat Prediction: 364/527 attempts, 69.1% completion percentage, 4,822 yards, 9.1 average, 42 TDs, 7 INTs. 50 rushes, 215 yards, 4.2 average, 4 TDs.
James Starks, RB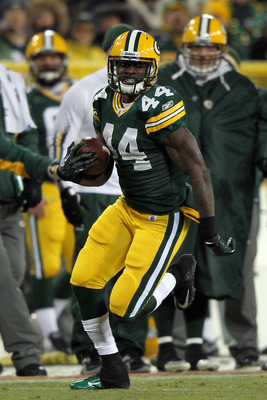 Jamie Squire/Getty Images
Durability is the main concern here. Starks hasn't churned out a full year of play since his college days, and he even missed his senior year at that.
The Packers made it clear they place their trust in Starks' ability by not signing a veteran free agent to compete with him.
In a feature back role, James Starks will have a career year.
That is, if he can stay healthy.
Stat Prediction: 209 rushes, 899 yards, 4.3 average, 6 TDs. 33 receptions, 267 yards, 8.1 average, 2 TDs.
Alex Green, RB
Scott Boehm/Getty Images
When the Packers didn't re-sign Ryan Grant or sign a veteran free agent, it was also indicative of their trust in Green's recovery from ACL surgery.
Green is a big back who averaged over eight yards-per-carry in college, something he won't come close to in the NFL. He's an intriguing talent, but the coaching staff will likely take it slow with him to open the year off.
Stat Prediction: 89 carries, 385 yards, 4.3 average, 2 TDs. 10 receptions, 95 yards, 9.5 average.
Greg Jennings, WR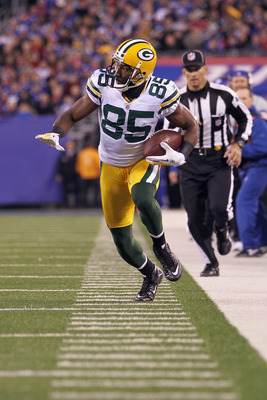 Nick Laham/Getty Images
One of the league's most consistent receivers, Jennings is entering a contract year in which he must stay healthy and perform well to land a nice extension with Green Bay. If he can't come to an agreement, he'll likely be franchised.
Jennings runs sharp routes and is a factor as a vertical threat and in the intermediate area of the passing game as well.
Expect another quality year from Jennings.
Stat Prediction: 73 receptions, 1,146 yards, 15.7 average, 9 TDs.
Jordy Nelson, WR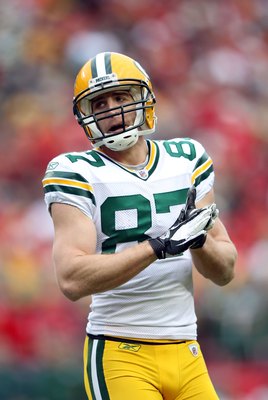 Jamie Squire/Getty Images
Aided by the fact that Greg Jennings was out for the final few games, Nelson had a monster year last year with 1,263 receiving yards.
However, his 18.6 yards-per-reception and 15 TDs are almost impossible to repeat.
Nelson is the Packers' biggest receiver (if Tori Gurley doesn't make the roster) and is also their top deep threat.
He may struggle early on as he adjusts to more attention, but he's going to have another big year.
Stat Prediction: 64 receptions, 1,069 yards, 16.7 average, 8 TDs
Randall Cobb, WR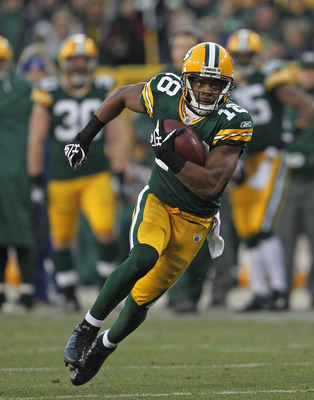 Jonathan Daniel/Getty Images
The truth of the matter is, Cobb can line up anywhere.
Put him at wide receiver, running back or even the occasional quarterback. Chances are, he'll make a play.
Cobb is a game-breaking talent who is essentially the Packers' version of Percy Harvin, albeit in a diminished role.
As the season goes on, Donald Driver will lose snaps in the slot, and as a result Cobb will gain them. Consider this his pre-breakout season.
Stat Prediction: 34 receptions, 496 yards, 14.6 average, 3 TDs. 11 rushes, 46 yards, 4.2 average.
James Jones, WR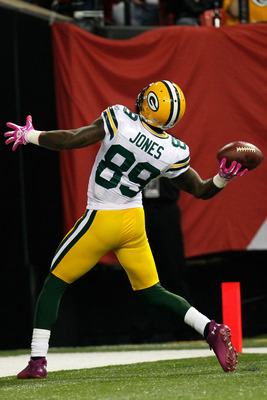 Kevin C. Cox/Getty Images
If Jones somehow remains with the Packers and isn't traded during training camp or before the trade deadline, he'll still have a lot to prove.
The biggest thing Jones must do is prove that his notorious case of the drops is a thing of the past.
Over the past three seasons, Jones has the worst drop rate among active receivers. His drops are usually a matter of a lack of focus.
That said, he's still a good receiver.
Stat Prediction: 35 receptions, 543 yards, 15.5 average, 5 TDs.
Donald Driver, WR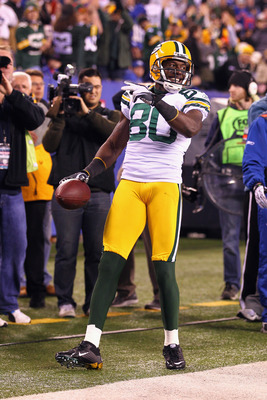 Al Bello/Getty Images
Driver's salary was slashed early this offseason, and as a result he was allowed to stay in Green Bay.
Although Driver may start out the season as the No.3 receiver and primary slot receiver, his role is going to diminish to the point where he could be fifth on the depth chart as the season ends.
While he's a great person who's had a great career, there's no denying it anymore. Driver's lost a step and this is probably going to be his last year in a Packer uniform.
Stat Prediction: 26 receptions, 281 yards, 10.8 average, 2 TDs.
Jermichael Finley, TE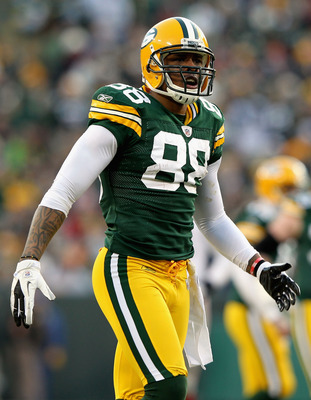 Jamie Squire/Getty Images
Though many fans blasted Finley for disappearing at times last year, his mere presence is invaluable to the Packers' offense.
At 6'5", 247 pounds, Finley is a match-up nightmare and someone that defenses must keep track of at all times.
Like Jones, though, he struggled with drops last year, which was uncharacteristic of him considering his normally reliable hands.
In his fifth year in the NFL, it's time for Finley to put up or shut up. Anything less than a true breakout year will result in more criticism.
Stat Prediction: 63 receptions, 888 yards, 14.1 average, 9 TDs.
Keep Reading

Green Bay Packers: Like this team?