PSG: 5 Reasons the Rest of Europe Should Be Worried by Big-Spending French Club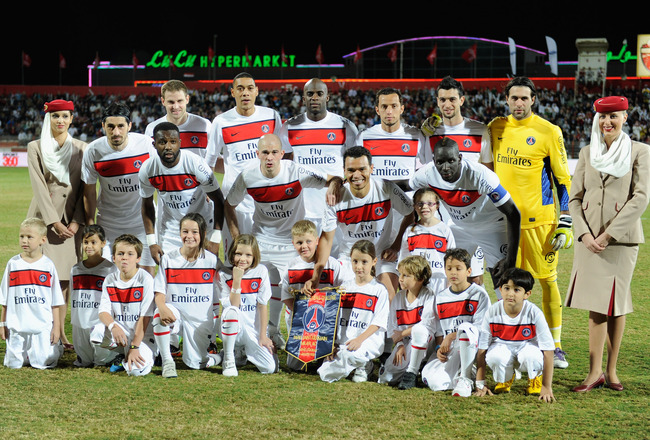 Claudio Villa/Getty Images
If you've been living under the proverbial rock, you may not yet know who Paris Saint-Germain, one of world football's richest and most up-and-coming clubs, are or at least anything about them besides the fact that they are owned by one of Qatar's wealthiest organizations.
But with recent reports (from ESPN, no less) indicating that PSG could be on the verge of acquiring both Thiago Silva and Zlatan Ibrahimovic for a massive €62 million, PSG have quickly taken center stage in the wild summer transfer window arena.
For those of who have not been as up-to-date with the Paris-based club's developments, or even those who think you know a good deal about French football but don't watch it regularly, this article is for you.
In the coming slides, we'll break down why you should care about PSG, and what you can reasonably expect from PSG as they gear up for another Champions League run in 2012-13.
Experienced Manager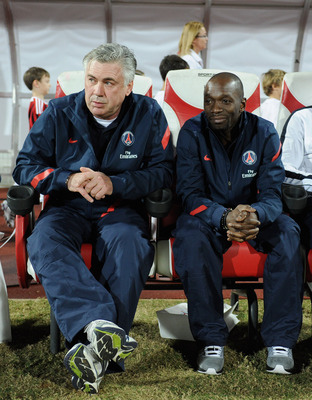 Claudio Villa/Getty Images
Last year didn't exactly go as planned for Carlo Ancelotti. After taking over for Antoine Kombouaré with Paris Saint-Germain in first place, Carlo Ancelotti went 5-5-0 in his first 10 games, dropping 10 points in the process. A 6-1-2 record thereafter was not good enough to get his team back in first place.
His team were also defeated by Lyon in the quarterfinals of the Coupe de France.
Despite his somewhat underwhelming debut with PSG, Ancelotti's pedigree means that he'll likely fare far better in his second season at PSG. After all, it took him a while to get going with AC Milan, but once he did, he was able to secure literally every major title available to win.
As controversial as his appointment was, PSG are now entering a new season, and Ancelotti will be able to fully put his stamp on his squad. Given his track record, especially in the Champions League, it's hard to imagine that PSG won't improve in 2012-13.
Experienced Players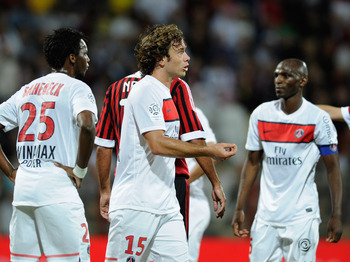 Claudio Villa/Getty Images
Like any good team, PSG possess a backbone of experienced players to guide their younger talents.
Thiago Motta, Mohamed Sissoko, Maxwell, Diego Lugano and Alex are all experienced players who've played at the highest level both internationally and nationally.
Then you've got guys like Sylvain Armand, Nene, Mathieu Bodmer, Zoumana Camara and Nicholas Douchez, who may not have ever played for a bigger club than PSG but have accumulated a vast amount of experience in their respective careers and have a very thorough knowledge of the way Ligue 1 works.
This contingent of players should enable PSG, a relative new kid on the block in European football (in terms of recent club history at least), to complete with the big boys of European football who've dominated Europe for much of the last decade.
Youthful Talent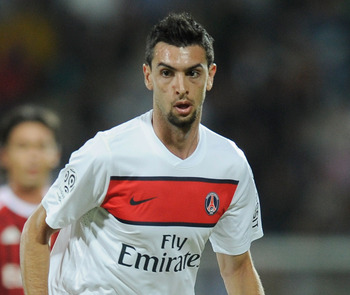 Claudio Villa/Getty Images
As experienced as the squad is, its talent level is even more remarkable.
Javier Pastore of course remains the headline name, but people forget that there are many other top-quality players.
Jeremy Menez, Salvatore Sirigu, Kevin Gameiro, Blaise Matiudi and Mamadou Sakho form the squad's group of younger, up-and-coming talents who are either regulars in the side or will be in due time.
Many of these guys have already tasted international football and are only going to get better with time.
Kevin Gameiro and Mamadou Sakho have the most uncertain futures after being dropped towards the end of season by Ancelotti for bad performances. However, they'll likely be given the chance to redeem themselves with all the competitions that PSG will be involved in next season.
Summer Acquisitions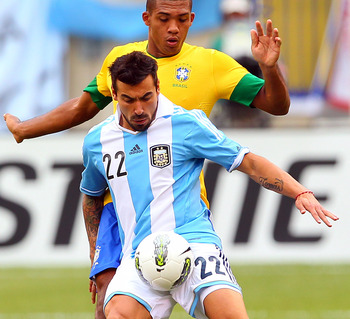 Rich Schultz/Getty Images
Whether or not Ibrahimovic and Thiago Silva actually transfer to PSG, the massive figure being quoted clearly signifies the intention of PSG's ownership to bring in big-name, high-quality players to their club—whatever the cost.
They've already brought in Ezequiel Lavezzi from Napoli for €26 million, and his transfer alone will give the club one of the world's best attackers and a potential false-nine option.
In addition, the names of Mario Balotelli, Luka Modric and Marco Verratti have all popped up on PSG's radar, and all would further bolster the quality of the team.
If I had to take a guess, I would anticipate that PSG plan on spending at least another €60 to €80 million this summer whether or not their Milan deal works out.
That figure alone should be enough to frighten the big boys of Europe.
Their Biggest Weakness Will Be Fixed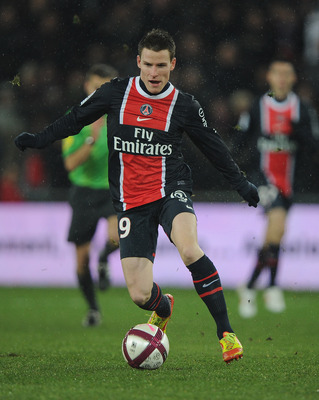 Pascal Le Segretain/Getty Images
Paris Saint-Germain were not a team without flaws last season, but they were decently covered in nearly ever position except at striker.
Despite being able to call upon the services of Kevin Gameiro and Guillaume Hoarau, PSG could not find a consistent goal scorer, and thus dropped many points to the weaker clubs of Ligue 1. These dropped points eventually cost PSG the title.
In the Europa League, the inefficiency of PSG's strikers cost PSG progression past the group stages. In six group stage matches, only one of PSG's eight goals came from a striker, and that goal was a 90th-minute penalty from Hoarau.
By the end of the season, Hoarau had registered six goals in 26 matches and Gameiro had registered 14 goals in 47 matches. Those figures are decent considering the amount of substitute appearances both strikers picked up, but they're not good enough for a club like PSG.
Be it Lavezzi, Ibrahimovic or the aforementioned Balotelli, PSG will surely be using a different forward up front next season—one who is far more clinical than Gameiro or Hoarau were this season.
That alone will make them far more successful and dangerous than they were in 2011-12.
Keep Reading