Why There Will Never Again Be a Superstar Full-Time Catcher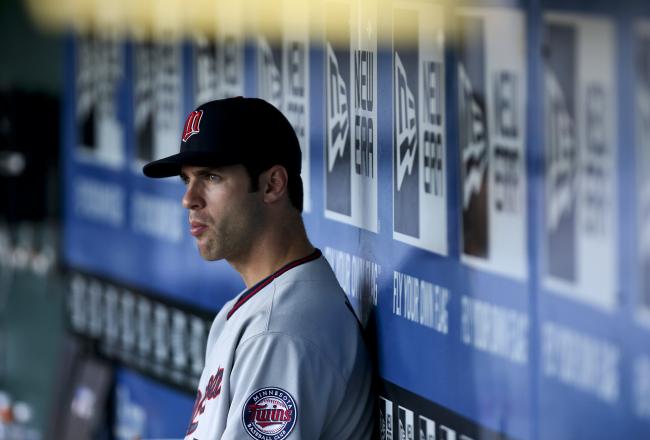 Joe Mauer barely qualifies as a true catcher nowadays.
Ed Zurga/Getty Images
The list of the greatest catchers of all time starts with Johnny Bench, but proper respect must be given to former superstars such as Carlton Fisk, Ivan Rodriguez, Gary Carter and Mike Piazza. There are many great things to say about former players such as Yogi Berra, Joe Torre and Jorge Posada as well.
Heck, us baseball junkies could talk all day about the game's great catchers and not get tired of it. This is because we know that catcher is by far the toughest position in baseball to play day in and day out for years on end. The all-time greats very much deserve geek-out sessions centered around them.
The sad part for baseball junkies is that the collection of all-time great catchers is a relatively small group. The even sadder part is that it will not be growing anytime soon.
The very idea of the superstar catcher is quickly becoming a relic. They were few and far between to begin with, and we're entering an age of baseball in which clubs are getting more and more frightened of the risks inherent in full-time catching duties.
And for good reason. The rigors of full-time catching duties do a number on a given player's health, thus putting a cap on his longevity. Not to mention his value to his respective franchise, of course.
One need look no further than Joe Mauer and Buster Posey, both of whom are moving towards careers as mere part-time catchers. As they progress further into their respective careers, they will be spending less time in the crouch.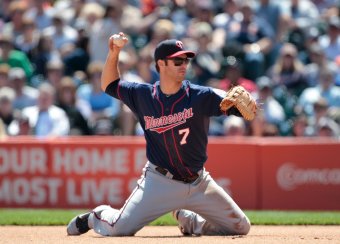 Mauer didn't play a single game at first base during his MVP season in 2009.
Leon Halip/Getty Images
Mauer is further along in this regard than Posey is. He can still be classified as a catcher because he's spent the bulk of his 2012 season thus far behind the plate, but only by a small margin. Per Baseball-Reference.com, Mauer has appeared in 38 games as a catcher, 14 games as a first baseman and 23 games as a designated hitter.
Therefore, there's about a 50-50 chance that Mauer will be behind the plate on a given day, a notion that would have sounded unthinkable back when Mauer was far and away baseball's best catcher a couple of years ago.
It's no secret why the Minnesota Twins have put this kind of plan in place for Mauer. He missed a lot of time with injuries earlier in his career, and his 2011 season was basically a lost cause due to various health issues that arose from offseason arthroscopic surgery on his left knee.
Most notably, Mauer had to be placed on the DL in early April with "bilateral leg weakness." When Twins manager Ron Gardenhire outlined Mauer's problems to the Star Tribune, they sounded serious:
[The weakness] is causing all kind of soreness in his hips, and he's compensating because of the [left knee] surgery he had this winter and he's starting to get sore in other places. So we are just going to shut him down.

He is definitely very, very sore over the last few days -- his shoulder, his elbow -- and we think it's his legs just not strong enough underneath him and he says he feels terrible.

His knee is actually feeling OK but he's compensating for the weakness in his upper leg, this is what I was told, that's causing a lot of other problems.
Issues such as these would be concerning enough if Mauer were, say, a shortstop or a left fielder. Since he's catcher, stuff like this was enough to make one worry about Mauer's career.
It obviously made the Twins start worrying, and their worries were heightened by the fact that Mauer had just signed a $184 million contract before the start of the 2010 season. When he was finally healthy enough to play in 2011, Mauer spent more and more time splitting catching duties with DH and first-base duties. The Twins came to the obvious conclusion that it was in their best interest to do their utmost to prolong Mauer's career.
The San Francisco Giants are going through a similar process with Buster Posey for essentially the exact same reason.
Posey did spend some time at first base when he became a full-time player in 2010, but not nearly as much time as he spent behind the plate. According to Baseball-Reference.com, he caught 76 games and played first base in 30 games during the 2010 season, and then he played all 15 of the Giants' postseason games behind the plate.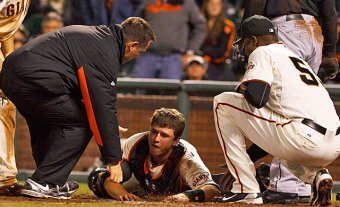 Photo Credit: US Presswire via CBSSports.com
In 2011, Posey logged only two games at first base for the Giants in a total of 45 appearances by May 25. And that date, of course, is the day that he was lost for the season when Scott Cousins annihilated him on a close play at the plate.
Jeff Berry, Posey's agent, immediately started preaching that rule changes needed to be made in order to protect catchers, and Giants general manager Brian Sabean took to publicly ripping Cousins for playing at being a "hero," but Posey's injury didn't end up changing anything.
The general message about Posey's injury was this: It sucks that it happened, but that's one of the many risks of being a catcher. Serious injuries are going to happen.
The Giants got the message. Posey has appeared in 13 games at first base this season, and Bruce Bochy has also made sure to give him regular days off. He hasn't approached the 50-50 split between catching duties and other duties that Mauer is working with, but the Giants are being far more careful with Posey than they were during the first two months of the 2011 season.
The Twins and Giants aren't the only clubs who are being careful with their talented catchers. Cleveland Indians 26-year-old catcher Carlos Santana has gotten spot starts at first base and designated hitter this season. The Texas Rangers have played Mike Napoli at positions other than catcher about a third of the time. The Seattle Mariners have used 22-year-old catcher Jesus Montero more at DH this season than they have at catcher.
Montero is a key case study in this discussion because his value is in his bat, not his skills behind the plate.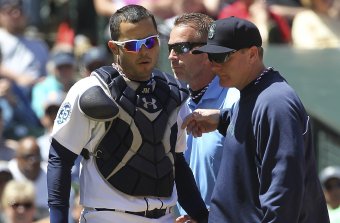 Another reason why the Mariners should play Montero at DH full-time: He's already suffered one concussion this season.
Otto Greule Jr/Getty Images
In the past, the Mariners could have taken the time and effort to get Montero's catching skills up to par with his hitting skills. And while Mariners general manager Jack Zduriencik did say earlier this season that he was satisfied with Montero's defense behind the plate, he also admitted that there were a lot of things Montero had to work on.
Besides, it's not like the Mariners acquired Montero because of his defense. They acquired him because, as Zduriencik put it, he's "very special" offensively.
Or at least, he's going to be once he squares away his approach at the plate. Per FanGraphs, Montero is walking only 4.8 percent of the time after walking 10.1 percent of the time in limited action in 2011. As the season moves along, it's only becoming clearer that he needs to work on being more selective at the plate.
This should be a much bigger concern for the Mariners than Montero's defensive skills behind the plate. If he can't provide value offensively, the Mariners won't be able to call themselves the winners of the trade that sent Michael Pineda to the Yankees.
Rest assured, there's more pressure on the Mariners to develop Montero into an elite hitter than there is to develop him into an elite catcher. As Geoff Baker of The Seattle Times pointed out back in June, he's supposed to be an offensive savior for a franchise that has had a harder time generating offense in recent seasons than any club in baseball.
The truth about Montero has always been that he's a hitter first and a catcher second. It's just a matter of time before the Mariners treat him as such.
You know, kinda like what the Washington Nationals did with Bryce Harper before he even suited up for them.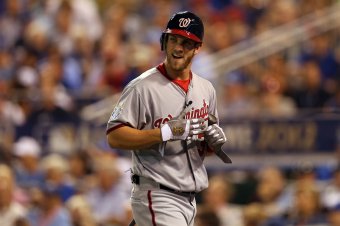 Harper's transition tells us something that should have been obvious: Strong arms are useful in the outfield too.
Jonathan Daniel/Getty Images
When Sports Illustrated introduced Harper to the baseball-loving public in 2009, the focus was on his incredible power and his perfect baseball build. That article also made mention of the fact that Harper could throw out runners from his knees behind the plate. In addition to being a hitting phenom, he also had the goods to be a hell of a catcher.
Nationals general manager Mike Rizzo would have none of that when he drafted Harper with the first overall pick in 2010. He made the decision right away that Harper would be brought along as an outfielder instead of a catcher, and he didn't hide his reasoning from the public.
Via USA Today:
We believe that he could pull off being a major league catcher, but his bat is well ahead of his defense as a catcher. With the rigors of catching, we think it is going to accelerate his development and extend his career as a major leaguer.
Wouldn't you know it, here we are just a couple of years later and Harper is already an All-Star player. Rizzo's plan has worked to perfection.
Had the Nationals allowed Harper to keep playing catcher, he likely would have joined Mauer and Posey as one of the game's premiere offensive catchers. That ship sailed immediately, and it's starting to sail away from Mauer and Posey as well. Compared to all-time greats like Bench, Fisk and Rodriguez, their time spent as full-time catchers will be relatively brief when all is said and done.
When they watch Harper excelling at the young age of 19, one can't help but wonder if Mauer's and Posey's superiors wish they had decided to put an end to the catching business a lot sooner. The injuries could have been avoided, and Mauer and Posey would both be elite hitters with long careers ahead of them, just like Harper.
The Mauer and Posey situations are cautionary tales for clubs to learn from. The Harper situation is a blueprint for clubs to copy. Combined, they go to show that there's no logical reason to put a good young hitter's career in jeopardy by demanding that he catch full time.
It was hard enough before all of this to find a catcher who could get it done both at the plate and behind it. True superstar catchers only came around once in a generation.
In the future, they won't come around at all. People around baseball are wise to the reality of why the catcher position has produced so few superstars over the years.
It's not a position that breeds superstars. It's a position that destroys them.
If you want to talk baseball, hit me up on Twitter.
This article is
What is the duplicate article?
Why is this article offensive?
Where is this article plagiarized from?
Why is this article poorly edited?