Josh Gordon: Breaking Down Strengths and Weaknesses of Baylor WR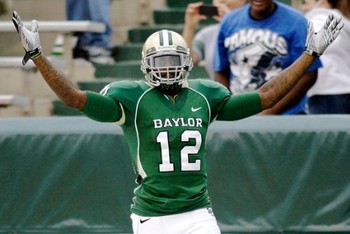 Photo via bloguin.com
Josh Gordon is an enigma.
Is he a future star that endured a few slip ups on the way, or an unmotivated and immature bust that is living off his natural ability?
On Thursday at the NFL Supplemental Draft, the Cleveland Browns decided he was option No. 1 (via ESPN's Adam Schefter):
And in today's supplemental draft, former Baylor WR Josh Gordon goes to...Cleveland in round 2

— Adam Schefter (@AdamSchefter) July 12, 2012
Scouts have a small sample size in which to judge the 21-year-old receiver, but he has skills that cannot be taught.
With outstanding size and hands to go along with blazing fast speed, on paper he would appear to be destined for a long and prosperous NFL career. Why else would his college QB Robert Griffin III campaign for his Washington Redskins to draft him?
On the other hand, he only registered one full season of college at Baylor, and skipped the entire 2011 season after getting suspended. There are aspects of his game that need some serious polish.
Let's go through the pros and cons of Gordon to decide if the Browns made the right choice.
Incredible Workout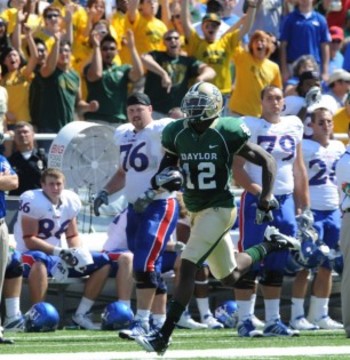 Photo viia blog.chron.com
Who needs the combine?
Gordon ran a lighting fast 4.52 second 40-yard dash in front of 21 NFL scouts this week. He also registered a 36" vertical jump and a 10'1" broad jump. His 40 time would have ranked him 11th among the receivers at this year's combine in Indianapolis.
He followed that up by catching every pass thrown in his direction during the private workout. Scouts were impressed, and clearly Cleveland believed they had found their man.
Injury Concern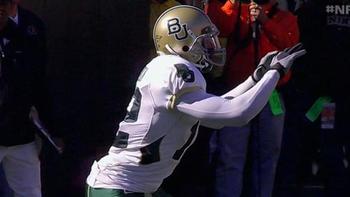 Photo via ESPN
While he didn't have any major injuries in his brief college stint, Gordon did pull a quad in the middle of his workout this week according to NFL reporter Adam Caplan:
Josh Gordon pulled his left quadriceps, but was able to finish all routes etc during workout. Didn't drop a pass.

— Adam Caplan (@caplannfl) July 10, 2012
Was he simply not properly stretched or is this an issue that will be reoccurring?
While the injury may only be minor, it's a question worth asking.
NFL Sized Athlete
Standing at 6'3'' and 224 pounds, there is no question Gordon has the body frame scouts look for in a NFL wide receiver.
He has the size to be a serious threat around the red zone, while also possessing the speed to burn defenders on the edge. His versatility is the main reason he has so much potential.
Off the Field Issues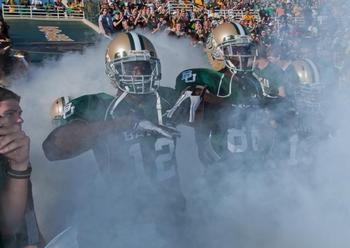 Photo via thesidelineview.com
Gordon was dismissed from Baylor after the 2010 season and didn't play a single down of football during the 2011 campaign. While Baylor never gave an official reason for his suspension, Gordon admitted it was for a failed drug test.
He decided to transfer to Utah, where he resided for only a short time before deciding to enter the supplemental draft.
It's unclear if he had failed multiple drug tests in the past, but we do know he was arrested in 2010 for marijuana possession, so odds are that was his drug of choice.
Are his days of using drugs in the past? Or will Roger Goodell come knocking on the door at some point in his career?
Lack of Experience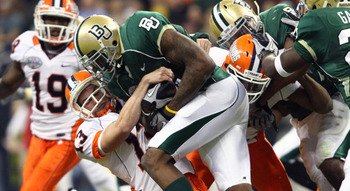 Photo via NFL.com
For all intents and purposes, Gordon has played one season of college football.
As a freshman in 2009, he caught a grand total of one pass for seven yards. Sure he followed that up with 42 catches for 714 yards and seven TDs in 2010, but a look closer into his numbers suggests he did most of his damage against weaker competition.
He had a combined 302 yards over Kansas and Kansas St, while registering a mere 100 yards against the four powerhouse schools in the Big 12 (Texas, Oklahoma, Oklahoma St, Texas A&M). In Baylor's 30-13 Texas Bowl loss to Illinois that season, Gordon had six catches for 50 yards.
Can he produce when the stakes are high and the competition is just as talented as him?
Weak Route Running Skills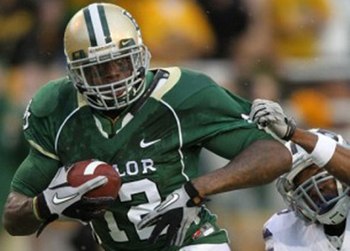 Photo via thepigskinreport.com
Gordon may be incredibly fast, but he has some serious work to do on his route running.
He struggles making cuts on a dime, which causes him to be slow out of his break on curl routes. There is no question he'll have to improve his initial burst to ensure he can maximize his overall speed.
Gordon can adjust by watching film and having the Browns coaching staff work with him relentlessly, but it's certainly an issue as he enters the NFL.
Conclusion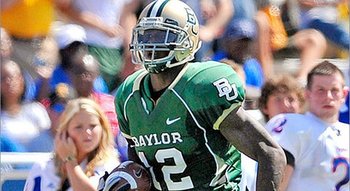 Photo via profootballweekly.com
There is a wide variety of opinions on Gordon.
Some believe his maturity issues and rust will doom his NFL career. Others, like Bleacher Report's own Matt Miller, believe the upside on Gordon is much more than some of his peers in the '12 receiving class:
Based on 2010 and projected growth, I like Josh Gordon more than I liked Justin Blackmon or Jonathan Baldwin coming out. Lot of upside
— Matt Miller (@nfldraftscout) July 12, 2012


Personally, I think the Browns could have waited until at least the third round, but credit them for ensuring they landed their guy.
The learning curve is going to be steep, and his rookie season is going to be a very bumpy ride. But if he works on his short-comings and stays out of the headlines off the field, there is no doubt he can be the leading receiver by the 2013 season for a Browns team desperate for help at the position.
It's completely up to Gordon to seize this golden opportunity.
Keep Reading

Baylor Football: Like this team?