The Top 10 Shooting Guards in NBA History
In the third installment of this series, we will examine the top 10 shooting guards in basketball history.
In the first two installments, point guards and centers were debated. As with those two positions, the shooting guards are graded on a multitude of factors, including winning, statistics, awards and defensive prowess.
Unlike the first two positions, shooting guards are a lot easier to assess. Point guards are the most difficult position to judge due to the amount of responsibilities they possess, and centers are slightly easier since their teams are typically built around them and their success is directly connected to them. Shooting guards typically are asked to score, and score often. What separates the good from the great includes what else they do well.
For instance, Vince Carter is a tremendous scorer. However, he does not make this list because his defense is laughable at best. And even though Reggie Miller is also defensively challenged, his ability to score in the clutch separates him from Carter.
So, without further ado, I present the top 10 point guards of all time.
10. Joe Dumars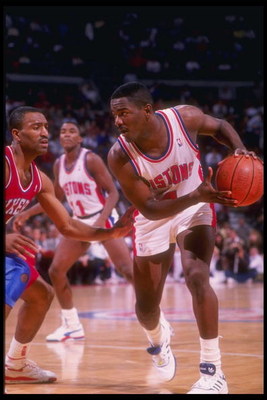 Known for his "rainbow" jump shots and cool demeanor, Joe Dumars was the one nice guy on the Detroit "Bad Boys" Pistons.
Though not nearly as prolific of a scorer as Reggie Miller, Dumars was one of the game's best defenders. Over the course of his career, Dumars usually drew the most difficult defensive assignment on the other team's backcourt, forcing him to adopt a very versatile approach to defense. Some nights he was matched up against Magic Johnson, and then the next night it might be Michael Jordan. For a guy that was 6'8" or 6'9" that might be okay.
But Dumars was only 6'3". As a result, he developed a positioning approach to defense. This basically set the tone for the entire defense of the Pistons, a team that won two titles using defense as their primary weapon.
During the course of his career, Dumars made the defensive first or second team five times and made the All-Star team six times. Additionally, he was named NBA Finals MVP in 1989 after learning about the death of his father.
Generally considered one of the classiest individuals to ever lace up a pair of sneakers, the NBA actually named its Sportsmanship Award after the Pistons' shooting guard.
Since retiring, Dumars has become known as one of the league's top executives while engineering the Pistons to a third NBA title, further enhancing his legacy. Furthermore, Jordan has frequently referred to Dumars as one of the toughest defenders he ever faced.
9. Mitch Richmond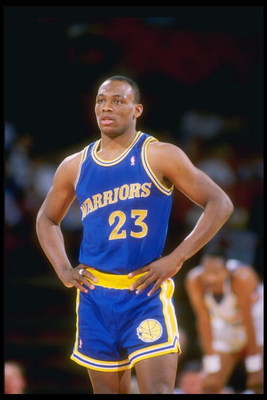 One of the most underrated players the league has ever seen, Mitch Richmond is routinely left off of top 10 lists. Given the fact that Michael Jordan once called Richmond the toughest player he ever matched up against, this is an amazing oversight.
Along with Richmond's quiet demeanor, the fact that he played most of his career on non-contending teams makes it easy to forget him. However, his stats are anything but forgettable. Over the course of his career, Richmond averaged more than 20 points per game in each of his first 10 seasons, including a high of 25.9 in 1996-97.
A very underrated defender, Richmond was known for strong position defense and a rock solid physique.
He was a tremendous shooter, averaging over 38 percent from three point range over the course of his career. Additionally, he shot more than 85 percent from the free throw line.
The only real knock against Richmond as a shooting guard was his lack of playoff experience, and this is a very valid point. Throughout his career, he was on bad teams in good leagues, and his playoff resume is lacking as a result.
He only played in the playoffs in four seasons of his career, averaging just under 20 points per game. This statistic is somewhat skewered because he averaged 1.5 points per game on four minutes per game in his last season as a reserve for the Lakers, who won the championship.
Sadly, Richmond's legacy is and will continue to remain as an underrated footnote in an era of great play.
8. Reggie Miller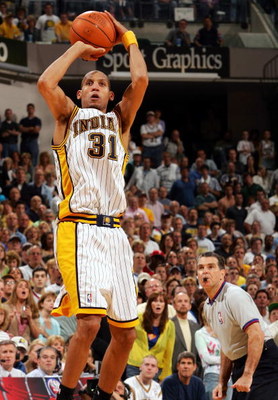 One of the best pure shooters of his time, Miller was a staple in the NBA for 18 seasons.
His numbers include 18 points per game shooting 47 percent from the field, 39 percent from three point range and 88 percent from the free throw line.
He was selected to five All-Star games and competed in the playoffs in 15 of his 18 seasons, all with the Indiana Pacers.
Most importantly, he was a tremendous clutch performer. In the playoffs, his averages always rose from the regular season, including a career playoff scoring average of 20.6, a full two points per game better than his career regular season average.
He was known for his deadly accuracy from long range and his knack for hitting the nail-in-the-coffin jumper at the end of games.
He was not known, however, for strong defense. Often times, players that he competed with were able to torch him for as many points as he was able to score on them. Typically, the Pacers hid Miller's defensive weakness by putting him on weaker offensive players and allowing him to take over games on the offensive end.
His legacy is damaged by his inability to win a title, although in the Finals he did average over 24 points per game. He was a very one-dimensional player, but he was really good at that dimension.
7. Allen Iverson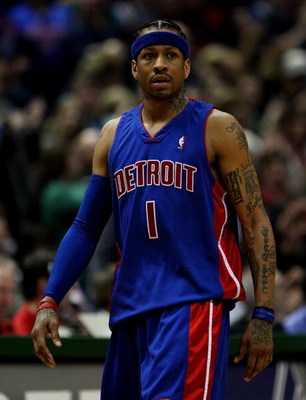 Generally considered one of the toughest players to ever play the game, Allen Iverson burst onto the scene upon being drafted first overall by the Philadelphia 76ers.
Playing with a swagger all his own, Iverson stood up to the aging legends of the game, even famously shaking Michael Jordan on a highlight reel crossover dribble.
A streaky shooter, Iverson was and continues to be quicker than a mongoose on cocaine. His ability to get to the hoop and absorb tons of punishment has earned "The Answer" the respect of his peers.
Additonally, his numbers speak for themselves. Despite all of the punishment he has taken, he has still led the league in minutes per game seven times.
Offensively, Iverson's numbers are better than most men bigger than him. He has led the league in scoring four times, and his career average is an astounding 27.2.
While he has received a reputation as someone that is not interested in defense, he has led the league in steals three times and has a career mark of 2.2 per game.
Although the only true mark against him on his resume is a lack of title, his career playoff scoring average is 29.7 including 32.9 in the only year he reached the NBA Finals (2001).
Other career highlights include being named to 10 All-Star teams (so far), being named NBA MVP, All-Star game MVP (twice), Rookie of the Year, and being named first, second or third team All-NBA seven times.
Tremendous player, he could find himself as high as third on this list if he finally reaches the promised land and wins a title.
6. Earl Monroe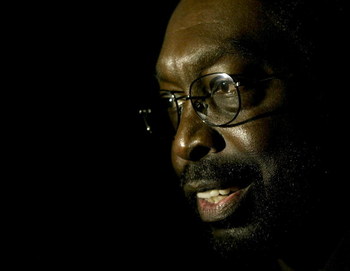 Earl "The Pearl" Monroe, or "Black Jesus" as he was known during his Baltimore days, was a pure scorer throughout his career. Whether it was his spin move to the hoop or his sweet stroke from deep, Monroe never met a shot he didn't like.
Early on in his playing days, Monroe was a dominant scorer, pairing up with Wes Unseld to lead Baltimore. Upon leaving the Bullets for New York, Monroe paired with Walt Frazier to form the "Rolls Royce" backcourt. He won his lone title in 1973 with the Knicks.
A player with a legacy that has even come to influence a younger generation, Monroe is largely considered one of the pioneers of today's showmanship in the league.
5. Clyde Drexler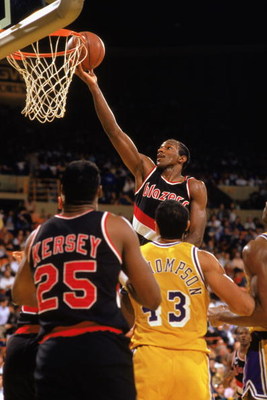 One of the games highest fliers, Clyde "The Glide" Drexler was one of the few players that could share the spotlight with Michael Jordan.
Though best known for his driving ability and high-flying dunks, Drexler was actually a fairly good shooter and an excellent rebounder, averaging over six boards per game for his career. And although he was generally considered one of his generation's greatest scorers, he also managed to average nearly six assists per game.
While Drexler is not considered a stellar defender, he did average two steals per game for his career, including a career high of 2.7 in 1988-89.
Of course, Drexler makes this list because of his scoring ability. During the course of his career, Drexler averaged over 20 points per game seven times, including a career high of 27.2 in 1988-89.
He was also a tremendous postseason scorer, averaging over 20 points per game for his career. And while he was unable to win a title while playing with Portland despite his two Finals appearances, he did finally win in Houston, pairing with Hakeem Olajuwon to win the title in 1995.
Additionally, Drexler was named to 10 All-Star teams, and the All-NBA first, second or third team five times. One of the truly great scorers of his generation, Drexler will always be remembered as a smooth player and a class act.
4. George Gervin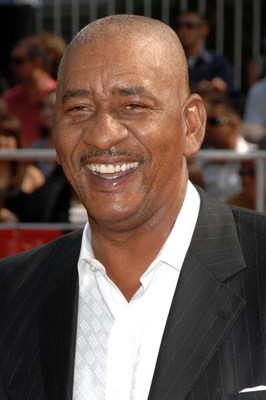 Long, smooth and lanky, George "The Iceman" Gervin helped revolutionize the game in the 1970s. One of the first successful crossover stars from the ABA, Gervin became an instant star while playing with the San Antonio Spurs, leading the league in scoring average four times. Known for his smooth jump shots and his finger roll layups, Gervin is one of the most often imitated players from his generation.
Although not a strong defender, he made up for this weakness by developing into a solid rebounder and shot blocker, averaging over five boards and one block per game for his career.
While Gervin never won a title, he averaged over 26 points per game for his career in the playoffs, including a remarkable 30 or more points per game in three different years.
Perhaps one of the top two or three players to never win a title, Gervin retired from the league in 1986, filling in for an injured young player named Michael Jordan, and averaging a respectable 16 points per game to drop his career mark to 25.1. Truly remarkable.
3.Jerry West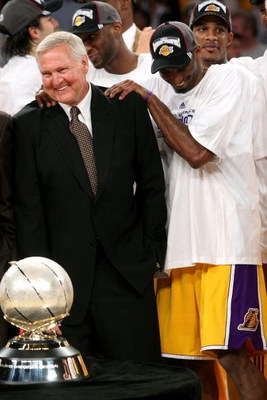 Known to a younger generation as simply "The Logo", Jerry West was one of the most clutch players to ever lace up a pair of Chuck Taylors. Finishing his career with a scoring average of 27 points per game is amazing. Averaging over seven rebounds per game in four seperate seasons at the menacing height of 6'2" is nearly as impressive.
However, West built his reputation as a clutch performer in the post season, averaging over 29 points per game, including seven different seasons with over 30 points per game and a remarkable 40.6 in 1965.
And although West only won one title, he was the only player to ever win the NBA Finals MVP despite losing the series, a record that will likely never fall.
West's legacy as a player is tremendous, although his legacy as an executive may be greater, winning seven titles as general manager for the Lakers.
2. Kobe Bryant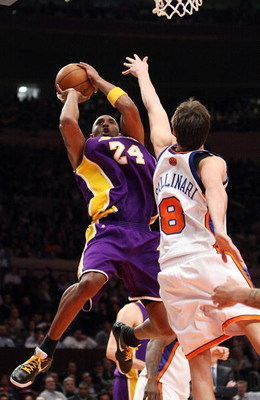 Coming into the league straight out of high school, the hype surrounding Kobe Bryant was remarkable. What was even more amazing was the fact that he eventually lived up to it.
Bryant is generally considered the heir apparent to Michael Jordan as the league's top player, essentially taking the baton from the legendary Chicago Bull and continuing his legacy.
Bryant's numbers stand up well against Jordan's, averaging over 20 points per game in the past 10 consecutive seasons, including over 30 in three of them with a high mark of 35.4 in 2005-06.
Furthermore, Bryant has exhibited Jordan's same killer instinct, raising his level of play when it matters most...in the post season. His career scoring average in the playoffs is a stellar 24 points per game.
Additionally, Bryant has another one of Jordan's most admirable traits: He is a terrific defender. Bryant learned long ago that the only way to cement his legacy as one of the best players of all-time was to raise his level of play on the defensive end, a characteristic that continues to separate him from fellow contemporaries Lebron James, Vince Carter and Tracy McGrady. Bryant has been selected to the All-Defensive first or second team eight times in his career.
Other accomplishments for Bryant include 11 All-Star berths, three All-Star MVP awards, All-NBA first, second or third team 10 times and the league MVP award. Furthermore, he has led the league in scoring twice and has averaged over five rebounds, four assists and a steal and a half per game for his career.
Although many have dubbed him a Michael Jordan clone, Bryant has done a fine job of making a name for himself, winning three titles and falling short in two additional Finals appearances. If Bryant retired today, he would be considered the second best shooting guard to ever play. However, for all of his accomplishments, Bryant is still only 30-years-old! Still considered the best player in the game, Bryant has a chance at challenging Michael Jordan for all-time supremacy if he continues to dominate. Stay tuned!
1. Michael Jordan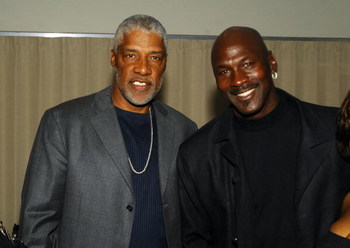 Amazing, Gifted, and Remarkable! There are only so many ways to say great, but Michael Jordan somehow puts them all to shame.
Easily the best player to ever play the game, Jordan truly had no weaknesses. Early in his career, Jordan was known exclusively as a dunker. Although he was a great scorer, his remarkable dunks are what really defined him. As he matured, so did his game, leading to weapons such as a turn around jump shot that was impossible to defend.
Additionally, Jordan was the best defensive shooting guard to ever play the game, pestering point guards and over-powering shooting guards.
His numbers were unheard of. He led the league in scoring 10 times, finishing with a career scoring average of over 30 points per game. He made the All-Star team 14 times, winning the game's MVP award three times, he was named to the All-NBA first team 10 times and the second team once, he was named to the All-Defensive team nine times, and was league MVP five times. Additionally, he won six titles and was named MVP of the Finals in all six appearances.
The most amazing thing about Jordan was his drive. He was the most competitive player to ever play the game, and refused to give up on any play on any night.
While his numbers are out of this world, they would have been even more impressive had he not retired twice during his prime.
Regardless, Jordan is without question the best shooting guard of all-time...and coming from a lifelong Pistons fan, you know that you can take that to the bank!
Best of the Rest- Vince Carter
A tremendous scorer and finisher, Vince Carter continues to play well deep into his career.
So, why is he not on the list? Three reasons. One, he does not play well in the post season. He has only reached the playoffs five times, and his shooting percentage dropped to less than 40 percent in three of those seasons.
Two, he is a poor defensive player. Even in an era of scorers, his lack of interest in playing on the defensive end of the court is legendary. Sure, he may score over 20 points per game most seasons, but I guarantee you that he gives up more than that.
Third, the way he left the Toronto Raptors high and dry. Sure, this has no bearing on how well he plays, but he faked an injury and tanked in order to be dealt, an absolutely shameless way to get what you want. Don't believe me? Look at his numbers the year he was dealt (15.9 points per game in Toronto, and 27.5 points per game in New Jersey). Disgusting.
Best of the Rest-Tracy McGrady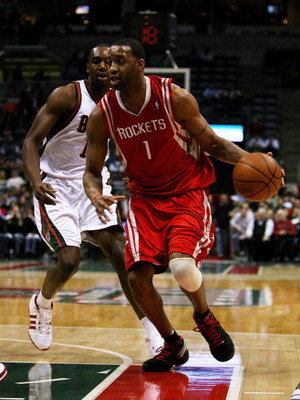 Once thought of as one of the top players in the game, McGrady has essentially stunted his own growth as a player over the past six years. Whether it has been injuries slowing him down or just laziness, McGrady has gone from being a driven, defensive presence with the ability to get to the hoop at will, to a slow-footed, defensively apathetic player that seems more at ease launching errant threes than he is at driving to the hoop.
He still has tremendous talent, but he plays as though he is 39 instead of 29.
Best of the Rest-Dwayne Wade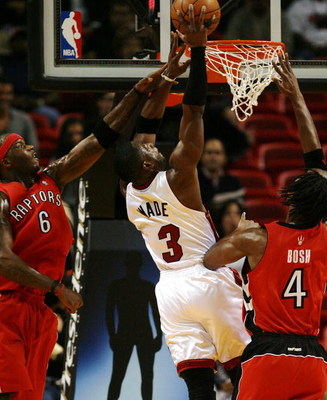 Okay, I need to post a disclaimer here. I really dislike Dwayne Wade. Nobody was happier when he appeared to be over the hill last year. However, he showed that he was re-vitalized during this summer's Olympics, and his stellar play has continued into the season.
As a result, Wade will likely find himself on this list if he plays a few more years at this level.
So why don't I like him? I question his toughness. He built an ad campaign touting his ability to "get knocked down seven times, get up eight." He developed a reputation as being a tough competitor. Everyone bought it.
And then, he dislocated his shoulder. Cameras zoomed in on the warrior sobbing like a little girl with a skinned knee before he was carried out of the stadium in a wheelchair. Okay, I admit, a dislocated shoulder hurts. I know this firsthand. But I have never heard of someone being so overcome with pain that they needed help walking in order to deal with an upper body injury.
This may sound insensitive, but I don't care. Wade became, in my eyes, the poster child for a generation of people that tell you who they are, and then prove otherwise with their actions.
All that being said, he is a remarkable talent, and when I revise this story in a decade or so, he will likely be on it.
Best of the Rest- Pete Maravich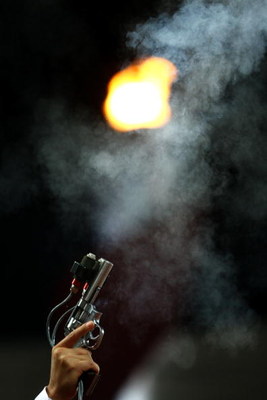 "Pistol" Pete Maravich was one of the league's top scorers and truly one of the league's first showmen.
However, he had a very short career, he rarely played on good teams, and he was a horrible defender.
Had he played longer or at the very least played on one or two truly competitive teams (his year with the Celtics doesn't count because he was an afterthought on that team), he would likely have made it to the top 10 or maybe even five.
Best of the Rest- David Thompson
One of the great showmen of the game, David Thompson electrified fans in the ABA and the NBA alike.
His first six seasons furnished scoring averages of over 20 points per game.
Sadly, injuries forced him to retire at the age of 29.
Best of the Rest- Reggie Lewis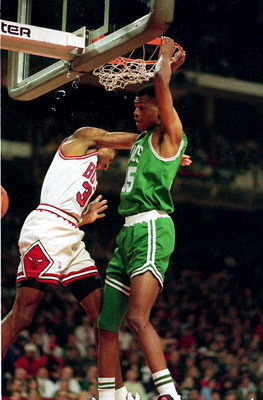 A tremendously talented young player, Reggie Lewis was just coming into his own as a player when he died tragically at the age of 27 with a heart ailment.
Best of the Rest-Rip Hamilton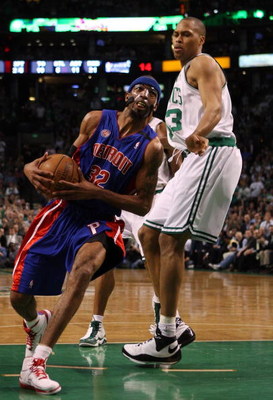 The best player in the league at coming off of screens, Rip Hamilton has made a name for himself as the "Energizer Bunny." His amazing stamina and great mid-range shooting helped Detroit win a title in 2004.
Best of the Rest- Rolando Blackman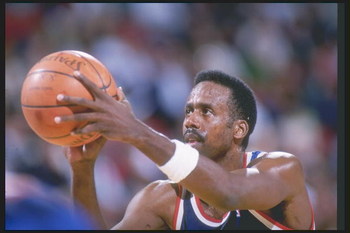 One of the games purest shooters in the 1980's, Rolando Blackman epitomized the term "one-dimensional." It's not that he wasn't good at anything else; he truly didn't do anything else. However, he was a great scorer, averaging 18 points per game for his career.
Best of the Rest- Jerry Stackhouse
Known for his ability to get to the hoop at will, Stackhouse was a great scorer, culminating with over 29 points per game while with Detroit.
However, he was a different player in the playoffs, with his average dropping from 18.5 in the regular season to just over 14 in the playoffs. Truly a case of a streaky shooter developing "brick syndrome" when it matters most.
Best of the Rest- Others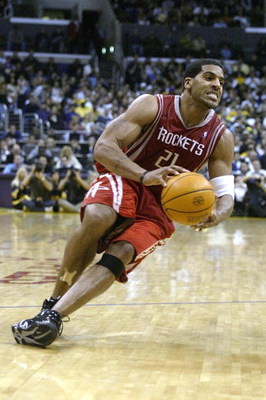 Other players deserving of mention: Jim Jackson, Walter Davis, Ricky Pierce, Allan Houston, Alvin Robertson, Byron Scott, John Starks, Sidney Moncrief, Latrell Sprewell, Jeff Hornacek, Jeff Malone, and a host of others were considered but for a plethora of reasons were not chosen.
Jackson, Davis, Scott, Starks, Hornacek and Malone were not chosen because they were one-dimensional and didn't do that dimension well enough to merit inclusion.
Moncrief missed the cut because injuries helped destroy his ability, Sprewell was left out because he was not nearly good enough of a shooter to be considered a top "shooting" guard, and Pierce played his best ball as a sixth man, which eliminated him from consideration.
One of my favorites, Alvin Robertson, was not included because he was more of a point guard than a shooting guard, but he was not mentioned in my point guards list. Furthermore, he was a horrible shooter.
Keep Reading