Miami Dolphins Complete 2012 NFL Preseason & Training Camp Guide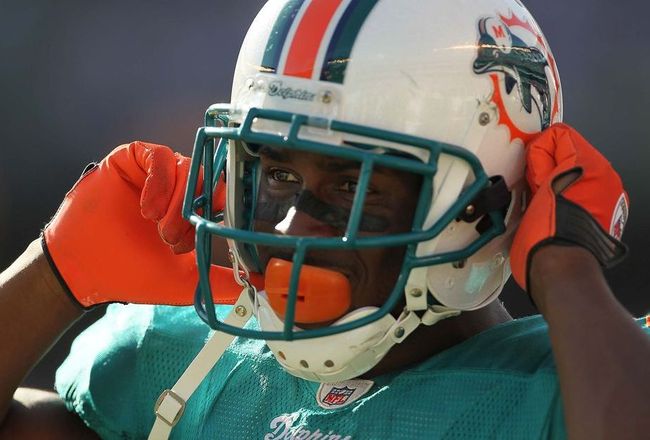 Photo courtesy PalmBeachPost.com

The Miami Dolphins open training camp at 8:00 a.m. on July 27th.
Yes, training camp is one week away.
I can't believe it either.
Even though expectations aren't high for this team, this is a landmark training camp. The Dolphins are under the direction of a new head coach, the quarterback-of-the-future is waiting in the wings and HBO is about to offer an unprecedented peek inside the anatomy of the franchise.
And, of course, there's a quarterback competition, because what would a Dolphins training camp be without one?
Beyond that, there's something to watch for at virtually every position, whether it's players fighting for starting jobs, vying to fulfill expectations or trying to silence critics.
Well, friends, it's been a fun offseason, but it's time to kick into full gear.
Here we go.
The Biggest Questions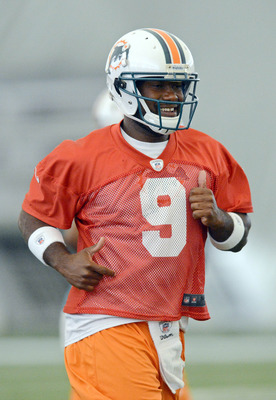 Steve Mitchell-US PRESSWIRE
1. Who will start at quarterback?
The biggest question to be answered at training camp pertains—as per usual—to the quarterback position, where David Garrard and Matt Moore will fight to enter the regular season as the starting signal caller.
Joe Philbin said in May that he plans on naming a starter before the team's third preseason game. This gives Garrard, who is currently the leader in the clubhouse, an even greater chance of winning the job. Moore might have more upside, but he needs to master the West Coast offense in a very small time frame, and there's no guarantee he's fit for this system.
Of course, we can't talk about Dolphins quarterbacks without mentioning Ryan Tannehill, but the unpolished rookie figures to spend most of 2012 holding a clipboard.
2. Will the right side of the offensive line resolve its issues before the regular season?
Tony Sparano failed to assemble a cohesive offensive line in his four years with the Fins, and Joe Philbin has inherited the problems his predecessor couldn't solve.
Granted, the Dolphins are set at left tackle, left guard and center, the right side of the line is a train wreck. There's a pair of inexperienced and unproven tackles vying for the starting right tackle job, and Artis Hicks, who has started just 26 games since 2006, is the favorite for the right guard job. Offensive line troubles have hindered Miami's offense for several years, and it will continue to do so if the right side doesn't improve.
There's still plenty of time for the Dolphins to bring in a veteran right guard, and, hopefully, either Lydon Murtha or rookie Jonathan Martin will emerge as a quality tackle.
3. Will the safety corps make strides from 2011?
One of the Dolphins' most pressing needs entering this offseason was at safety. How did the team address this issue? It signed Vikings castoff Tyrell Johnson, a player who projects as little more than a special teams contributor.
By not pursuing a starting-caliber safety in the draft or free agency, the Dolphins gave a huge vote of confidence to their incumbent safeties, whom they clearly believe can be quality starters.
Right now, Reshad Jones and Chris Clemons are the favorites to start, but that's not exactly comforting. Jones struggled throughout 2011, and Clemons still couldn't jump him on the depth chart (though he did struggle with injuries). Both players have to make huge leaps in 2012 or Miami's defense will struggle.
4. How will the Dolphins adjust to the West Coast offense?
Joe Philbin is installing a scheme that contrasts starkly from Tony Sparano's smashmouth, ground 'n' pound system. The Dolphins are now building an athletic, finesse offense; one that will succeed by running around defenders—not over them.
Transitioning to such a different system will be a burden on some players and a blessing to others. Reggie Bush will benefit from the WCO's emphasis on running backs in the passing game, and Brian Hartline and Davone Bess will benefit from its emphasis on crisp route running and yards after the catch.
However, Clyde Gates doesn't fit the WCO criteria, Matt Moore has no documented experience in it and Richie Incognito needs to show he has sufficient athleticism to pull and trap on a regular basis.
5. How will the wide receiver corps fare without Brandon Marshall?
The Dolphins' wide receiver corps suffered a major downgrade when the team shipped Brandon Marshall off to Chicago. Now, some combination of Chad Ochocinco, Davone Bess, Brian Hartline, Legedu Naanee, Roberto Wallace and the other seven wideouts fighting for roster spots must pick up the slack.
Opposing defenses won't be intimidated by this starless wide receiver corps, that's no secret. So, the Dolphins need to find ways to keep secondaries guessing. Things might look bleak for the passing game, but if the Patriots could win with David Patten and Troy Brown, then the Dolphins can win with Chad Ochocinco and Davone Bess.
Players on the Roster Bubble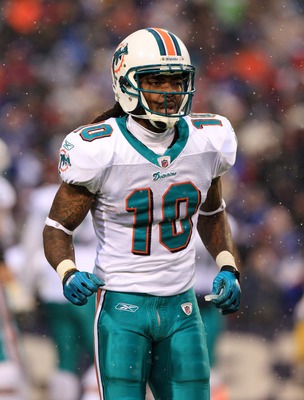 Kevin Hoffman-US PRESSWIRE
Steve Slaton
The Dolphins signed former rookie sensation Steve Slaton last September as insurance to Reggie Bush and Daniel Thomas. He appeared in only three games, but showed enough to earn a one-year contract extension.
However, the addition of Lamar Miller spells trouble for Slaton, who's fighting for the fourth running back spot. Slaton doesn't offer anything Reggie Bush and Lamar Miller don't, and he doesn't offer more upside than youngsters like Marcus Thigpen, Jerome Messam and Jonas Gray.
Clyde Gates
The impossibly fast wide receiver is only entering his second NFL season, but he's in serious danger of being cut. Gates was a non-factor in the passing game last year, but that was to be expected of a rookie coming from a Division II school.
Now, however, Gates has to show this new coaching staff that he can contribute. With more than 10 wideouts fighting for five or six spots, Gates could be one of the odd men out.
Marlon Moore
Moore's uncanny speed and elusiveness makes him an intriguing prospect, but it's time for him to shed the project label and become a contributor. He's spent the last two years shuffling between the practice squad and active roster.
The third-year wide receiver had a chance to contribute last season, but spent most of it on injured reserve. Now that he's healthy, Moore has no more excuses. The competition for the last few wide receiver spots is stiff, and if Moore doesn't rise above it, Miami might shut down construction on their two-year project.
Roberto Wallace
Wallace and Moore have been attached at the hip for the last two years. Both have made sparse appearances on the active roster, and, unfortunately, both have spent a great deal of time on the injured reserve list.
But, Wallace is 6'4", 225 pounds and boasts 4.49 speed. On top of that, he's been a solid and reliable special teams player in the past. Wallace turned some heads at minicamp, and while that's encouraging, it doesn't mean he's a lock to make the team.
John Jerry
Jerry was awfully close to being cut last offseason, and he made the team look wise for retaining him after he played impressively at the end of the season. Just when it looked like the 2010 third-round pick was blossoming into a starter, he took a step back.
Free agent pickup Artis Hicks currently has the edge on Jerry for the starting right guard spot. There's still a very good chance the Dolphins will sign another veteran guard before the season starts, which could signal the end of Jerry's disappointing tenure.
Rishard Matthews / B.J. Cunningham
Just because Matthews and Cunningham are rookies doesn't mean they're guaranteed roster spots. (Remember, the Dolphins cut last year's seventh round pick Frank Kearse before the regular season began)
The Dolphins currently have 12 wide receivers vying for five or six roster spots. Amongst those 12 are some very promising young players, some of whom might offer more upside than Matthews and Cunningham.
Players to Watch
Robert Mayer-US PRESSWIRE
Daniel Thomas
Following a disappointing rookie season, Thomas has critics to silence and questions to answer. The 6'0", 230-pound running back has all of the tools to be a great NFL player, but he failed to put it all together last season.
For a player his size, Thomas is deceptively athletic and versatile. He can run over and around defenders, and he can be an asset in the passing game—both as a blocker and receiver. Inexperience and injuries might explain his poor play last year, but those aren't viable excuses any more.
The time for Thomas to live up to his second-round billing starts in training camp.
Lamar Miller
It's unclear if Lamar Miller is fully recovered from a shoulder injury that he suffered last year. If he's cleared for contact—and let's hope he is—then he'll be one of, if not the most exciting player to watch in camp.
Miller has drawn rave reviews from observers and teammates alike. He impressed Armando Salguero at rookie camp and caught the Sporting News' eye at OTAs. On top of that, Reggie Bush believes Miller could see some time at wide receiver.
Even if you're not actively watching Lamar Miller at training camp, he's going to grab your attention.
Brian Hartline
If you're wondering why you haven't heard much about Brian Hartline recently, it's because he missed all of minicamp while recovering from an appendectomy. He should be ready for training camp, however.
These next few weeks are the biggest of Hartline's young career. He has a golden opportunity to secure a starting role. Given his polished route running skills and ability to rack up yards after the catch, he might breakout in this West Coast offense.
Roberto Wallace / Marlon Moore
Time is running out and patience is wearing thin with these two members of Miami's 2010 undrafted free-agent class. Both have the potential to be productive NFL wideouts, and it's time they breakthrough after two years of grooming.
Wallace impressed in OTAs, and his 6'4" frame alone makes him a near-lock for the roster.
Moore, however, doesn't have such a firm grasp on a roster spot, but he has lethal speed that would be welcome in this receiver corps, which lacks home-run threats.
Les Brown
The college basketball player turned accountant turned NFL tight end has the coolest story in camp, but does he have what it takes to make the team?
Realistically, no.
Brown isn't ready to compete with Miami's other tight ends, so his best and only shot at making the team is through the practice squad. If Brown shows enough promise in camp, then the Dolphins won't hesitate to give him a spot on the scout team.
Charles Clay
Transitioning from fullback to tight end should translate to a considerable influx in production for Clay. After spending his rookie season relegated to fullback duties, Clay is now in a position to fully utilize his athleticism and soft hands.
The Dolphins desperately need a seam-threat tight end, and after an outstanding minicamp, Clay is primed to fill that role. He might not only emerge as a weapon for the Dolphins in 2012, he might emerge as one of the league's biggest surprises.
Jared Odrick
Entering his third NFL season, Odrick will get a crack at a starting role for the first time. He racked up six sacks and 20 tackles in a situational role last season, setting himself up for big things in 2012.
Odrick can apply pressure to the quarterback and play the run. He can be a fixture on Miami's defensive line for years to come, and it'll be interesting to see if he lives up to the hype in training camp.
Olivier Vernon
Although Jared Odrick can generate a pass rush, that's not his specialty. But it is Olivier Vernon's. On passing downs—or when the Dolphins want to get in the QB's face—Vernon will step in for Odrick at defensive end or Koa Misi at rush outside linebacker.
He's one of the few rookies from this latest draft class that will have a significant role in 2012. In fact, he could easily have the biggest impact of any rookie on the roster. Vernon has the potential to be a menacing pass rusher, but he'll have to prove he's ready for the NFL in training camp first.
Nolan Carroll
In 2010, Carroll was a training camp sensation. The fifth-round draft pick was a ballhawk throughout camp, and it looked like the Dolphins had discovered a diamond in the rough.
However, Carroll couldn't translate preseason success into regular season success, and he's been relegated to backup cornerback jobs for the last two years. Carroll attributes his recent struggles to the lockout, and believes he's prepared to make the leap in 2012.
The Dolphins are scarily thin at cornerback, but if Carroll actually has a breakthrough, then the secondary will be far more insured and flexible.
Jimmy Wilson
Jimmy Wilson generated similar buzz last year as Carroll did in 2010. The seventh-round pick immediately made a name for himself at camp, showing big-league instincts and explosion.
But, like Carroll, he couldn't quite carry his preseason success over to the regular season.
Wilson enters his second training camp with a chance to win a starting safety job, though he'll need to really impress to surpass Chris Clemons on the depth chart. Even if Wilson doesn't win a starting job, he's going to be a role player this season, and it'll be exciting to track his progress in camp.
Best Depth Chart Battles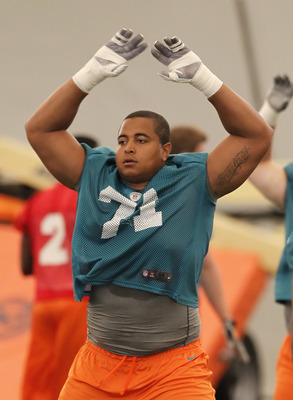 Joel Auerbach/Getty Images
David Garrard vs. Matt Moore
The Dolphins' most publicized positional battle is at quarterback (big surprise). Adam Schefter called Garrard a slight favorite, but Matt Moore will have every opportunity to prove he's the better quarterback.
The winner of this QB competition will likely boil down to which one exerts better touch, accuracy and timing with wide receivers. Moore's existing chemistry with Miami's wideouts could give him an edge, but Garrard is a seasoned veteran with Pro Bowl and playoff appearances on his resume.
Daniel Thomas vs. Lamar Miller
Reggie Bush is Miami's unquestioned number one running back, there's no doubt about that. But, who will handle the third down back role?
Daniel Thomas and Lamar Miller will compete for that job, and it'll make for one of training camp's most exciting battles. Miller's speed and soft hands make him the favorite (and a more conventional third-down back), but don't discount Thomas. He's a shifty player as well, he also has reliable hands and, perhaps more importantly, he's a solid pass blocker.
Both players will receive their share of touches in the regular season, but the winner of this battle will see added attention.
Wide Receivers vs. Each Other
The only wide receiver on Miami's roster who's guaranteed a starting wide receiver spot is Davone Bess. Otherwise, the field is wide open. Realistically, Chad Ochocinco, Brian Hartline, Legedu Naanee and maybe Roberto Wallace are in contention for the starting roles alongside Bess. No other positional battle features so many contestants, so the competition is bound to be tense and exciting.
Jonathan Martin vs. Lydon Murtha
Second-round pick Jonathan Martin and fourth-year veteran Lydon Murtha will compete for the starting right tackle job in camp.
Both players are inexperienced and unproven, though Murtha did start four games in 2010 and played admirably. Had he not suffered a season-ending toe injury in training camp last year, he could've won the right tackle job. But that's in the past, and Murtha now has to compete against Martin, a highly touted prospect who projects as a future topflight starter. Murtha has the edge in experience, but Martin has superior talent.
Despite their inexperience, whoever wins this job will be under pressure to play like a veteran in the regular season.
Koa Misi vs. Gary Guyton
The Dolphins spent a second-round pick on Koa Misi just two years ago, and despite a sophomore slump, the team certainly isn't ready to give up on him. Misi had a solid rookie season but wasn't the same player last year. Miami's transition back to the 4-3 could help rejuvenate his career given his athleticism and ability to play the run.
However, free-agent acquisition Gary Guyton spent four productive seasons in New England's 4-3 scheme, and he has the athleticism to cover tight ends—something this defense has struggled with for several years.
Misi isn't in danger of losing his starting spot yet, but he'll have to fend off Guyton in training camp.
Chris Clemons vs. Jimmy Wilson
Chris Clemons took first team reps alongside Reshad Jones at minicamp, making him the presumed favorite to start there during the regular season.
However, Clemons is far from locked in. Jimmy Wilson is an exciting prospect whose ceiling is much higher than Clemons'. It could take Wilson another year or two to harness his athleticism and adjust to the safety position, but maybe he'll surprise at training camp for the second year in a row.
Clemons has a more conservative style of play than Wilson, and given Reshad Jones' famously aggressive nature, that might make defensive coordinator Kevin Coyle more comfortable plugging him into the second starting spot.
Full Miami Dolphins Training Camp and Preseason Schedule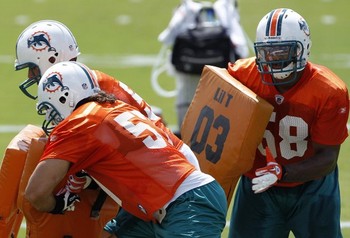 Photo via TCPalm.com
SCHEDULE (ALL TIMES ARE SUBJECT TO CHANGE)

* The team will begin each practice at Team Facility in the practice bubble at 8:00 a.m. and will continue with practice on the outside fields approximately 40 minutes later
* All practices are subject to weather conditions
| | | | |
| --- | --- | --- | --- |
| Game / Practice | Date | Time (ET) | Location |
| Practice | July 27 | 8:40 a.m. | Team Facility |
| Practice | July 28 | 8:40 a.m. | Team Facility |
| Practice | July 29 | 8:40 a.m. | Team Facility |
| Practice | July 30 | 8:40 a.m. | Team Facility |
| Practice | August 1 | 8:40 a.m. | Team Facility |
| Practice | August 2 | 8:40 a.m. | Team Facility |
| Practice | August 3 | 8:40 a.m. | Team Facility |
| Practice | August 4 | 9:15 a.m. | Sun Life Stadium |
| Practice | August 6 | 8:40 a.m. | Team Facility |
| Practice | August 7 | 8:40 a.m. | Team Facility |
| Practice | August 8 | 5:45 p.m. | Team Facility |
| Game #1 (vs. Tampa Bay) | August 10 | 7:30 p.m. | Sun Life Stadium |
| Practice | August 12 | 1:40 p.m. | Team Facility |
| Practice | August 13 | 8:40 a.m. | Team Facility |
| Practice | August 14 | 8:40 a.m. | Team Facility |
| Practice | August 15 | 8:40 a.m. | Team Facility |
| Game #2 (at Carolina) | August 17 | 7:30 p.m. | Bank of America Stadium |
| Game #3 (vs. Atlanta) | August 24 | 7:30 p.m. | Sun Life Stadium |
| Game #4 (at Dallas) | August 29 | 8:30 p.m. | Cowboys Stadium |
Miami Dolphins Training Camp Info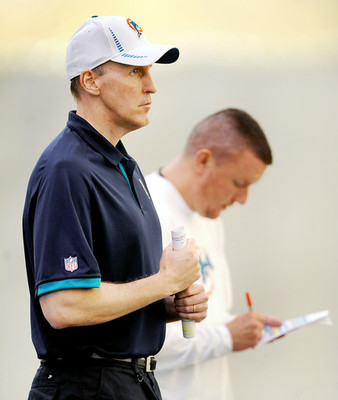 Photo via SunSentinel.com
Nova Southeastern will play host to Miami Dolphins training camp for the 19th consecutive year. All open practices will take place at Nova Southeastern's facilities except on August 4, when the Fins will play under the lights of Sun Light Stadium.
Here's what you need to know, courtesy of MiamiDolphins.com:

BASIC INFORMATION

When: Starting on Friday, July 27 and concluding on Friday, August 17
Where: Dolphins Training Facility, 7500 S.W. 30th St., Davie
Fan Seating: For 2,000 fans, located on the west side of the facility
Parking: LRITC Garage
Entry: SW entrance near Pro Shop / Gates open 1 hour prior to start of practice
Concessions: Food and beverages are available for sale.
Pro Shop: Located at south end of bleachers; Open during all practice sessions
Practice Hotline: (954) 452-7004 (Updated Times)


PRACTICE POLICIES

Fans are prohibited from bringing the following items to Dolphins practices at the team's facility this training camp:

• Alcohol and drugs
• Umbrellas, strollers
• Glass bottles and cans
• All electronic devices with exception of still cameras, cell phones and I-Pods
• Electronic transmission of data during practice (included but not limited to blogging, tweeting and/or texting)
• Cameras with lenses exceeding 8'
• Noise makers, laser pointers
• Weapons, fireworks
• Any other items deemed dangerous or inappropriate
• All guests and their belongings are subject to search
• Inebriated and unmanageable guests will not be permitted to attend camp

TEAM STORE

Once again, fans attending training camp practices will have the opportunity to purchase Dolphins merchandise at the club's Pro Shop, located at the south end of the team's training facility, immediately next to the bleachers. The shop will carry a wide array of Dolphins merchandise, including gameworn jerseys, t-shirts, polo shirts, caps, authentic and replica jerseys, children's apparel and various novelty items. A majority of the items will be specific to the Dolphins' 2011 training camp, and are carried at this location only. The shop will be open Monday through Saturday from 10:00 a.m. – 6:00 p.m. and during all practices at the team's facility. For further information and hours, contact the Pro Shop at (954) 452-7099.
Full Miami Dolphins Camp Roster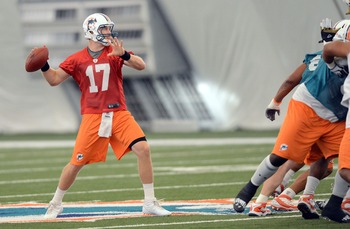 Steve Mitchell-US PRESSWIRE
Here's a look at the Dolphins' 90-player roster as of July 19th. This is subject to change before camp begins, but it's unlikely any movement will occur.
OFFENSE
NO
NAME
POS
AGE
HT
WT
EXP
COLLEGE
7
Pat Devlin
QB
24
6-3
225
1
Delaware
9
David Garrard
QB
34
6-1
239
9
East Carolina
8
Matt Moore
QB
27
6-3
216
6
Oregon State
17
Ryan Tannehill
QB
23
6-4
222
R
Texas A&M
22
Reggie Bush
RB
27
6-0
203
7
USC
46
Jonas Gray
RB
22
5-9
225
R
Notre Dame
41
Jorvorskie Lane
RB
25
5-11
258
R
Texas A&M
38
Richard Medlin
RB
25
5-11
200
R
Fayetteville State
35
Jerome Messam
RB
27
6-4
250
R
Graceland
44
Lamar Miller
RB
21
5-10
218
R
Miami (Fla.)
23
Steve Slaton
RB
26
5-9
208
5
West Virginia
34
Marcus Thigpen
RB
26
5-9
195
1
Indiana
33
Daniel Thomas
RB
24
6-1
233
2
Kansas State
42
Charles Clay
FB
23
6-3
250
2
Tulsa
6
Ryan Mahaffey
FB
24
6-2
250
2
Northern Iowa
15
Davone Bess
WR
26
5-10
193
5
Hawaii
16
B.J. Cunningham
WR
23
6-2
215
R
Michigan State
83
Jeff Fuller
WR
22
6-4
223
R
Texas A&M
10
Clyde Gates
WR
26
5-11
190
2
Abilene Christian
82
Brian Hartline
WR
25
6-2
199
4
Ohio State
81
Chris Hogan
WR
23
6-1
215
1
Monmouth (N.J.)
86
Rishard Matthews
WR
22
6-0
210
R
Nevada-Reno
14
Marlon Moore
WR
24
6-0
190
3
Fresno State
19
Legedu Naanee
WR
28
6-2
215
6
Boise State
85
Chad Ochocinco
WR
34
6-1
188
12
Oregon State
11
Julius Pruitt
WR
26
6-2
212
2
Ouachita Baptist
18
Roberto Wallace
WR
26
6-4
222
3
San Diego State
87
Les Brown
TE
25
6-4
245
R
Westminster (UT)
84
Michael Egnew
TE
22
6-5
255
R
Missouri
80
Anthony Fasano
TE
28
6-4
255
7
Notre Dame
88
Jeron Mastrud
TE
24
6-6
262
3
Kansas State
89
Will Yeatman
TE
24
6-6
270
2
Maryland
62
Ryan Cook
C
29
6-6
325
7
New Mexico
51
Mike Pouncey
C
22
6-5
303
2
Florida
61
Will Barker
OT
25
6-7
310
3
Virginia
75
Nate Garner
OT
27
6-7
325
5
Arkansas
77
Jake Long
OT
27
6-7
319
5
Michigan
71
Jonathan Martin
OT
22
6-5
312
R
Stanford
67
Andrew McDonald
OT
23
6-6
310
R
Indiana
76
Lydon Murtha
OT
26
6-7
330
4
Nebraska
65
Dustin Waldron
OT
22
6-5
310
R
Portland State
63
Derek Dennis
OG
24
6-3
315
R
Temple
69
Ray Feinga
OG
26
6-4
320
1
Brigham Young
73
Artis Hicks
OG
33
6-4
312
11
Memphis
68
Richie Incognito
OG
29
6-3
319
8
Nebraska
74
John Jerry
OG
26
6-5
345
3
Mississippi
64
Josh Samuda
OG
23
6-3
315
R
Massachusetts
DEFENSE
NO
NAME
POS
AGE
HT
WT
EXP
COLLEGE
90
Ryan Baker
DE
27
6-5
302
4
Purdue
78
Tony McDaniel
DE
27
6-7
305
7
Tennessee
98
Jared Odrick
DE
24
6-5
302
3
Penn State
70
Jarrell Root
DE
24
6-3
276
R
Boise State
79
Derrick Shelby
DE
23
6-2
270
R
Utah
72
Jacquies Smith
DE
22
6-4
260
R
Missouri
94
Randy Starks
DE
28
6-3
305
9
Maryland
50
Olivier Vernon
DE
21
6-2
268
R
Miami (Fla.)
95
Isaako Aaitui
DT
25
6-4
315
1
Nevada-Las Vegas
66
Chas Alecxih
DT
23
6-3
304
R
Pittsburgh
97
Kheeston Randall
DT
23
6-5
309
R
Texas
96
Paul Soliai
DT
28
6-4
345
6
Utah
56
Kevin Burnett
LB
29
6-3
240
8
Tennessee
45
Cameron Collins
LB
22
6-2
241
R
Oregon State
58
Karlos Dansby
LB
30
6-4
250
9
Auburn
49
Jonathan Freeny
LB
23
6-2
250
1
Rutgers
59
Gary Guyton
LB
26
6-3
250
5
Georgia Tech
57
Josh Kaddu
LB
22
6-3
242
R
Oregon
48
Shelly Lyons
LB
22
6-1
238
R
Arizona State
55
Koa Misi
LB
25
6-3
257
3
Utah
53
Austin Spitler
LB
25
6-2
250
3
Ohio State
93
Jason Trusnik
LB
28
6-4
252
6
Ohio Northern
91
Cameron Wake
LB
30
6-3
258
4
Penn State
52
Jamaal Westerman
LB
27
6-3
260
4
Rutgers
43
Vince Agnew
CB
24
5-10
196
1
Central Michigan
32
Marcus Brown
CB
25
6-1
190
1
Arkansas State
28
Nolan Carroll
CB
25
6-1
205
3
Maryland
21
Vontae Davis
CB
24
5-11
205
4
Illinois
31
Richard Marshall
CB
27
5-11
198
7
Fresno State
24
Sean Smith
CB
25
6-3
218
4
Utah
25
Jonathan Wade
CB
28
5-11
195
5
Tennessee
27
Jimmy Wilson
CB
25
5-10
205
2
Montana
47
Trenton Hughes
DB
23
5-10
190
R
Maryland
36
Quinten Lawrence
DB
27
6-0
188
2
McNeese State
37
Kelcie McCray
DB
23
6-1
200
R
Arkansas State
38
Kevyn Scott
DB
23
5-10
205
R
Syracuse
30
Chris Clemons
S
26
6-1
214
4
Clemson
29
Tyrone Culver
S
29
6-1
210
7
Fresno State
26
Tyrell Johnson
S
27
6-0
207
5
Arkansas State
20
Reshad Jones
S
24
6-1
210
3
Georgia
40
Anderson Russell
S
25
6-0
208
2
Ohio State
SPECIAL TEAMS
NO
NAME
POS
AGE
HT
WT
EXP
COLLEGE
5
Dan Carpenter
PK
26
6-2
225
5
Montana
2
Brandon Fields
P
28
6-5
245
6
Michigan State
92
John Denney
LS
33
6-5
255
8
Brigham Young


Miami Dolphins 2012 Rookie Class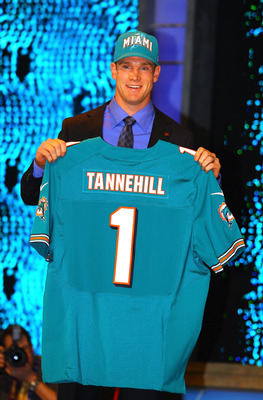 Al Bello/Getty Images
Ryan Tannehill (1st round pick):
The Dolphins' future lies within the right arm of Ryan Tannehill, but we won't see much of the eighth overall pick in 2012. Tannehill is raw and unrefined, and Miami will take a prudent approach with his development. If Miami falls out of contention late in the season—which they probably will—then we might see Tannehill start a game or two, or at least make a few appearances.
Jonathan Martin (2nd round pick):
Martin is the only Dolphins rookie competing for a starting job. If he wins the starting right tackle job, he might not relinquish it for a decade. Martin initially projected as an early first-round draft pick, but concerns about his strength and a mediocre Pro Day performance knocked him down into the second round. Still, Martin has all of the tools of a franchise tackle, even if it takes him a year or two to fulfill his potential. He should defeat Lydon Murtha for the right tackle job in training camp.
Olivier Vernon (3rd round pick):
The only other rookie who already has a role carved out, Vernon should see plenty of action in 2012. When the Dolphins are in their 4-3 alignment, Vernon will step in for Jared Odrick at defensive end on passing downs. When they're in the 3-4, Vernon can step in for Koa Misi at rush-outside linebacker. Vernon is a fierce pass rusher who could accrue anywhere from five to 10 sacks this season.
Michael Egnew (3rd round pick):
Egnew is one of the most unique and gifted athletes to don a Dolphins uniform in recent memory. The tight end is 6'5", 252 pounds and ran a 4.6 40 yard dash. He also enjoyed a decorated collegiate career.
The only knock on Egnew is his blocking inadequacy. Missouri's offense rarely if ever required him to block, so he'll need time to develop that facet of his game. However, he should make an impact in the passing game right away, especially in the red zone. He's too fast for most linebackers to cover and too big for most safeties to defend.
Lamar Miller (4th round pick):
Miller is a home-run threat every time he touches the ball, so he'll demand touches this season. It's hard to say how prominent of a role he'll play considering he may be third in the running back pecking order behind Reggie Bush and Daniel Thomas.
Regardless of where he is on the depth chart, Miller is too dangerous to keep stashed away on the bench. The Dolphins will find ways to get him on the field, even if that means playing him at wide receiver on occasion. He should compete for kick return duties in camp, too.
Josh Kaddu (5th round pick):
Kaddu has received virtually no attention this summer despite the fact that he may factor into Miami's linebacker rotation. He has the athleticism to cover tight ends, which makes him an asset in the 4-3. And, he can generate a pass rush, which makes him an asset in the 3-4. Kaddu will see the field in 2012, but most of his reps may come on special teams.
B.J. Cunningham (6th round pick):
The Dolphins have such a surplus of wideouts that B.J. Cunningham is not guaranteed a roster spot. Cunningham doesn't do any one thing spectacularly well. Instead, he's a very well-rounded wideout whose best qualities—hands, route running, quickness—translate well to the West Coast offense. Unless Cunningham really struggles in camp, he should, at the very least, land on the practice squad. Don't expect to see much of him during the regular season.
Kheeston Randall (7th round pick):
Don't sleep on Randall. Although he was a seventh-round pick, Randall has the size and strength to help absorb blockers, clog space and stop the run. He doesn't have much value as a pass rusher at this point, so if he sees any action in 2012, it'll most likely be in short yardage and goal-line situations. The Dolphins aren't particularly deep at defensive tackle either, so if Randall earns a spot on the 53-man roster, then he might see a decent amount of playing time.
Rishard Matthews (7th round pick):
Miami traded back into the seventh-round to draft Matthews, so the front office must see pro potential in the 6'0", 217-pound wideout. Matthews, like Cunningham, is not guaranteed a roster spot due to the team's deep crop of receivers. He's an athletic player who can make plays downfield, but he's still unpolished and needs to work on creating separation from defensive backs. Matthews doesn't project as an impact or role player for 2012.
Miami Dolphins 2012 Undrafted Free Agents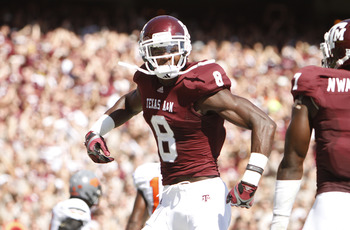 Thomas Campbell-US PRESSWIRE
Chas Alecxih (DT)
The former Pittsburgh defensive tackle boasts a solid 6'4", 296-pound frame and good athleticism for a player his size. However, he can be overpowered by offensive linemen and needs to improve his tackling skills. Given the Dolphins' lack of depth at defensive tackle, he has a shot at the practice squad.
Cameron Collins (LB)
Collins moved from safety to linebacker in 2011. CBS Sports tagged him a "Breakout Star" in August, but he obviously never fulfilled that prophecy. He was still productive for Oregon State last season, however, and served as a co-captain as well. Collins is 240 pounds and ran a 4.68 40, so he has the tools to guard big, athletic tight ends. Best case scenario for him in 2012 is the practice squad.
Derek Dennis (G)
Dennis has NFL size (6'3", 308 pounds) and power, but he struggled with durability at Temple, missing half of the 2008 season with a hyperextended elbow and missing a combined 14 games with a torn ACL in 2009 and 2010.
Dennis has to improve his athleticism and consistency, but he definitely has the anatomy of an NFL lineman. His journey will most likely begin on the practice squad. Though if he really plays well in training camp, then he could earn a backup role on Miami's thin offensive line.
Jeff Fuller (WR)
Easily the most notable undrafted free agent to sign with the Dolphins, Fuller is also one of the UDFAs most likely to win a roster spot. His career features the highest of highs (dominating Patrick Peterson in the 2011 Cotton Bowl) and the lowest of lows (suffering a hamstring injury, turf toe, a concussion and struggling with drops all during his senior year).
Fuller was once one of college football's brightest wideouts, but he watched his draft stock free-fall as he struggled with durability and drops. If he can limit those drops and stay healthy, then he'll have a legitimate shot at the 53-man roster.
Jonas Gray (RB)
Gray is still recovering from an ACL tear he suffered back in November. There's a good chance he'll start the season on the PUP. Once Gray is healthy, he has a good shot at the practice squad.
He weighs in at a rock-solid 5'10", 223 pounds. The Dolphins don't have a reliable short-yardage back on the roster, and Gray, when healthy, could be a candidate to fill that role. He also has unexpected speed, which further boosts his chances of landing on the practice squad.
Trenton Hughes (CB)
Hughes is a speedy cornerback with sub-4.5 speed. He'll have an opportunity to contribute on special teams and possibly handle some kick returns in camp, but he'll need to impress the coaching staff to earn a spot on the practice squad.
Shelly Lyons (LB)
Lyons is a 6'2", 228-pound linebacker who made just 11 starts in four years at Arizona State. He's recognized for his athleticism, and he'll be shooting for the practice squad in camp.
Dustin Waldron (OT)
Waldron is a small-school product, having played his college ball at Portland State. He'll need to add some bulk to his 6'5", 305-pound frame, but he has a very good chance of landing a roster squad spot. If he can handle NFL-caliber defenders, then he could be a backup offensive tackle within the next year or two.
Jacquies Smith (DE)
Smith, at 6'2", 253 pounds, is undersized for a NFL defensive end. To compensate, he has 4.6 speed, great instincts and he gets off the line very quickly.
The Dolphins are thin at defensive end, so if Smith has a spectacular camp, he'll garner a shot at the 53-man roster. Otherwise, Smith seems like a sure bet for the practice squad.
Derrick Shelby (DE)
Shelby has uncanny athleticism for his 6'3", 271-pound build. He posted the third-highest vertical leap amongst defensive linemen at the NFL combine (makes him valuable on passing downs) and ran a respectable 4.8 40 at Utah's pro day.
He was also very productive for Utah, recording a combined 24.5 sacks in his last three seasons.
Shelby tore his ACL in 2009, but durability doesn't appear to be an issue. However, inconsistency, functional strength and instincts are issues. He is a player worth giving an extended look on the practice squad.
Kevyn Scott (CB)
Scott is another cornerback with exceptional speed. He ran a 4.44 at Syracuse's pro day and started 22 games. He was a regular recipient of honor roll and all-academic while at school, and was named a team captain during his senior season. Scott clearly has his head on straight, and the Dolphins could use another developmental cornerback. At best, he'll be on the practice squad in 2012.
Josh Samuda (G)
Samuda is a versatile lineman who started at both left and right guard at UMASS. He has adequate size and helped anchor a line that, in his first three seasons, yielded less than one sack per game. The Dolphins don't have many quality backups on their offensive line, and that's something Samuda can help change down the road.
Jarrell Root (DE)
Root was semi-productive when he was on the field at Boise State, but injuries kept him sidelined far too often. He had arthroscopic knee surgery in the spring of 2008 and broke his leg in the ensuing season. He'll fight an uphill battle for a practice squad spot.
Kelcie McCray (S)
One of the most highly touted UDFAs Miami signed, McCray has a longshot at making the 53-man roster. The Dolphins backup safeties—specifically Tyrell Johnson and Tyrone Culver—certainly don't have strongholds on their roster spots.
McCray is a physical safety who specializes in run support but has no problems defending the pass either. His instincts need work, but McCray could definitely see time on the Dolphins' special teams units in 2012.
Andrew McDonald (OT)
McDonald is a huge, 6'6", 316-pound offensive tackle who signed with the team 10 days after the initial wave of UDFAs signed. He doesn't look like anything more than a camp body, but if he catches the coaching staff's eye he can always earn a role on the practice squad.
Jorvorskie Lane (RB)
To say Lane is an oversized running back would be the understatement of the year. He's 5'11" and, wait for it, 277 pounds.
Lane was a rising star at Texas A&M in 2007, but a disastrous 2008 season knocked him out of the 2009 draft. He spent the 2010 season in the Indoor Football League and moved onto the Arena Football League in 2011.
The Dolphins signed Lane, one of offensive coordinator Mike Sherman's former players, on June 5th with other fullbacks Jerome Messam and Jonas Gray sidelined with injuries. He definitely needs to shed some weight before he has a shot at the 53-man roster, but the practice squad is a possibility.
Miami Dolphins 2012 Free Agency and Trade Additions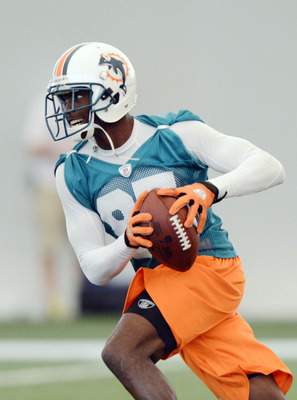 Steve Mitchell-US PRESSWIRE
David Garrard:
As you well know, Garrard is competing for the starting quarterback job with Matt Moore. Although popular support may be with Moore after last season, Garrard was a Pro Bowler in 2010. If Garrard wins the starting job, he'll provide a steady, conservative passer who can keep the Dolphins competitive. And, if he loses the QB competition, he'll provide a great, reliable backup. This signing was a win-win.
Jerome Messam:
The Dolphins made headlines when they signed the CFL legend in February. Messam ran for more than 1,000 yards for the Edmonton Eskimoes in 2011, making him the first "non-import" player to hit the milestone since 2000. The 6'3", 245-pound running back was forced to undergo his second left-knee surgery in five months in May, hindering his chances of making an impact in 2012.
Depending on his recovery time, Messam could start the season on the PUP list. If he's back in time for camp, then he'll compete for a roster spot as a fullback.
Chad Ochocinco:
There's no telling if the 34-year-old has anything left in the tank after a horrendous 2011 season with the Patriots. Chad sounds reinvigorated since arriving in Miami, but if any player knows how to talk himself up, it's him. However, Ochocinco can't be out of gas yet.
He was a Pro Bowler in 2009 and caught 67 passes in 2010. He's clearly in decline, but Ocho can still contribute between 65 and 75 receptions in 2012.
Legedu Naanee:
His signing went mostly unnoticed, but Naanee can make a name for himself this season. He's 6'2", 225 pounds and has home-run speed. His tools are extraordinary, but he hasn't been able to capitalize on them in five NFL seasons.
This could be one of Naanee's last chances to prove he's a viable NFL wide receiver. The Dolphins need wideouts to step up, and he couldn't ask for a better opportunity than this.
Les Brown:
The former accountant hasn't played football in six years, but he ran a 4.40 40 with a sprained ankle. That athleticism inspired Jeff Ireland to give Brown a shot despite his hiatus from the game. He's as big of a project as they come. As long as he shows progress in training camp, Brown should be on the practice squad in 2012.
Artis Hicks:
When the Dolphins signed Hicks, he didn't look like anything more than a versatile, veteran backup. However, he was taking reps at right guard with the first team offense during training camp. The 33-year-old journeyman has started a combined 26 games for three different teams in the last five years. Jeff Ireland is still on the lookout for another guard, but it looks like Hicks could be a starter in 2012.
Jamaal Westerman:
Westerman made the New York Jets' roster as an undrafted free agent in 2009, but he didn't make much of an impact until 2011, when he registered 32 tackles and 3.5 sacks. The Dolphins hope he'll continue developing into a pass rusher, a specialty the front seven needs more of. He'll step in for Cameron Wake in situational roles.
Gary Guyton:
Guyton started 30 games in four seasons for the New England Patriots. He's a versatile linebacker who can play both strong-side and weak-side linebacker in the 4-3. He also excelled in pass coverage until last season, when he began to struggle with it. If Guyton recovers his coverage prowess and plays well throughout camp, then he can push Koa Misi for the starting WLB job.
Richard Marshall:
The highest profile defensive free agent Miami landed, Marshall will serve as the team's nickelback. He provides a significant upgrade from Will Allen and a significant upgrade to the secondary as a whole. Marshall makes the Dolphins better equipped to defend pass-happy teams like the Patriots, Packers and Saints.
Tyrell Johnson:
Nobody had high expectations for Johnson when the Dolphins signed him, and things aren't looking up for the former second-round draft pick. He was silent at minicamp, and doesn't appear to have any chance at winning a starting role. Unless he turns things around in camp, Johnson won't be more than a special teams contributor in 2012. That is, if he doesn't get cut.
Game-by-Game Preseason Analysis and Predictions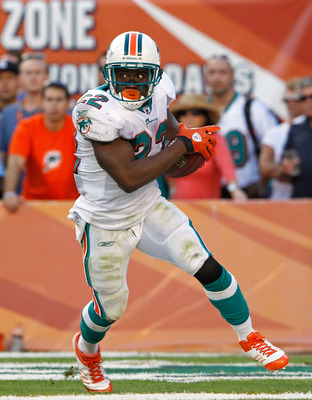 Mike Ehrmann/Getty Images
Game #1 vs. Tampa Bay Buccaneers (August 10)
The Dolphins will make their preseason debut under the lights of Sun Life Stadium. Starters typically play a handful of series or one quarter of the first game. It'll be interesting to see who trots out as Miami's starting quarterback, right guard, right tackle and safety. This game will give us our first glimpse at how the depth chart projects and it'll give us a little taste of Joe Philbin's West Coast offense.
Tampa Bay added Vincent Jackson, Carl Nicks and first-round pick Doug Martin to a budding offense, and they're under the direction of a new head coach in Greg Schiano. The Bucs could be a playoff contender in 2012, and their backups have an edge on the Dolphins'.
Score: Dolphins 17 - Buccaneers 20
Game #2 at Carolina Panthers (August 17)
Miami's second preseason game could feature some high stakes. Joe Philbin said he plans on naming a starter before the third preseason game, so whichever contestant performs better against the Panthers might find himself under center in Week 1 of the regular season.
Carolina is a very young team that's starting to build a strong foundation, but they still have a ways to go. Cam Newton will give Miami's defense a tough test, and it'd be comforting to see a solid performance from Kevin Coyle's defense.
Score: Dolphins 21 - Panthers 13
Game #3 vs. Atlanta Falcons (August 24)
This is the one everybody will be watching. Joe Philbin plans on naming his starter before this game, which could be the most important development of training camp. Starters typically play approximately one half in the third preseason game, so we'll get an extended look as either Matt Moore or David Garrard quarterback Miami's offense against a secondary that features Dunta Robinson, Asante Samuel and Brent Grimes.
The Falcons offense is vastly superior than the Dolphins', but they will have a difficult time running the ball against this front seven. This game, like every other preseason game, is impossible to call, but expect the backups to make it a close one.
Score: Dolphins 24 - Falcons 23
Game #4 at Dallas Cowboys (August 29)
With only five days separating the third and fourth preseason games, we probably won't see much of the starters. In fact, we probably won't see them at all. However, this is still a pivotal game for the Dolphins. Any remaining positional battles will be settled, and the fates of players on the roster bubble will be decided.
This game will also feature plenty of Ryan Tannehill.
The Cowboys are a playoff contender with a deep roster. Their backups should overpower the Dolphins'.
Score: Dolphins 14 - Cowboys 20
Projecting the Final 53-Man Roster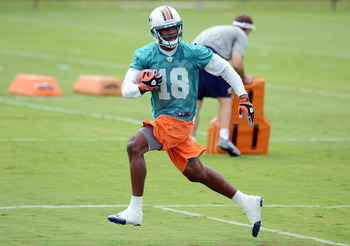 Steve Mitchell-US PRESSWIRE
Players are ranked within each position. This is my projection for Miami's Week 1 roster, but it's certainly subject to change as the season progresses. For example, I expect Roberto Wallace to move up the depth chart, but start the season as the team's No. 5 wideout. I also expect the team to sign another offensive guard, which could result in the release of John Jerry.
| | |
| --- | --- |
| Position | Name |
| QB | David Garrard |
| QB | Matt Moore |
| QB | Ryan Tannehill |
| RB | Reggie Bush |
| RB | Daniel Thomas |
| RB | Lamar Miller |
| RB | Marcus Thigpen |
| WR | Davone Bess |
| WR | Chad Ochocinco |
| WR | Brian Hartline |
| WR | Legedu Naanee |
| WR | Roberto Wallace |
| WR | Marlon Moore |
| TE | Anthony Fasano |
| TE | Charles Clay |
| TE | Michael Egnew |
| LT | Jake Long |
| LT | Nate Garner |
| LG | Richie Incognito |
| C | Mike Pouncey |
| C | Ryan Cook |
| G | John Jerry |
| RG | Artis Hicks |
| RT | Jonathan Martin |
| RT | Lydon Murtha |
| LDE | Jared Odrick |
| LDE | Olivier Vernon |
| DT | Paul Soliai |
| DT | Randy Starks |
| DT | Tony McDaniel |
| DT | Kheeston Randall |
| RDE | Cameron Wake |
| RDE | Jamaal Westerman |
| RDE | Jacquies Smith |
| WLB | Kevin Burnett |
| WLB | Gary Guyton |
| MLB | Karlos Dansby |
| MLB | Austin Spitler |
| SLB | Koa Misi |
| SLB | Josh Kaddu |
| CB | Vontae Davis |
| CB | Sean Smith |
| CB | Richard Marshall |
| CB | Nolan Carroll |
| S | Reshad Jones |
| S | Chris Clemons |
| S | Jimmy Wilson |
| S | Tyrone Culver |
| S | Kelcie McCray |
| LS | Jon Denney |
| P | Brandon Fields |
| K | Dan Carpenter |
Keep Reading

Miami Dolphins: Like this team?