WWE Money in the Bank 2012: Predictions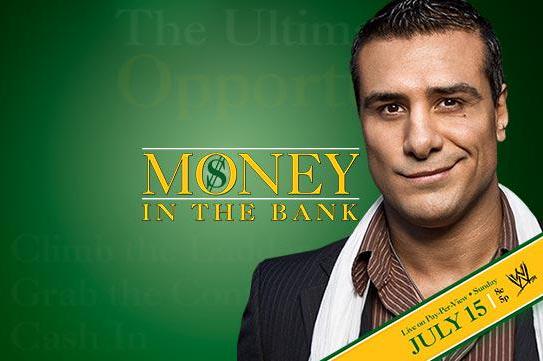 Image courtesy of wwe.com
This Sunday, WWE brings the latest edition of the Money in the Bank PPV to us from Phoenix, Arizona.
As it stands, we only have four matches announced for the event, as well as the pre-show match.
We'll probably see a squash match or two in there featuring Brodus Clay and Ryback, as well as a Divas match too, but nothing's been made official yet.
Let's get to my predictions for the last PPV before SummerSlam!
Begin Slideshow

»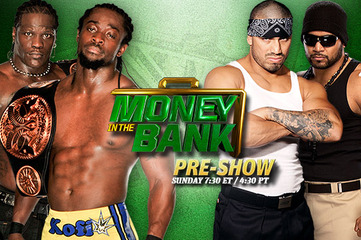 Image courtesy of wwe.com
I understand the point of having pre-show matches.
It's a free way to get people who may not be ordering the event interested in the pay-per-view.
What really bugs me about them is that in two of the four pre-shows so far (at Extreme Rules and now here), a title has been defended.
These titles are already meaningless, so having them defended on a pre-show makes them worth even less than they already were.
Another thing that I don't understand about this match is how did Hunico & Camacho end up with a title shot?
That's the major problem with the logic in WWE sometimes.
It feels like they're booking things on the sly and just make things up as they go along.
For what it is, the match will probably be pretty decent, but I can't see the titles changing hands.
Winners (and STILL Tag-Team Champions): Kofi Kingston and R-Truth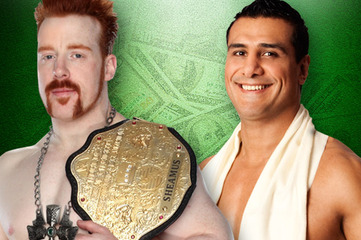 Image courtesy of wwe.com
For most of the last six weeks, Sheamus has steamrollered his way through Dolph Ziggler and after recovering from his concussion, Alberto Del Rio finally gets his one-on-one title match.
I don't know about you, but I'm not excited about this match whatsoever.
Sheamus is a great choice to be champion.
He's got the look that Vince McMahon loves, but he's still unique in terms of his appearance.
He's really grown into the babyface role in the last year and, for me, he's more suited to the role than someone like Randy Orton.
I don't think that Sheamus gets the credit he deserves sometimes.
In the last few months, he's had excellent matches with Bryan, Ziggler, Orton and Swagger (among others) and for a man of his size, he's a tremendous worker.
On the other hand, a part of me thinks that his current main-event level push is Alberto Del Rio's last chance to prove he can cut it in WWE's main-event.
There's no doubt that Alberto can go in the ring, but he just doesn't seem to be able to connect with the audience.
His ring announcer is more over than he is.
Think about all the times WWE almost pulled the trigger with Del Rio before.
In 2011, when he won the Royal Rumble, I thought he'd go on to win the title at Wrestlemania, but he didn't.
When Edge retired, I thought he'd win the World Title at Extreme Rules against Christian, but he didn't.
After that, he moved over to Raw and won the Money in the Bank match, before cashing in his briefcase on CM Punk.
I thought that his title reign would actually mean something, but it didn't.
There's just something about him that doesn't connect with the audience when he talks and cuts promos.
If Del Rio is given the ball and it doesn't work, I think it could be the end of his main-event push in the WWE.
As far as the match goes, I think WWE is building Sheamus as the franchise player on Smackdown so I can't see him losing the title yet.
Winner (and STILL World Heavyweight Champion): Sheamus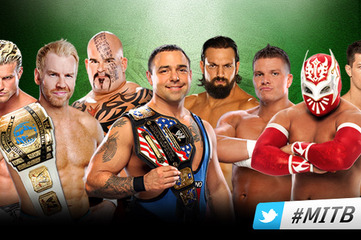 Image courtesy of wwe.com
For me, this match is the hardest to predict of the entire show.
You just don't know who WWE wants to push as their next main-eventer.
I think it's fairly safe to say that, although I'd love to see it, Tyson Kidd isn't going to win this match.
I've said it countless times before, but Kidd is one of the most under-rated WWE performers on the current roster.
WWE should let him have a chance to show what he can do as a singles competitor.
He'd make a great mid-card champion.
In saying that, he's had a lot of TV time lately, ever since the Over the Limit PPV, so he may be in with a shout.
He may go on to feud with Christian.
"Captain Charisma" is another tremendous wrestler who's under-rated in terms of WWE management.
They just don't see him as a viable main-eventer for some reason, so I don't think that my boy is walking away with the briefcase.
The IWC is widely recognised (and sometimes criticised) for being high up on Cody Rhodes and Dolph Ziggler.
The reason that they're well liked is because they are tremendous all round performers who deserve their chance to shine and more often than not, they're the ones who have the best matches of the night.
Those two definitely deserve to be Smackdown's Mr. Money in the Bank.
Then, there's the other men in the match, like Damien Sandow and Sin Cara, who really need that one BIG victory to solidify themselves as members of the main roster.
This could be the match that catapults Sandow into a credible wrestler in the eyes of casual fans.
In my opinion, this match will come down to two men: Santino Marella and Tensai.
Let me explain why.
WWE likes to screw with us and make us think that Santino has a chance of breaking through the glass ceiling.
It happened at last year's Royal Rumble and at this year's Elimination Chamber, so I fully expect it to happen on Sunday as well.
Tensai hasn't really gotten over with the crowd since his debut in April and that's because that kind of gimmick just doesn't work today.
They should have just had him come back as a bad-ass, who takes people out, and then maybe he'd have had a chance.
Since then, WWE have tweaked his gimmick slightly and they seem to be determined on pushing him.
I've just got a sneaky feeling that WWE will swerve us by having Tensai win the Money in the Bank instead of Ziggler or Rhodes.
Winner: Tensai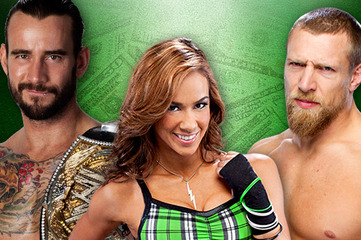 Image courtesy of wwe.com
I'm one of those guys that could sit and watch Punk and Bryan wrestle for hours.
For me, it's a throwback to great feuds like Savage/Steamboat and Michaels/Hart: men who could wrestle and entertain at the same time.
Daniel Bryan has been one of wrestling's hottest commodities for the last six months and I think he deserves a chance to run with the ball.
The problem is that Vince McMahon himself even acknowledged on WWE TV that Bryan "doesn't look like a superstar."
I've got news for you Vince, just because he doesn't look like a jacked-up Mr Universe reject doesn't mean he's not one of the best wrestlers in the world.
CM Punk has had one of the longest WWE title reigns in recent years, but has it really meant anything?
I'm not crapping on Punk, but WWE clearly doesn't think he's able to draw in a "mainsteam" audience, which is why he's only main-evented ONE PPV and a handful of Raw shows since becoming champion.
That's a shame, because Punk is a tremendous wrestler and if WWE really were serious about him as champion, they'd have him main-event Raw and PPV's.
There's no doubt that these two men will put on an incredible wrestling match, but the wildcard of AJ as special referee adds another dimension to the match.
She's had a tremendous push lately and the brilliant thing about it is that nobody knows which way it's going to go.
I really don't mind which of these men win the match, but since he's been on such a roll this year, I think Daniel Bryan deserves to win the WWE Title.
Winner (and new WWE Champion): Daniel Bryan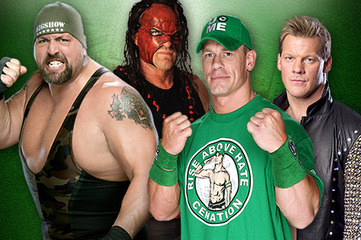 Image courtesy of wwe.com
The only man in this match who I think has no chance of winning is Kane.
Although he's been on fire (haha!) since he came back at the end of last year, Kane doesn't need to win the title.
He's in there to act as the middle man between the smaller Jericho/Cena and Big Show.
When it comes to the other three men, I think they've got an equal chance of winning it.
Big Show has been really entertaining since he turned heel.
He just comes to the ring, kicks ass and then leaves.
That's what a giant should do.
He shouldn't be a dancing, smiling buffoon.
Big Show is the dark horse in this match and he could easily walk out with the briefcase.
John Cena always manages to split the fans right down the middle.
In the last month, Cena has run down the WWE product on live TV, when he said WWE's core audience was nine-year-olds.
Cena's core audience is around 9 years old if you listen to the crowd reactions at TV tapings/PPV's.
As soon as he announced he'd be in this match, I thought that it would be the most predictable Money in the Bank match in WWE history.
It probably will be, but I don't think Cena needs to win Money in the Bank.
Of all the men in this match, Chris Jericho needs the win more than anyone else.
Since he came back, he hasn't had that big victory that he should have had.
Jericho is perhaps the smartest man in wrestling.
He understands that you need to build new stars, which is why he's put over everybody since he came back in January.
This match is different because all of the participants are established, so Jericho doesn't need to worry about that.
If I was WWE, I would give the briefcase to Jericho.
It's known that he's going to be away for a while after SummerSlam to promote and tour the new Fozzy record.
Whenever Jericho leaves WWE there's always a huge void left because he's so versatile.
A great way to bring him back with an impact would be for him to come back with the briefcase and immediately cash it in to win the title.
No vignettes, no warnings, just come back and surprise everyone by cashing in the briefcase.
That's how I'd book it.
Winner: Chris Jericho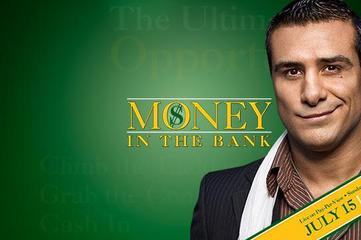 Image courtesy of wwe.com
So, my predictions for this Sunday's pay-per-view are:
Kofi Kingston and R-Truth to beat Hunico and Camacho
Sheamus to beat Alberto Del Rio
Tensai to win the World Title Money in the Bank match
Daniel Bryan to beat CM Punk
Jericho to win the WWE Title Money in the Bank match
Feel free to leave your own predictions in the comments section below!