One Promotional Idea Guaranteed to Sell out the Arena for Every NHL Team
Paul Bereswill/Getty Images
Many NHL teams don't have a problem selling tickets to each home game, but for the franchises that do, smart promotional ideas can really make a difference.
Cool promotional ideas give fans an extra reason to attend the game that night, especially if their hometown team is bad and rarely win games.
Let's look at one promotional idea that would sell out every NHL arena for either one game, a couple games, or an entire season.
Anaheim Ducks: Concert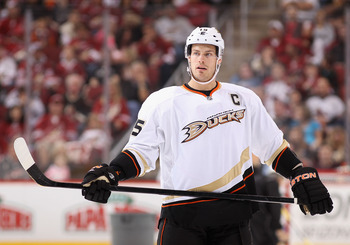 Christian Petersen/Getty Images
If the Anaheim Ducks offered free admission to a concert that would take place after a particular game, then I would imagine a lot of fans would show up regardless of the team's opponent that night.
The Ducks play in Southern California, so I would imagine there are plenty of stars available for an event.
Boston Bruins: Chance to Spend Time with Rob Gronkowski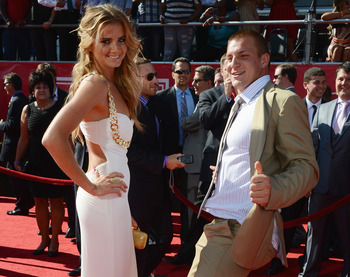 Frazer Harrison/Getty Images
Rob Gronkowski is the most popular Boston sports athlete right now, and having a chance to win tickets to a Bruins game and watch it with the Patriots tight end at TD Garden would be a cool promo idea.
Buffalo Sabres: Steve Ott Night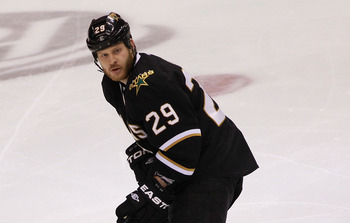 Ronald Martinez/Getty Images
Having a special night early in the season that would allow fans to get to know new Sabres forward Steve Ott would be a great idea for Buffalo.
Calgary Flames: Jiri Hudler & Dennis Wideman Bobblehead Night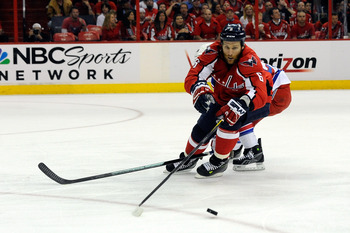 Patrick McDermott/Getty Images
To celebrate their acquisitions of Jiri Hudler and Dennis Wideman this summer, the Calgary Flames should offer a bobblehead night for both players.
It's an old-fashioned but well-liked promotional idea.
Carolina Hurricanes: Brothers Deal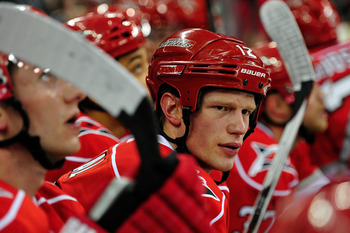 Grant Halverson/Getty Images
If you can prove to the Hurricanes that you and your brother(s) have played on the same high school or some other hockey team together, like Eric and Jordan Staal, then you get half-off your ticket to that game.
Chicago Blackhawks: White Sox Night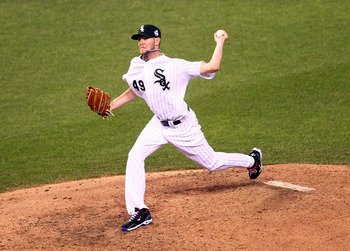 Dilip Vishwanat/Getty Images
If the Chicago White Sox win the World Series this season, then the Blackhawks should give every fan who wears White Sox gear a free beverage from the concession stand at the first home game after the championship-clinching victory.
Colorado Avalanche: Playoff Tickets Promo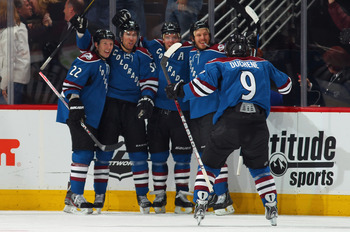 Doug Pensinger/Getty Images
To sell more regular season tickets, the Colorado Avalanche could offer free tickets to the first round of the playoffs to anyone who buys a full-year season ticket package for the upcoming season.
It's wouldn't be a bad deal since the Avalanche could definitely make the playoffs in 2012-13.
Columbus Blue Jackets: Shutout Promo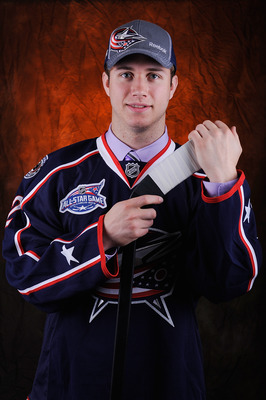 Jamie Sabau/Getty Images
If the Columbus Blue Jackets gave out free Ryan Murray autographs to everyone in attendance at a particular game, I'm sure people who aren't even huge fans of the team would attend. Murray could be the next superstar of the Blue Jackets.
Dallas Stars: Mullet Night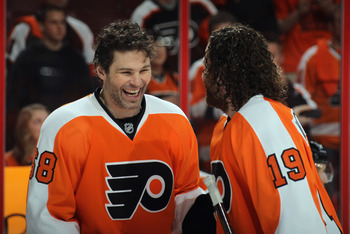 Bruce Bennett/Getty Images
To celebrate the arrival of Jaromir Jagr to the Dallas Stars, the team should give every fan who has a legitimate mullet a free Jagr player T-shirt from the pro shop at opening night.
Detroit Red Wings: Learn from the Best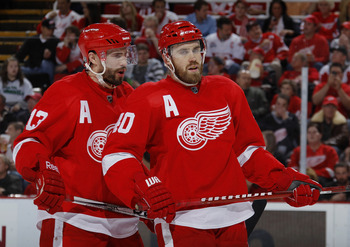 Gregory Shamus/Getty Images
The Detroit Red Wings should have a contest where fans can have a chance to win a one-on-one session with Pavel Datsyuk and Henrik Zetterberg. The two stars could teach some sweet hockey moves.
Who wouldn't want to learn from the best?
Edmonton Oilers: No. 1 Pick Promo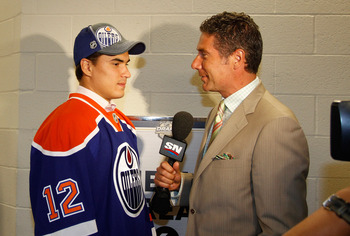 Justin K. Aller/Getty Images
Every time Nail Yakupov scores and Ryan Nugent-Hopkins or Taylor Hall is credited with an assist on the goal, Oilers fans should receive a discount toward pro shop merchandise involving any one of the three No. 1 picks.
Florida Panthers: Autographs of Young Stars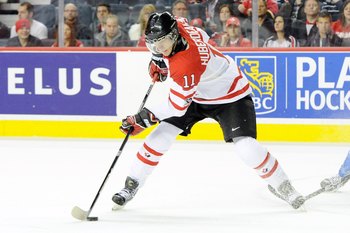 Richard Wolowicz/Getty Images
Any Florida Panthers fan who buys a ticket and an official jersey of Jacob Markstrom, Jonathan Huberdeau, or Kris Versteeg, should receive an autographed picture of one of those three players.
Los Angeles Kings: Stanley Cup Photos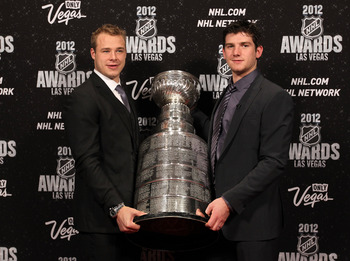 Bruce Bennett/Getty Images
The Los Angeles Kings should offer anyone who buys a season ticket package, even if it's not a full-season package, an opportunity to take pictures with the Stanley Cup before the game.
Montreal Canadiens: Pro Shop Promo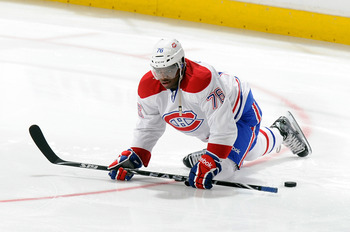 Greg Fiume/Getty Images
When the Montreal Canadiens defeat an opponent that is either directly above or below them in the Eastern Conference standings, fans should get a pro shop discount.
Minnesota Wild: Ryan Suter and Zach Parise Promo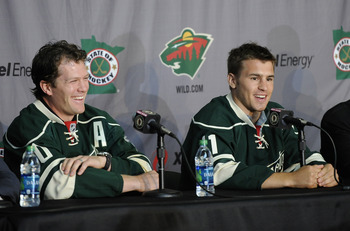 Hannah Foslien/Getty Images
Any fans who buy a season ticket package of any kind should receive a Ryan Suter and Zach Parise Minnesota Wild jersey on opening night.
Nashville Predators: Shea Weber Promo
Christian Petersen/Getty Images
If the Predators sign Shea Weber to a long-term deal, then the team should have a Shea Weber night where the first 1000 fans receive an autographed picture of the team's captain.
New Jersey Devils: Adam Henrique Promo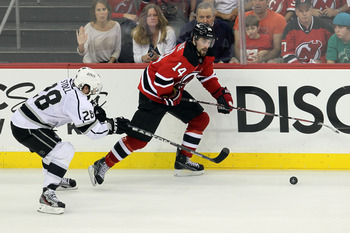 Jim McIsaac/Getty Images
Adam Henrique is the young star that the New Jersey Devils should market going forward. Any fan who buys tickets to 10 or more games should get a free Adam Henrique jersey.
New York Islanders: Tickets Promo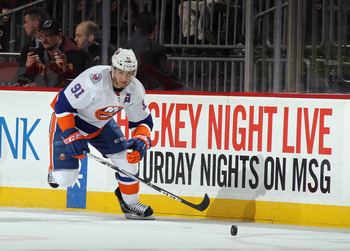 Bruce Bennett/Getty Images
The New York Islanders need to have more fans attend games.
If they had a deal where you could get tickets to five games free if you buy 10 games worth of tickets, I'm sure more fans would come to see John Tavares and company.
New York Rangers: Kids Tickets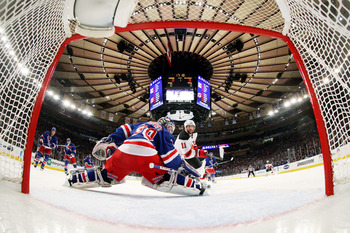 Bruce Bennett/Getty Images
Rangers tickets aren't cheap, so when the Blueshirts play teams that aren't likely to result in a sellout, the team should give discounts to families that normally would have trouble bringing their kids to a game.
Tickets, food, and transportation for a family of four or five is quite expensive.
Ottawa Senators: Erik Karlsson Night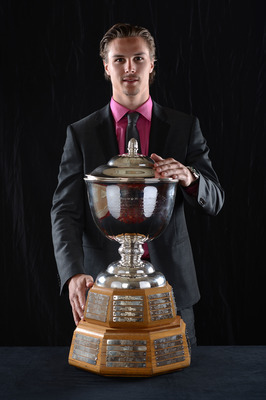 Harry How/Getty Images
To celebrate Erik Karlsson's Norris Trophy, the Ottawa Senators should give every fan who comes to the first Senators versus Bruins game in Ottawa a miniature Norris Trophy figure.
Philadelphia Flyers: NHL 13 Promo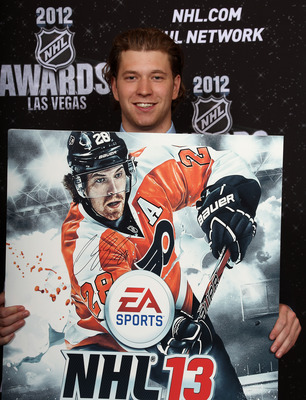 Bruce Bennett/Getty Images
If there was a way for the Philadelphia Flyers and EA Sports to give fans who attend a particular home game a code to use in NHL 13's "ultimate team" game mode to unlock a Claude Giroux player card, that would be an awesome promo.
Giroux is on the cover of EA Sports' NHL 13.
Phoenix Coyotes: Tickets Promo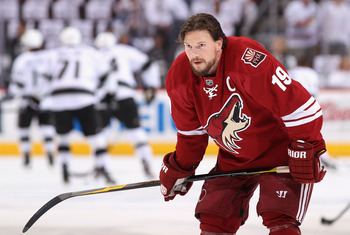 Christian Petersen/Getty Images
Any kind of ticket promo idea would be great for the Phoenix Coyotes since they are in dire need of more fans showing up at every home game.
Pittsburgh Penguins: James Neal Promo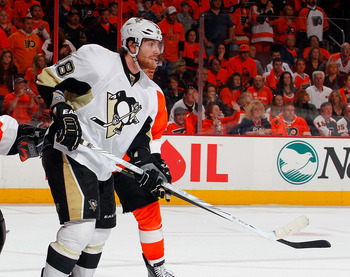 Paul Bereswill/Getty Images
Any time James Neal scores a goal, fans should be able to get a discount on Neal merchandise at the team's pro shop.
The Penguins need to do more to market Neal, who is coming off a career year offensively.
San Jose Sharks: Brad Stuart Night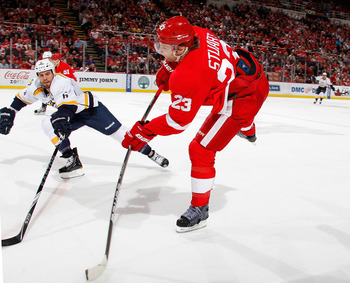 Gregory Shamus/Getty Images
To welcome Brad Stuart to the San Jose Sharks, the team should give out autographed pictures and bobbleheads of Stuart at an early season home game.
Stuart will likely end up being the most significant addition to the Sharks roster this season.
St. Louis Blues: Alex Pietrangelo Promo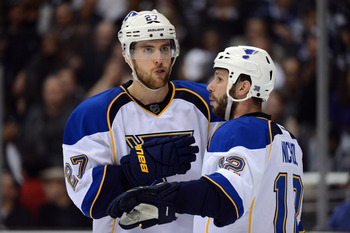 Harry How/Getty Images
Any kind of promo idea that involves young defenseman Alex Pietrangelo would be a great idea. He is one of the NHL's best young players and needs to be marketed more on a local and national level.
Tampa Bay Lightning: Stamkos Promo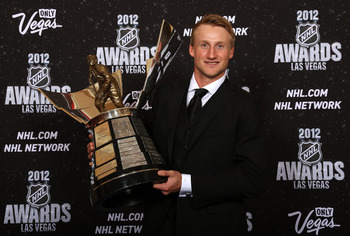 Bruce Bennett/Getty Images
Every time Steven Stamkos scores a goal for the Tampa Bay Lightning at a home game, every fan who wore a Stamkos jersey to one of those games should get a discount to the pro shop.
Toronto Maple Leafs: Student Promo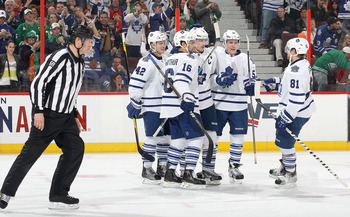 Jana Chytilova/Freestyle Photo/Getty Images
Toronto Maple Leafs tickets are expensive, and for many college students, they are very difficult to afford. The Leafs should make it easier for these kids to attend games by having special ticket discounts for students.
Vancouver Canucks: Game Used Equipment Promo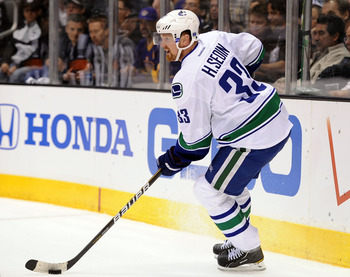 Harry How/Getty Images
Many teams do something like this already, but handing out game-used equipment, whether it's jerseys, pucks, sticks, etc. would give fans even more reasons to go to Vancouver Canucks home games.
Washington Capitals: Youth Hockey Promos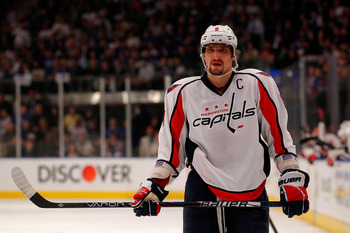 Paul Bereswill/Getty Images
The Washington Capitals have really helped the development of youth hockey in their community.
Having special ticket plans for youth hockey teams that want to bring players to games would be a great way for kids to have fun on weekends and see their favorite stars.
Winnipeg Jets: Throwback Night
Bruce Bennett/Getty Images
The Winnipeg Jets probably won't need to work hard to get fans to attend the team's home games this season, but having one or two throwback nights where fans are encouraged to wear vintage Jets jerseys would be a fun way to make games a little more enjoyable.
Keep Reading