UFC on Fuel 4 Results: Memorable Quotes and Images from Munoz vs. Weidman Card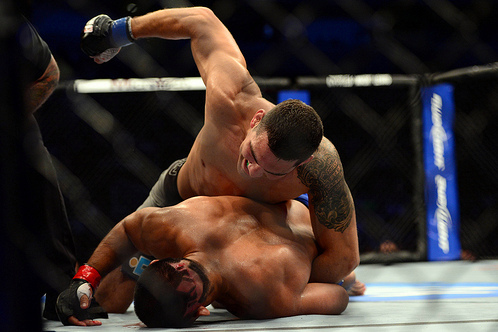 Photo courtesy of Kyle Terada-US PRESSWIRE
The UFC on Fuel 4 card did not disappoint. There were more stoppages than decisions, highlighted by an early second-round knockout by Chris Weidman. An overwhelmed Mark Muñoz was on the receiving end of the vicious KO—a single blow that effectively erased his hopes of taking on champion Anderson Silva.
Also on the card were a pair of heavy-hitting light heavyweights in James Te-Huna and Joey Beltran, as well as veteran Aaron Simpson making his debut at welterweight against youngster Kenny Robertson.
In all, 11 fights took place on Wednesday. While most delivered, a few fell short of expectations. I could analyze every fight on the card, but by now you've surely read through plenty of those types of articles. Instead, I'll take a brief look at most of the fights on the card, providing quotes from the fighters involved and images of the best action.
Note: All quotes obtained first hand or provided via the UFC.
Begin Slideshow

»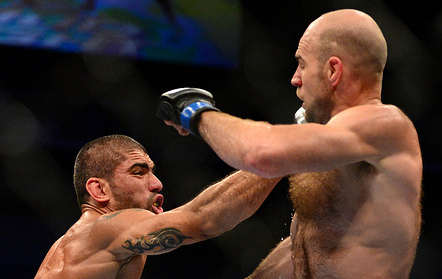 Photo courtesy of Kyle Terada-US PRESSWIRE
Marcelo Guimaraes made his presence felt in his UFC debut, and it wasn't just by securing a a split-decision win over Dan Stittgen.
With the third round winding down, Guimaraes unleashed a chorus of animalistic yells while delivering shots to Stittgen in the clinch.
After the fight, Guimaraes explained his antics:
The yelling was just an expression of emotion and of me giving everything I had. I knew that I won the first round and lost the second so in the third I had to let it all go. I was pushing my mind, body, and soul in the last few minutes because I had to finish strong in order to win.
Evidently, letting it all go was just what he needed to pull off the win. Here's to hoping the Brazilian continues his signature calls to the wild.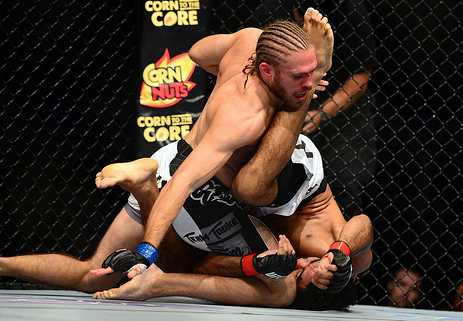 Photo courtesy of Kyle Terada-US PRESSWIRE
Rafael Natal was giving undefeated Andrew Craig a good old-fashioned beatdown for the better part of two rounds. In the second period, Natal had everyone believing the fight was finished as he swarmed Craig with several hard shots.
But after persevering on the ground, Craig got back to his feet and took little time to knock Natal out cold with a head kick.
Apparently, all Craig needed was a wake-up call:
Maybe I needed to take a few shots to wake me up. I had been trying to set up that kick the whole fight and I'm glad I was finally able to connect on it.
Photo courtesy of Kyle Terada-US PRESSWIRE
Up against seasoned veteran Damacio Page, Alex Caceres was repeatedly taken down and forced to work off his back. He nearly locked in a triangle on three separate attempts in round one, and his persistence finally paid off in the second as he secured his fourth triangle of the match.
Best known for his "Bruce Leroy" moniker and flashy fighting style while on season 12 of The Ultimate Fighter, Caceres appears to have found a new and improved version of himself.
I was in a search for knowledge and a search for truth and a search for myself, and the closer I get to myself the closer I understand what I need to do and who I am. Being this calm and relaxed fighter is where I need to be.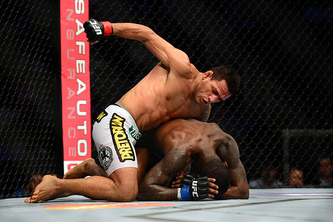 Photo courtesy of Kyle Terada-US PRESSWIRE
Anthony Njokuani is a Muy Thai specialist whose past success has stemmed from a crisp stand-up game. With that in mind, it was very surprising to see him get dominated on his feet by Rafael dos Anjos, a man most known for his dangerous Brazlian jiu-jitsu.
As it turns out, Njokuani never really had a fighting chance:
"I broke my arm in the first round, and it made it impossible to throw combinations and defend. It affected me through the whole fight."
Hopefully, the Nigerian born fighter will heal up and deliver a better performance his next time out.
Photo courtesy of Kyle Terada-US PRESSWIRE
Czech star Karlos Vemola was likely ahead on the cards, but Frenchman Francis Carmont put on a submission clinic to put him away in the second round.
With fellow Tristar teammate Georges St. Pierre looking on, Carmont transitioned an armbar into a rarely seen crucifix before finishing off his opponent with a rear-naked choke. After the bout, Carmont made it clear that he is ready for a step up in competition at 185 lbs:
I'm ready for the toughest fights that the UFC is willing to give me. I want to keep proving myself and keep moving up in the division.
Carmont, the winner of eight straight MMA matches, will undoubtedly receive more mainstream exposure after his highlight-reel finish.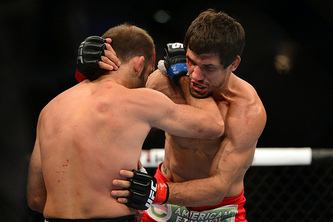 Photo courtesy of Kyle Terada-US PRESSWIRE
The third-to-last fight of the night ended up bring the biggest snooze-fest of the entire card, as Aaron Simpson's drop to welterweight failed to bring more excitement to his wrestling game.
Kenny Robertson was practically begging to be finished for three straight rounds, but Simpson could not seal the deal. Outside of a few hard slams, the crowd had little to cheer for.
Simpson, to his credit, recognized his lackluster performance against a subpar opponent:
I'm not happy at all with my performance. I wouldn't have beaten a guy like Jon Fitch with that showing tonight, and a guy like Kenny shouldn't have been able to last with me in there.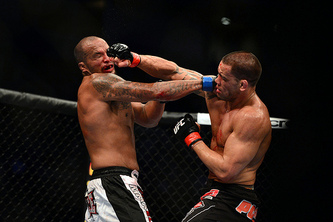 Photo courtesy of Kyle Terada-US PRESSWIRE
For three rounds, James Te-Huna used Joey Beltran as his personal punching bag.
But no matter how many shots the Kiwi landed to Beltran's body and face, the Mexicutioner would not quit. Staggered and swarmed on multiple occasions, Beltran—making his debut at light heavyweight—showed off an iron chin.
So iron, in fact, that it broke Te-Huna's hand:
I hit him with a lot of big shots that would've put just about anyone out. I broke my hand and my foot half way through the first round so I tried to just stick in there, make it through the fight, and get the win.
Kudos for Te-Huna for continuing to deliver punishment despite a broken hand, though his power was noticeably down in the final round.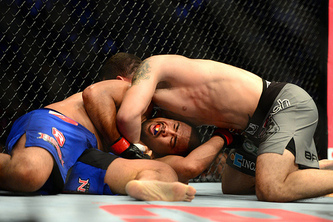 Photo courtesy of Kyle Terada-US PRESSWIRE
Chris Weidman imposed his grappling game on Mark Muñoz—a former NCAA Division I wrestling champ—in a dominant round-one performance. In round two, the up-and-coming middleweight took little time to turn the lights out on his opponent.
His weapon of choice? A sharp right elbow.
Though the move was one Weidman had worked on during practice, the native New Yorker never though for a second that it would actually be brought out on the big stage:
I never knew it could actually be something I do in a fight, and guess what? It freakin' happened. I can't believe it.
After taking out a pair of top-five fighters at 185 lbs—Muñoz and Demian Maia—the big question becomes: is Weidman ready for a title shot against Anderson Silva?
Though Weidman stopped short of calling out the champion, he made his intentions clear:
I really believe I'm ready and I'm gonna go after Anderson Silva when I get that shot.