Minnesota Vikings: Stat Predictions for Key Offensive Players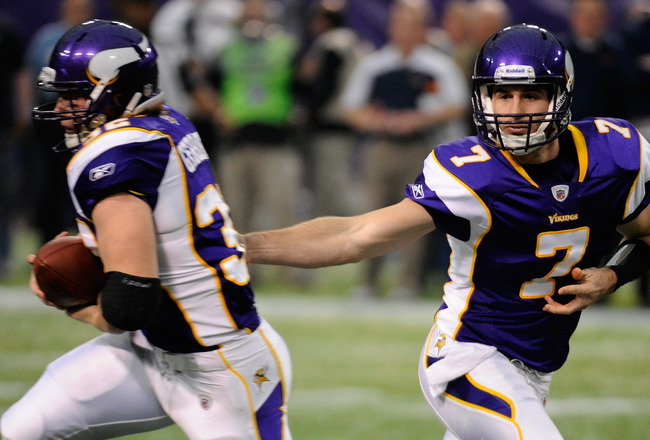 Hannah Foslien/Getty Images
In two months, the Minnesota Vikings will enter a pivotal season in course of the Leslie Frazier era of the franchise.
There were not many positive things to say about the 2011 season, but the defense played well enough to get by in many instances. The offense, on the other hand, was pretty pitiful most of the time.
The Vikings possess some very high-end talent on offense. Percy Harvin and Adrian Peterson are two of the most explosive playmakers in the NFL, but with a rookie QB steering the ship, the team was destined to hit a few rocks.
Aside from Peterson and Harvin, the Vikes don't have any true veterans at their offensive skill positions—or at least, Vikings veterans.
For the ship to get out of the rocks and hit open water, some young guys need to step up. There are seven specific players whose statistical performance will have a major impact on the direction of the season.
Here are my predictions for those seven players.
TE John Carlson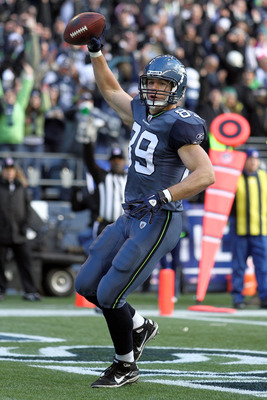 Otto Greule Jr/Getty Images
John Carlson was, perhaps, the Vikings' biggest offseason acquisition in 2012.
Though he's had a pretty mild career thus far, the team clearly plans on using him often considering the $5 million he'll be making every year for the next five years.
Despite the fact that the team drafted the best tight end prospect in the 2011 class in Kyle Rudolph, they still went out and got their new No. 1 TE.
This leads me to believe that offensive coordinator Bill Musgrave will be employing similar tactics with multiple TE sets that the New England Patriots run—and have had much success with.
In any case, if Carlson and Rudolph are to rival a tandem like Aaron Hernandez and Rob Gronkowski, Carlson is Hernandez and Rudolph will be Gronk.
Carlson was injured before becoming a free agent, so his most recent statistics are somewhat misleading. I don't expect him to blow anyone away in 2012, but he will improve from his 2010 statistics.
2010 Stats: 31 receptions, 318 yards, one touchdown
2012 Predictions: 52 receptions, 487 yards, three touchdowns
TE Kyle Rudolph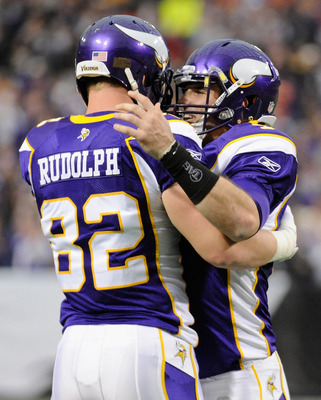 Hannah Foslien/Getty Images
From the first day that Christian Ponder and Kyle Rudolph took the training camp field together, it's been clear who Ponder's favorite target is.
The TE is always the QB's best friend, and it certainly helps that they were drafted one and two in the same class by the Vikings.
Had Rudolph not been buried in the depth chart behind the stagnant Visanthe Shiancoe and the now-retired Jim Kleinsasser, Rudolph might have been able to compete for rookie of the year honors.
In his limited play, Rudolph flashed the potential to be one of the league's next great TEs. His size and speed combined with great hands and vision could make him the Vikings' most dangerous target. As I alluded to on the previous slide, Rudolph could be the next Rob Gronkowski.
In a much more expanded role, Rudolph could absolutely explode in 2012. In more realistic expectations, he could very well be a receiving leader.
2011 Stats: 26 receptions, 249 yards, three touchdowns
2012 Prediction: 67 receptions, 650 yards, eight touchdowns
WR Jerome Simpson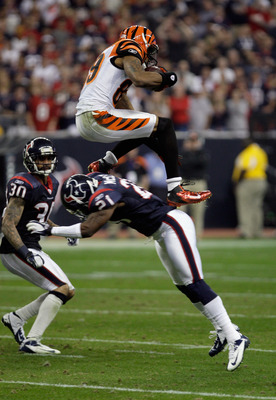 Thomas B. Shea/Getty Images
Jerome Simpson was the other major roster move the Vikings made this offseason. Simpson is most known for his front flip into the end zone over an Arizona Cardinals linebacker, but otherwise as not-AJ Green.
I don't mean to sound pessimistic about Simpson, I just mean he largely lived in Green's shadow in 2011—all the while enjoying some green of his own (no, I don't mean cash).
Simpson will be suspended for the first three games of the 2012 season. This means that he will not only miss an opportunity to come up big against arguably the two weakest teams on the Vikings' schedule, he will also give another receiver the opportunity to step in and show his stuff.
By all accounts, Simpson and Ponder have already developed some chemistry in OTAs, and they'll likely try to continue that through camp and preseason. However, his little three-week vacation to start the year could hamper two possible weeks for high production.
Overall, I don't expect Simpson to be a complete flop, but I do expect him to be a bit of a disappointment to most fans—especially those like Sid Hartman who think he'll be the next Cris Carter.
2011 Stats: 50 receptions, 725 yards, four touchdowns
2012 Prediction: 51 receptions, 649 yards, five touchdowns
WR Percy Harvin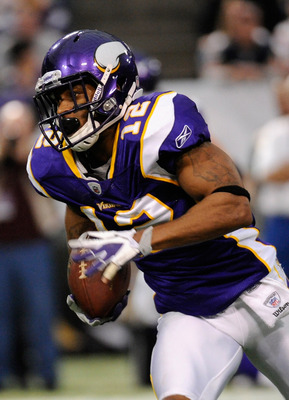 Hannah Foslien/Getty Images
Percy Harvin has made somewhat of an enigma of himself this offseason with the issues of his contract.
With Adrian Peterson sidelined, Harvin is the most important and most talented offensive player on the roster—and he knows it. If he does not receive the extension, he's likely looking for before the season starts, he will treat 2012 as an opportunity to prove he's worth the cash.
Ponder and Harvin have already built a report together, and Harvin will continue to be a dual threat on the ground and in the air, as he becomes the team's offensive MVP.
With other capable receivers now on the roster, Harvin may see his number of targets decrease slightly, but that should not impact his production much. On the other hand, to ensure his durability, Harvin will likely see significantly less time in the run game.
2011 Stats: 87 receptions, 967 receiving yards, six receiving touchdowns, 52 carries, 345 rushing yards, two rushing touchdowns.
2012 Prediction: 81 receptions, 925 receiving yards, six receiving touchdowns, 38 carries, 198 rushing yards, three rushing touchdowns.
RB Adrian Peterson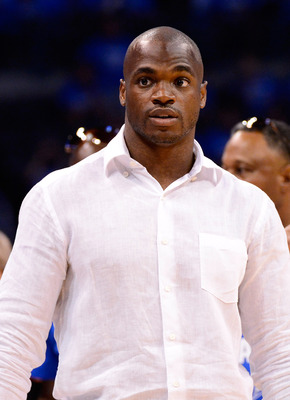 Ronald Martinez/Getty Images
Aside from his legal dispute with the Houston Police Department, the biggest storyline for Peterson and the Vikings this offseason will be whether or not AD will be able to start Week 1, after recovering from reconstructive knee surgery last December.
Peterson seems like he's on the right track to play early on in the season, but a bigger question will be: how much of an impact will he be able to make?
The team knows they have to give Peterson the ball to give the fans hope. But if they know what's good for 2012, they will give 65 percent of the carries to Toby Gerhart.
Peterson should be able to come back and get on the field. He should be able to put up some decent stats, considering the circumstances. But if we're being realistic, it would not be far off to bet that Toby Gerhart is the leading rusher for the Vikings in 2011.
2011 Stats: 208 carries, 970 yards, 12 touchdowns
2012 Prediction: 114 carries, 665 yards, five touchdowns
RB Toby Gerhart
Hannah Foslien/Getty Images
After that last slide, I don't have much to say about Gerhart.
He should be the team's workhorse in 2012 and will likely be in a position to lead the division in rushing. Gerhart will get a majority of the carries and will take a huge step forward.
Even if that becomes the case, Gerhart is not a 1,000-yard rusher, and he will never be Adrian Peterson. But this is the role that the team drafted him for, and it's a role he seems ready to step into.
2011 Stats: 109 carries, 531 yards, one touchdown
2012 Prediction: 205 carries, 870 yards, five touchdowns
QB Christian Ponder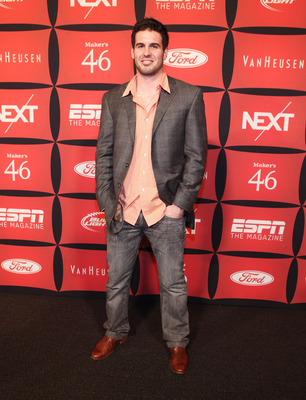 Robin Marchant/Getty Images
Christian Ponder's development is perhaps the most important long-term issue on the Vikings' docket. They gave him the keys to the Benz in 2011, and he took out a few mailboxes and killed the neighbor's cat along the way (that was a metaphor, he didn't actually kill a cat—well actually, he did beat the Panthers, but that's not what I was trying to get at).
In all seriousness, Ponder played pretty well in comparison to the rookie years of some of the league's best. He made rookie mistakes. He made some bad reads and some bad throws, but he certainly is not a lost cause.
In his second year, he's stepping into a leadership role off the field and has been working on his arm strength in the offseason.
Ponder will have some better targets to throw to in 2012 and a much-improved offensive line. Hopefully, these two improvements will translate into some much-improved statistics in his sophomore season.
2011 Stats: 13 touchdowns, 13 interceptions, 1,853 yards, 70.1 passer-rating
2012 Prediction: 26 touchdowns, 11 interceptions, 2,711 yards, 86.3 passer-rating
The Rest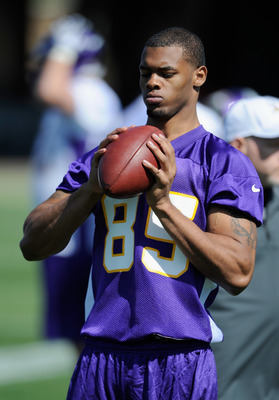 Hannah Foslien/Getty Images
There will be others, mainly young guys, who will contribute in limited roles. I'm not going to predict their stats, but they're certainly worth the mention.
Greg Childs: This big rookie has the potential to be the big receiver the Vikings have been missing since Sidney Rice. Childs will have the opportunity early to contribute during Simpson's suspension, but nagging injuries have left him sidelined throughout the offseason and will likely limit his growth in his first season.
He could be a long-term guy, but I don't see him making an impact in his first year.
Michael Jenkins: I have my doubts that Jenkins will make the 53-man roster. Jenkins is on the wrong side of 30 and makes too much money for what he showed when he was healthy in 2011. If I'm wrong, he will certainly make more of an impact than I give him credit for, but I would put my money on a younger receiver.
Devin Aromashodu: Aromashodu had his shot at the starting job in 2011 but failed to catch some very easy and very key passes. The Vikings re-signed him this offseason for next to nothing, so I don't doubt that he will make the 53-man roster in the last WR spot. After all, he's not the worst receiver vying for a spot—as sad as that is.
Stephen Burton: Burton, like Childs, will have every opportunity to make an impact in Simpson's absence. The difference is, Burton was a seventh-round pick while Childs was a fourth. That may not seem like much, but if Burton fizzles, he'll be out a hell of a lot faster than Childs would be.
Either way, when Simpson comes back, Burton will get buried on the depth chart.
Jarius Wright: Wright will be primarily living in Percy Harvin's shadow in the passing game. However, he should make quite the impact on special teams. If any Vikings receivers get injured over the course of the season, Wright may get the chance to shine.
Follow me on Twitter @McAndrewsSports
Keep Reading

Minnesota Vikings: Like this team?