MLB Power Rankings: Verlander, Cain and Baseball's Best Pitchers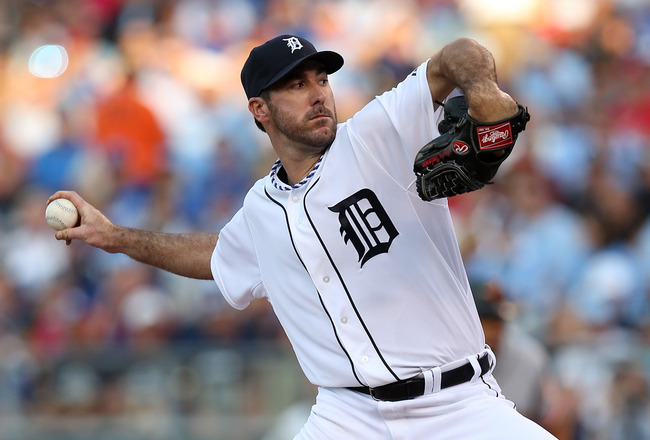 Jonathan Daniel/Getty Images
Starting this week, I've released two separate slideshows.
The first ranked the 20 best position players right now.
This one ranks the 10 best pitchers right now.
I'm releasing this now, as opposed to the beginning of the year, because:
We just had the All-Star game, so everyone's thinking about, well, the All-Star players.
I've got a half season's body of work to use as opposed to using last year's stats.
And, honestly, I thought up the concept mid-season (yes, I realize it's not a novel concept).
Please, I encourage you to offer suggestions on pitchers I should include, where to rank them and anything else that would make this slideshow more enjoyable for you.
My rankings are based on multiple things:
Record and earned run average
Order in rotation (i.e. aces will get a little more love, of course)
An eyeball test
The third is the most controversial, but I've implemented it because, as we all know, a win/loss record and ERA do not tell the whole story. Otherwise King Felix wouldn't have won the Cy Young in 2010 and pitchers in PETCO Park would presumably have an inherent advantage over pitchers in Great American Ball Park (just ask Mat Latos).
Finally, a disclaimer: I'm a Twins fan; having said that, I love individual players and will try to be as objective as possible. But, yes, if you see a White Sox/Yankees/Red Sox player ranked below a player in a Twins uni, there may be a little bit of homerism going on there.
Zack Greinke, Brewers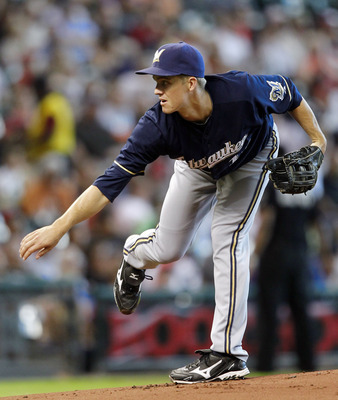 Bob Levey/Getty Images
Stats: 9-3 record, 3.32 ERA
Unless the Brew Crew come out on fire in the second half, Greinke will end up trade bait.
He'd be a great catch, as the righty is having a solid year for an otherwise mediocre Milwaukee squad.
AJ Burnett, Pirates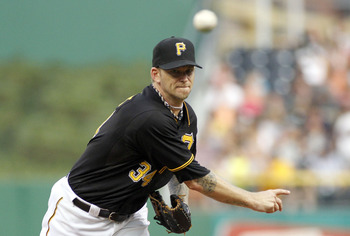 Justin K. Aller/Getty Images
Stats: 10-2 record, 3.68 ERA
Who woulda thought?
After being run out of town in New York, Burnett has found a home with a Pittsburgh squad that is on pace to have their first winning season since the George HW Bush Administration.
Chris Sale, White Sox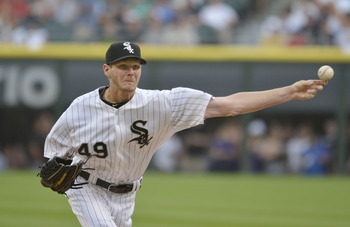 Brian Kersey/Getty Images
Stats: 10-2 record, 2.19 ERA
Another pitcher on a team most people thought would be awful, Sale's 10 wins are a major reason why the Sox are leading the AL Central at the All-Star break.
Stephen Strasburg, Nationals
Jonathan Daniel/Getty Images
Stats: 9-4 record, 2.82 ERA
We all knew he'd be good, but fans in the nation's capital and around the league became concerned when the fireballer had Tommy John surgery.
Safe to say it looks like he's recovered well.
David Price, Rays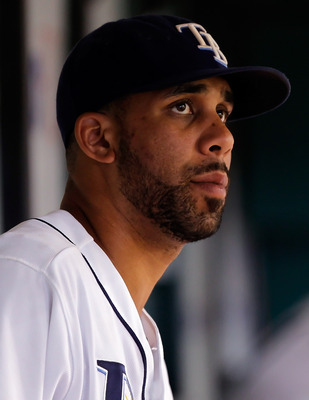 J. Meric/Getty Images
Stats: 11-4 record, 2.82 ERA
Quick: Name five position players in Tampa.
The reason Joe Maddon's boys have been able to compete in the daunting AL East is because of his pitching staff, led by Mr. Price and his 11 wins.
Gio Gonzalez, Nationals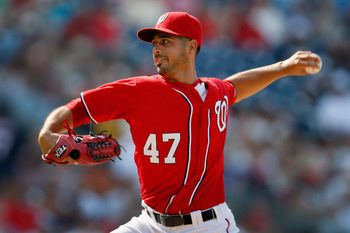 Rob Carr/Getty Images
Stats: 12-3 record, 2.92 ERA
Another phenomenal pitcher for the NL East-leading Nationals, Gonzalez was a solid pickup from the Oakland don't-call-us-a-minor-league-team A's in the offseason.
Jered Weaver, Angels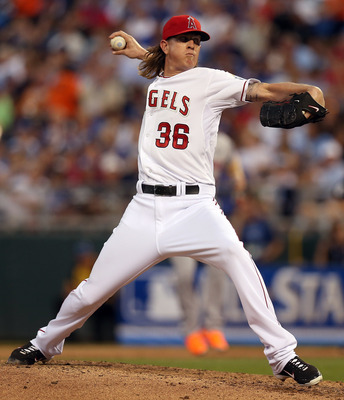 Jonathan Daniel/Getty Images
Stats: 10-1 record, 1.96 ERA
Weaver was not a flashy signing in the offseason; in fact he probably gave the Angels a hometown discount when he re-signed, but he's been the superstar in their rotation.
RA Dickey, Mets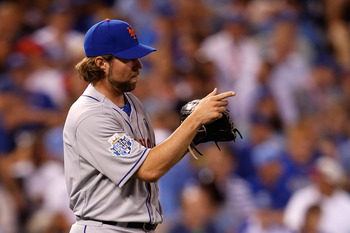 Jamie Squire/Getty Images
Stats: 12-1 record, 2.40 ERA
The knuckleballer's a great story for a Mets team that's doing better than we all thought they would; Dickey has also thrown back-to-back one-hitters this year.
Matt Cain, Giants
Jonathan Daniel/Getty Images
Stats: 9-3 record, 2.62 ERA
Cain's a recognizable name that threw a perfect game this year (sorry Philip Humber).
Enough said.
Justin Verlander, Tigers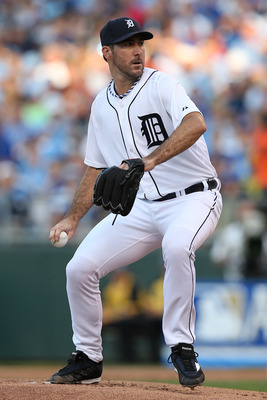 Jonathan Daniel/Getty Images
Stats: 9-5 record, 2.58 ERA
This guy throws 100 MPH fastballs in All-Star games for fun.
Oh yeah, and he gets points for choosing to date the right Upton (sorry BJ and Justin, Kate's still No. 1 in the heart of the sports fan).
Keep Reading