Miami Heat: After Inking Ray Allen and Rashard Lewis, What's Next?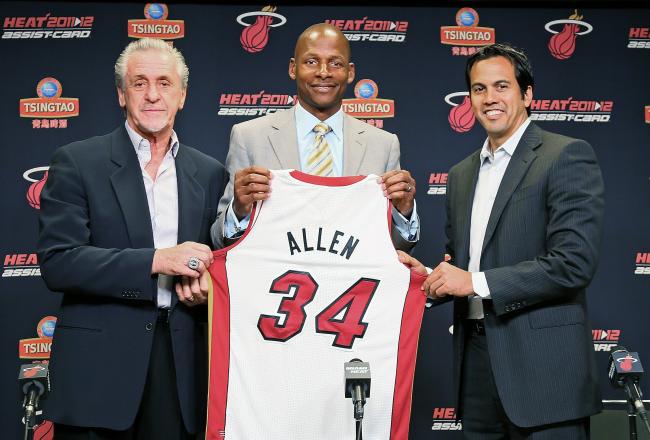 Mike Ehrmann/Getty Images
It hasn't been long in the making, but this offseason has been a huge win for the Miami Heat. The reigning champs managed to officially ink both Ray Allen and Rashard Lewis early Wednesday morning (as tweeted by the Sun Sentinel's Ira Winderman).
In doing so, the Heat have added two good players that can come in and produce in a big way particularly Allen.
We all know who Ray Allen is. He is the all-time leader in three-pointers made and the Hall of Fame-bound sharpshooter that still has one of the league's deadliest jump shots, even at this stage of his career. Rashard Lewis is a bit more washed up than Allen, but he's only a few years removed from leading the league in three-pointers made and three-point percentage, a year which saw the Orlando Magic make an NBA Finals appearance. The pair of could easily establish themselves as the go-to guys off the bench for the Heat.
Now, what's next for the defending champs?
First off, a logjam needs to be addressed. Having added Ray Allen, a shooting guard, and Rashard Lewis, a small forward that can play power forward, the Heat have endless depth which also includes contributors like Mike Miller, Shane Battier, James Jones and Udonis Haslem—not to mention the Big Three of LeBron James, Dwyane Wade and Chris Bosh.
There is no way all of those players can see their fair share of time on the court. Even before Allen and Lewis joined the team, Jones rode the bench a lot last year after Battier was signed the previous offseason. The Heat are looking at getting an injury exception for Mike Miller (as reported on Twitter by Chris Tomasson), although at this stage, that's only a possibility. Either way, it seems generally safe to presume that Jones and Miller are two guys that could be booted from the rotation next season.
However, the Heat still have Allen, Battier, Lewis and Haslem behind the Big Three. Unless the Heat are comfortable going with a lot of small-ball lineups next year (which wouldn't be ideal), it's still a situation that needs to be addressed even after ousting Jones and Miller from the rotation. For that reason, it's very possible that the Heat could explore their trade options, which wouldn't be a bad idea at all.
The Heat's biggest need lies at the center position. Ronny Turiaf opted for free agency, and Dexter Pittman and Joel Anthony won't cut it. The Heat were known to be pursuing Marcus Camby before he went to New York to join the Knicks. Unfortunately, the Heat may have missed out on exactly what they needed in Camby: a dedicated defensive center that, even in the later stages of his career, is still one of the best shot-blockers in the NBA.
However, the trade market always does have names for the Heat to consider. They probably won't be able to find anybody as good as Camby, but they still might be able to find somebody they can play in the middle for long periods of time.
This is all strictly speculation, but there are a number of teams with a surplus of big men that the Heat may be interested in trading for. Names of interest may include the Hawks' Zaza Pachulia, the Bucks' Drew Gooden, the Spurs' DeJuan Blair (who is on the trading block according to Yahoo's Adrian Wojnarowski) and the Raptors' Amir Johnson.
Whom the Heat trade could vary depending on who they are getting back, but if they are intent on eliminating their existing logjam as they should be, it looks like Shane Battier is the odd man out. Allen and Lewis cannot be traded after signing their contracts with the Heat recently, and it's hard to imagine Udonis Haslem being traded either given the organization's proven dedication to him. A battered Mike Miller and James Jones aren't likely to generate too much interest on the trade market, so that leaves Battier.
Battier was an important piece in last season's playoff run, being the dedicated defender the Heat used to guard opposing scorers like Paul Pierce and Kevin Durant. He held those guys in check, which in turn allowed LeBron and D-Wade to spend more of their energy on offense. However, flipping him (alone or as part of a package) could be worthwhile as it reduces the logjam while bringing a needed center to Miami.
If the Heat don't pull a trade, they could also explore free agency for a center with two spots available on the roster. This won't address the logjam, but it will address the need at the 5. There aren't too many quality centers left unsigned (names like Joel Przybilla come to mind), but some players could join the market through the amnesty clause.
Elton Brand, who is currently on amnesty waivers, and Brendan Haywood, who will be amnestied soon (according to ESPN's Tim MacMahon), are players that could pique the interest of the Heat. Haywood is the closest thing to Camby the Heat can get as a veteran shot-blocking seven-footer; however, Brand shouldn't be dismissed either. At 6'9", he's more of a power forward, but with 254 pounds on his frame, he can bang in the paint with the bigger centers just fine.
After finding a center, the Heat can also look for a veteran point guard to fill out the roster. After exploding onto the scene early, backup point guard Norris Cole struggled with inconsistency the rest of the season. Adding somebody to challenge Cole could be one of the smaller tasks for the Heat this offseason.
Trading Mike Miller or James Jones for a point guard could appeal to the Heat given the logjam. Players like the Jazz's Jamaal Tinsley or the Spurs' Cory Joseph will come cheap and could fill out the roster while motivating Cole. Alternatively, the Heat could try free agency and look at players like Sundiata Gaines or Ish Smith.
Regardless of whether there is a trade or not, it looks likely that the Heat will add one more center and maybe one more point guard. Missing out on Camby is a big loss for Miami and one that will be understated, but they will continue looking for somebody that can be their starting center while searching the bottom of the barrel for a cheap point guard as well.
No matter what happens from now until the beginning of the regular season, however, this offseason has to be viewed as a big win by the Miami Heat. Getting both Ray Allen and Rashard Lewis while not losing much is a huge boon, and the Heat could very well be on their way to another championship.
This article is
What is the duplicate article?
Why is this article offensive?
Where is this article plagiarized from?
Why is this article poorly edited?

Miami Heat: Like this team?