Boise State Football: Beating the Rankings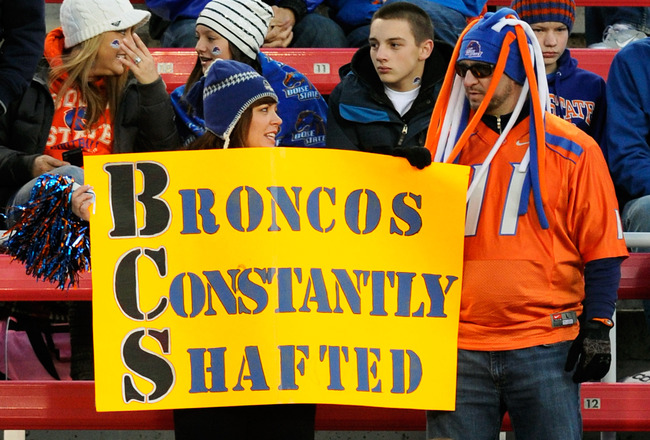 Ethan Miller/Getty Images
It's roughly seven weeks until the 2012 college football season kicks off and prognosticators are ramping up their preseason picks. Of course that means there are lists of the Top 25 preseason picks, and—no surprise—Boise State is not opening the season picked in the Top 10 or even the Top 15. It will be an uphill battle for the Broncos to work up into the Top 10 though the program can take a giant leap forward when the Broncos clash with Michigan State to open the season.
As part of the Mountain West Conference, for the final year, the majority of opponents on the Broncos' 2012 schedule will not help Boise State climb in the rankings. There are obvious games that will go a long way to helping that goal, and Boise State will have to make the most of its opportunities.
Here are the games that will mean the most to BSU if they want to climb up and be in contention for a solid bowl game at the end of the 2012 campaign.
BSU at Michigan State, Aug. 31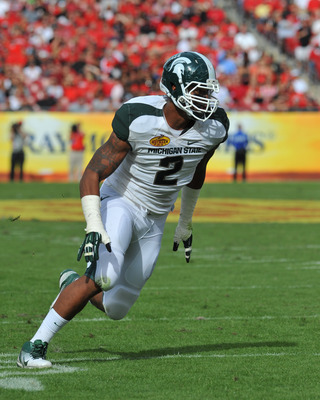 Al Messerschmidt/Getty Images
This one is a no-brainer.
The Spartans are ranked 13th in the SB Nation poll while BSU comes in at No. 22.
If Boise State can beat Michigan State, in East Lansing, it would not only signal that the Bronco program is still on track, but it would also be a huge momentum leap into the season.
College Football News has Michigan State at No. 16, but ESPN's College Football Live has the Spartans at 12 while Sports Illustrated's Andy Staples has them ranked at No. 10.
In other words, as far as the Broncos are concerned, this game is huge.
Brigham Young at BSU, Sept. 20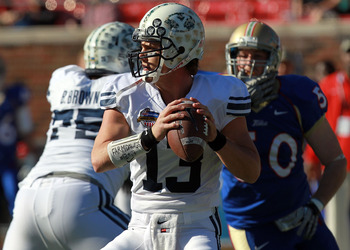 Ronald Martinez/Getty Images
The Bleacher Report, when picking the top 25 teams excluding the SEC, ranked Brigham Young at No. 20 and Boise State at No. 17.
The Cougars have some weaker foes on their schedule, but they also tangles with Washington State, Utah, Notre Dame and Georgia Tech.
The National Football Post has Georgia Tech ranked No. 20 with Notre Dame at 22 and Boise State at 25.
Utah finished 8-5 in 2011 and is now a member of the PAC-12. And Utah hammered BYU in 2011, 54-10.
BSU at Southern Miss, Oct. 6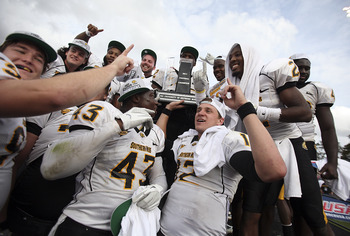 Bob Levey/Getty Images
This is a long shot because no one has picked Southern Miss as a preseason Top 25 team. One site (National Champs) had Boise State picked at No. 26 and Southern Miss at No. 46.
Up until the Broncos play the Golden Eagles on Oct. 6, BSU will be pulling squarely for Southern Miss to be riding a big winning streak. The Golden Eagles open on Sept. 1 with Nebraska, then play East Carolina on Sept. 15 (not ranked but it could be a good game) and Louisville on Sept. 29.
Nebraska is a Top 25 preseason pick, so starting off with a win will carry more weight for the Broncos game in October.
And the Rest…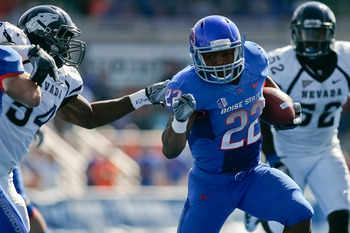 Otto Kitsinger III/Getty Images
If Boise State wants to work up into the Top 10, the Broncos may have to run the table.
After the Southern Miss game, the Broncos have Fresno State, UNLV, Wyoming, San Diego State, Hawaii, Colorado State and they finish up with Nevada on Dec. 1.
The last game should be a good rivalry game, dating back to the good ole days of the Big Sky and Division 1-AA, though by that time, it probably won't factor much into the Broncos' bid at cracking the Top 10 (if they haven't already done so).
A loss anywhere along the way will be disastrous, but Boise State knows that, having been there before. It might even be fair to say that for Boise State to get that Top 10 ranking, they may have to win them all in 2012 to prove that the last four years, and the last decade, was not a fluke.
Keep Reading

Boise State Football: Like this team?