The Weirdest Events in the Summer Olympics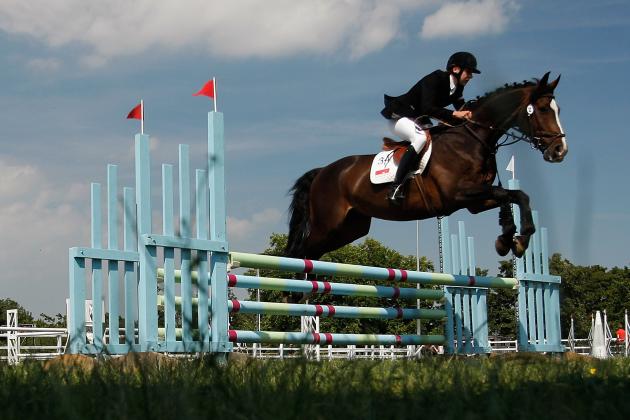 Harry Engels/Getty Images

There has been a late-developing push from Harry Potter fans to get the mythical sport "Quidditch" added to the Olympic Games. While it is just a whim in 2012, many fans believe they can get it added to future Games.
So...world-class athletes running around with sticks supposedly between their legs. What could go wrong? It isn't like anyone ever took a swing at someone with a hockey stick.
In an article in The Telegraph, Alex Benepe of the International Quidditch Association defends the sport as Olympics-worthy:
There are a lot more ridiculous sports in the Olympics right now if you ask me, so I think anyone who doubts it should come out and see Quidditch and see how intense it is, it's a rough sport it's an exciting and dynamic sport and I would encourage anyone who has their doubts to come out and try it for themselves.
Well, Alex, we didn't ask but you certainly got us thinking. Are there more ridiculous sports out there?
While I may not be on board with Quidditch being recognized by anyone other than the round-lens crowd, here are several of the weirdest summer Olympic sports.
You'll have to decide if they are or aren't weirder than Quidditch.
Begin Slideshow

»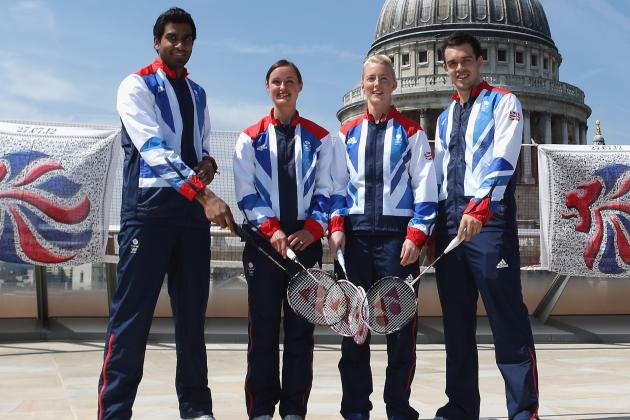 Ian Walton/Getty Images
The competitors don't even look like they can take it seriously...
I'm not saying badminton is weird. It's actually a fun game and a great addition to your next picnic. But how is this still an Olympic sport and baseball isn't?
Seriously...any sport where Indonesia is second and Malaysia is top-five all-time in total medals has some serious questions. Props for the success, but Indonesia and Malaysia aren't exactly known for their Olympic prowess in any other event.
I've heard the "pro" side of the argument. These are amazing athletes, and their speed and coordination is enviable. That may be so, but similar things can be said about a lot of other activities that shouldn't be Olympic events.
The "con" side: I can't take a sport where you whack a "shuttle-cock" all that seriously.
This is as good a time as any to get this one out of the way. I know this will offend a lot of readers, but here it goes.
Gymnastics is a great sport. It teaches balance, strength and discipline. It is amazing to watch, and the competitors do things most people couldn't dream of doing.
Then there is rhythmic gymnastics. How did this even become a sport? Seriously...it is like someone's child was watching their big sister at gymnastics practice and got bored. Then she started to roll around with a ball and then some ribbon for someone's hair and BOOM! New sport.
Yes, the grace and beauty is amazing. But wow...how long can someone possibly stand to watch it?
The Olympics dumped the similar event of "Club Swinging" after the 1932 Olympics. One can only hope...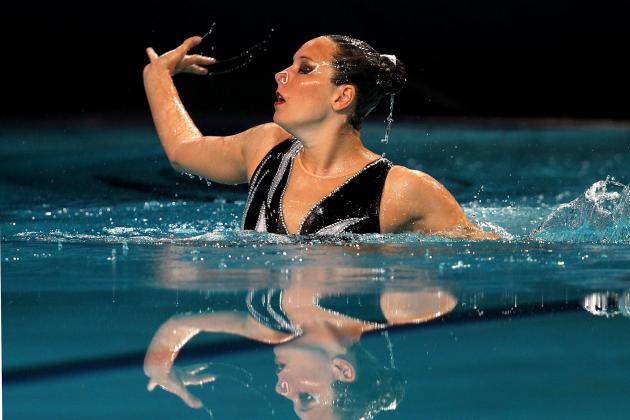 Clive Rose/Getty Images
The advantage of Solo Synchro is one is always in perfect rhythm with their reflection.
To be fair, the solo variety of synchronized swimming hasn't been an Olympic event since 1992. However, I wanted to poke fun at synchronized swimming in general but didn't want to take the brunt of the abuse from its fans.
The idea of synchronized swimming is two swimmers basically dance to music while in the water. They are judged on how well they move together, and there should be bonus points the longer they stay under water.
I think someone that doesn't come up at all should be the real winner.
This is basically a slow version of ice dancing, if that's at all possible.
The solo version was judged, evidently, on how well one moved with oneself to the music.
So this would be ballroom dancing for one? With the maximum number of Summer Olympic events set at 28, is this really one of the top sports around?
Next the ballroom dance lobby will try to get that added, too. Wait, 2016? Seriously?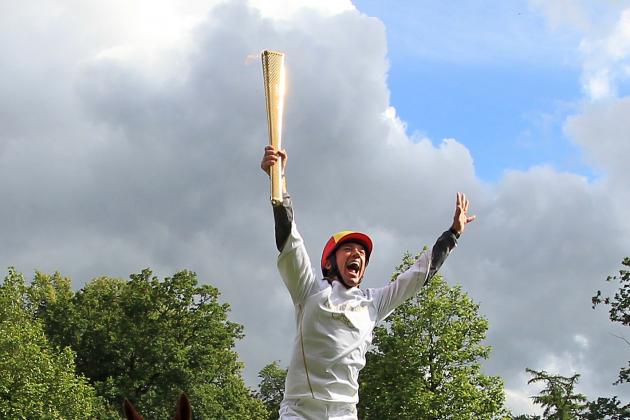 LOCOG/Getty Images
Horse jumping to a new extreme...the rider jumping over the horse. Now that I can get behind!
Following a brief appearance of boat racing in the Olympics in 1908, the International Olympic Committee banned all sports that used any horsepower-assisted propulsion. Well, except actual horses, that is.
Equestrian events make for wonderful shows. The horses are regal and fantastic, and most riders are highly trained and skilled. However, the horse really is the better athlete here. Yes, jockeys are athletes as well, and it takes a lot of strength and stamina to bend the horse to the rider's will.
But is that enough to make it an Olympic sport? What about horse racing? That is more along the lines of the traditional Olympics than show jumping. How about dirt bike riding?
Again, love equestrian events, but having them in the Olympics is just odd.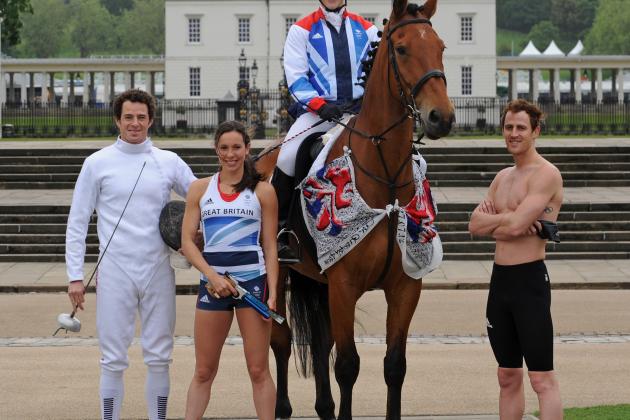 Steve Bardens/Getty Images

If having horse riding and jumping in the Olympics is odd, then the pentathlon is simply crazy.
This event more closely resembles a muddled weekend testosterone party where guys compete at anything they can find to do.
This is what the pentathlon would look like if done at the weekend cabin.
Participants start by fencing against every other opponent in sudden-death bouts. To win, they need to knock their buddy's fishing hat off with their own fishing pole. Then they go for a 200-meter swim...also known as "out to the dock and back two times."
Then they "borrow" the neighbor's horse and ride around the pasture, jumping over the fence a dozen times. Then they take a break and go open the ice chest and add up the scores.
After a six-pack or two of their favorite beverage, their start times are determined by how they've done so far. They grab their paint-ball pistol and run down to the pasture. On the barn there is a logo of their least-favorite sports team; they have to shoot it five times.
Then they run down to the fourth power pole and back (1,000 meters) and shoot the logo five more times. Reload and repeat that step.
Finally, they make a third run to the power pole and then come back and cross the finish line. Anyone that didn't get bored and go fishing "wins."
That, in a nutshell, is the pentathlon.
There is very little worldwide interest in this event. It makes little sense for it to continue.
Besides, I think my version sounds more fun.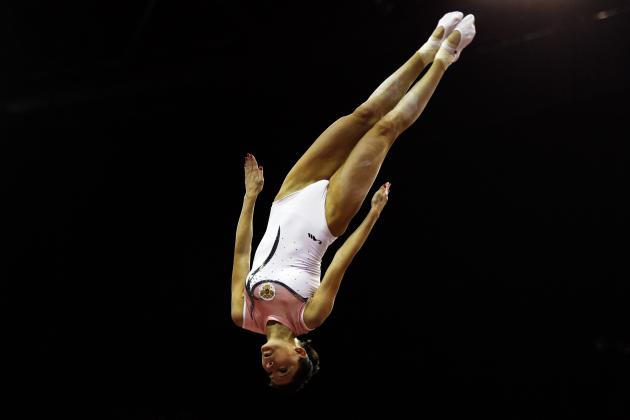 Paul Gilham/Getty Images

No, seriously. Trampoline is an Olympic event. They get medals and everything.
First, my apologies to those that are serious about the trampoline events. Yes, it is an amazing skill, and the participants are amazing acrobats.
But an Olympic event?
When I was younger, I jumped on a trampoline from time to time, and it was fun. I've even watched some people that are really good at it.
But it is a training tool and recreational item. There is no real-world application for this and no reason to include it in the Olympics.
The pole vault has its roots from people actually needing poles to cross marshes, etc. The marathon...well, that is self-explanatory. Other events are feats of strength that had real uses in a labor-based society.
But trampoline?
Are you kidding me? Did someone really take the slow method of movement and make a race out of it?
Were they just too lazy to run, or is this for the people that can't run fast and wanted a sport to feel better about themselves? "Hey...all the fast people are running so how about if we see who can walk the fastest?!"
When I watch race walking, two things come to mind. One, that looks just like what my daughter does at the pool when I tell her not to run. Two, it looks like how she walks when she needs to go, well, number two.
Neither of those things make me think "Olympics-worthy."
Good news, Quidditch fans. We've found at least one sport less-worthy of inclusion in the Olympics.