NBA Free Agency 2012: New Signings Who Will Make Biggest Impact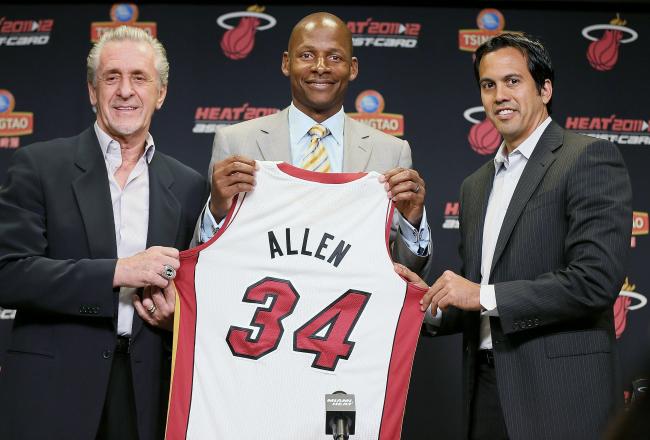 Mike Ehrmann/Getty Images
The moratorium on the 2012 NBA free-agency period may have just been lifted, but there are already plenty of signings that will make a significant impact on next season.
There are still plenty of signings to be made, but it is already clear, that when these teams begin next season, the power structure will have dramatically shifted.
Of course, the balance of power won't be completely shifted because in some cases the rich simply got richer. Like our first signing on this list.
Ray Allen, Heat
Will the Heat repeat next year?
At 36, Allen is not the dominant player he once was, but the guy can still shoot with the best of them. He shot 45.3 percent from beyond the arc last year, which is the best percentage for a season of his career. When it comes to players that are going to space the floor, you can't do any better than Allen.
Ray is still widely considered the best in the league at moving without the ball. This puts a tremendous amount of pressure on a defense, and it is going to make it nearly impossible for teams to double anyone in the loaded Heat lineup.
The Heat aren't going to need Allen to do anything he isn't capable of. They will be able to limit his minutes, and send him on the court to be a three-point threat.
Jason Kidd, Knicks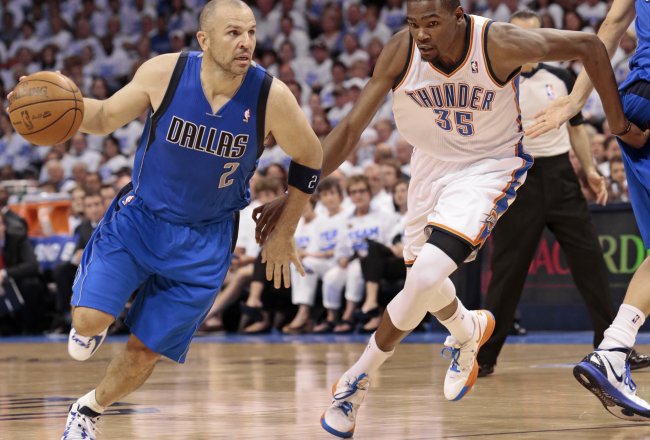 Brett Deering/Getty Images
The Knicks were desperate for point guard help, and they had nothing but their exceptions to add one. They couldn't have done much better than Kidd.
Kidd is definitely on his last leg at the age of 39, but he is still a genius on the court and a capable shooter. This is a nice fit for the Knicks. He will be able to tutor Jeremy Lin, assuming he comes back, and he will be a great distributor for the Knicks' ample amount of scorers.
Deron Williams, Nets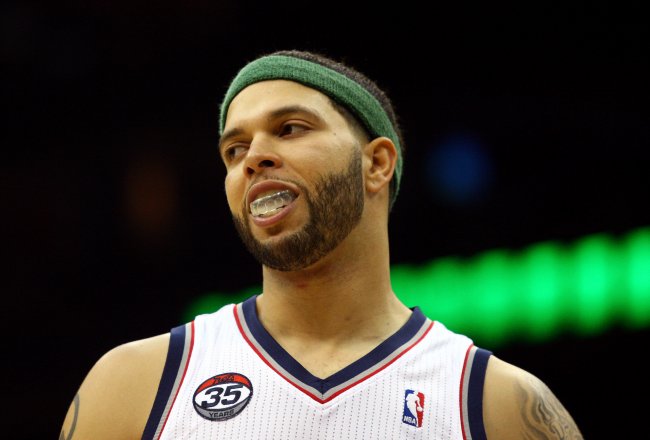 Chris Chambers/Getty Images
Deron Williams won't have a new name on the front of the roster as he is returning to the Nets, but he is essentially going to a new team.
The Nets acquired shooting guard Joe Johnson, and hopefully, they will have Brook Lopez for more than five games.
This will leave Williams with the kind of offensive weapons he sorely lacked last offseason, and while these guys will help Williams, there is no doubt that it is Deron is going to be the straw that stirs this drink.
He is going to get the ball to these guys in a position to succeed, and if that is not there, he will be able to score himself.
The Nets locked up their centerpiece with this re-signing, and they gave him the weapons that will allow him to showcase the full extent of his talents.
This article is
What is the duplicate article?
Why is this article offensive?
Where is this article plagiarized from?
Why is this article poorly edited?