UFC on Fuel 4 Results: Live Play-by-Play for Munoz vs. Weidman and More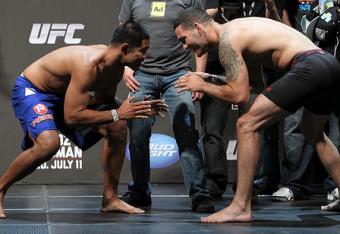 Join Bleacher Report for a live discussion and play-by-play, live from cageside.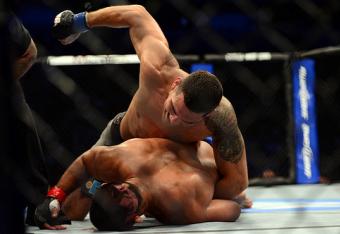 Munoz vs. Weidman
Round 2: Weidman opens up with another takedown, has Munoz back on the ground. Weidman is clearly the superior wrestler thus far. Munoz scrambles free and starts to open up his standup game. Weiman lands a hard elbow as Munoz comes in with a punch. Munoz takes some brutal ground and pound before the ref stops it. After the fight, Munoz looks dazed and his forehead is bloodied up.
Weidman wins by TKO.
Mark Munoz vs. Chris Weidman (Middleweight)
Round 1: Weidman trying to find his range early, starts things off with a couple of high kicks that miss. Weidman bursts in for a takedown, has Munoz in side control. Weidman working to get Munoz's back. Weidman delivers a questionable knee to the head as Munoz was getting up. Weidman has Munoz back on the ground, working for a submission. Munoz kicks off the cage in an attempt to break Weidman's grip, but to no avail. Crowd raining down the boos, wants the ref to stand them up. Weidman relentless with his headlock but Munoz finally gets back to his feet with the round close to over. Munoz pressed up against the cage as Weidman delivers knees to the thigh.
An uneventful round one goes to Weidman 10-9.
Te-Huna vs. Beltran
Official decision: James Te-Huna wins by unanimous decision (30-26, 30-27, 30-27).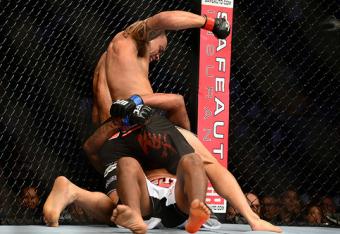 Te-Huna vs. Beltran
Round 3: Beltran attempts a fancy two-kick combo but misses. Te-Huna responds with a couple nice shots, but his punches don't have the force that they did earlier. Beltran presses Te-Huna against the cage as both fighters catch their breath. Beltran scores with an uppercut. Te-Huna takes down Beltran but he is caught in full guard. Te-Huna lets Beltran up only to pepper him with a couple nice shots. Another strong takedown by Te-Huna. Both men appear gassed. Beltran lands a swift double-leg, but it is likely too little too late as Te-Huna wall walks back up to his feet. Beltran lands a nice short elbow and attempts to land a knockout blow but Te-Huna weathers the storm. Both men end the round firing.
Close round, but I score this one 10-9 for Te-Huna.
Te-Huna vs. Beltran
Round 2: Te-Huna opens up with a stiff jab, but Beltran responds with a high kick. Te-Huna answers with a hard body shot. Te-Huna rocks Beltran yet again with a right hook. Te-Huna continues to dominate with shots to the head and body. The crowd groans as Te-Huna takes Beltran down, effectively halting the exciting stand-up action. The ref makes both men stand up, and Te-Huna goes right back to work landing several hard shots. Beltran looks slow on his feet and is dropping his guard. Te-Huna lands another high-low combo. Beltran whiffs on a lazy head kick. Beltran staggers Te-Huna with an uppercut right before the horn.
Another convincing 10-9 score for Te-Huna.
James Te-Huna vs. Joey Beltran (Light Heavyweight)
Round 1: Both fighters come out swinging with Te-Huna landing the first shots of the bout. Beltran and Te-Huna continue to swing wildly with partial connections. Beltran mixes in a body kick and a couple of jabs. Te-Huna controlling the Octagon thus far as he stalks Beltran around the cage. Te-Huna opens up with some hard shots that find their mark, continuing the assault with several combinations. Beltran has Te-Huna against the cage but isn't able to mount much offense in the clinch. Beltran lands a couple of shots, but Te-Huna counters with a pair of hard rights that drop Beltran. Te-Huna looked to finish the fight both on the ground and when the fighters got back on their feet, but Beltran persevered.
Te-Huna dominates round one and easily takes it 10-9.
Simpson vs. Robertson
Official decision: Simpson wins by unanimous decision (30-27, 29-28, 29-28)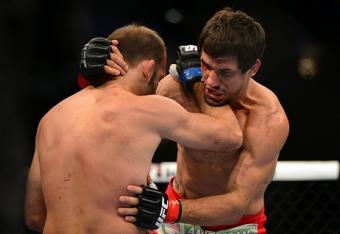 Simpson vs. Robertson
Round 3: Simpson opens with a high kick that barely misses its mark. Crowd starting to groan in disapproval. Robertson looks pretty gassed as he is back up against the cage with Simpson throwing more knees. Simpson gets Robertson back on the ground as he tries to work a submission. Simpson pulls off a nice slam as this matchup returns to a slow, grueling pace on the ground. Simpson postures up and lands a few punches from the top. Robertson tries to pull of a late submission but to no avail. Simpson with some punishing ground and pound to bring some late excitement to a largely boring fight.
Simpson takes round three 10-9.
Simpson vs. Robertson
Round 2: Back in the clinch, Simpson takes Robertson's back and delivers some more knees. Simpson working for a guillotine but Robertson shrugs him off. Robertson attempts a spinning backfist but misses badly and is back on the ground with Simpson in half guard. Simpson working a relentless pace, now mixing in some ground and pound. Simpson trying a submission in north-south position before going back to ground-and-pound with Robertson covering up.
Simpson easily takes round two 10-9 in a dominating effort.
Aaron Simpson vs. Kenny Robertson (Welterweight)
Round 1: Robertson has Simpson in the clinch early. Simpson gets free and opens up with a flurry. Simpson now has Robertson against the cage, lands a knee to the midsection. Simpson lands a nice takedown but Robertson scrambles up and lands a nice right hook. Both men are opening up at this point. Simpson lands a nice short elbow from the clinch and follows it up with a solid right. Robertson tries for a guillotine but lets go. Simpson gets Robertson's back and delivers some punishing knees to the thighs to set up a takedown. Robertson eats a couple shots before responding with some back elbows. Nice takedown by Simpson before the round ends.
Good back-and-forth, but Simpson takes round one 10-9.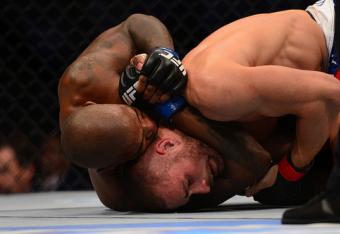 Vemola vs. Carmont
Round 2: Carmont partially lands a knee but it's caught by Vemola as he lands a takedown. Carmont takes control in the clinch but Vemola quickly turns the tide and brings the Frenchman down once again. Vemola working for another takedown in the clinch, but Carmont gets him down and goes for a twister before locking in a rear naked choke. Vemola is forced to tap out.
Carmont wins by submission.
Karlos Vemola vs. Francis Carmont (Middleweight)
Round 1: Vemola rushes in for a takedown but Carmont catches him. Vemola eventually gets Carmont down. Back on their feet, Vemola is working a guillotine but doesn't appear to have it locked in. Vemola drops down with the lock still in place. Carmont gives a thumbs up to the ref. Carmont reverses the position and ends up on top before transitioning to side control. Carmont has full mount momentarily but ends up in half guard. Both men back up with over a minute to go and Vemola takes little time to lock in another guillotine. Carmont does well to escape, ends up in full guard and lands a couple shots before the horn sounds.
With the help of his submission game, Vemola takes round one 10-9.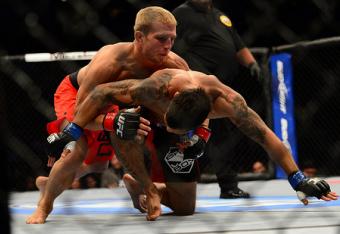 T.J. Dillashaw vs. Vaughan Lee (Bantamweight)
Round 1: Dillashaw the first to engage but Lee lands a nice counter left. Lee now pushing forward lands several hard body shots. Dillashaw misses a head kick as Lee lands a couple more to the body. Dillashaw catches a high kick from Lee and slams him down with authority. Lee able to get back up but Dillashaw has his back. Dillashaw working for a submission as he rides Lee's back. Dillashaw has the rear naked choke locked in. Lee throws some weak elbows before tapping out.
Dillashaw wins by submission.
dos Anjos vs. Njokuani
Official decision: Rafael dos Anjos wins by unanimous decision (30-27, 30-27, 29-28)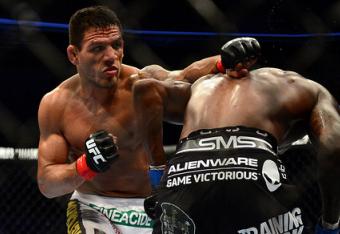 dos Anjos vs. Njokuani
Round 3: Njokuani tries some front kicks, dos Anjos responds with a hard leg kick. Both men trade rights as they stand in the pocket. dos Anjos misses on a big lunging uppercut. Another nice trade as both fighters continue getting their distance. Nice conservative approach from dos Anjos as Njokuani needs a finish at this point. dos Anjos catches Njokuani's flying knee attempt and presses him against the cage. dos Anjos tries another slam but Njokuani lands on his feet. dos Anjos lands a big slam on his second takedown attempt of the round. dos Anjos throwing elbows from the side as he works for full mount. Big shots from the top as dos Anjos collapses Njokuani's guard.
Another dominating 10-9 round from dos Anjos.
dos Anjos vs. Njokuani
Round 2: Both men trading kicks of all variety to start things off, but none are landing very cleanly. Nice right hook by dos Anjos but Njokuani fires back and lands a couple shots of his own. dos Anjos executes a nice double leg takedown as Njokuani was trying to mount some offense. Njokuani pressed up against the cage for awhile, before dos Anjos lifts Njokuani and slams him to the mat. dos Anjos working for side control but Njokuani is able to get back up. Njokuani trapped in the clinch as dos Anjos pulls off another hard takedown. With the clock winding down, dos Anjos is trying for a choke but Njokuani slips free.
Round two is all dos Anjos as the Brazilian takes it 10-9.
Rafael dos Anjos vs. Anthony Njokuani (Lightweight)
Round 1: dos Anjos whiffs on a front kick, but lands a nice one-two combo followed up by a leg kick. dos Anjos rocks Njokuani with a left hook but the Muy Thai specialist is able to get up. Both men clinch against the cage but ultimately disengage. Great start for the Brazilian. Njokuani finally lands something as a jab finds its mark. Both men look content to trade on their feet. dos Anjos lands a nice uppercut in the clinch. dos Anjos gets Njokuani against the cage once again, working some knees to the thigh. Both men disengage with 30 seconds left to go. Njokuani scores with a few punches late but dos Anjos eats it.
dos Anjos takes round one 10-9 easily.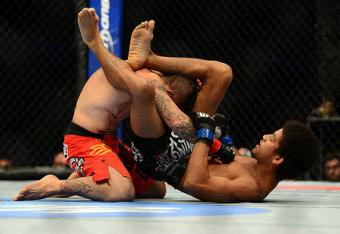 Page vs. Caceres
Round 2: Caceres attempts a flying knee and gets caught by Page who slams him to the ground. Page back in full guard as he tries to pepper Caceres from the top. Yet another triangle from Caceres finally gets the job done as Page taps out.
Caceres wins by submission.
Damacio Page vs. Alex Caceres (Bantamweight)
Round 1: Page opens with a head kick that misses, Caceres counters with one of his own. Page lands a nice knee from the clinch and turns it into takedown. Page tries for some ground and pound but nearly gets caught in a triangle. Caceres using his long legs to maintain a solid guard, but Page is persistent in throwing shots from the top. Caceres nearly locks in another triangle but Page slips out. Page continues to fire and miss as Caceres maintains full guard. Caceres locks in the triangle on his third attempt but Page somehow manages to escape and regain top position. Caceres almost locks in another triangle as the horn sounds.
Nice jiu-jitsu from Caceres, but Page takes round one.
Cariaso vs. Ferguson
Official decision: All three judges score this one (30-27) for Cariaso.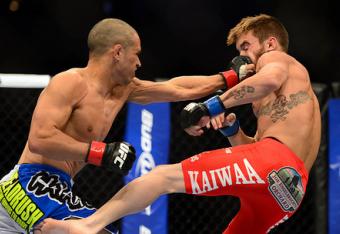 Cariaso vs. Ferguson
Round 3: Cariaso opens with a nice left. Ferguson charges forward with a couple stiff shots. Cariaso has Ferguson down, working some short elbows to the face. Cariaso tries to get full mount but both fighters get back up on their feet. Ferguson presses Cariaso against the cage, but Cariaso lands another takedown. In half guard, Cariaso working for a submission but can't get it. Both men back up on their feet with a minute and a half to go. Cariaso working for a takedown but nearly gets caught in a kimora. Ferguson now mounts Cariaso's back and attempts a rear naked choke as the crowd gets into it. Ferguson still working for it with the clock ticking away, but Cariaso displays nice defense to keep him at bay.
Despite a late surge by Ferguson, I still give this one to Cariaso 10-9.
Cariaso vs. Ferguson
Round 2: Both men feelings things out to start round two. Cariaso getting the better of the standup game for the most part. Ferguson lands a nice single leg takedown but Cariaso lands a few hammerfists to get free. Back on their feet, Cariaso lands a couple nice shots. Ferguson rushes in but eats a couple shots to the face. Cariaso stalking Ferguson at this point. Ferguson lands a nice hook as Cariaso stands in the pocket. Ferguson gets Cariaso against the cage with a minute and a half to go, but isn't able to do much damage. Cariaso gets the underhooks and lands a nice takedown. Nice shots to the face of Ferguson fron half guard to end round two.
Closer round, but Cariaso takes it once again 10-9.
Chris Cariaso vs. Josh Ferguson (Flyweight)
Round 1: Ferguson starts off aggressively with a few right hooks that miss. Ferguson attempts a takedown but Cariaso stuffs it easily. On their feet, both men trading shots. Cariaso lands a nice left hook that staggers Ferguson. Another big shot gets Ferguson on the ground as Cariaso goes to work. Cariso lets Ferguson up. Cariaso lands a nice knee in the clinch. Ferguson lands a nice takedown, but fails to hook in a guillotine. Both men back up as Cariaso lands another clean hook. Spinnign heel kick from Ferguson finds its mark, the crowd loves it. Ferguson tries another takedown but good defense displayed by Cariaso. Couple of nice uppercuts from Cariaso in the clinch. Cariaso lands a takedown to finish off the first round.
Despite a nice effort from his opponent, Cariaso takes round one 10-9.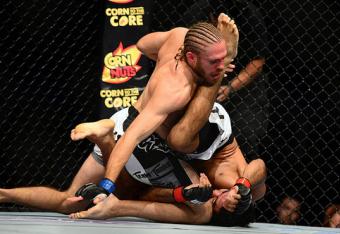 Natal vs. Craig
Round 2: Craig looks aggressive out of the gates but Natal lands a couple of clean shots. Craig lands a nice left hook but Natal cvounters with a better left hook of his own that connects cleanly. Nartal now swarming Craig as he tumbles to the ground. Criag is clearly out of it as he continues to eat shots from Natal. Craig somehow manages to get to his feet and momentarily gets Natal's back. Natal back in control now as he hits a seated Craig with another shot. Natal has Craig on the ground as he works for full mount. Natal landing some big shots in half guard. Craig looks absolutely gassed, but shows a ton of heart as he works to get top position on Natal. Craig lets Natal up. Both men trade stiff shots on their feet, trade some words about making this a fight. Nice front kick by Natal but Craig shocks everyone with a right head kick to knock out Natal with less than 10 seconds left in the round. Crowd is going absolutely nuts.
Craig wins by KO.
Rafael Natal vs. Andrew Craig (Middleweight)
Round 1: Craig using the jab early to set up his leg kicks. Natal delivers one of his own. Natal misses with a wild swinging hook. Both men trying to find their range early with a lot of jabs. Natal attempts a spinning sidekick but it misses. Natal lands a nice uppercut and has now begun to taunt Craig. Craig comes forward with a kick but misses. Natal continues to showboat. Natal looks like he has the edge in the speed department as he weaves in and out, picking his shots. Natal tries a spinning backfist and it partially lands. Both men trade kicks with half a minute to go. Natal tries a takedown late but Craig stuffs it. Straight right by Natal as he gets in one last taunt before the horn sounds. Natal easily wins this round 10-9.
This article is
What is the duplicate article?
Why is this article offensive?
Where is this article plagiarized from?
Why is this article poorly edited?