La Liga: 5 Players Who Will Set the 2012-2013 Season Alight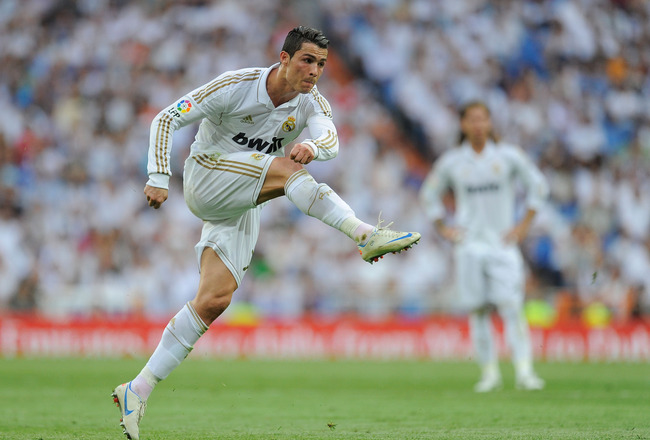 Denis Doyle/Getty Images
Some of the football on display in Spain's top flight is mouth-watering, which isn't surprising when you look at some of the players on show.
It'll also be weird not seeing Pep Guardiola in the dug-out at the Nou Camp, especially when he's in the middle of a battle of wits with Jose Mourinho!
Mourinho's confidence will be sky-high after winning the league in a fourth different country.
Other clubs like Valencia, Bilbao, Atletico and Malaga will all want to continue where they left off too, so next season should be good.
I'm going to look at five players who I think are going to light up La Liga next year, but, controversially, I won't be including Lionel Messi or Cristiano Ronaldo.
Everyone knows how good they are and that they'll light the league up anyway, so my five choices will be less obvious than the two best players in the world right now.
Thibaut Courtois (Atletico Madrid)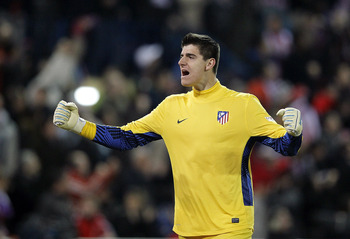 Angel Martinez/Getty Images
Thibaut Courtois is widely expected to be the long-term successor of Petr Cech at Chelsea, but for now, he's about to start his second season on loan at Atletico Madrid.
Even Cech himself has said that he expects Courtois to succeed him.
In an interview with the Fulham chronicle (reported on goal.com), Cech said that:
"I think if you look around Europe...there are not many as talented as Thibaut is... you need to look to the future and... one day we will need him. I think this is the reason why Chelsea bought him (to be their No.1)"
Last season, Courtois experienced a taste of winning a European trophy as he was part of the Atletico side that won the Europa League.
He played in 36 games last year, conceding just 41 goals, which isn't bad for someone who's only 20 years old.
Courtois will continue to improve playing in a league like La Liga and he'll be one of the stand-out players next season.
Jesus Navas (Sevilla)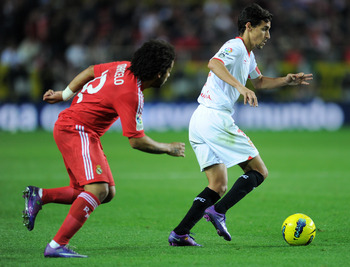 Jasper Juinen/Getty Images
Jesus Navas has always been a player that I've enjoyed watching.
His pace, skill and trickery down the left or right flanks always causes problems for defenders.
He might only be 26, but he's been playing in the first team at Sevilla since 2003, which is frightening.
Outside of the players at Barcelona and Real Madrid, Navas created more goals for his team-mates than anyone else in La Liga, which is no mean feat.
Sevilla only just missed out on European football last season, but if Navas plays like we know he can, they'll be back there next year.
Mezut Ozil (Real Madrid)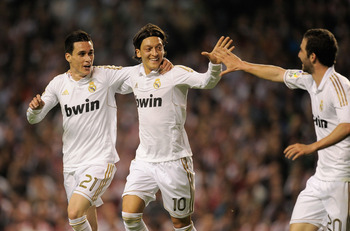 Denis Doyle/Getty Images
Do you know which player created more goals than Cristiano Ronaldo and Lionel Messi last season?
This picture's given it away, but it's Mezut Ozil of Real Madrid.
He created 17 goals for his team-mates and he was an integral part in the Real Madrid side that won La Liga for the first time in four years.
He's skilful, tricky and he can thread the ball through the eye of a needle.
If Ozil can add goals to his game on a consistent basis, then it'll only enhance his reputation.
Radamel Falcao (Atletico Madrid)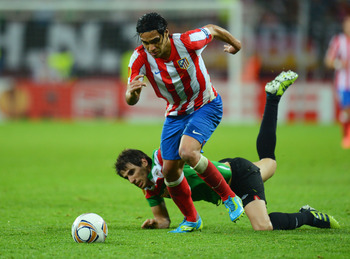 Shaun Botterill/Getty Images
When Radamel Falcao moved to Atletico Madrid from Porto last summer, I wasn't sure if he'd be able to settle in to the Spanish game quickly.
With the greatest of respect, the overall standard in Portugal doesn't seem to be the same as it is in Spain.
How wrong was I?
He's comfortable shooting with either foot, he's power and he's not afraid to get up and head the ball when he needs to.
I know it can't be done in reality, but if you take Ronaldo and Messi out of the picture, Falcao scored more goals in La Liga last season than anyone else.
Who knows what he can achieve now that he's settled in at Atletico?
I don't know about you, but I can't wait to find out!
David Villa (Barcelona)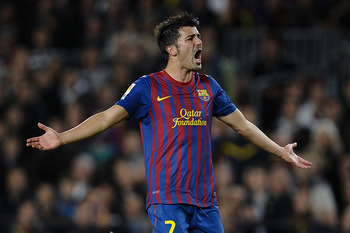 David Ramos/Getty Images
I think I'd be doing Real Madrid a disservice by saying that Barcelona would've won the league if David Villa had been fit.
One thing's for sure though, it would have been a hell of a lot closer in the end.
Ever since his days at Valencia, David Villa has garnered a reputation as being one of the best strikers in the world.
Barcelona might not have missed his goals overall, but his instinct and ability were definitely missed.
It's always a shame when you see a player come down with a serious injury, but next season could be when David Villa reminds us all of just how good he is.
Keep Reading