Boston Red Sox: Year-End Statistical Projections for Each Boston Position Player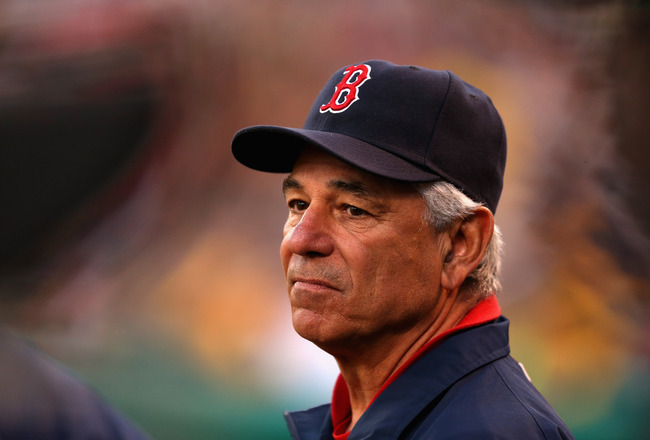 Ezra Shaw/Getty Images
The Boston Red Sox aren't in the most attractive position to start the second half of the season, but have gotten solid performances from unsung heroes while several stars have been underachieving.
Even though Boston hasn't been winning many games, they've still been productive. The Red Sox offense ranks eighth among all teams in WAR, according to FanGraphs, and are the second-highest scoring team in baseball.
Can the Red Sox translate their high-powered offense into wins during the second half? Will David Ortiz continue to put up MVP-like numbers? Can Adrian Gonzalez find his power stroke after losing it? Will Jacoby Ellsbury return to his 2011 form?
Here are my answers to those questions as well as my year-end statistical predictions for each position player.
Jarrod Saltalamacchia, Catcher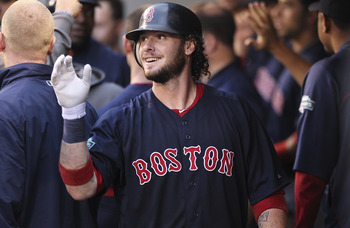 Otto Greule Jr/Getty Images
2012 Statistics: .235/.285/.513, 17 HR, 41 RBI, 34 R
Jarrod Saltalamacchia had a start to the season that no one, and I mean no one would've predicted. He already surpassed his previous career high in home runs with 17 and has been a part of the best catching tandem in baseball.
Instead of hitting towards the bottom of the lineup like he did last season, we've regularly seen Saltalamacchia slotted in the heart of it and sometimes hitting cleanup. It would be incredible for his power numbers to stay around the same in the second half, but it's unlikely.
Year-End Statistics: .233/.287/.508, 24 HR, 76 RBI, 65 R
Adrian Gonzalez, First Base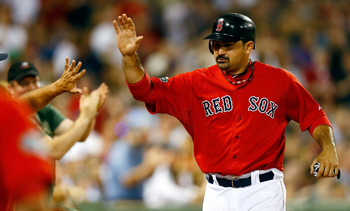 Jared Wickerham/Getty Images
2012 Statistics: .283/.329/.416, 6 HR, 45 RBI, 42 R
No one on the Red Sox roster had a more disappointing first half of the year than Adrian Gonzalez. Coming off of a successful 2011 campaign, Gonzalez quickly lost his touch at the plate which resulted in him moving around the Boston lineup. He's hit just six home runs at the break and has no chance at matching his total from last season.
Boston needs Gonzalez to get back on track if they're going to make a run towards a playoff berth and that means hitting home runs again. He's still scoring plenty and driving in a good amount of runs, but being able to drive the ball is what has to happen.
The overall play of Gonzalez should determine the fate of Boston's season, and I don't think he's ready to let Boston down just yet.
Year-End Statistics: .296/.341/.487, 17 HR, 96 RBI, 95 R
Dustin Pedroia, Second Base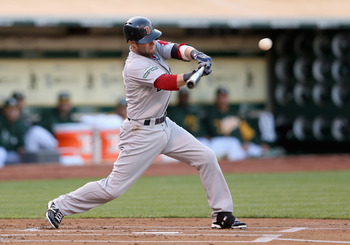 Ezra Shaw/Getty Images
2012 Statistics: .266/.326/.400, 6 HR, 33 RBI, 41 R
Dustin Pedroia is one of the stars that I referenced as underachieving in the first half. I think that his lack of production this season hasn't just been a slump, it has to do with his thumb.
That thumb is not OK and Pedroia loves to play through anything so he won't come out for it. The fact of the matter is that it's hurting his game and thus, hurting the team.
I'm hesitant to say that he'll be considerably better in the second half of the season because I'm not aware of how severe his thumb injury actually is or what can happen if it gets any worse. I'm not even sure how many games he's going to play the rest of season. He could play a majority of the remaining games just as easily as he could miss a majority of them.
Year-End Statistics: .274/.329/.388, 10 HR, 59 RBI, 79 R
Mike Aviles, Shortstop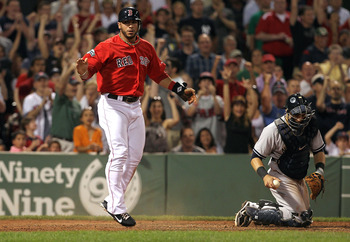 Jim Rogash/Getty Images
2012 Statistics: .260/.283/.410, 9 HR, 44 RBI, 40 R
Mike Aviles has been one of the few bright spots throughout the season. I don't know about you, but I didn't think he'd have more home runs at the All-Star than Adrian Gonzalez and Dustin Pedroia. He's hit the ball very well and been solid defensively as well.
His overall playing time could get cut short depending on which direction the Red Sox decide to go. If they go the young route, Aviles will likely lose his spot to Jose Iglesias. Even if Aviles plays the remainder of the season out as the starting shortstop, it's unlikely he keeps up his offensive surge. He's more likely to settle down at the plate and probably end the season with numbers close to his career averages.
Year-End Statistics: .254/.275/.391, 14 HR, 75 RBI, 76 R
Will Middlebrooks, Third Base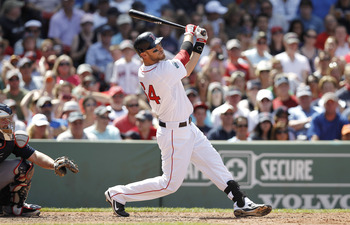 Winslow Townson/Getty Images
2012 Statistics: .298/.335/.538, 10 HR, 37 RBI, 25 R
Will Middlebrooks was Boston's little taste of excitement during the first half of the year. Think about it. He was the top prospect in the organization, came up and did big things, created a huge controversy at third base and won the position battle that inevitably forced the Red Sox to trade veteran Kevin Youkilis. That's pretty impressive if you ask me.
I would love to say that Middlebrooks would put up great numbers throughout the rest of the year. I really, really would. Unfortunately, I don't think it's going to happen. His hamstring issues concern me and it seems like it could be a chronic issue throughout his early career.
It would be awesome if Middlebrooks could bring home the AL Rookie of the Year, but Mike Trout has that locked up and I don't think his numbers will be close to Trout's.
Year-End Statistics: .290/.321/.527, 16 HR, 69 RBI, 54 R
Daniel Nava, Left Field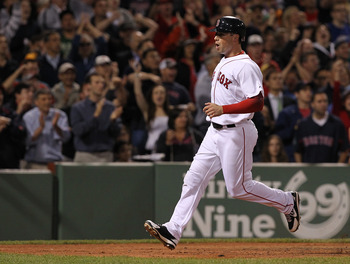 Jim Rogash/Getty Images
2012 Statistics: .275/.388/.427, 3 HR, 26 RBI, 29 R
Daniel Nava has done a great job filling in for Carl Crawford in left field for most of the season. He's played very well defensively and has also found himself hitting atop the Boston lineup frequently. This guy wasn't even invited to spring training and now he's a regular for the Red Sox.
Nava's career has been a great story, but I'm afraid it might be paused for a while once Crawford returns from his rehab assignment. Bobby Valentine is only going to be able to have so many outfielders on the active roster and I think Nava could be on the bubble of staying on the team.
Even if he does, his playing time will decrease significantly.
Year-End Statistics: .269/.378/.420, 5 HR, 41 RBI, 51 R
Jacboy Ellsbury, Center Field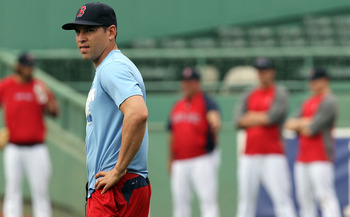 Jim Rogash/Getty Images
2012 Statistics: .192/.300/.269, 0 HR, 3 RBI, 4 R
It's been a rough year for Jacoby Ellsbury to say the least. After an outstanding 2011 campaign, a separated shoulder sidelined him for nearly the entire first half of the season. Ellsbury will be back with the team soon and hopefully can help this team get out of the AL East cellar.
His performance once he returns is still up for debate. Will the shoulder be an issue or will he show no sign of it ever happening? It shouldn't be an issue in my opinion, but I don't think we'll see the same Ellsbury that we did last year.
He will still be a great player, I'm just not sold on him continuing to hit home run after home run again.
Year-End Statistics: .289/.367/.418, 6 HR, 30 RBI, 49 R
Cody Ross, Right Field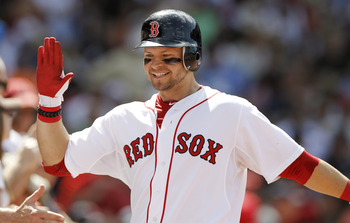 Winslow Townson/Getty Images
2012 Statistics: .264/.345/.537, 13 HR, 40 RBI, 37 R
At the beginning of the year, it was thought that Cody Ross and Ryan Sweeney would platoon in right field for the full season. The dominoes started to fall and Ross ended up with the regular starting job.
He's done everything that was expected of him and the bat flip has gone over well at Fenway Park.
It will be smart for the Red Sox to hang on to Ross as he's been one of the sparks in their lineup. Once some of the other players start to step up, Ross should move down in the lineup, which should only improve his performance as he sees better pitches.
Year-End Statistics: .270/.351/.549, 22 HR, 78 RBI, 72 R
David Ortiz, Designated Hitter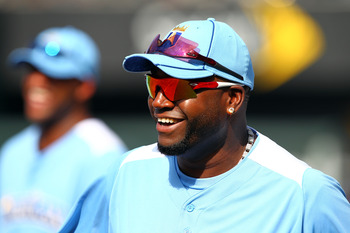 Dilip Vishwanat/Getty Images
2012 Statistics: .312/.406/.607, 22 HR, 57 RBI, 62 R
Boston's MVP of the first half has clearly been David Ortiz. He's put up MVP-like numbers and was the lone Boston representative in the All-Star game. He seems to be one of the few Red Sox players to keep this team from falling off the face of the Earth. Without Ortiz, Boston is in an even worse situation going into the final half of the season.
Can Big Papi keep it up? He can. With Crawford and Ellsbury returning to the lineup and Gonzalez finding part of his swing, Ortiz will have plenty of good weapons hitting in front of him. Will he win the AL MVP? Doubtful, unless he has an ever better second half. If Ortiz isn't playing well, the Red Sox are doomed.
Year-End Statistics: .320/.418/.623, 40 HR, 108 RBI, 113 R
Bench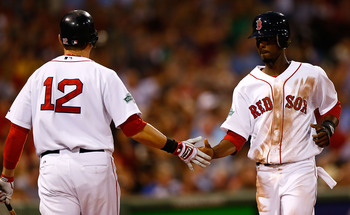 Jared Wickerham/Getty Images
Catcher
Kelly Shoppach had a great first half to the season backing up Jarrod Saltalamacchia, but I'm not sure if he finishes the season with the Red Sox. They could end up dealing him to a team looking for a veteran backup, but still should contribute to finish with respectable numbers.
Hitting higher than .250 and finishing with six or seven home runs seem fair for Shoppach.
Infielders
I don't see Mauro Gomez staying on the active roster for much longer so his final statistics don't really matter. It is a little more interesting to see whether Pedro Ciriaco or Nick Punto will claim the backup infield role for the second half.
Nick Punto is a poor hitter who will end the season hitting around .200 whereas Ciriaco could provide a spark and hit close to .270. Neither have much power, but Ciriaco has the edge defensively, which is why he should get the job.
Outfielders
Brett Lillibridge will probably be in Triple-A Pawtucket sooner rather than later since Jacoby Ellsbury and Carl Crawford will be returning soon. Ryan Sweeney will see less playing time should he stay with the team, but could hit near .290 to finish the year. His flaw is that he hasn't hit a home run in a year.
The real story will be seeing how Crawford comes back. I don't like that he's giving his elbow a shot before getting surgery and it will come back to bite him. If he is able to play through the pain, he will hit around .275 with limited power and will rely on his speed to keep him relevant. Look for a big year from him next season.
Keep Reading

Boston Red Sox: Like this team?