Who Is the Cleveland Browns' Most Vocal Leader?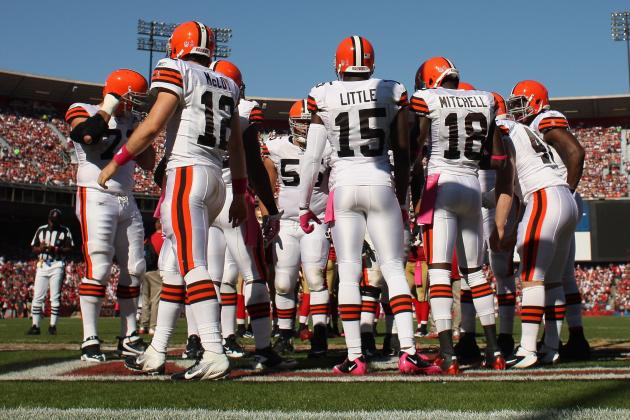 Ezra Shaw/Getty Images

For the young Cleveland Browns, strong leadership in the locker room is a necessity. When you think football player and leader in the same sentence, your first thought should be quarterback. Is Colt McCoy that motivating voice in the ear of every Browns player?
Does McCoy push his peers to excel and attack the game with the same mindset as he does? Or is there someone else that fits the bill and rises to the spotlight once the coaches walk out? Do they command a huddle and keep the squad's focus on the task at hand?
Immediately when I think of leadership ability, veteran names like Benjamin Watson, Sheldon Brown, Scott Fujita and Joe Thomas come to mind. Does being a veteran entitle you—no, teach you—how to be a leader and inspire others?
Are rookies capable of leading?
I don't think there are any set criteria on who should be a leader and be followed. At work, you listen to your boss. You listen to his boss. But there are those in your life you follow and listen to because you believe in them and in their character.
According to Fred Greetham of the Orange and Brown Report, former Browns' head coach Eric Mangini said it better than I ever could:
"One lesson that I learned early on with leadership from the different coaches I've been with, is that each guy can be a leader. It's not always carrying the flag or breaking down the huddle or doing any of those things. It's just figuring out how in your personality you can lead. Everybody has the capacity for leadership. It doesn't have to be the same, but the leadership is there, figure out where you can set that example and then go ahead and maximize that."
Who's got "it" on the Browns roster?
Begin Slideshow

»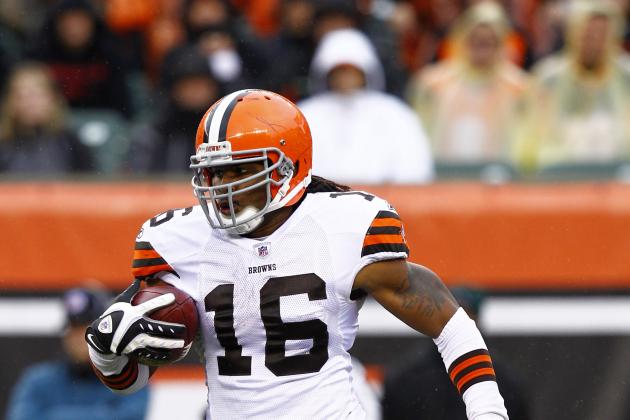 Tyler Barrick/Getty Images

Besides being a fan favorite, Josh Cribbs is one of the most optimistic people in the Cleveland Browns' locker room. His undying positivity and support for the Browns and the city of Cleveland makes him a focal point of the team.
A spokesperson, if you will.
Inside the locker room, though, how does his attitude reflect on his teammates? Cribbs positivity is reflected by the positivity of the team despite nothing but failure over the past three seasons. It's not possible to say the Browns have "quit" amidst all of the negativity surrounding them.
Cribbs is a big part of the veteran nucleus holding things together. As a spokesman, you can tell he really believes what he's saying and realize that that is what he's probably teaching the rookies and younger players who are learning from him.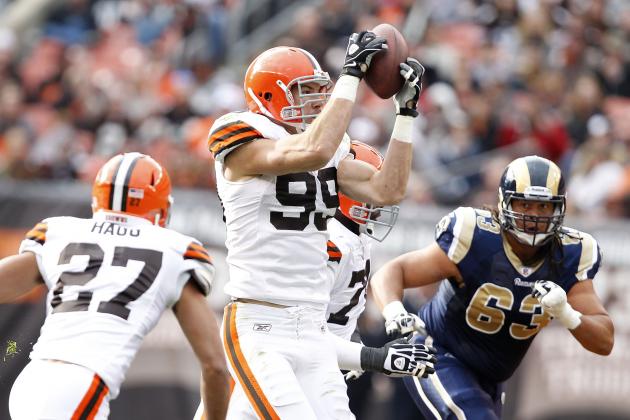 Matt Sullivan/Getty Images

As the leader of the New Orleans Saints defense, Scott Fujita has been implicated in the 'Bounty Gate" scandal that has led to him being suspended for the first three games of the 2012 season.
Does that change the fact that Fujita was brought in specifically as a leader for the young Cleveland Browns? As a Super Bowl winner and league veteran, Fujita's confidence, experience and leadership have all been positive additions in the Browns locker room.
Fujita is a member of a strong core of veterans that are holding a very young and impressionable locker room together. According to Michael Silver of Yahoo! Sports, Fujita was a member of the eight-player intervention group that confronted Peyton Hillis about distractions during the 2011 season.
According to Silver, Fujita had this to say about the situation:
"The fact that everyone has to get asked about [Hillis' situation] by the local beat writers every day, it's started to create a distraction, and it's a shame that it has to be that way. I'm never gonna be in a position to question a player's toughness. I just want him to be healthy and in the right frame of mind to help the team. More than anything else, that's what our conversation with him was about."
Leaders look out for what's best for the team and Fujita—bounty violator or not—has shown he fits that role very well.
On the field, you can tell that he is involved in keeping everyone on target. He is a very vocal veteran who is and will continue to be a positive influence on his peers.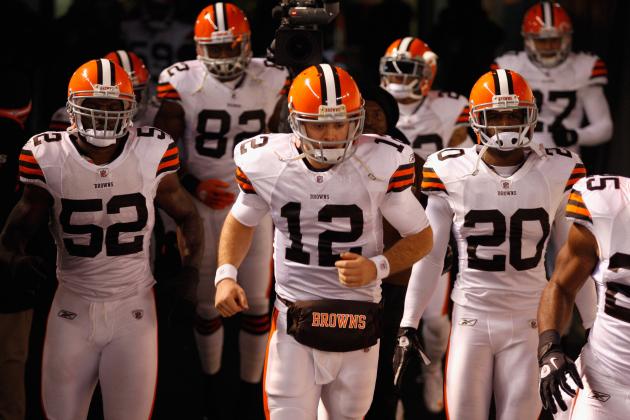 Jared Wickerham/Getty Images

Colt McCoy is best known as a "winner." In high school, he won games. At the University of Texas, he became one of the most successful college football quarterbacks in history.
After a promising rookie season, McCoy took initiative in 2011 and hosted offseason player workouts after being given the playbook from the new Browns' coaching staff.
This affectionately became known as "Camp Colt." Nearly everyone participated in these voluntary organized player activities.
You can see it in his eyes, in the way he conducts himself and in what he says. McCoy is a believer in himself and in those around him. That's for sure.
However, after a dismal sophomore season performance as the starting quarterback, it is hard to imagine his teammates showing full confidence in the quarterback.
Regardless of success, McCoy has exerted himself as a positive locker room leader. Even in the midst of losing his starting position to rookie quarterback Brandon Weeden, McCoy has tried to keep himself out of the negative media spotlight.
Recently, McCoy was asked if he thought he would have a fair shot at beating Brandon Weeden for the starting quarterback position. According to Marc Sessler of NFL.com, McCoy said:
"We'll see, I don't know. There are a lot of things I can control and I'm controlling those things. The things beyond that I try to do my best to not worry about those and go out there and do what I do on the field, that's the most important thing. Beyond that, I can't do anything else."
Although clearly frustrated with his situation, McCoy continues to hold back. Whether he beats out Weeden, he doesn't appear to be the type of person to let losing his job affect his demeanor and attitude towards the team.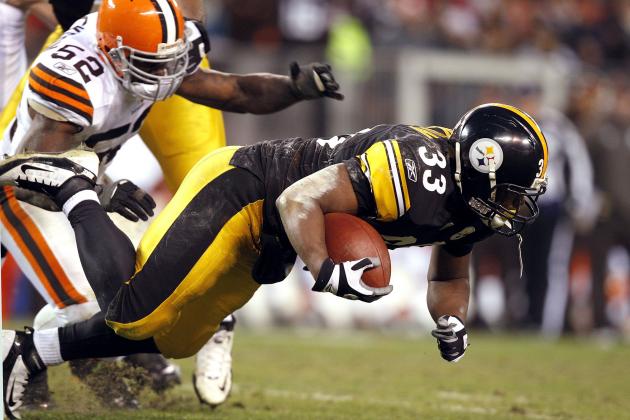 Matt Sullivan/Getty Images

D'qwell Jackson has been pegged as a leader since Day 1 by former Cleveland Browns head coach Eric Mangini.
That sentiment hasn't changed with time. Despite Jackson missing two seasons with injuries, he has remained the leader of the Browns on the defensive side of the ball. As the starting middle linebacker, he is on the field for nearly every play and is the mouthpiece of the coaching staff on the field.
Mike Holmgren, according to Nate Ulrich of the Akron Beacon Journal, said Jackson was integral to the future success of the Browns after Jackson signed a five-year extension with the team.
"Building the foundation with the young guys in the drafts, that's all well and good," Holmgren said. "But what you also need, the component every successful team needs, is leadership from players that the younger players look up to. And by having D'Qwell sign with us for an extension, we have one of the pieces of that puzzle in place."
Not only does Jackson call the plays for the defense, he sets the tone for the entire team by imposing his will on opposing offenses. His energy and tackling success has propelled him back into the national spotlight for his tenacious play in the defensive front-seven.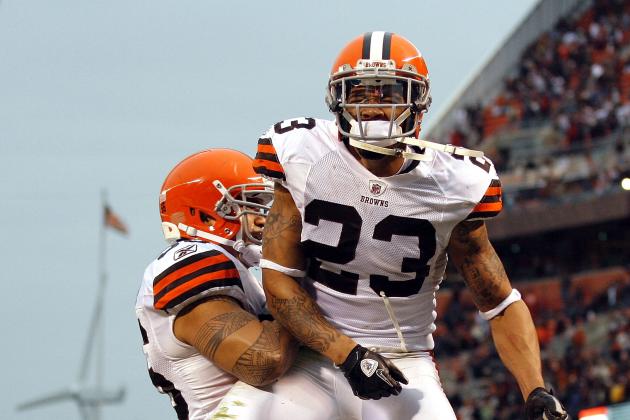 Matt Sullivan/Getty Images

If you've watched a Cleveland Browns football games, there is little chance you've missed Joe Haden. He's electric.
His energy and enthusiasm is bar none the best on the team. His play speaks for itself. Like Cribbs, Haden has embraced the city he plays for in the best ways possible. He supports charities, other city sports teams and most importantly: The Cleveland Browns.
Haden's attitude is definitely helping shape the mindset of the young core of players that make up the majority of the Browns' roster.
You don't have to be a veteran to inspire and bring out the best in others. Haden is doing that both on and off the field in Cleveland.
It's hard to argue against there being any bigger of a vocal leader in the Browns' locker room.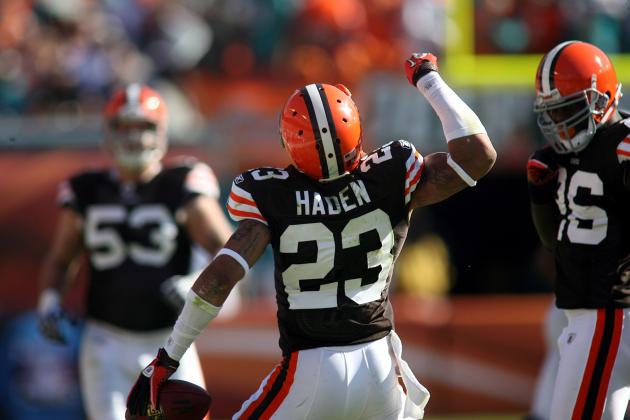 Marc Serota/Getty Images

It would be easy to pick any of these leaders on the Cleveland Browns as the most vocal in the locker room and on the field. However, for all intents and purposes, there can be only one.
Joe Haden is the most vocal advocate for the team in nearly every aspect of the discussion. He may not have the experience that others have, but he's learned fast and has demonstrated his desire to succeed to not only his teammates but to the world as well.
Josh Cribbs is the close runner-up as the second most vocal leader of this Browns team. His positivity is contagious and invaluable to a franchise that has failed to achieve positive results in the longest time.
If the discussion were solely about leadership, I would give the nod to D'Qwell Jackson or Colt McCoy due to their strong and positive roles on their respective units (offense and defense).
Follow Mike on Twitter @BigHoagowski for insight on life, love, sports and the pursuit of happiness.