Lithuania Olympic Men's Basketball Team 2012: Updated News, Roster & Analysis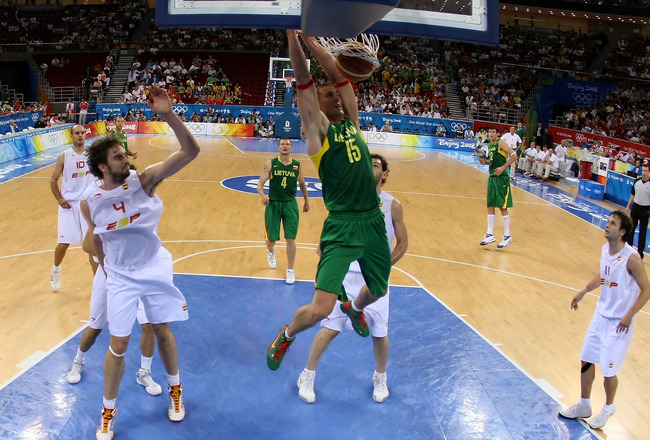 Jed Jacobsohn/Getty Images
Lithuania didn't exactly cruise through the Olympic Qualifying Tournament, but they did win every game in the knockout rounds to secure an Olympic berth. They are a medal contender, but grabbing a spot on the podium could be asking a little too much from this international squad.
Lithuania will run with the same roster they used in qualifying, but will have stiff competition in pool play. They figure to be battling Nigeria, a team to which they lost in group play, for a spot in the medal round.
The following pages will provide roster information, discuss key matchups and make predictions on how Lithuania will fare in the 2012 Olympic Games.
Final Roster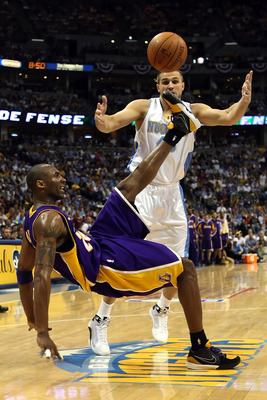 Linas Kleiza and Lithuania will try to upend Kobe Bryant and the rest of the American squad.
Jed Jacobsohn/Getty Images
Lithuania announced their national roster and has had the opportunity to put it to the test in the Olympic Qualifying Tournament. They had a surprising loss to Nigeria.
| | | |
| --- | --- | --- |
| Pos. | Name | Club |
| PG | Mantas Kalnietis | BC Žalgiris |
| PG | Šarūnas Jasikevičius | Panathinaikos B.C. |
| G | Tomas Delininkaitis | BC Žalgiris |
| SG | Rimantas Kaukėnas | Montepaschi Siena |
| SG | Deividas Dulkys | Free Agent |
| G/F | Martynas Pocius | Real Madrid Baloncesto |
| SF | Jonas Mačiulis | Montepaschi Siena |
| F | Linas Kleiza | Toronto Raptors |
| PF | Paulius Jankūnas | BC Žalgiris |
| F/C | Darius Songaila | CB Valladolid |
| C | JonasValančiūnas | Toronto Raptors |
| C | Robertas Javtokas | BC Žalgiris |
Key Players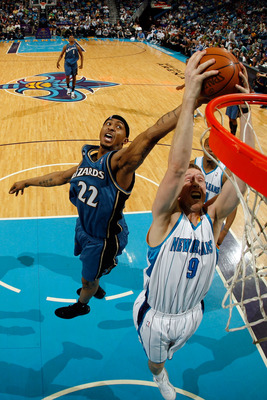 Chris Graythen/Getty Images
Lithuania offers a solid inside presence, but as a whole they lack athleticism. This will make it difficult for them to match their bigger players up against much faster options from Pool A, particularly the United States.
Jonas Valančiūnas
Valančiūnas had a thriving professional career in Lithuania as a 16-year-old. It didn't take long for him to be noticed by NBA teams, and the Toronto Raptors drafted him with the fifth pick of the 2011 draft.
He has to wait a year to join the team, though, as he was under contract with a team in Lithuania. The talented 7'0" center will be a solid force for Lithuania.
Linas Kleiza
Another Raptor, Kleiza, will play near the basket. He's a good scorer, but isn't as strong a rebounder as one would expect from a 6'8" forward. He could be a defensive liability against a few teams, as he doesn't have the mobility of some of the other NBA big men.
Šarūnas Jasikevičius
Jasikevičius is the veteran leader of the group and will keep his teammates focused. He's a solid point guard and is good at distributing the ball.
Scoring isn't his strong suit, but he did play well in the 2000 Olympics. He averaged 14.0 points and 5.1 assists per game, helping his team earn the bronze medal.
Main Challengers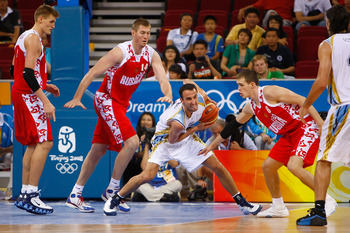 Jamie Squire/Getty Images
Pool A. It is stacked with talented teams, each of which would likely advance to the medal bracket had they only been dropped into Pool B. Russia ended up with that honor, saving them from some challenging competition early in the tournament.
Every team in pool play will be a tough game, with the exception of Tunisia.
United States
Team USA is simply the class of the tournament. They have a roster full of NBA all-stars and will be difficult to match up against.
The one potential weakness for the U.S. is their front court. They only have one center on the roster and could be susceptible to a team that can pound the ball in the paint. That may not be France's strength, though.
France opens the Olympics facing the American squad so they will get an early idea of where they stand.
Spain
Spain could become a factor if Lithuania is able to grab the fourth-seed from Pool A. Spain figures to win Pool B, creating a Spain vs. Lituania quarterfinal match.
Spain will be a different team than Lithuania faced in the Worlds last year. They are thick in their starting lineup and have good reserves and would simply wear Lithuania down.
Nigeria
While France is the obvious pick, Nigeria is the team Lithuania will need to beat to advance to the medal round. The next team of consequence is Argentina, who will be the competition for the third seed from Pool A.
Nigeria pulled off a surprising win over Lithuania in the Olympic Qualifying Tournament. They will look to do the same in London, as the winner of this game will likely snag the last ticket out of pool play.
Prediction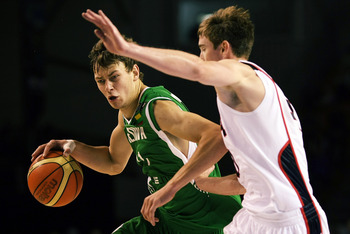 Hannah Johnston/Getty Images
Lithuania will play well in their pool games, but I see them coming up just short of advancing to the medal round.
Their pool will be dominated by the U.S., with France and Argentina creating two strong second-tier teams. Lithuania did beat Argentina last year, but Argentina was playing without several key members of their Olympic team.
Tunisia won their berth by winning the Africa Championship in 2011. Aside from Nigeria, who was third in the same tournament, Tunisia will be hard-pressed to keep any games close, let alone come out with a victory. They went 0-5 in group play at the 2011 FIBA World Championships where their closest loss was to a one-win Iranian squad.
This leaves Lithuania competing with the two African teams for the last spot in the medal round. Lithuania did lose to Nigeria in the Olympic Qualifying Tournament, but look for Lithuania to advance.
Projected standings for Pool A:
| | |
| --- | --- |
| Pool A | W-L |
| USA | 5-0 |
| France | 4-1 |
| Argentina | 3-2 |
| Lithuania | 2-3 |
| Nigeria | 1-4 |
| Tunisia | 0-5 |
Lithuania will take fourth in pool play and advance to the medal rounds. However, that is about as far as they will make it. A likely initial game against Spain will be too much, ending Lithuania's Olympics.
Keep Reading