NBA Free Agents 2012: Hasheem Thabeet Will Get Back on Track with OKC Thunder
Christian Petersen/Getty Images
The Hasheem Thabeet bandwagon was rolling along when the Memphis Grizzlies selected him at No. 2 in the 2009 NBA draft.
Since then, the wagon has lost its wheels, tipped over onto its side, caught fire, exploded and then fallen into a yawning canyon just for good measure. It's going to be hard for it to get rolling again.
If there's any organization that could get Thabeet back to at least being a solid rotation big, it's the Oklahoma City Thunder.
At this point, it's worth noting that I'm taking the stance that Thabeet will find some success because I have confidence in the Thunder organization and Sam Presti's talent evaluation, not because I see something special in the 7'3" center from Tanzania.
Then again, it's easy to see something special when you read that he's 7'3" and watch him tower over the rest of the players on the court.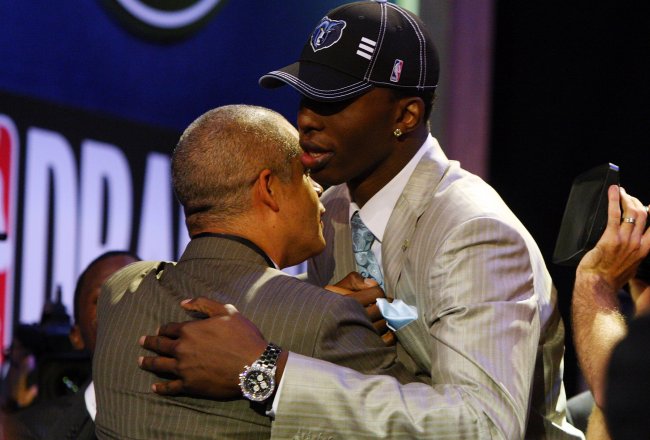 Remember this?
Jim McIsaac/Getty Images
Up to this point, the center's career has been full of disappointments. Before going to his Basketball-Reference page to look up his exact statistics, I made sure to grab a box of Kleenex, just in case I hadn't mentally steeled myself enough.
Thabeet has started only 16 games during his NBA career, spending more time in the D-League than The Association. While in the big leagues, he's only averaged 2.2 points, 2.7 rebounds, 0.1 assists, 0.2 steals and 0.9 blocks per game with a PER of 10.7.
That last number is actually surprisingly high. Before I looked it up, I asked one of my friends to guess what he thought Thabeet's PER would be. He guessed four. Mine was the same.
Something tells me that Presti knew exactly how high the number was before calling Thabeet's agent and getting him to agree to a contract.
Will Hasheem Thabeet stick around on the Oklahoma City Thunder roster?
Thabeet isn't going to be asked to do much more than play defense and block shots while crashing the boards on both ends of the court. He won't start games, but he'll come in during garbage time and throw up some decent stats.
While he was at Connecticut, he wasn't asked to do much besides fill those roles. He didn't need to be a scorer and he thrived in that situation.
It's important to remember that the first step to getting back on track is maintaining a spot in the NBA. Thabeet can do exactly that with the Thunder.
Anything else would be gravy.
This article is
What is the duplicate article?
Why is this article offensive?
Where is this article plagiarized from?
Why is this article poorly edited?

Oklahoma City Thunder: Like this team?