New York Mets: Top 10 Mets of All Time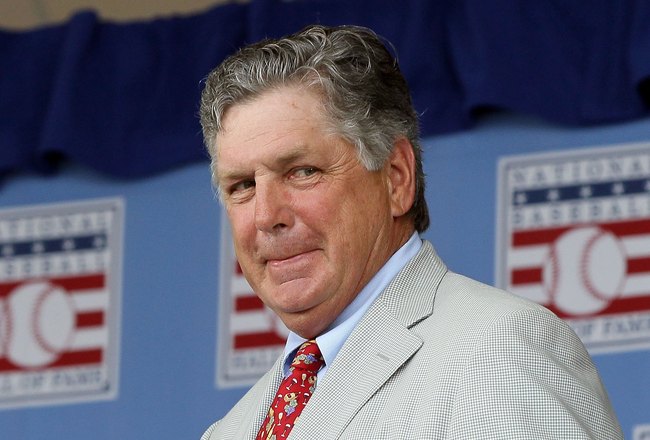 Jim McIsaac/Getty Images
With the New York Mets in their 50th year in franchise history, so many players have come and gone.
Some were truly legendary and will never be forgotten. Others were so bad, that most fans wished they could erase them from their memory (For all those Oliver Perez haters out their). Nonetheless, their were 10 men who stood out above the rest as the best to ever wear a Mets uniform.
While there will be a few snubs that couldn't scratch out a spot on this list, I did my best to incorporate the 10 ball players that I feel deserved it most. However, I understand everybody is entitled to their own opinion, so feel free to comment below with who you believe should have made the list. Without further ado, let's begin!
The Criteria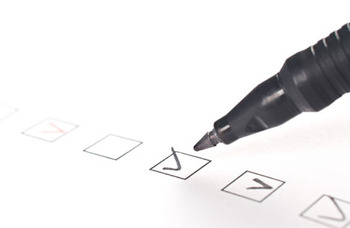 Google Images
When ranking I brought into play quite a few statistics, both for pitchers and position players. Here was the criteria used to create the best list possible:
Both pitchers and position players:
Amount of Time As a Met
Awards as a Met (Cy Young, MVP, Rookie of the Year)
Pitchers:
ERA
WHIP
Wins/Losses
Strikeouts
Saves
Innings Pitched
Position Players:
Batting Avg
Home Runs
Runs
Stolen Bases
OBP
OPS
Slugging Percentage
RBIs
Honorable Mentions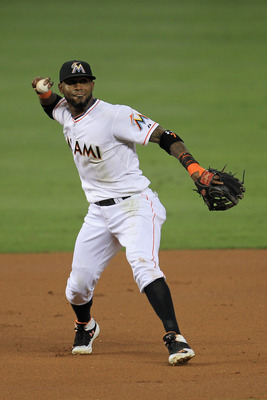 Chris Trotman/Getty Images
Here are a few guys that just missed the cut:
Carlos Beltran
Jose Reyes
Edgardo Alfonso
John Franco
Jesse Orosco
10. Cleon Jones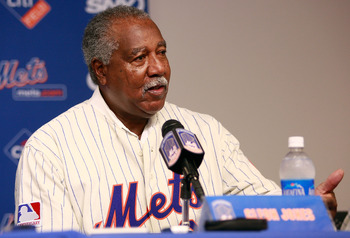 Jared Wickerham/Getty Images
Cleon Jones has always been talked about but is rarely discussed when the subject of an all-time Mets list is brought up. I fail to understand why, as he not only played consistently well throughout his tenure in New York, but he played there from 1963-1975.
He was a solid player for his first few years, but he really came into his own in 1969, leading the Mets to their first World Series title just seven years after their inaugural season. He batted .340 with an absolutely ridiculous .422 on-base percentage.
Cleon wasn't necessarily better than a few of the snubs on the list, but due to the fact that he played his entire career there outside of 40 at-bats with the Chicago White Sox, he is able to just crack the list at No. 10 overall. His career will always be remembered by the diehard fans, and his contributions during the 1969 World Series run can not be understated.
Career:
Batting Avg: .281
Home Runs: 93
RBIs: 524
OBP: .339
Runs: 565
SB: 91
SLG: .404
9. Tug McGraw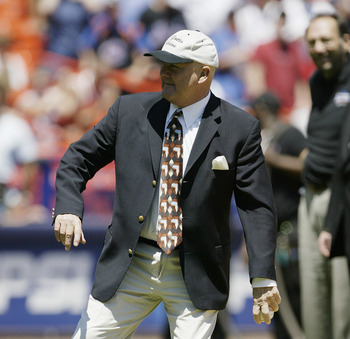 Ezra Shaw/Getty Images
In my opinion, Tug McGraw is the Mets' best relief pitcher of all time, beating out the beloved John Franco by a smudge.
Tug was a consistent pitcher that the Mets could always rely on in big opportunities and even for an occasional spot start, as he started 36 games during his time in New York. Despite starting out rough, Tug improved each and every year until posting a 1.70 ERA in back-to-back seasons from 1971-1972.
McGraw was always one of those pitchers that could simply do anything and everything. He could start, close, provide long relief, get key outs and was able to effectively pitch against both righties and lefties. Nowadays, the Mets could use someone like him as the Mets' current bullpen situation shows just how important a guy like Tug can be.
Tug had some rough years to start his career, which really stops him from moving up the list. Nonetheless, his work helped get the Mets to two World Series appearances, so he definitely did his job effectively enough to get the No. 9 spot on my list.
Career:
W/L: 96/92
ERA: 3.14
Saves: 180
WHIP: 1.254
Strikeout: 1,109
8. Mike Piazza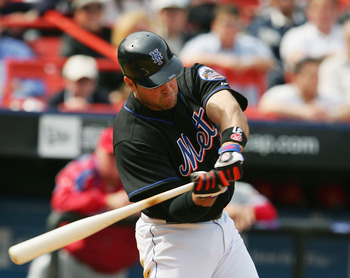 Al Bello/Getty Images
From the moment Mike Piazza got traded to New York, he became one of the most beloved Mets of all time. He certainly lived up to all the hype though, continuing the Mets long history of great catchers. Not to mention, who can forget Mike's home run in the first game played in New York after 9/11. It was easily one of the most memorable and heart felt moment in baseball history.
While some could argue that his stats were somewhat better as a Dodger, he 's the first to tell you that he accomplished much more as a Met, and it has become an assumption that he will enter the Hall of Fame on behalf of the Metropolitans.
Piazza's character, and all around play was flat out phenomenal, and he really lead the Mets from the late 90's into the early 2000's. One of the best offensive catcher's to ever ply the game, Piazza will always have a spot on the Met's All-Time list, getting a spot at #8.
Career:
Batting Avg: .308
Home Runs: 427
Runs: 1048
OBP: .377
SLG: .545
OPS: .992
7. David Wright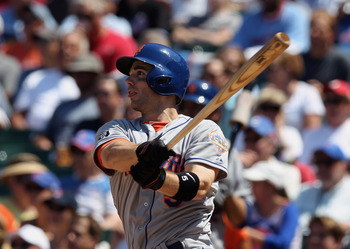 Scott Halleran/Getty Images
David Wright has been the face of the franchise for quite some time now, and he certainly deserves it.
Since that promising 2006 season, Carlos Beltran, Carlos Delgado, Paul Lo Duca, Pedro Martinez, Tom Glavine, Jose Reyes and Cliff Floyd are just some of the many men to ditch New York for other teams. However, David Wright has stayed through all the losing. He has fought through injuries despite being out of the playoff race and has that true love for the game you love to see in a ball player.
One by one, David Wright has been knocking down nearly every record held by former Mets this season. While some can point to the fact that he has played with the team for the entirety of his career, nobody can deny that when healthy, he has produced greatly. This year has been arguably his best, and he is once again back to being a top-tier third baseman.
David's career is likely far from over, so he can start to move up this list as he continues to pile up the stats. By the end of his career, look for Wright to be near the top of the list, or even the best of all time. His stats don't lie, but he has meant more than what the numbers show to a team that has struggled greatly.
Career:
Batting Avg: .303
Home Runs: 194
RBIs: 784
Runs: 755
OBP: .384
Stolen Bases: 160
6. Gary Carter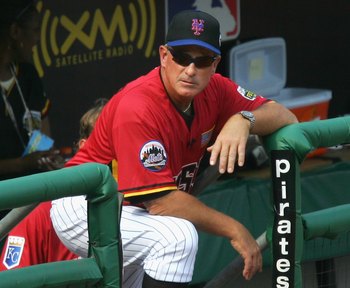 Jim McIsaac/Getty Images
"The Kid" will always be remembered as the greatest Mets catcher of all time.
He literally did it all. Whether it was managing his pitching staff, playing great defense or coming up with clutch hits, Gary was always a thorn in his opponents side. No matter what disrespectful and insanely inhumane comments Reggie Jackson makes, it is a fact that Gary Carter deserves his Hall of Fame nod.
Carter's best run of success came from 1985-1986 in which he played the former on the Montreal Expos and the latter as a New York Met. In those two seasons, he hit a combined 206 RBIs and 59 Home Runs. However, he definitely didn't fall off much the following year as he lead the Mets to the promise land, capturing the 1986 World Series Title.
Many great players such as Alex Rodriguez, Sammy Sosa, Barry Bonds and Roger Clemens have all tainted the entire MLB. However, Gary Carter was one man who stayed nothing but kind and loyal throughout his entire lifetime. Although he is no longer with us, Gary will always forever be in hearts of each and every Mets fan.
Career:
Batting Avg: .262
Home Runs: 324
RBIs: 1,225
OBP: .335
Runs: 1,025
SLG: .439
5. Keith Hernandez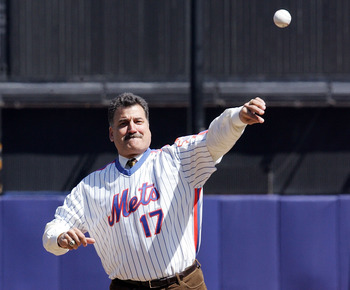 Jim McIsaac/Getty Images
While Keith Hernandez had a very successful career as a member of the St. Louis Cardinals, he didn't slow down one bit after being shipped over to the Big Apple.
Keith was one guy who could not only give you quality at-bats, but he could pull it off with the leather as well. As an 11-time Gold Glove winner, Keith was truly one of the best fielding first baseman to ever play professional baseball.
His best year was most likely the year he won MVP in 1979. He absolutely raked, leading the league in runs, doubles and batting average. He didn't slow down there though, as he went on to play 11 more years as one of the best at his position.
Keith was another key contributor to the '86 run, and without him, things would have been a lot more difficult. He contributed on both ends, solidifying himself as one of the best Mets to ever play. For that reason, he earns the No. 5 spot on my list.
Career:
Batting Avg: 296
RBIs: 1071
Runs: 1124
BB: 1070
OBP: .384
Home Runs: 162
4. Jerry Koosman
Jerry Koosman is the man on the left.
Jared Wickerham/Getty Images
Often left in the shadows of "Tom Terrific", Jerry Koosman is not always given the credit he deserves.
His stellar work helped turn arguably the worst team in history into World Series Champions. In the 1969 championship season, Koosman went 17-9 with a blistering 2.28 ERA.
Those great stats were nothing though compared to the prior year where he went 19-12 with an amazing 2.08 ERA. He also finished second in the Rookie of the Year voting in '68 behind Stan Bahnsen of the New York Yankees.
Not to long ago, I was reading an article on the most underrated players in history and Jerry's name was brought up any times as he is one man who isn't usually known by the average fan. It is disappointing that he is often forgotten but understandable when your stuck behind the greatest Mets pitcher of all time.
After a 12-year career in New York, Koosman went on to play for the Minnesota Twins, White Sox, and Philadelphia Phillies. While he stayed a phenomenal pitcher during that span, he never truly captured the magic he had as a part of the Miracle Mets. Nonetheless, his awe-inspiring resume notches him the No. 4 spot on the list.
Career:
W/L: 222/209
ERA: 3.36
Strikeouts: 2,556
WHIP: 1.259
Innings Pitched: 3,839.1
3. Dwight Gooden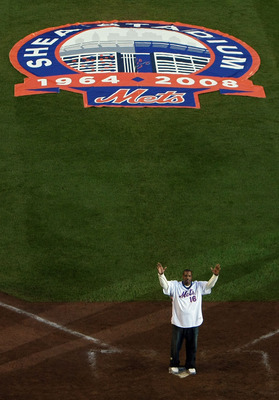 Nick Laham/Getty Images
Gooden's career was phenomenal. He was one of the most talented pitchers in history, and he proved it for the majority of his career. However, when I look back at Dwight, I simply ponder what could have been.
Gooden often struggled to concentrate completely on baseball, as he repeatedly got into trouble with the law. After a promising start to his career, many thought he was destined to be arguably the best to ever play the game of baseball.
But, Dwight wasn't necessarily dedicated the way most ballplayers were, as he failed to live up to those lofty expectations. While Gooden had an absolutely fantastic career, I can't help but think it could have been just that much better.
Gooden's best year was certainly in 1985, as he followed up his Rookie of the Year season with absolutely dominant stats, easily taking home the Cy Young Award. He lead the league in wins, ERA, complete games, strikeouts and innings pitched. However, things didn't slow down much after that, as he was a key asset in the machine that took the Mets on the road to their second World Series Championship.
Dwight's absolutely dominant start to his career easily takes him up to No. 3 on the list, but it can be argued that without outside distractions, Gooden could find himself at the very top of my list.
Career:
W/L: 194-112
ERA: 3.51
Strikeouts: 2,293
WHIP: 1.256
Innings Pitched: 2,800.2
Complete Games: 68
2. Darryl Strawberry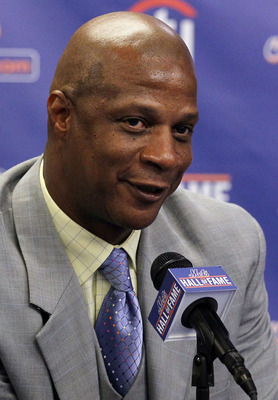 Jim McIsaac/Getty Images
Strawberry is another guy who had all the skills in the world and despite having an amazing career, he couldn't seem to stay out of trouble. Nonetheless, his time as a Met will never be forgotten in the fans' hearts, as he was part of that magical 1986 team.
Known for being a great power hitter, Darryl's best year was 1988 when he lead the league in home runs with 39. He also managed to top the league in both OPS and Slugging Percentage.
However, his production wouldn't drop much until 1992 in his second year as a member of the Los Angeles Dodgers. His stats dropped across the board, and he only played in 42 games. After that rough season, Darryl only had one other year where he managed to play over a hundred games, just cracking the century mark with 101.
While there are so many positives that coincide with Darryl's career, he will always be shadowed by his issues off the baseball field. His stats are terrific, but one question still lies: How good could he have been?
Career:
Batting Avg: .259
Home Runs: 335
Runs: 898
RBIs: 1000
Slugging Percentage: .505
OBP: .357
1. Tom "Terrific" Seaver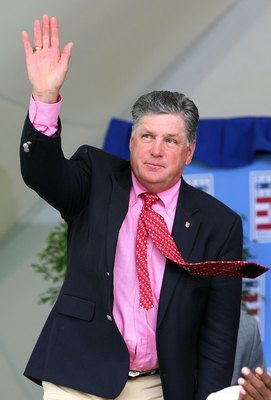 Jim McIsaac/Getty Images
When thinking about Tom Seaver, one word pops into my mind: Terrific (Hence the nickname). However, words can't describe his value to the Mets franchise. As a Hall of Famer, Tom is simply the greatest Met of all-time. He helped turn a drowning joke of a franchise into World Series Champions, and that can't be understated.
When looking at Seaver's track record, it is hard to choose one year that stood out above the rest. He stayed consistent, never faltering much throughout his long career. When Tom Seaver stepped on the mound, it was nearly a fact that you were going to get a quality start.
While Tom went on to have success elsewhere, his best years were definitely in New York, where he won Rookie of the Year and all three of his Cy Young Awards. He is one of the most decorated pitchers to ever play the game and for those reasons, he is #1 on my list of All-Time Mets.
Career:
W/L: 311/205
ERA: 2.86
Strikeouts: 3,640
WHIP: 1.121
Innings Pitched: 4,783
Shut Outs: 61
Keep Reading

New York Mets: Like this team?