Grading the San Antonio Spurs Roster for 2012-13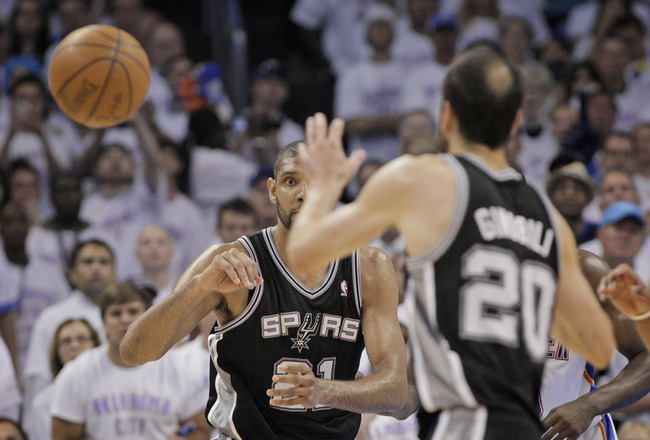 Brett Deering/Getty Images
The San Antonio Spurs have had the best record in the Western Conference for two years running. As their core gets older, they continue to add players around their biggest stars in the hopes of winning another championship for Tim Duncan.
They'll be adding at least one exciting new player this year and returning many of the players who helped them get as far as they did last year.
Will it be enough? Only the season will tell.
Here are some project letter grades for every member of the roster as presently constructed though.
DeJuan Blair, No Grade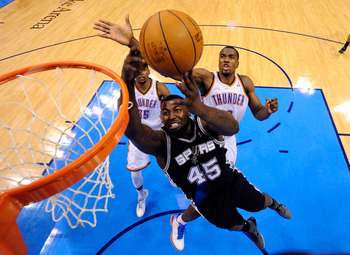 Pool/Getty Images
After a remarkably successful rookie year, DeJuan Blair fell out of the rotation last year. Now, Adrian Wojnarowski of Yahoo Sports is reporting (h/t Rotoworld) that the Spurs are shopping him to see what they can fetch in a trade.
Even Blair doesn't expect to be there next year according to Spurs Nation (h/t Slam Online).
Because of that, Blair will not be receiving a grade.
Matt Bonner, D+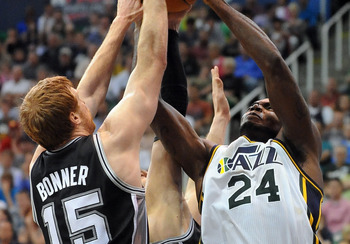 Steve Dykes/Getty Images
Matt Bonner will supply what you expect from him—three-point shooting, subpar defense and well...did I say three-point shooting?
He adds value because he's a big who can stretch the floor, but he really does nothing else. Kids need to get better faces in their heads.
He's hardly worth getting suspended from school.
Tiago Splitter, D+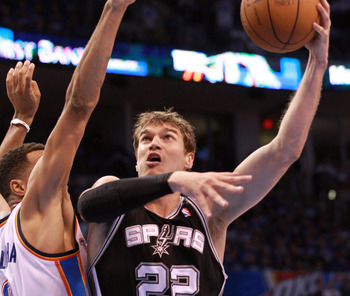 Ronald Martinez/Getty Images
Tiago Splitter did not lead the San Antonio Spurs to an NBA title last year in spite of the less-than-prescient prognostications of one Skip Bayless.
Splitter saw his minutes go down by three minutes per game after the arrival of Boris Diaw, whose signing indicates he's probably due to lose more minutes next season.
Splitter will offer marginal rebounding and defense and little else—pretty much what he did last year.
Stephen Jackson, C-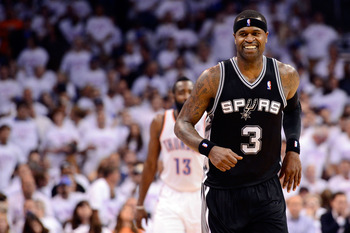 Ronald Martinez/Getty Images
Stephen Jackson has done better in San Antonio than anywhere else, but he's still Stephen Jackson. His best days are behind him. He's neither the offensive or defensive player whom he once was.
Having said that, he wasn't that bad when he came to San Antonio last year averaging about 13 points, five boards and three assists per 36 minutes with the Spurs. He gives them another scorer off the bench.
Expect more of the same from him next year.
Boris Diaw, C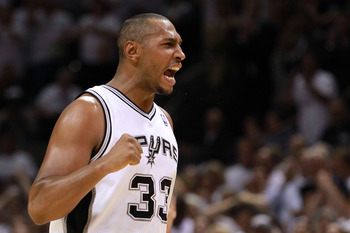 Ronald Martinez/Getty Images
Boris Diaw is a nice fit for the Spurs, as he's one of the best passing big men in the game, and with the abundance of guards who can score the ball and shoot, he's in the perfect place.
Perhaps the other, more underrated aspect of Diaw's game is his pick-and-roll defense. His lower body strength makes him hard to push around, and he holds himself well in the middle.
Diaw should take more minutes next year, and he'll be one of the more significant players for the team off the bench.
Gary Neal, C+
Christian Petersen/Getty Images
Last year, Gary Neal continued to show promise for the Spurs as he was the team's fifth leading scorer, averaging 9.9 points per game and 16.6 per 36 minutes. He is also an efficient scorer with a true shooting percentage of .542.
You can expect him to continue to develop, though it's possible he'll be the odd man out as there are a significant number of guards on the Spurs, and someone is going to have to lose minutes.
Nando De Colo, B-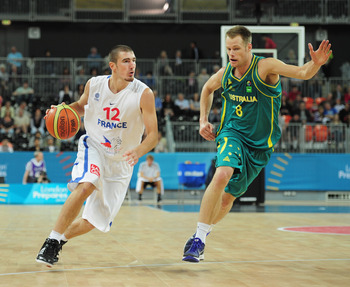 Shaun Botterill/Getty Images
The San Antonio Spurs have made a big part of their success getting more out of late draft picks than any other team in the NBA. The latest of these marvels will be Nando De Colo—a combo guard who has been playing in Spain.
De Colo is known for his flashy style, behind-the-back passes, court vision and pull-up jumpers. He can play either guard position well enough, but he has problems defensively.
With Gregg Popovich coaching him, and the likes of Tim Duncan backing him up, the defense isn't a great concern. What should be a concern to other teams, though, is another flashy guard playing for the Spurs.
With Ginbobili and Parker already making extraordinary plays look routine, all the Spurs need is another playmaker.
Kawhi Leonard, B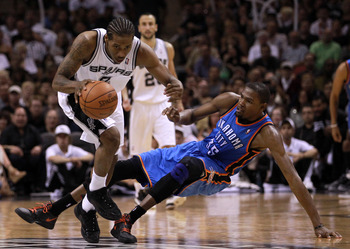 Ronald Martinez/Getty Images
Kawhi Leonard is one of my personal favorites in the league. He just plays the game the way it's supposed to be played.
He's not a magnificent player in the sense that he doesn't have a lot of "how did he do that" kinds of plays, but he gets the job done. He just seems to do everything the right way.
Look for Leonard to continue to improve next year. He won't be an All-Star, but he'll certainly be representing the second-year players in the Rising Star Challenge.
Manu Ginobili, B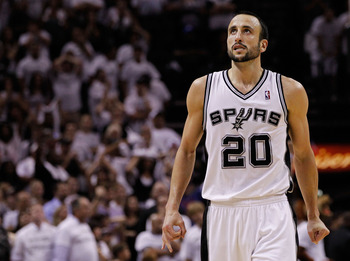 Tom Pennington/Getty Images
You know how some players remind you of someone? Manu Ginobili doesn't remind anyone of anyone. He's a totally unique player in the game.
Ginobili's grade will really depend on how many games he can play. Last year, he missed a number of games due to a number of injuries.
If he can stay healthy, he could earn an "A," but as he'll be 35 next season, the likelihood of that happening goes down—not up.
Tim Duncan, B+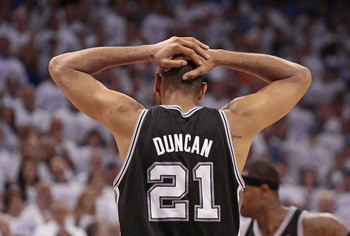 Brett Deering/Getty Images
Tim Duncan is arguably the greatest player of his generation. Yes, his numbers have gone into decline the last few years, but let's not ignore the fact that a large part of that is because his role has changed, and he's willingly allowed that to happen.
Similar to David Robinson, who sacrificed his numbers for Duncan when the Admiral was aging and Duncan was young, Duncan has now passed the torch to Tony Parker to be the primary player on offense.
Don't make the mistake of thinking that Duncan's decline in offensive production means that he's any less spectacular on defense though.
He's still one of the best defenders in the game, and he'll continue to shore up the Spurs defense next year.
Tony Parker, A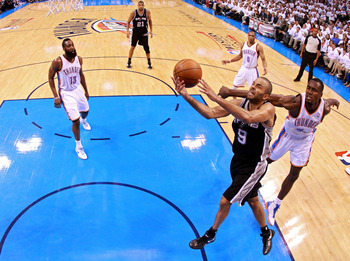 Ronald Martinez/Getty Images
Last year, Tony Parker took over the biggest responsibility for the team on offense. He averaged 18 points and eight assists per game.
He was rewarded with finishing fifth in the MVP voting, and it was well-deserved. Truthfully, he probably deserved to be even higher.
Parker will continue to shine as the leader of the Spurs on offense next year and is a dark-horse candidate to win the MVP.
Keep Reading

San Antonio Spurs: Like this team?