Buffalo Bills: 6 Single-Season Records Bills Could Seriously Threaten in 2012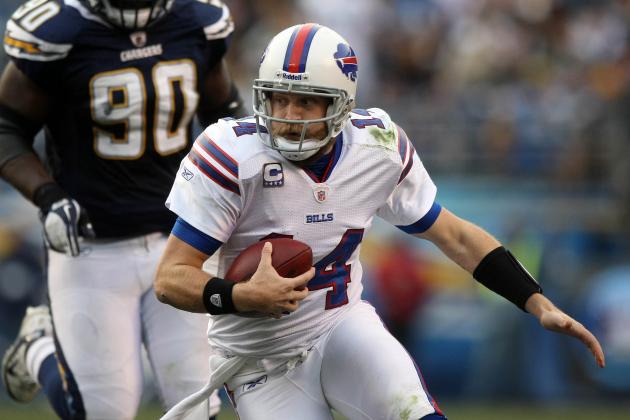 Donald Miralle/Getty Images

Those who follow the National Football League are beginning to recognize that the Buffalo Bills are developing a talented core of players on their roster. Quarterback Ryan Fitzpatrick is proving himself as a starting-caliber quarterback, while his favorite target Stevie Johnson is a dangerous receiving threat.
Furthermore, running backs Fred Jackson and C.J. Spiller had great 2011 campaigns, and that is just the offense.
The NFL has turned into more of a passing league as of late, so more and more records are getting broken each year. Defensively, that bodes well for Mario Williams and Mark Anderson, the Bills' prized free-agent signings.
With so much talent, there is no reason to believe that a few single-season records may fall. Let's take a look at a few of them after the jump.
Begin Slideshow

»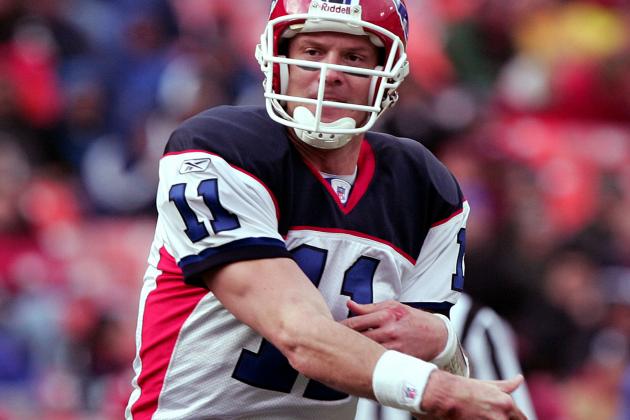 Jed Jacobsohn/Getty Images

Surprisingly, the best Buffalo Bills quarterback in history, Jim Kelly, does not hold the team's single-season passing record. Drew Bledsoe set the mark in 2002, passing for 4,359 yards, 24 touchdowns and 15 interceptions.
Bledsoe was 30 years old at the time, and had two 1,200-yard wide receivers in Eric Moulds and Peerless Price. What makes the feat even more impressive is that running back Travis Henry still managed to gain 1,438 yards and 13 touchdowns on the ground.
Current quarterback Ryan Fitzpatrick passed for 3,832 yards last season while playing the latter half of the year with cracked ribs. This offseason, Fitzpatrick is honing his footwork, mechanics and accuracy issues, so adding another 500 passing yards is definitely within reach in head coach Chan Gailey's spread offensive attack.
As for touchdowns, Hall of Fame quarterback, Jim Kelly, holds the Bills' mark with 33 touchdown passes in 1991, doing so in 15 games. Fitzpatrick tossed 24 scores last season, and if he can stay healthy and further improve his consistency, he could break Kelly's mark which has stood for two decades.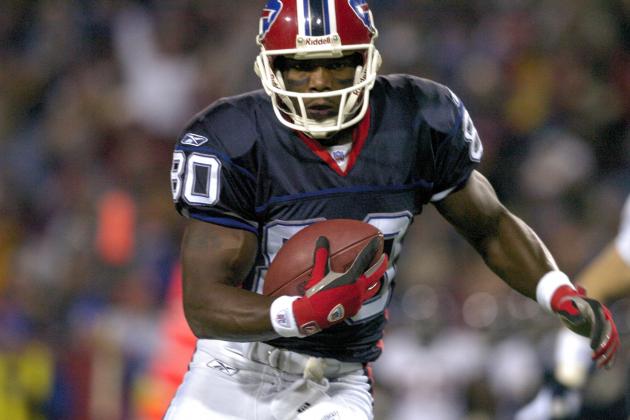 Mark Konezny/Getty Images

In 2002, the season that quarterback Drew Bledsoe set the franchise mark for passing yards, wide receiver Eric Moulds caught 100 passes for 1,292 yards. To this day, Moulds is the only receiver in the Bills' storied history to record 100 receptions in a single season.
This year, wideout Stevie Johnson has a chance to match or break that mark. In the past two seasons, he became the first receiver in Bills history to record consecutive years with 1,000 yards, but did so catching 82 and 76 passes, respectively.
With a healthy Ryan Fitzpatrick under center coinciding with the tandem's third full season together, their chemistry could blossom to a 100-reception season.
In 1998, Eric Moulds set the franchise record for reception yardage with 1,368. Johnson's career high was in 2010, in which he gained 1,073. If he catches 20 more passes this season to reach the 100 reception mark, Johnson could make a strong push for Moulds' records.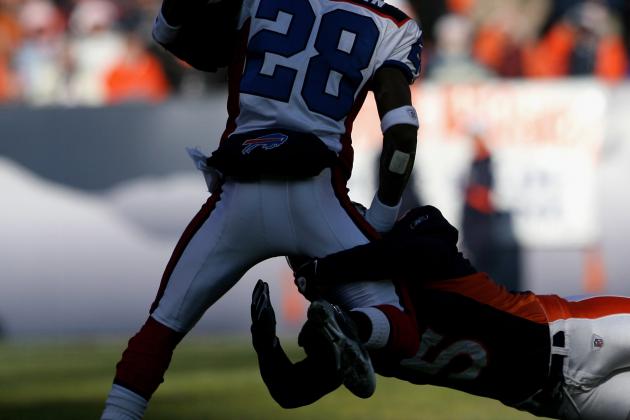 Doug Pensinger/Getty Images

In 2008, cornerback Leodis McKelvin returned 52 kickoffs for 1,468 yards for an average of 28.2 yards per return. Last season, the Bills couldn't find a specialist to return kicks, with five players sharing duties.
However, one player in particular stood out towards the end of the season. That player was rookie cornerback Justin Rogers. Rogers returned just 13 kicks for 373 yards, an average of 28.7 yards per return.
If Rogers earns the job in training camp and stays healthy throughout the season, the second-year cornerback could have a shot at breaking McKelvin's mark. Despite the new kickoff rules, Rogers proved he wasn't afraid to take a return out of the end zone and showed some blazing speed and elusiveness that brought the Bills into solid field position.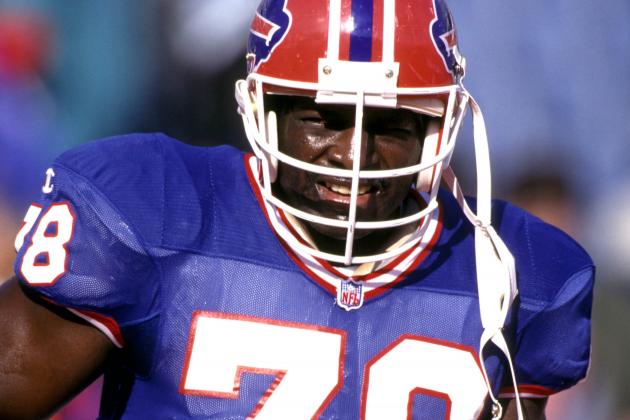 A. Messerschmidt/Getty Images

All Bills fans know that Bruce Smith was one of the greatest pass-rushers of all time. His 19 sacks in 1990 are a testimony to his Hall of Fame career in which he got to the quarterback a remarkable 200 times.
With Mario Williams now on the roster, along with a stout and penetrating defensive tackle tandem in Kyle Williams and Marcell Dareus, Mario won't be double teamed often, allowing him to wreak havoc on offensive linemen in one-on-one situations.
Williams has 53 career sacks since being selected with the No. 1 overall pick in the 2006 draft, but has had just two seasons with double-digit sacks. Last season, two players, Jared Allen and DeMarcus Ware, recorded at least 19 sacks. With the Bills' defensive line being arguably one of the best in their storied history, it could be possible for "Super Mario" to get to the quarterback anywhere from 15-20 times.