Portland Trail Blazers: NBA Summer League 2012 Roster, Key Storylines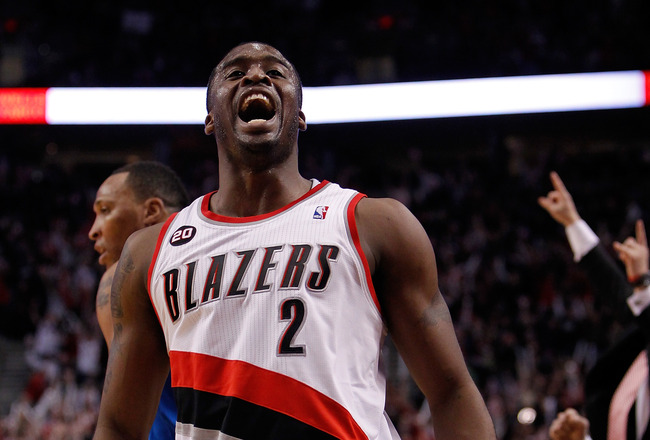 Jonathan Ferrey/Getty Images
The Portland Trail Blazers had a disappointing 2011-12 season. Led by power forward LaMarcus Aldridge, who was selected as an NBA All-Star for the first time in his six-year career last season, the Trail Blazers were only able to muster a 28-38 regular season record. Portland finished fourth in the Northwest Division, missing the playoffs for the first time since the 2007-08 season.
The Trail Blazers made the necessary moves to improve in the season to come. They had two of the first 11 picks in the 2012 NBA Draft and one pick in the second round. With those picks, Portland selected developmental talents that they hope will lead their team back to playoff prosperity in the very near future.
Trail Blazers fans--and NBA fans in general--are excited for the upcoming NBA Summer League, taking place in Las Vegas this July, for a chance to watch some young players turn into future NBA stars. This article will highlight the biggest story lines on Portland's Summer League roster.
Portland Trail Blazers' 2012 Summer League Schedule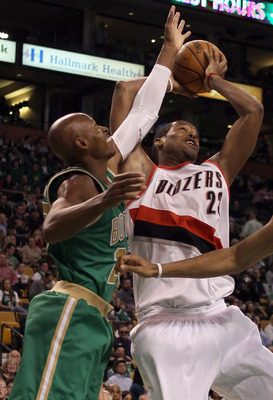 Elsa/Getty Images
Damian Lillard, G, Weber State (Rookie)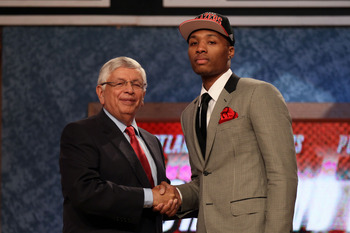 Elsa/Getty Images
Player Profile: 6'3", 195 pounds
2011-12 Per-Game Stats (NCAA): 24.5 points, 4.0 assists, 5.1 rebounds, 1.5 steals, .467 FG%, .409 3P%, .887 FT%
Key Storyline: Portland spent the sixth overall pick of the 2012 NBA Draft on Lillard, so it's safe to say that they expect him to be able to produce at the professional level right away.
Lillard was a standout in college, averaging 24.5 points per game. The Trail Blazers hope that the Weber State guard will be able to carry most of that scoring potential over into the NBA.
For Lillard, the NBA Summer League experience will be nothing more than an acclimation to a professional level of play, which should not take very long.
Prediction: Lillard will be a star for the Trail Blazers in the Summer League, and will transition into the NBA smoothly.
Meyers Leonard, C, Illinois (Rookie)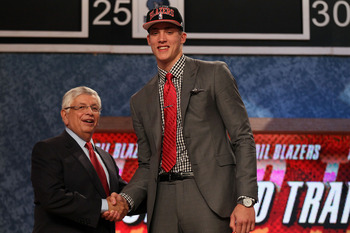 Elsa/Getty Images
Player Profile: 7'1", 245 pounds
2011-12 Per-Game Stats (NCAA): 13.6 points, 1.3 assists, 8.2 rebounds, 0.5 steals, .584 FG%, .091 3P%, .732 FT%
Key Storyline: The Trail Blazers were lucky enough to have two early picks in the 2012 NBA Draft. After taking Lillard sixth overall, Portland selected Leonard, a seven-footer out of Illinois.
Leonard is still very young. He entered the draft after playing only two seasons at the University of Illinois. While he has great potential, Leonard still has much to prove.
He averaged 8.2 rebounds per game in his sophomore season at Illinois, but Leonard will have to learn how to box-out and grab rebounds against NBA-sized talent.
Prediction: Meyers will make a splash in the NBA Summer League, and will be an effective big man for the Trail Blazers during the 2012-13 regular season.
Will Barton, G, Memphis (Rookie)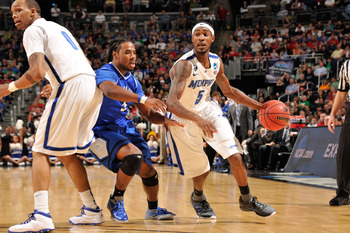 Jamie Sabau/Getty Images
Player Profile: 6'6", 175 pounds
2011-12 Per-Game Stats: 18.1 points, 3.0 assists, 8.1 rebounds, 1.4 steals, .509 FG%, .346 3P%, .749 FT%
Key Storyline: Like Leonard, Barton declared for the NBA Draft early, opting not to play out his final two years of eligibility. Unlike Leonard, Barton was not selected until Portland picked him with the tenth pick of the second round (40th overall).
Barton has good height, but he is a bit underweight. He can afford to add a little muscle if he wants to develop his inside game.
However, Barton is an effective shooter. At Memphis, Barton shot at a .509 FG%. If he can shoot that well in the NBA Summer League, he will gain confidence moving towards the regular season.
Prediction: Barton will struggle at first, but will come together by the end of the Summer League. He see limited playing time on the Trail Blazers bench in 2012-13.
Wesley Matthews, G, Trail Blazers (3-Years Experience)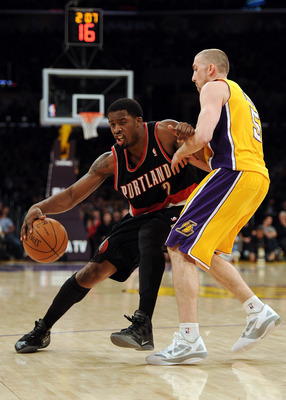 Harry How/Getty Images
Player Profile: 6'5", 220 pounds
2011-12 Per-Game Stats: 13.7 points, 1.7 assists, 3.4 rebounds, 1.5 steals, .412 FG%, .383 3Pt%, .860 FT%
Key Storyline: Matthews was a steady contributor for the Trail Blazers last season, averaging 13.7 points per game. He should have no trouble matching that output in the Summer League.
With three seasons in Portland already under his belt, Matthews is the most experienced player on the Trail Blazer's Summer League roster. He needs to take this opportunity to develop himself into a leader.
Prediction: Matthews will dominate the NBA Summer League, and will be a much more confident force in 2012-13 that must be accounted for.
Luke Babbit, F, Trail Blazers (2-Years Experience)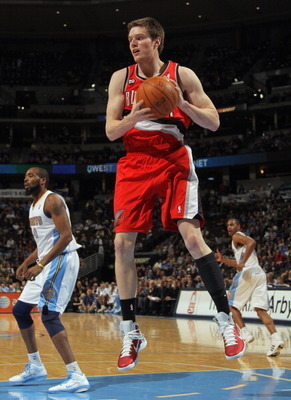 Doug Pensinger/Getty Images
Player Profile: 6'9", 217 pounds
2011-12 Per-Game Stats: 5.1 points, 0.4 assists, 2.4 rebounds, 0.3 steals, .410 FG%, .430 3P%, .850 FT%
Key Storyline: Babbit is the only other player aside from Matthews with more than one year of experience in the NBA. He has been with Portland for two years, but has little to show for it.
Babbit has shown that he can be an effective shooter when given the opportunity—he had a .430 3P% last season. However, averaging 5.1 points per game does not exactly spell out dangerous threat.
Prediction: Babbit will be unimpressive in the NBA Summer League, and may see even less playing time in the 2012-13 regular season than he did last year.
Ekene Ibekwe, F/C, Bayreuth (Rookie)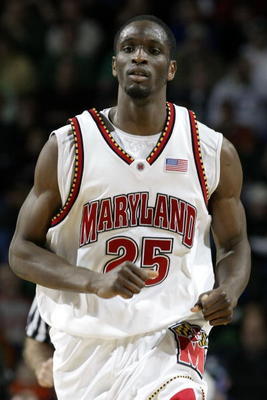 Rick Stewart/Getty Images
Player Profile: 6'9", 220 pounds
2011-12 Per-Game Stats (Germany): 11.7 points, 0.8 assists, 5.6 rebounds, 0.8 steals, .540 FG%, .333 3P%, .664 FT%
Key Storyline: Ibekwe is an interesting prospect. He played his college basketball at the University of Maryland until 2006-07, where he was an effective rebounder. From there, he went on to play basketball in Europe.
Statistically, Ibekwe was the second biggest point producer for his German team, BBC Bayreuth, with 11.7 points per game. Ibekwe is too small to be a NBA-caliber center, but could excel as a forward if his game were a bit more well rounded.
Prediction: The only reason Ekene Ibekwe will stand out is because of his hard-to-pronounce name.
Marcus Lewis, F, Trotamundos (Rookie)
Player Profile: 6'8", 245 pounds
2011-12 Per-Game Stats (NBA D-League): 15.1 points, 3.1 assists, 12.7 rebounds, 0.9 steals, .570 FG%, .000 3P%, .514 FT%
Key Storyline: Lewis played has a connection to Portland—he played his first two years of college ball at the University of Portland before transferring to Oral Roberts University and graduating after the 2007-08 season.
Lewis has spent the past three years in the NBA D-League, seeing limited playing time in his first two seasons with the Tulsa 66ers. Last year, Lewis emerged as an effective D-League talent, averaging a double-double in 46 games played. In May, Lewis signed with Venezuelan basketball squad Trotamundos.
Prediction: Lewis will be impressive in the NBA Summer League, and the Trail Blazers will offer him a one-year contract.
Key Storyline for Entire Summer League Roster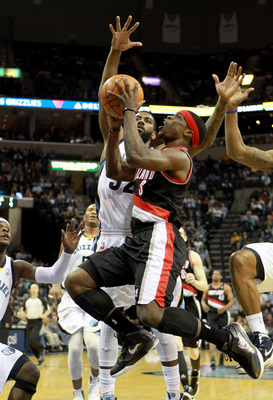 Andy Lyons/Getty Images
The Trail Blazers have a very young roster for the 2012 NBA Summer League. Currently, there are 11 rookies, two players with one year of NBA experience, one player with two years of NBA experience and one player with three years of NBA experience.
The Summer League is a time for young players to develop into effective professional basketball players. Some players will not end up making an NBA roster, some will become bench/role players and still a few others will become superstars at the highest level of play.
The Trailblazers are a team with a lot of room to improve. Their Summer League roster contains a lot of potential talent that could help them reach the playoffs for years to come. They have a few experienced players that could emerge as leaders, and three 2012 draft picks that have a chance to become incredible NBA talents.
Final Prediction: The Trail Blazers will win three of their five Summer League games, but will end the short season feeling confident in their future and their young draft choices.
Keep Reading

Portland Trail Blazers: Like this team?