Memphis Grizzlies: NBA Summer League 2012 Roster, Key Storylines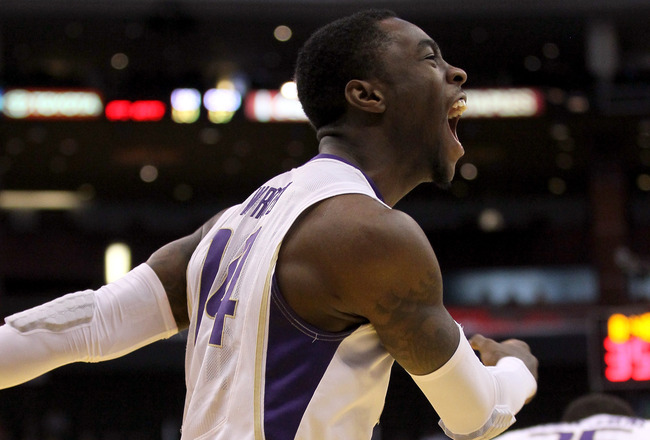 Stephen Dunn/Getty Images
The Memphis Grizzlies may have only drafted one player in the 2012 NBA Draft- Washington Point Guard Tony Wroten Jr.- but that does not mean the Grizzlies summer team will be lacking any excitement.
The Grizzlies are a relatively young team that are a few roles players away from making a deep run in the Western Conference next season. This roster also has experienced players in second year players, Jeremy Pargo and Josh Selby, who should receive greater minutes this season in the NBA.
Players like Wroten Jr. and Pargo may receive the main attention in summer ball, but don't sleep on guys like Army graduate Kevin Clark or even 6'10" forward Deon Thompson who starred for North Carolina in 2009.
Here is a breakdown of the Grizzlies' summer league lineup and the key story lines to watch for this summer.
Memphis Grizzlies' Summer League Schedule
Ronald Martinez/Getty Images
Saturday, July 14 at 3 PM (CDT):*
Memphis Grizzlies vs. New York Knicks
Tuesday, July 17 at 5 PM (CDT):*
Memphis Grizzlies vs. Washington Wizards
Friday, July 20 at 5:30 PM (CDT):*
Memphis Grizzlies vs. Charlotte Bobcats
Saturday, July 21 at 9 PM (CDT):
Memphis Grizzlies vs. Phoenix Suns
Sunday, July 22 at 7 PM (CDT):*
Memphis Grizzlies vs. Minnesota Timberwolves
* - Broadcast live on NBA TV
Mitchell Watt, PF, Buffalo (Undrafted Free Agent)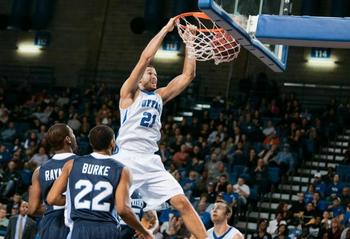 buffalobulls.com
Player Profile: 6'9", 229 pounds
2011-'12 Per-Game Stats: 16.3 points, 7.5 rebounds, 2.2 blocks, 74.4 FT%, 32.4 3Pt%.
Key Storyline: After three years of playing minor minutes in college, Watt finally cracked the starting lineup in his senior year at Buffalo. Watt averaged 16.3 points and featured a tremendous back-to-the-basket game as the teams leading scorer.
The Grizzlies have solid depth in the front court with Marc Gasol, Zach Randolph and a healthy Dante Cunningham. With the re-acquisition of Marreese Speights this offseason, the Grizzlies are set in the front court and are most likely not going to sign Watt to an NBA contract.
Expect Watt to play big minutes on the Grizzlies D-League squad in the fall.
Jeremy Pargo, PG, Memphis Grizzlies (1-Year Experience)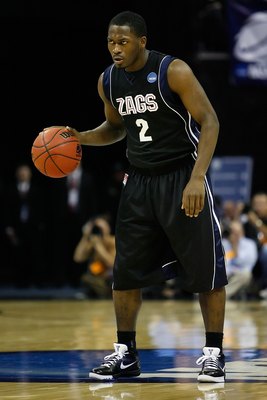 Joe Murphy/Getty Images
Player Profile: 6'2", 219 pounds
2011-'12 Per-Game Stats: 2.9 points, 1.3 assist, 0.8 rebounds, 33 FG%
Key Storyline: Jeremy Pargo did not play much in the second half of the season, playing mostly in the fourth quarters of blowouts. However, when given the opportunity in the beginning of the season, he shined quite well for the Grizz.
In the second game of the regular season, Mike Conley Jr. went down with an injury, and Pargo got his opportunity and salvaged the increased playing time. Pargo played 37 minutes, scoring 15 points while adding seven assist in a losing effort to the Thunder. He followed that performance up the next game with 14 points and 5 assist in a win against the Rockets.
After that point, Pargo's numbers dropped off, and he was left to the bench for most of the season. Pargo is an interesting prospect this summer due to the increased competition with draft selection Tony Wroten Jr. The Grizzlies will be looking for Pargo to display leadership and play the way he did at the beginning of last season. This will earn him a legitimate role off the bench next season.
Ricky Sanchez, PF, Wuber-Est. Bahia (2-Year D-League Experience)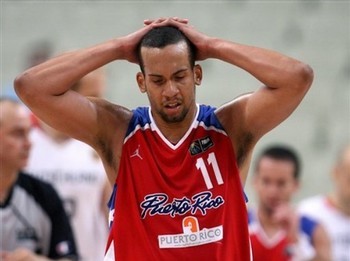 Player Profile: 6'11", 215 pounds
2011-'12 Per-Game Stats (Argentina): 12.8 points, 5.1 rebounds, 0.8 blocks, 45.8 FG%
Key Storyline: Sanchez has been a draft bust who came straight to the NBA from high school in 2005. He played two seasons in D-League Idaho, but made little impact. The key story line about Sanchez is that he was one of the pieces that was sent back to Memphis in the Sam Young deal on March 15.
Will Sanchez make much of an impact for the summer league team? Maybe. The man is tall and has a decent outside shot, shooting 32 percent from behind the arc. However, he is light for a big man. Sanchez also likes to beat defenders by spreading out the defense with his quickness and jump shooting ability, something that could be valuable for this squad.
While I don't think Sanchez will make the NBA squad due to the depth of big men Memphis possesses, it should be interesting to see how the experienced 25-year old fares against the younger and less experienced summer league players.
Josh Selby, PG, Memphis Grizzlies (1-Year Experience)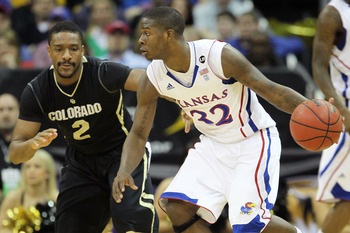 Jamie Squire/Getty Images
Player Profile: 6'2", 193 pounds
2011-'12 Per-Game Stats: 2.3 points, 1.1 assist, 34 FG%
Key Storyline: Although Josh Selby did not log many minutes this season with Memphis, he has shown great athleticism and an innate ability to finish at the basket. Selby was an explosive prospect coming out of Kansas, and will look to translate those same skills as he gets more opportunities this summer.
Selby is on the long list of point guards in the Memphis organization, and must separate himself as a more versatile option if he wants to remain on the NBA roster. The Grizzlies are looking for a shooting guard off the bench, and Selby could fill that role next season if he improves his outside shooting.
Terrance Henry, SF, Mississippi (Undrafted Free Agent)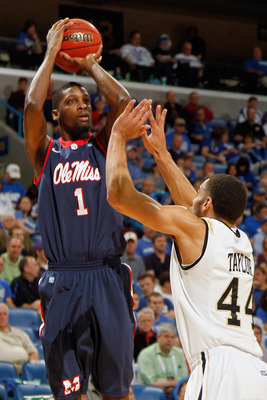 Chris Graythen/Getty Images
Player Profile: 6'9", 195 pounds
2011-'12 Per-Game Stats: 12.2 points, 4.3 rebounds, 1.5 assist, 45 FG%
Key Storyline: Henry showed that against the biggest competition in the SEC and the country, he can compete and give any team trouble. Against Kentucky, Henry scored 18 points on seven of thirteen shooting. Against Florida, Henry dominated, scoring 21 points while grabbing 10 rebounds.
Henry is a long, athletic lefty who can elevate around the rim and finish with ease. He has talent, but, unfortunately, due to his lack of strength and defensive prowess might not transition well into the NBA.
Expect the Grizzlies to keep Henry as a D-Leauge player, but he will not make the NBA roster. Interesting to note, in their one matchup, Henry had more points and rebounds than number-one overall pick Anthony Davis.
Tony Wroten Jr., PG, Washington (Drafted 1st Round)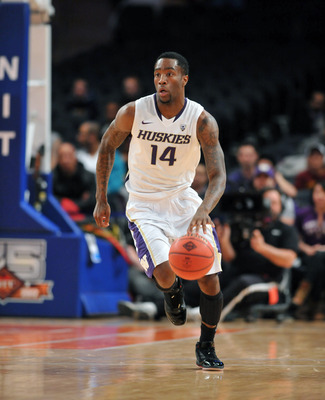 Jason Szenes/Getty Images
Player Profile: 6'6", 203 pounds
2011-'12 Per-Game Stats: 16.7 points, 5.0 rebounds, 3.6 assist, 44 FG%, 1.9 STL, 58 FT%
Key Storyline: The Memphis Grizzlies selected Wroten with the 25th overall pick in the 2012 NBA Draft, and expect many great things from the 19-year old point guard. Wroten is an explosive player with good court vision, and will improve as a distributor as he grows in the league.
Wroten's speed, size and strong defense should be fun to watch this summer, as he joins the ever-growing list of point guards fighting for spots on the roster next season. Expect Wroten to make the NBA team and sit on the bench for much of the season. Wroten needs time to develop his outside game, and a year learning and practicing at the highest level will do wonders for the 19-year old.
Key Storyline for Entire Memphis Roster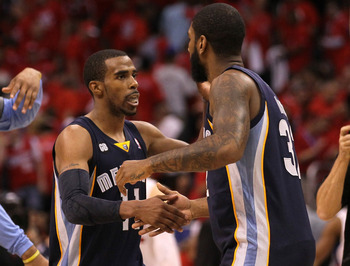 Stephen Dunn/Getty Images
The biggest storyline to watch during the Grizzlies' summer league over the next few weeks is going to be if they have a solid shooting guard in their midst to replace the presence of O.J. Mayo next season.
There is no doubt that the Grizzlies are loaded in the front court, but outside of Conley, the Memphis back court is in need of some additions. The summer league team has some promising talent, but someone must step up and make three point shots and jump shots if they want a spot on this team.
The 2012 summer league will be very important for the Grizzlies to develop Wroten Jr., Shelby and Pargo, while also seeing whether pieces from trades such as Ricky Sanchez can step up and play at an NBA level.
Overall, the Grizzlies are in great shape to compete next season, and any contributions from point guards or shooters in the summer league will be a great bonus for this squad.
Keep Reading

Memphis Grizzlies: Like this team?