Are the 2012 Philadelphia Eagles Over-Hyped?
Use your ← → (arrow) keys to browse more stories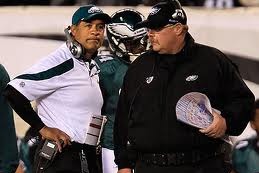 Photo: David Maialetti/Philly.com Staff
This offseason has been all positive for the Philadelphia Eagles.
Everywhere you turn, the fans and media have been singing their praises and making them the favorites to win the division and be serious Super Bowl contenders.
National and local media alike have been talking up the Eagles left and right. Many gambling sites are giving them the second-best odds for an NFC team on winning the Super Bowl (behind only Green Bay).
I feel the same way. I've written mostly positive articles this offseason in regards to how they've conducted business this year. I mean, what's not to like?
We all know the story. They took care of their own players, traded for a blue-chip linebacker and had a draft that most fans did backflips over. Even Joe Banner being removed from his position was viewed as a positive.
The Eagles have had a great offseason, without question. That's why they're receiving accolades from the four corners of the earth.
However, is all of this positive attention a bad thing? Are the Eagles getting over-hyped? Is all of this setting the stage for yet another ultimate let-down, Eagles-style?
Don't get me wrong, there are plenty of reasons to be optimistic about the upcoming season. However, that's just what it is...optimism.
We can only hope and think that the team will do well based on our perception of the moves they made and how good this team actually is.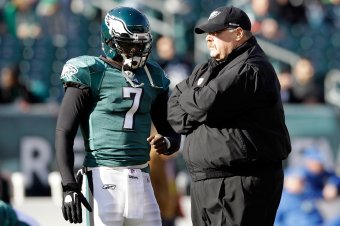 Rob Carr/Getty Images
Therefore, I don't want to piss in anybody's Cheerios here, but let's remove the green goggles for a minute and look at the facts, and nothing but the facts:
- The Eagles were an 8-8 team last year
- Their four-game win streak at the end was called "fools gold" by the owner
- Andy Reid has come up small in his biggest games (1-4 in conference championships and 0-1 in the Super Bowl)
- After going 7-2 in his first nine starts, Michael Vick is just 7-8 in his last 15 starts
- In 13 games played last season, Vick turned the ball over 17 times
- The Eagles haven't won a playoff game since 2008
- Several players that are being counted on for 2012 have yet to prove themselves in an Eagle uniform (Ryans, Kendricks, Cox, Boykin)
- Last season, the defense was rated as one of the worst tackling units in the NFL
- Michael Vick is injury prone and there is no proven backup on the roster
- Their best offensive lineman is out for the season
Are the Eagles being over-hyped?
- The last three years, the defense has ranked 29th, 32nd and 23rd respectively in opponent red zone scoring percentage
- The Eagles were tied for second-to-last place in turnover differential in 2011 at -14
All of the above are facts that are cause for concern heading into the 2012 season.
And yes, it's true that there are "facts" to be optimistic about 2012.
They finished in the top 10 on both sides of the ball in 2011. They've never missed the postseason two years in a row under Andy Reid. The offense is explosive and the defensive line is one of the best in the league at getting to the quarterback.
However, there are still questions about this team, including the following:
- Can Vick stay healthy and reduce his turnovers? What Vick will we see in 2012, the one who exploded on the scene in 2010 or the one from last year?
- Yes, the defense finished ranked in the top 10 last year, but we all know that's a little misleading. Can they play stout against quality competition?
- Will the linebacker corps play up to par? Will the secondary improve?
- Can Juan Castillo be more effective in his second year? Will the players respond to him?
- Can Andy Reid get his team off to a fast start, keep their focus and of course, win when it matters most?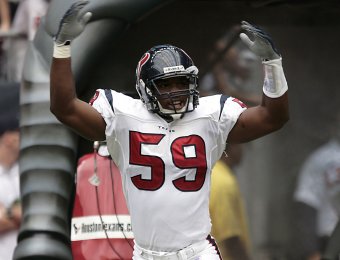 Bob Levey/Getty Images
These are all legitimate questions.
Of course, we could answer all of them with a resounding "yes," but the fact is, we don't know. All we have are our best guesses.
Again, don't get me wrong. I *think* the Eagles are going to have a very good year and I'm fully expecting them to make the playoffs and be a formidable challenger in the NFC.
I'm just a little weary of all the optimism from people outside of Philadelphia.
Maybe it's a trait ingrained in me from being an Eagles fan for a long time. I feel better being the underdog rather than the favorite.
Must be a Rocky thing.
Anyway, let's continue to be positive about the team, but try to keep things in perspective until they start proving themselves on the field.
This team hasn't accomplished anything...yet.
Follow me on Twitter for Eagles news and chat!