Dwight Howard or Andrew Bynum: Which All-Star Center Has Bigger Maturity Issues?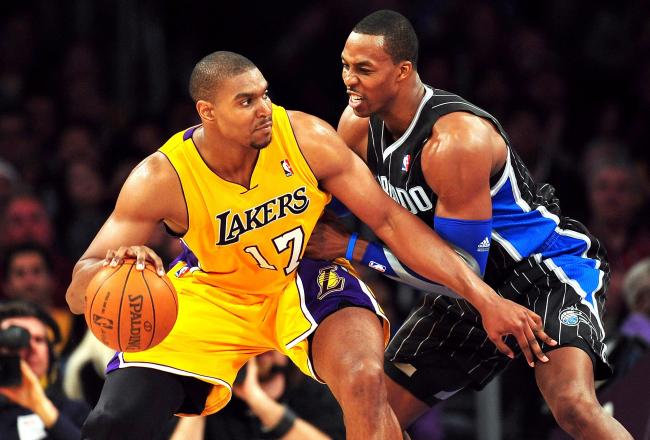 First off, what are "maturity issues"? I'm not exactly certain, but fans and writers take it to mean "being annoying."
I don't know either man well enough to tell you who needs more time growing as a person. It's not in my purview. All I can really do is hand down a judgment on who annoyed me more over the past few years.
The winner is clearly Dwight, in this respect. There is an endless national conversation about where he's headed, a conversation he could have avoided by just opting out and making a choice. Dwight's midseason opt-in with the Magic was preceded by so many indications that he was leaving.
Howard chose Orlando, because of "loyalty" and "candy." Again, I don't claim to know how mature Dwight may be in his non-basketball life, but this press conference gave the appearance that Howard needed some seasoning along with the grilling he was taking.
For a final flourish, Dwight Howard appeared to force out coach Stan Van Gundy, leading to the most awkward live TV basketball moment since Rick Barry was racially insensitive to Bill Russell (the NBA has erased the evidence of Barry's gaffe).
Here are the Howard steps:
Say you're leaving.
Try to leave.
Balk at the last instant.
Cite "loyalty" and "candy" as your reasons for staying.
Help to get your coach fired.
Try to leave again, insisting on an unfavorable trade for Orlando.
Beat that, Bynum! I've always found L.A.'s center to be more "difficult" than "immature." He shoots a three-pointer because he believes he can, then scoffs at Mike Brown's attempts at discipline, because Bynum knows he has more leverage.
Unlike Dwight, Drew is often quite clear about what he wants; there is little waffling to his pursuit of those ends. It's just that Bynum's goals aren't necessarily always what is wanted from Bynum, and he pursues them with a rudeness that irks.
Is that immaturity? I'm not sure. Is it annoying? Certainly.
Is it more annoying than the Dwight show? Not even close.
This article is
What is the duplicate article?
Why is this article offensive?
Where is this article plagiarized from?
Why is this article poorly edited?