Miami Heat: Why LeBron James Is a Lock to Repeat as NBA MVP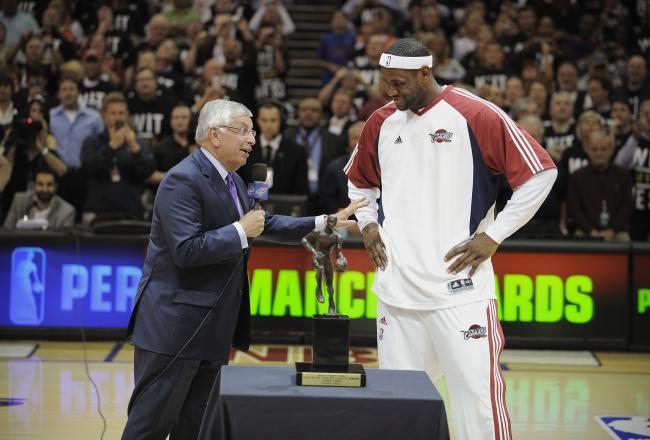 Gregory Shamus/Getty Images
Two years ago, LeBron James made it known that winning the league's most prestigious individual award, the NBA MVP, would be out of the question.
James was convinced that because he was playing with Dwyane Wade and Chris Bosh, the balance would have been too great between the three and his statistics would have taken too great a hit to be considered MVP material. Also, the status of his two teammates would surely play a factor in the decision-making.
When voters heard James was playing alongside a former Finals MVP and someone who just averaged 24 points and 11 boards the year before, they'd feel that a player with similar, or even lesser stats, and an inferior supporting cast would deserve it. There wasn't another star in the league with that type of support.
The animosity surrounding James would probably play a factor as well. Voters were wary of giving a third MVP to a player who is currently on the wrong side of the NBA community.
It would essentially take a historic season by James to get the MVP. A season where he would not only be the clear-cut leader of the Miami Heat, but so prolific that he had to make his two All-Star teammates well below the pace he was playing at. James had to go out and show that he was the number one in Miami, his stats had to back it up and he needed to get his team at or near the NBA's top record.
Leave it to LeBron James to make Dwyane Wade and Chris Bosh look like role players at times. James led the team in nearly every major statistical category, including points (27.1), rebounds (7.9), assists (6.2) and steals (1.9), flourished through Dwyane Wade's injuries and sitting out 17 games and led his team to a 46-20 record, good enough for second in the East.
He also vastly improved his overall game. He restricted his perimeter shooting and made a conscious effort to get to the rim on every offensive possession. He made this possible by either performing his usual routine of barreling down the lane and finishing or unleashing his newly-found post game, which ended up playing a large part in the Heat's success down the stretch.
With Oklahoma City throwing constant double-teams at LeBron down in the post, James was able to pick and choose his targets at will. In the end, he finished with 13 assists, nine alone coming off the Heat's 14 three-pointers. The majority came as a result of James' drawing in double-teams.
It doesn't matter if James' post-game isn't polished. He's too big to stop for one defender, so he will always require two defenders guarding him or the opponent risks giving up a high-percentage shot. When they double-team James, they allow LeBron to use his court vision to survey and find a reliable and open target.
James won the 2012 MVP because he made himself well-rounded enough to become near to the point of unstoppable as any player we have seen since Shaquille O'Neal during the three-peat. He made the adjustments in his game to become a nearly complete offensive player, defended all five positions efficiently and then took over the team at the good graces of Dwyane Wade.
A key reason as to why James is the reigning league and Finals MVP is due to Wade backing off and allowing LeBron to become the player that was ready to assert complete dominance of the league. By doing so, James played more comfortable and at his own pace, which, in turn, leads to his teammates playing comfortable.
The first season involved a little too much sharing and caring. Too many times did it appear that LeBron, Dwyane and Chris didn't want to step on each other's toes because they wanted to be cautious when it came to making this thing work. It worked for the most part, but it ultimately failed because it didn't allow James to play comfortably and in a setting where he could prove to be successful.
Wade's remarks on the matter go as follows:
I felt that it had to come from nobody but me, to say, 'Go ahead, man. You're the best player in the world. We'll follow your lead.' Once I said that, I thought he kind of exhaled a little bit.
LeBron was in a tough situation as it was. He was being scrutinized and criticized from every new-found basketball expert, all while attempting to adjust to a new setting while a seemingly insurmountable amount of pressure was being placed on his shoulders. LeBron was good enough to win in Miami, but he wouldn't be able to do it without Wade allowing him to take over.
As a result of Wade backing off, the games went much smoother, as LeBron was able to handle the ball and make decisions without having to worry about giving a chance for his teammates to make a play. Wade allowed James to recognize he was the greatest player in the world by allowing him to take over, and as a result, James' confidence skyrocketed.
Winning the actual championship is only going to help James' chances of defending his MVP crown.
There has never been an athlete faced with more pressure than LeBron James. For him to still exceed expectations and win his first championship is nothing less than a remarkable feat. Just about every single person that has once criticized him will never be subjected to the amount of pressure James had to endure over the past two seasons.
That's why I don't get that talk of clutch. James is always playing in a pressure-filled situation. It could be Game 7 of the NBA Finals or a January matchup with Golden State, James will always have the pressure of being expected to perform above and beyond his usual standards. It's not about taking the last shot; James will always be expected to will his team to victory.
Back to the original topic, though. Winning a championship for James is only going to allow him to play at ease. It's not just going to motivate him to stay hungry and secure more titles, but winning a title also took a huge burden off his shoulders. Winning the first one is always the most difficult, especially for James, who needed three appearances before he finally secured one.
Without that heavy burden riding him, James is free to play the game without immense pressure being thrown at him every single day. He has the first ring to solidify himself as a surefire Hall-of-Famer when it's all said and done, but he wants to be in the lore of legends, which is what's going to keep pushing him to go for more.
Because he won the championship, James is going to play comfortable, which should allow him to continue playing at an MVP pace.
His post-game is only going to improve, and his statistics in the assist column is only going to rise with the addition of Ray Allen and Rashard Lewis. James only averaged six assists per last year, but it could have easily been higher if not for the poor regular season shooting of Shane Battier and the inconsistency in Mario Chalmers and Mike Miller.
Chances are that his scoring may even rise too. With Allen and Lewis on the wings, James is going to have more freedom to enter the lane because of the notoriety Ray and Rashard have received as three-point threats. Allen is a 40 percent career shooter from deep and leads the NBA in all-time three-pointers made.
Lewis dealt with injuries last year, but should be ready to make wide-open three-pointers courtesy of passes from James. Throw in Battier, who is sure to be better, and Mario Chalmers, and you have quite a plethora of options for James to dish out to and bolster his stats.
However, stats don't mean much for James these days. In fact, we're pretty sure that James is over winning the league MVP. The championship bug has bitten him, and he's ready to do whatever it takes to get back to the peak he is currently perched on.
James isn't done winning, either. A month after winning his first championship, James will be traveling overseas to London in order to hopefully bring home his second gold medal as a member of the United States basketball team. Needed rest could have been an option for James, but he declined to instead take the route of building his legacy and preserving the current condition he is in.
So in case you wanted a gauge of James' current competitive edge, aiding the USA team to a second first-place finish should help. If James wins the gold, he'll become the first NBA player to win gold, the league MVP, Finals MVP and a championship since Michael Jordan did in 1992.
As LeBron stated when he won the 2012 MVP, the idea of winning an MVP doesn't appeal to him as much as winning a title. Now that he has a title, he no longer has to think about trading in his MVP's or a ring and can finally look forward to playing without an immense of pressure. Of course, he will still be expected to perform, but not to the extent of what's been expected.
With reliable new teammates, fresh off a championship and in full control of the reins of this Miami Heat team that has the potential to become a dynasty, LeBron James is finally ready to garner the respect he deserves and reap the benefits that come with it.
He'll face stiff competition, sure. Kevin Durant will only get better, as will guys like Kevin Love and Blake Griffin. Chris Paul, Kobe Bryant and Dwight Howard will also continue to challenge him for the MVP.
What separates LeBron from those players is the fact that he's the greatest player in the world and is finally realizing that. When have you ever seen James use his size like he did this past season? He's always used his size and athleticism to bully down the lane, but you've never seen him consistently use his size, athleticism and wits like he recently did.
Because he's finally coming into his own by constantly creating advantages in his favor and becoming a stronger player mentally, James should end up as the 2011-'12 if he decides to carry it over. The only player capable of preventing LeBron is himself. There isn't one individual capable of limiting him over the course of a seven-game series.
It's tough to make an argument on the subject because the only way James ends up as the 2013 MVP is if he wants to become one.
This article is
What is the duplicate article?
Why is this article offensive?
Where is this article plagiarized from?
Why is this article poorly edited?

Miami Heat: Like this team?