Tennessee Titans Must Balance Snaps for Locker and Hasselbeck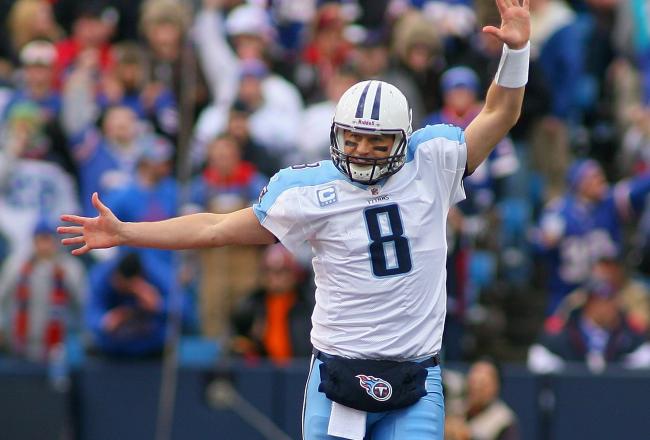 Ok, Jake! Your turn!
Rick Stewart/Getty Images
As quarterback controversies go, Jake Locker verses Matt Hasselbeck doesn't stir the blood.
Picking between the two hardly elicits Ginger or Mary Ann levels of passion.
It's more like Mork or Mindy.
The Titans have played the situation well to this point. The team hasn't fractured over the issue. The two men are handling things professionally and quietly. Fans have opinions, but there's hardly full-scale chat board wars devoted to the topic.
Hasselbeck is the guy unless Locker can beat him out, and everyone hopes he can.
It's simple.
What's not quite as simple is how the Titans are going to divvy up snaps in the preseason.
On one hand, they have to prepare Hasselbeck to lead the offense Week 1, as it looks like he's the strong favorite at this stage.

On the other hand, Locker is the future of the franchise. He simply must play as much as possible in the preseason. He's not going to get more ready sitting on the sidelines.
The argument for starting Hasselbeck is that Locker isn't ready. Preseason is the perfect time for him to get ready.
Last season, Hasselbeck only played for a drive in the first and fourth preseason contests, but took more snaps than Locker in Weeks 2 and 3.
This season, sticking to the same schedule is tantamount to handing Hasselbeck the job.
If the Titans are serious about developing Locker and/or having an open competition, they need to give him more snaps with the first-string offense in the preseason.
Both players should get a drive with the starters in the first and fourth games, but overall, the balance the team showed last year was fine.
In the second and third games however, Locker and Hasselbeck should alternate quarters. Both men need to work with the first- and second-stringers in the preseason.
Even if Hasselbeck wins the starting job early in camp, it's not a bad idea to have him play quarters two and three in the second week and quarters one and three the third week.
Locker can get the experience of starting a game and finishing a game in Week 2, and still have a quarter's worth of snaps with the starters in Week 3.
If he should shine in the early days of camp, and the staff becomes enamored with the idea of starting him Week 1, they should give him as many snaps as possible.
The team will be better off in the long run if Locker wins the starting job now. While that doesn't mean it should be handed to him, it does mean he should get as much help as they can if he shows he's ready.
This article is
What is the duplicate article?
Why is this article offensive?
Where is this article plagiarized from?
Why is this article poorly edited?