Amir Khan and the Most Successful Olympic Boxing Medalists in the Pro Ranks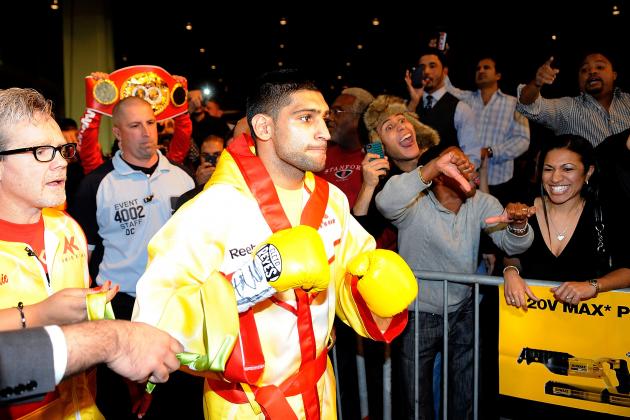 Patrick McDermott/Getty Images

The Olympic Games is viewed as an optimal platform for a boxing prospect to launch his career. Naturally, major promotional outfits and advisers heavily scout the Olympics in order to evaluate the world's top amateur talent and make projections about which fighters can translate their in-ring success to the paid ranks.
Even for the most successful amateur fighters, the transition to professional boxing can sometimes be a difficult one and, once the headgear comes off and the glove size shrinks, even Olympic medalists and World Amateur Champions can be exposed.
The United States has the most storied Olympic boxing tradition of any nation, though the emergence of Cuba and former Eastern Bloc nations, as well as Russia, Germany and the UK has usurped traditional American dominance. The last truly deep U.S. boxing team competed at the 1988 games in Seoul, South Korea, though that assertion shouldn't diminish the accomplishments of other Americans in subsequent Olympiads.
Still, while the Olympics has proven to be a spring board for professional success and exposure in several memorable cases, it is perhaps more common to see Olympic participants who did not medal or non-Olympians currently holding world titles.
Qualifying for the Olympics is an arduous task and the nature of the selection and competition process inevitably makes participation, and especially medaling, an exclusive club. Furthermore, it is often said that the current structure and rules of amateur boxing prevent pro-style fighters from having success.
Now is not the time to get into the maddening shortcomings of amateur boxing; The Ring's Olympic preview issue does an excellent job of this and confirms the happy news that the 2016 Games in Rio de Janerio will veer away from the electronic scoring that allows judges to score bouts as if playing Dance-Dance Revolution.
So, let's look at some current fighters who have won Olympic medals and professional titles, a feat that is increasingly rare in an era where Olympic bouts are won on weak flurries instead of clear and effective punching (to both the head and body).
Begin Slideshow

»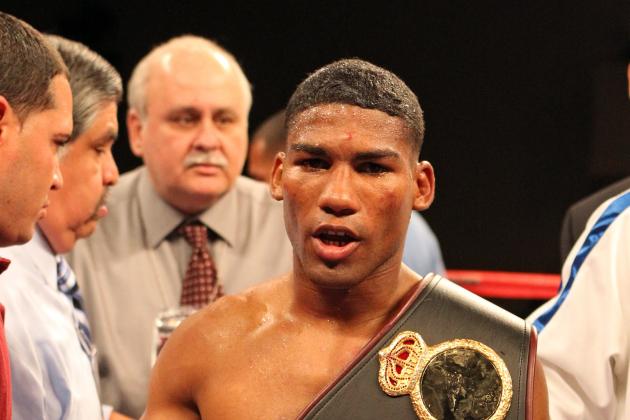 Hunter Martin/Getty Images

Even though Yuriorkis Gamboa (21-0, 16 KOs) does not currently hold a world title, he makes this list because he has not lost a professional championship inside the ring.
As an amateur, Gamboa won gold at the 2004 Olympics in Athens as a flyweight. Gamboa famously defected from Cuba while training with the national team in Venezuela and he made his highly anticipated professional debut in Germany in 2007.
Since then, Gamboa's obscene combination of speed, power and agility has enabled him to capture and unify featherweight titles. Though he has been out of action since September of 2011 due to promotional issues, expect Gamboa to recapture a title quickly upon returning to the ring.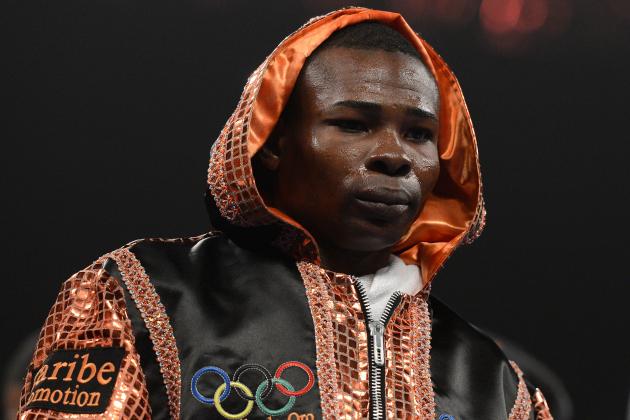 Kevork Djansezian/Getty Images

Guillermo Rigondeaux (10-0, 8 KOs) is considered to be one of the greatest amateur boxers of all time. Amongst his plethora of accolades, Rigondeaux won Olympic gold in 2000 and 2004 and he would have surely been favored to win gold for a third time had he elected to remain an amateur and compete in Beijing.
Given Rigondeaux's pedigree and class, it is fitting that he is now a member of the exclusive club of boxers who have captured world titles before their tenth fight. In 2010—in only his seventh fight—Rigondeaux captured the interim WBA bantamweight title and he has since elevated his belt to a more legitimate imprint.
Most recently, Rigondeaux was seen humiliating a very respectable opponent in Teon Kennedy on the Pacquiao-Bradley undercard. Rigondeaux's poise, technique and stunning combination of power and accuracy suggest that his reign in a stacked bantamweight division could be dominant and lengthy.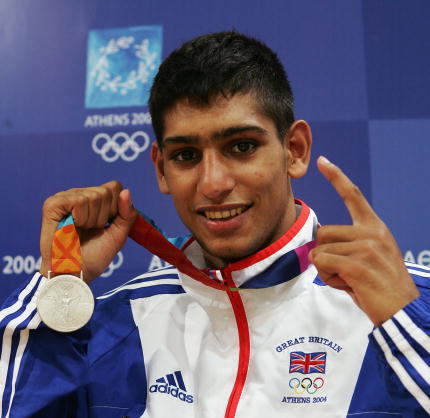 Getty Images/Getty Images

At the 2004 Olympics in Athens, Amir Khan (26-2, 18 KOs) burst onto the international scene by capturing a silver medal in the lightweight division at the age of 17. Khan lost to Cuban legend Mario Kindelan, a defeat he was able to avenge right before turning professional.
Khan entered the paid ranks with tremendous fanfare and hype and his rise seemed inevitable before he ran into Colombian banger Breidis Prescott and was stretched inside of a minute. The United Kingdom held its collective breath as Khan crumpled to the canvas and questions of legitimacy arose after the stunning defeat.
To his credit, Khan has proven the naysayers wrong and, after hooking up with trainer Freddie Roach, Khan captured and unified the WBA and IBF junior welterweight titles. Khan controversially lost his titles to Lamont Peterson in a result now tainted by Peterson's positive drug test for synthetic testosterone.
Khan, however, is back in action this Saturday and will fight undefeated Danny Garcia for the WBC title and a "super" version of the WBA strap. Khan is expected to win and it appears as if he is poised for another extended title reign.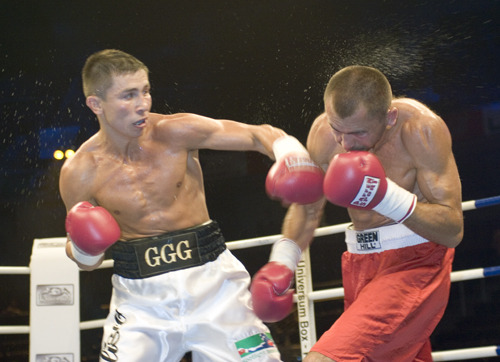 Photo courtesy of boxing360.com
Gennady Golovkin (23-0, 20 KOs) captured the silver medal at the 2004 Olympics as a middleweight. Competing for Kazakhstan, Golovkin had entered the games as the 2003 World Amateur Champion where he defeated the likes of Matvey Korobov, Andy Lee, Lucian Bute (via stoppage) and Yordanis Despaigne.
Golovkin translated his amateur success seamlessly into the paid ranks and in 2010 he captured the interim WBA middleweight title. Golovkin has since shed the interim status from his WBA strap while adding the less prestigious IBO belt to his haul.
As a powerful and aggressive fighter, Golovkin has a crowd-pleasing style and honed killer instinct. He is slated to defend his belts against the ever dangerous and mysterious TBA opponent on August 25 in the United States.
Mike Hewitt/Getty Images

Andre Ward (25-0, 13 KOs) won light heavyweight gold at the 2004 Olympics and, unfortunately, remains the last American to be crowned Olympic champion. Ward was undefeated as an amateur between 1998 and 2004 and he has sustained his winning ways since turning pro after Athens.
Some felt that Ward was being brought along with excessive caution early in his professional career, especially given his amateur pedigree. All of this complaining, of course, came to a dramatic halt as Ward's career accelerated at a feverish pace with his inclusion in the Super Six World Boxing Classic.
Ward was originally viewed as a long shot to win the tournament due to his lack of experience, even if his talent was never in doubt. By defeating Carl Froch to win the Super Six, Ward capped a tournament run where he thoroughly outclassed several of the world's top super middleweights.
As the current lineal 168-pound champion, Ward is poised for a September defense of his title against current light heavyweight kingpin Chad Dawson in what amounts to a highly intriguing and competitive matchup. Should Ward win, he will undoubtedly be on his way to greatness (if he isn't already).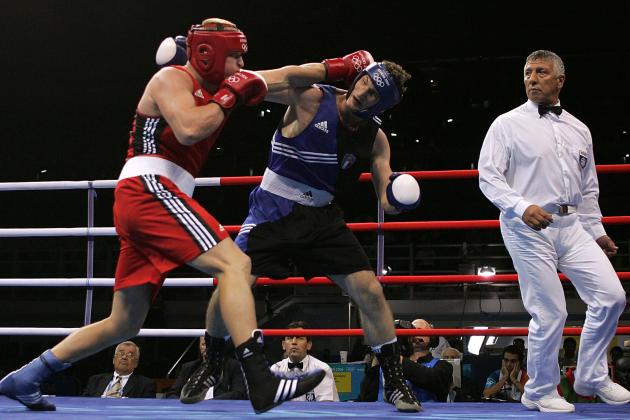 Jonathan Ferrey/Getty Images

Alexander Povetkin (24-0, 16 KOs) won super heavyweight gold at the 2004 Olympics for Russia. He went into the games riding the momentum of winning the 2003 World Championships and his success in major tournaments made him a legitimate professional prospect after his triumph in Athens.
Povetkin turned pro in 2005 and quickly ascended the diluted heavyweight ranks. In his 15th fight, Povetkin defeated Eddie Chambers in an IBF eliminator and became Wladimir Klitschko's mandatory challenger. Povetkin, of course, has done everything he can to avoid the fight.
Despite avoiding the younger Klitschko at all costs, Povetkin captured a version of the WBA title in 2011 and has made two defenses, the most recent one being a controversial majority decision victory over current cruiserweight champion Marco Huck. In an era with a deeper heavyweight division, Povetkin would probably not be on this list.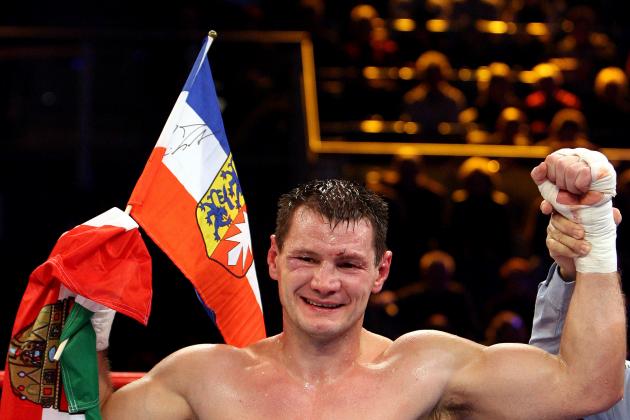 Ronny Hartmann/Getty Images

Zsolt Erdei (33-0, 18 KOs) does not currently hold a world title, but he also carries the distinction of not having lost any of his championships inside the ring.
Erdei represented Hungary at both the 1996 and 2000 Olympics, winning a bronze medal as a middleweight in the latter Games held in Sydney. Erdei's amateur career also included tremendous success at the European Championships, as well as a gold medal at the World Amateur Championships in his home city of Budapest in 1997.
As a pro, Erdei held the WBO light heavyweight title from 2004-2009, making 11 defenses grounded in skilled and technically proficient boxing. While his competition was nowhere near elite, Erdei, based on his skills, was a viable champion and he helped buttress this argument by moving up to cruiserweight to capture the WBC title from Giacobbe Fragomeni.
Erdei retired after winning a title in a second weight class, though he has since made a comeback where he has fought exclusively in the United States. While his comeback has stalled due to injury, Erdei remains an intriguing option for any light heavyweight titlist and his amateur success is evidence of Hungary's proud boxing tradition.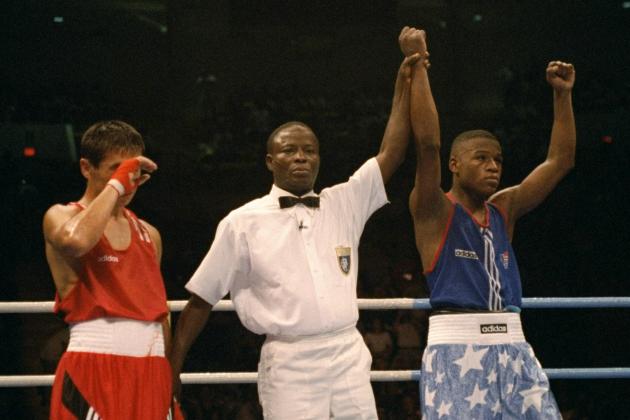 Rusty Jarrett/Getty Images

Floyd Mayweather Jr. (43-0, 26 KOs) needs no introduction. As the most gifted boxer on the planet and undefeated pound-for-pound king, Mayweather has received every conceivable accolade in the sport.
Before Mayweather was known as "Money", he was a standout amateur who had to settle for a controversial bronze medal at the 1996 Olympics in Atlanta where he fought as a featherweight. Mayweather's loss in the semifinals was so perplexing that the referee erroneously raised Mayweather's hand, assuming he had won.
At this point, Mayweather's Olympic setback seems like nothing but a bad dream. As a pro, Mayweather has won multiple world titles in five weight divisions. More significantly, he has redefined the arts of defensive boxing and counter-punching, all while carefully crafting himself into the most compelling and marketable fighter in boxing.
Mayweather is a rare crossover star and his record and skills speaks for themselves.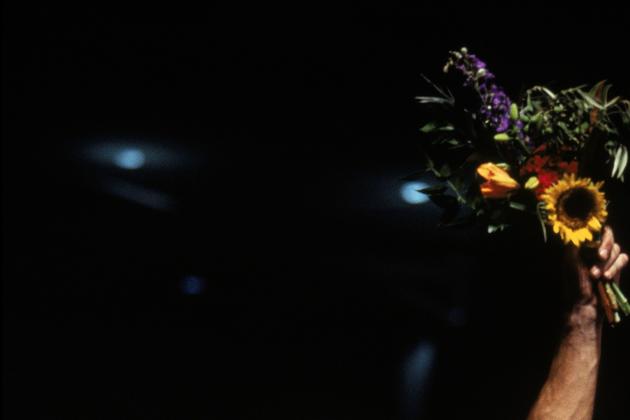 Al Bello/Getty Images

Wladimir Klitschko, in many ways, is like a man without a country. Of course, I mean this figuratively because Klitschko literally represented his native Ukraine at the 1996 Atlanta Olympics where he won gold in the super heavyweight division.
On a figurative level, Klitschko is a quality heavyweight stuck in era where boxing's glamour division has lost its luster. While Klitschko has suffered three knockout losses in his career, he has, for the most part, feasted on every viable (and I use that term loosely) 200-plus pound contender.
Klitschko's current title reign as lineal champion has spanned 12 defenses and counting and he has achieved a level of dominance to the point where his vanquished foes are starting to be recycled as mandatory challengers. While the heavyweight division does have some intriguing prospects to keep an eye on, there does not seem to be an imminent threat to Klitschko's dominance.
Is Klitschko an all-time great heavyweight? Probably not. Is he still an excellent fighter who deserves our respect? Yes.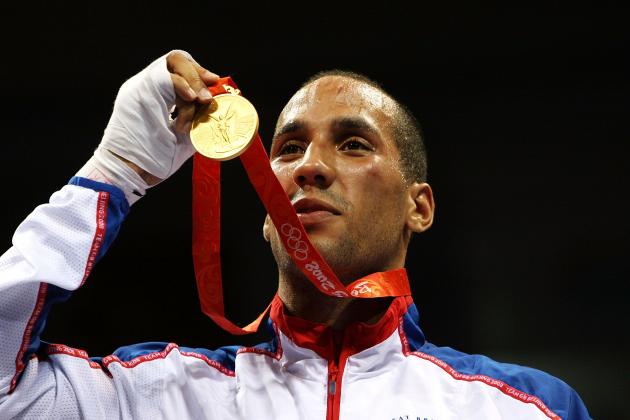 Nick Laham/Getty Images

Here is a short list of some recent Olympic medalists who are viable candidates to capture world titles as professionals:
Andre Dirrell (20-1, 14 KOs): Dirrell won a bronze medal for the U.S. at the 2004 Olympics as a middleweight. However, his career has somewhat stalled since being injured in a disqualification win over Arthur Abraham during the Super Six. Dirrell has all the talent; he just needs to get busy.
James DeGale (12-1, 9 KOs): DeGale won gold for Great Britain at the 2008 Olympics and his progress as a professional has been impressive. Despite a loss to fellow prospect and rival George Groves, DeGale currently holds the European super middleweight title and seems poised to challenge for a world championship in the not-too-distant future.
David Price (13-0, 11 KOs): Price won a bronze for Great Britain at the 2008 Olympics and he has emerged as one of boxing's most intriguing heavyweight prospects. His last three wins have come via devastating knockout against viable opposition and it is reasonable to speculate as to whether, at 6'8, he could one day challenge the Klitschkos.
Deontay Widler (23-0, 23 KOs): Wilder was the only American to medal at the 2008 Olympics where he captured a bronze as a heavyweight. At 6'7 with thudding power, Wilder is an athletic and interesting prospect, though at this point he has yet to fight anyone with a pulse.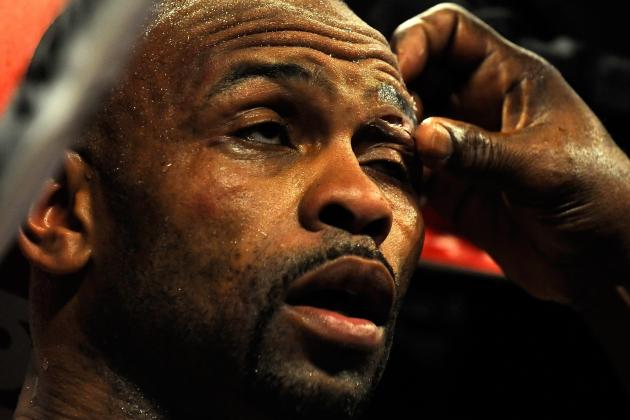 Ethan Miller/Getty Images

We now arrive at the geriatric section of the list and I use that term with some solemnity because the fighters mentioned here are boxers I generally respect. Their professional success is well-documented and, in some cases, legendary.
What is also worth mentioning, conversely, is that none of them seem to be able to definitively retire, and soon the memories of their Olympic glory and world championship successes will be replaced (for younger generations) by the reality of brutal knockouts or lackluster and plodding performances.
Joel Casamayor (38-6-1, 22 KOs): Casamayor won gold as a bantamweight at the 1992 Olympics in Barcelona. His professional success led to world titles at super featherweight and lightweight. A once slick and skilled boxer, Casamayor's skills have badly eroded.
Roy Jones Jr. (56-8, 40 KOs): Jones was the victim of arguably the worst decision in Olympic boxing history when he had to settle for silver at the 1988 games in Seoul. As a pro, Jones won titles in four weight classes ranging from middleweight to heavyweight.
Along the way he became known as one of the most athletic, spectacular and gifted boxers of his generation. It is sad to see an all-time great fighter like Jones deluding himself into thinking he can recapture a world title after a string of sickening knockout loses and flat performances.
Antonio Tarver (29-6-1, 20 KOs): Tarver won a bronze for the U.S. at the 1996 Olympics in Atlanta as a light heavyweight. Tarver would go on to capture the lineal light heavyweight title as a professional and win two out of three fights against Roy Jones Jr. However, if Tarver's recent split draw against Lateef Kayode is any indication, it is time for the 43-year-old to focus on broadcasting.
Jermain Taylor (30-4-1, 18 KOs): Taylor won a bronze medal for the U.S. at the 2000 Olympics in Sydney as a light middleweight. As a pro, he ended Bernard Hopkins' historic middleweight title reign and he went on to make four defenses of the lineal championship. After getting sickeningly knocked out by Arthur Abraham in the first round of the Super Six, Taylor took some time off from boxing but has since embarked on a comeback. Hopefully the proud, former champion doesn't get hurt.
Evander Holyfield (44-10-2, 29 KOs): Holyfield had to settle for a controversial bronze medal at the 1984 (no, that is not a typo) Olympics in Los Angeles. Holyfield would go on to become one of the greatest cruiserweights and heavyweights of all time and his fighting spirit endeared him to boxing fans. However, Holyfield insists on fighting at 49, and given his financial problems, it is legitimate to wonder if his prolonged boxing career will lead to tragic circumstances.