Breaking Down the Pros & Cons of the Oakland A's Being Full-Fledged Sellers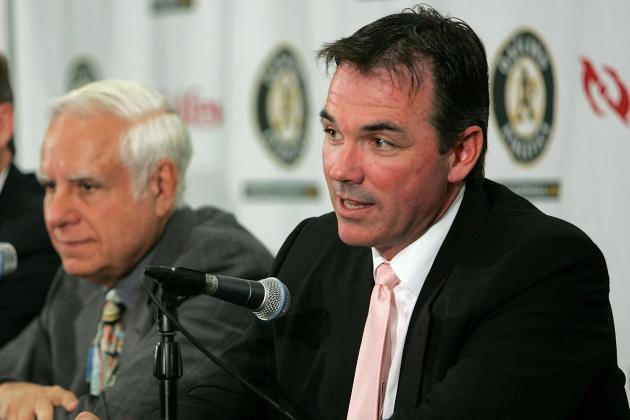 Justin Sullivan/Getty Images

No one outside of Oakland Athletics management can be sure what the team will do at this year's trade deadline, but history, being nine games back and having two powerhouse in-division rivals point to the A's being sellers once again.
If Oakland does sell, there are a few routes that could be taken.
The A's can attempt the "addition by subtraction" method which sends overrated pieces out to create space for lesser guys who ultimately shine. This causes a late season push and possibly a jump into the playoffs.
Or they can sell a few of their top trade chips while holding on to the best of the young, cheap talent.
Finally, Oakland could plunge into full on fire sale mode.
No one's off limits.
Just like the first two options, there's pros and cons to the latter. Here they are.
Begin Slideshow

»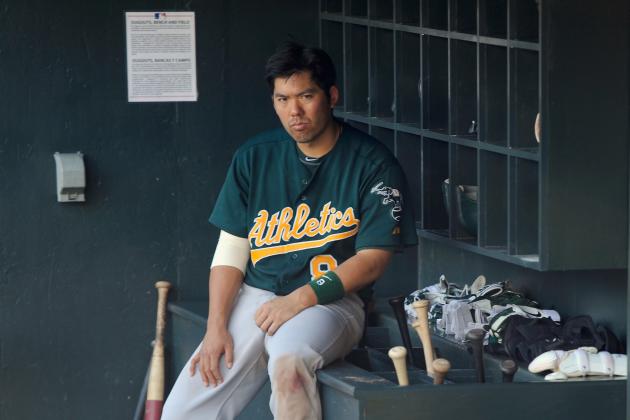 Hannah Foslien/Getty Images

The Oakland Athletics decide to become sellers at the trade deadline and pawn off several pieces. What does this do?
First, it tells the team, "we can't compete with the roster we have."
In the meantime, it signals to the fans, 2012 is over. A mass fire sale is the ultimate white flag.
Here's to next year.
Photo Credit: SacBee.com
The biggest and best performers are typically the ones out the door first.
Such a move—a downer for fans—is actually great for young players.
Guys like Brandon Hicks, Derek Norris and Collin Cowgill find themselves as everyday players. Others such as Grant Green possibly get called up and tested at the big league level for the first time.
It's like spring training for the organization all over again.
Bad for the fans, good for the players.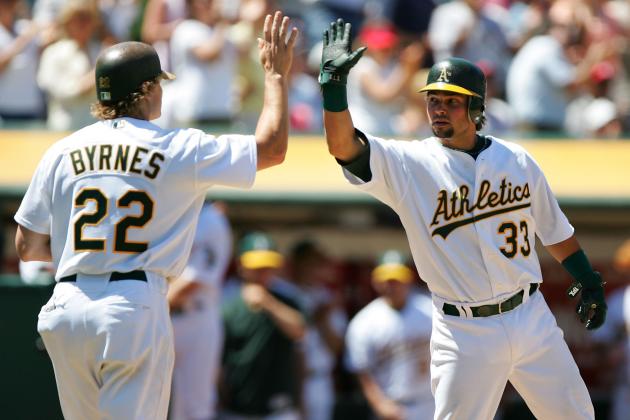 Jed Jacobsohn/Getty Images
Former outfielders Eric Byrnes (left) and Nick Swisher (right)
If you've been an Oakland Athletics fan for a while, you've noticed the turnover rate is incredibly high.
Year in and year out, the A's tend to be sellers.
If a major move doesn't happen midseason, it's sure to happen at the winter meetings.
As a fan, it's difficult to pick favorites and purchase corresponding merchandise.
Just when you bought an Eric Byrnes t-shirt, he's shipped out. You turn to Nick Swisher, get comfortable and now he's gone too. Carlos Gonzalez was supposed to be the next big thing. Then it was Ryan Sweeney.
Today it's Josh Reddick—tomorrow it's Michael Choice.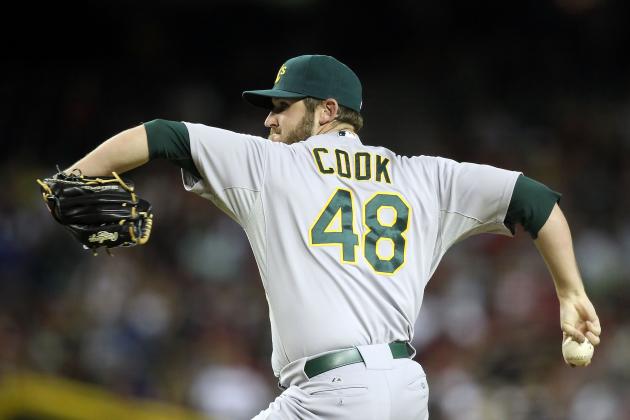 Christian Petersen/Getty Images
No one expected 25-year-old reliever Ryan Cook to be the A's All-Star representative in 2012.
There's not too much wrong with stockpiling loads of prospects.
A healthy farm system causes the Stockton Ports, Midland RockHounds and Sacramento River Cats to be at the top of the competition each year.
Great players on good teams grow followings. The following increases as they move up in the system.
From the organization's point of view, two things could happen.
If they're lucky, they have a young up-and-comer in development that could very well be the second coming of Ken Griffey Jr. With two or three prospects, those chances are slim. With 17, the chances are much larger.
Or, the more trade chips owned, the better the opportunities for top tier trades.
It didn't work out, but the A's once upon a time landed Matt Holliday because they had the means to do so. The farm league didn't take too much of a hit in the long run (Carlos Gonzalez ultimately replaced by Ryan Sweeney, Huston Street by Andrew Bailey).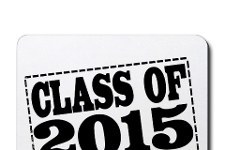 Photo Credit: BrushSchools.org
One of the hardest lines to swallow as an Oakland Athletics fan is the line, "the A's have set themselves up to be major players in two or three years."
It's fantastic getting quality prospects.
It's less thrilling when the prospects have developed fantastically throughout the minors, make an immediate impact in the majors and are traded within a year of arriving.
A trade this year sets up the A's for competing in 2014. Trades in 2013 will set the team up for victory in 2016.
It's a vicious circle.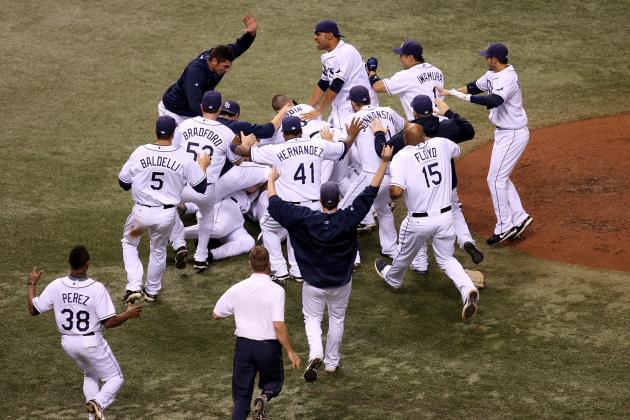 Christian Petersen/Getty Images

In 2008, the Tampa Bay Rays shocked the baseball world by winning more games than the New York Yankees and Boston Red Sox.
It wasn't a fluke.
The team went to the World Series and eventually lost.
Some of the biggest pieces of the team included Dioner Navarro (24), Evan Longoria (22), Carl Crawford (26), B.J. Upton (23) and a starting pitching staff whose average age was 24.
Most of them were drafted into the organization and home grown.
Most of them were also cheap and not even entering their prime yet. Yet, they went to baseball's biggest stage.
It clearly can be done.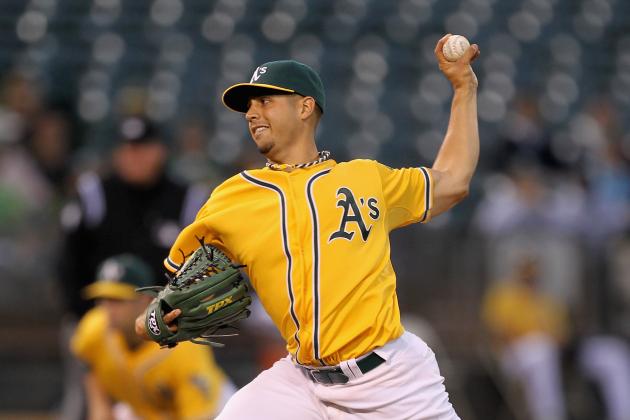 Ezra Shaw/Getty Images
Former Athletic Gio Gonzalez
This slide depends heavily on who is traded at this year's deadline.
If Grant Balfour, Kurt Suzuki and Cliff Pennington are traded, this does not apply.
However, if Josh Reddick, Yoenis Cespedes, Jemile Weeks, Jarrod Parker or Tom Milone are swapped out, then Oakland Athletics fans have been robbed.
Too often does the team sell players just entering their prime.
Last year it was Trevor Cahill and Gio Gonzalez.
It's extremely difficult to watch a guy make a career for himself in someone else's colors—looking at you Andre Ethier and Carlos Gonzalez.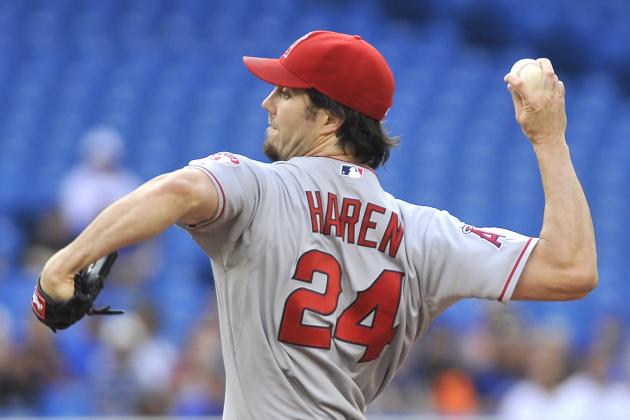 Brad White/Getty Images
Dan Haren made $3M with the A's. He made $20M with Arizona.
The Oakland Athletics are a small market team. As such, they don't have the money and budget most teams own.
That being said, to keep a guy into an arbitration year or nearing free agency isn't realistic.
Let's look at Josh Reddick, for example.
He will be arbitration eligible in 2014 and a free agent in 2017.
For now, he makes $485,000.
If he continues to play the way he does today, he'll earn himself a huge pay raise come 2014. It'll be one the A's might not be able to afford.
If Oakland can afford the raise and Reddick continues on a terror, he's as good as gone in 2017 (assuming the A's don't move by then).
Why not load up on prospects for talented players who you can't afford and who are in the peak of their value?
It does make sense.