Stat Predictions for New England Patriots' Key Offensive Players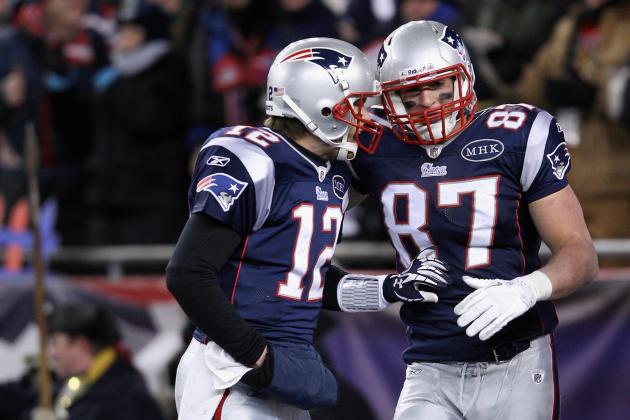 Elsa/Getty Images

It's not too often that you can take an offense coming off of a 513-point season and anticipate improvement. But in New England this year, that's exactly the case.
The New England Patriots lit up the AFC last year, scoring a conference-best 513 points. It was actually a dip from the previous season, when New England scored 518, but there's a good chance the trend will go the other way in 2012.
New England has Tom Brady back to serve as the maestro of the attack, it has the lethal tight end duo of Rob Gronkowski and Aaron Hernandez returning and it has a multifaceted running back corps to provide some versatility to the offense.
The Patriots stayed strong in those areas while improving in another. The receiver corps was lacking last season—as no third receiver developed behind Wes Welker and Deion Branch—but those problems should be long gone in 2012.
Brandon Lloyd is on board to give the Patriots a deep threat, and a cast including Branch, Jabar Gaffney and Donte Stallworth will compete for that third spot.
Suffice it to say, the Patriots should be dangerous this fall. The question is, how dangerous?
Begin Slideshow

»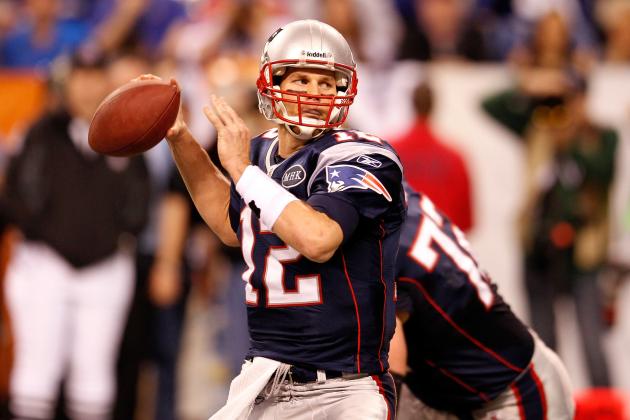 Rob Carr/Getty Images

2011 stats: 5,235 yards, 39 TDs, 12 INTs, 105.6 rating
2012 projections: 4,900 yards, 44 TDs, 10 INTs, 107.3 rating
Tom Brady's made a run at NFL MVP each of the last two seasons, and he should be back in the mix again this year.
No. 12 has all of his favorite targets from last year back, plus one key addition in Brandon Lloyd, who led the league in receiving yards in 2010 while running routes in Josh McDaniels' offense.
There shouldn't be growing pains here. Brady and Lloyd should have the connection working from the start.
Brady's yards should dip for a few reasons. For one, a 5,235-yard season is naturally going to be hard to replicate. It'd also be hard to expect another stat-cushioning 500-yard passing day like the one he dropped on Miami in last season's opener.
He'll also have to face an improved pass defense in Buffalo twice, and his personal Rubik's Cube, the Baltimore Ravens, rather than the Pittsburgh Steelers, who he's historically done well against.
Brady's other stats, however, should improve. His interceptions should decrease as he will have a higher comfort level with his targets and not feel pressured to force the ball to confused players (Chad Ochocinco, for example). His touchdowns should go up with Lloyd's presence, Rob Gronkowski's dominance and Aaron Hernandez's emergence as a game-breaking target.
Brady's no stranger to impressive seasons, but this one will place among his best ever.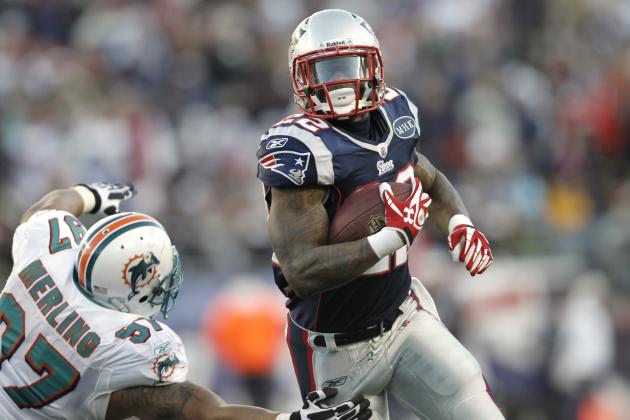 Winslow Townson/Getty Images

2011 stats: 87 attempts, 441 yards, one TD, 5.1 avg.
2012 projections: 210 attempts, 900 yards, eight TDs, 4.4 avg.
Stevan Ridley is poised to become the No. 1 running back in New England, and while the Patriots won't be a ground-and-pound team with Tom Brady under center, the second-year player seems like one who'll be able to embrace that role.
Ridley ran well in his rookie season, averaging over five yards a carry as a change of pace to departed starter BenJarvus Green-Ellis. Fumbling issues emerged for the LSU product late and in the playoffs, but Ridley is the most explosive option in a group that also includes Shane Vereen, Danny Woodhead and Joseph Addai.
In 2011, Ridley showed an ability to hit holes hard and was tough to bring down once he built up a head of steam. His rushing average wasn't deceiving; Ridley's combination of quickness (if not exactly 40-yard dash speed) and power is a potent one, and he has the skill set to be the Patriots' top ground choice.
As such, he'll have his chances to find the end zone, as Green-Ellis consistently had. With less backs to take away from his carries than Green-Ellis had last year, Ridley should be in striking distance of a 1,000-yard season.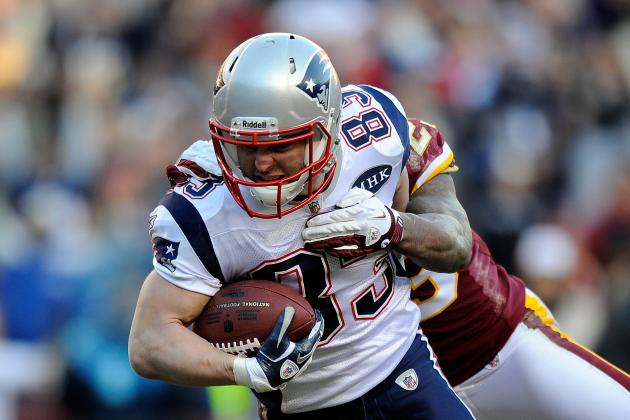 Patrick McDermott/Getty Images

2011 stats: 122 receptions, 1,569 yards, nine TDs
2012 projections: 102 receptions, 1,150 yards, six TDs
Let's assume the contract issues don't find their way into the regular season. Wes Welker is still the key weapon in the Patriots' passing offense. That hasn't changed since he arrived in Foxborough in 2007, and it won't change this year.
Welker's stats last year were inflated by his incredible start to the season, but with the exception of his post-ACL tear 2010, he's been able to be penciled in for at least 100 catches and 1,100 yards every season.
That'll continue in 2012. Welker is still Tom Brady's go-to receiver, especially in pressure situations, and he's still good for a few 10-catch, 120-yard games.
The numbers will return to normal, which still means a Pro Bowl level. Welker's contract status remains to be decided, but his role in the offense has never been in doubt.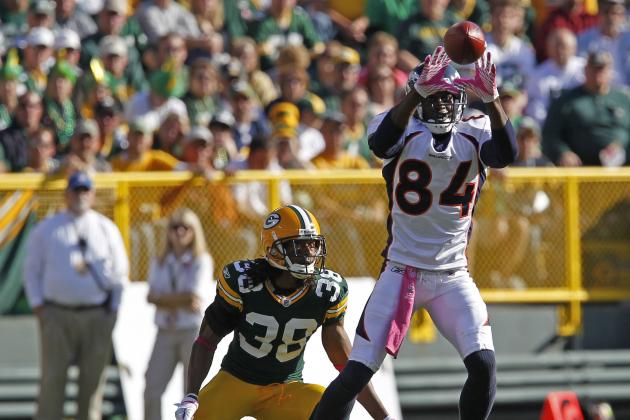 Matt Ludtke/Getty Images

2011 stats: 70 receptions, 966 yards, five TDs
2012 projections: 75 receptions, 1,000 yards, nine TDs
The Patriots have their deep threat. New England's offseason pursuit of Brandon Lloyd was one of the most predictable free-agency events in years. Lloyd wanted to go to Foxborough to be with Josh McDaniels, and the Patriots wanted a reliable receiver who could stretch the field.
Lloyd's $4 million salary shows just how much he wanted to be in New England. Under McDaniels, he blossomed into one of the league's best receivers. With McDaniels again, only this time with Tom Brady throwing him the ball, Lloyd should be in stride with the offense from day one.
Lloyd's numbers won't be 2007 Randy Moss-esque, only because Brady has more targets to share the ball with than he did back then, but the Pro Bowler is bringing the same dimension to this offense. He'll be the best deep threat the team's had since Moss left, and will give the Patriots someone on the outside who can beat man coverage.
Though the Moss comparisons are inevitable, the two are different players. Lloyd isn't the scoring machine that Moss was; even in his breakout 2010 season, Lloyd caught "only" 11 touchdown passes. But he'll make his presence felt beyond the scoresheet, and make the Patriots an even more difficult team to match up with.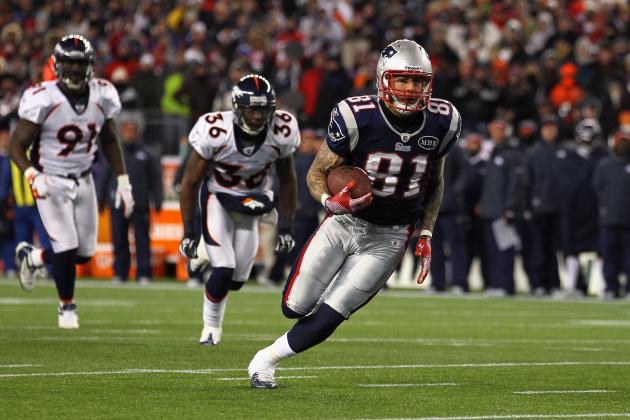 Al Bello/Getty Images

2011 stats: 79 receptions, 910 yards, seven TDs
2012 projections: 80 receptions, 1,000 yards, 10 TDs
The only Patriot to suffer during the Rob Gronkowski scoring fest from last year was Aaron Hernandez. While "Gronk" caught touchdowns, spiked footballs and dragged defenders, Hernandez worked in the shadows, getting overlooked by the media while the charismatic tight end commanded all of the attention.
When teams went overboard trying to stop Gronkowski, however, Hernandez flourished, catching nine passes for 129 yards in a late win over Denver and seven for 138 in the finale against Buffalo.
And when Gronkowski, injured and a shell of himself, struggled in the Super Bowl, Hernandez picked up the slack, catching eight passes for 67 yards and a touchdown and nearly helping the Patriots pull out the win.
The second half of the season last year saw Hernandez become regarded as a second star tight end in New England, and the Patriots will likely get him more involved in the offense from the start. Expect his catches and yards to go up, if only by a slight margin, and for him to get into the end zone more often.
As with Lloyd, a deep list of pass-catching weapons will prevent Hernandez's stats from getting out of control, but he's still a special player. The numbers will be there.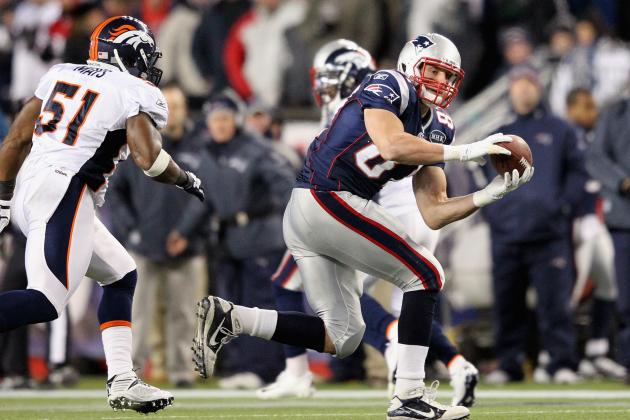 Jim Rogash/Getty Images

2011 stats: 90 receptions, 1,327 yards, 17 TDs
2011 projections: 84 receptions, 1,200 yards, 14 TDs
The best tight end in football will be just that again in 2012. A deeper group of pass-catchers will chip away at the stats a bit, but there's no way Rob Gronkowski won't get his numbers this season.
It's hard to predict much of a slump for a player as difficult to cover as Gronkowski is. Time and time again last year, against a variety of different defenses, No. 87 was able to get open, and Tom Brady found him. Gronkowski won't run into a patch in which he has trouble shaking coverage, so his numbers won't plummet from last year's highs.
The ankle shouldn't be a concern going forward, so expect Gronkowski to be his normal self. That means being a go-to target for Brady all over the field, but especially in the red zone, when his skills of size and strength are most advantageous.
Gronkowski will be right at the top of all tight end receiving categories again this year. Like most of the other players in the offense, his stats may dip, but the end team result will be one of the best New England's ever had.