New Orleans Hornets: Ranking Every Player on Hornets Roster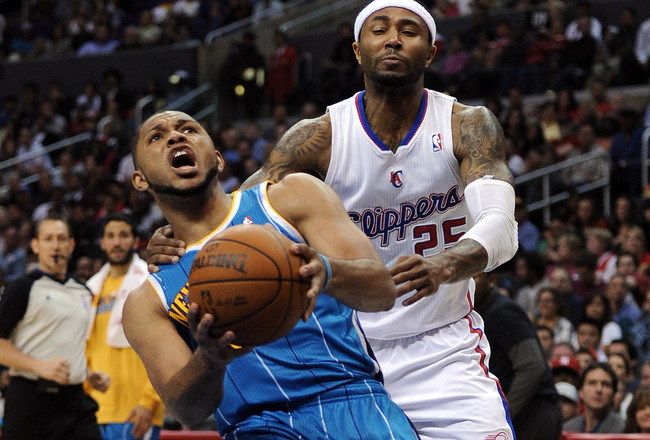 Harry How/Getty Images
The New Orleans Hornets have drastically improved since finishing last season with the fourth-worst record in the NBA.
They drafted a couple of young building blocks in shot-blocking big man Anthony Davis and sharpshooter Austin Rivers. They traded for last year's Most Improved Player, Ryan Anderson, in a deal with Orlando. They also removed themselves of their two worst contracts by shipping Trevor Ariza and Emeka Okafor to Washington for Rashard Lewis, who was waived last week.
In the coming days, they are expected to match Phoenix's four-year, $58 million deal for star shooting guard Eric Gordon.
On paper, the Hornets have the look of a team that could make some noise next season and beyond. They have young franchise cornerstones, a good coaching staff and significant cap space. With the right breaks, they could be a playoff team next season.
I decided to rank each of the 13 players on New Orleans' current roster from worst to best. This is assuming, of course, that the Hornets are done making any more moves this offseason.
13. Lance Thomas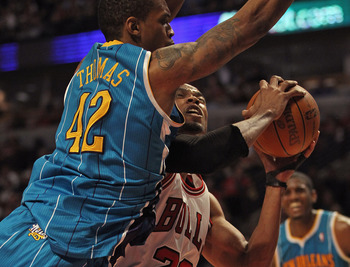 Jonathan Daniel/Getty Images
Position: Forward
2011-12 Statistics: 4 points and 3 rebounds per game
You could flip-flop the bottom two however you like because both men are going to struggle to find playing time next season if they are still on the Hornets' roster.
Lance Thomas played in 42 games last season, making 10 starts. At 6'8 and 225lbs, Thomas is better suited to play small forward but his lack of a jumper forced the team to use him more at the four. With the arrivals of Anthony Davis and Ryan Anderson as well as Jason Smith still entrenched on the roster, the frontcourt is a bit crowded for Thomas to find any playing time.
With the second-round selection of Kentucky small forward and guys like Al-Farouq Aminu and Xavier Henry on the team, the Hornets are deep at small forward as well. That means Thomas' best chance of seeing the court will be through an injury or trade.
Thomas may be undersized but he has potential. Even without the long range game, he can still score. He dropped 18 points in a March showdown against Denver and had a few games where he showed off his skills on the boards.
He may never be more than a young guy at the end of the bench but you can do worse than Lance Thomas as the 13th best player on your team.
12. Jerome Dyson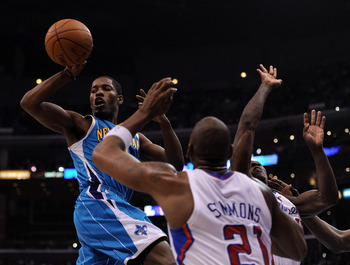 Harry How/Getty Images
Position: Guard
2011-12 Statistics: 7.4 points, 2.1 rebounds and 2 assists per game
As with Lance Thomas, Jerome Dyson is another second-year guy who is buried on New Orleans' depth chart. The team is set at the point guard position with Jarrett Jack and Greivis Vasquez and are settled at the two-guard position once they bring back Eric Gordon to go along with rookie Austin Rivers.
Dyson only played in 9 games last season and made just one start. He managed to put up decent numbers in those 9 games and had a career night against Memphis when he scored 24 points and went 14-of-16 at the free throw line.
At 6'3, Dyson is better suited to run point but he has more of a scorer's mentality. After notching five assists in his debut against Sacramento, Dyson dished out more than three dimes just once the rest of the year.
With Jack a free agent at the end of this season, Dyson could try to play his way into a role for next year. Like Thomas, he doesn't offer much from behind the arc but he's a young guard who knows how to score.
With the right opportunity, he could be a sleeper this season.
11. Darryl Watkins
Kelly L. Fox/ US Presswire
Position: Center
2011-12 Statistics: 4.6 points and 5.4 rebounds per game
Darryl Watkins was signed to a 10-day contract by New Orleans towards the end of last season after stints in San Antonio and Sacramento.
He could end up being the team's backup center this season by default. Chris Kaman is a free agent that isn't expected to return. Emeka Okafor was traded to Washington and Gustavo Ayon is expected to be sent to Orlando once the Ryan Anderson trade is finalized.
That leaves New Orleans with not much left beyond the 6'11 big man from Syracuse. Watkins played in only five games last year, but his numbers were respectable for his short amount of playing time. He notched a double-double in his Hornets debut, dropping 13 points and 10 rebounds on the Houston Rockets.
With three big men from last year's roster gone, Watkins could be a nice surprise as the backup behind either Anthony Davis or Ryan Anderson at center. He's not much of a shot-blocker but he can hit the boards and knows how to score on the inside.
On a team now suddenly depleted at center, Watkins could find his tenure in the Big Easy lasting longer than 10 days this time around.
10. Darius Miller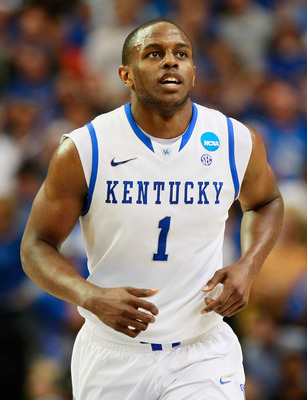 Kevin C. Cox/Getty Images
Position: Small Forward
2011-12 Statistics: 9.9 points, 2.8 rebounds and 2.1 assists per game(at Kentucky)
Darius Miller might be one of the few second-round picks in this year's draft that gets decent playing time this season. As a more natural small forward than guys like Jerome Dyson and Xavier Henry, Miller could play his way into being the backup behind potential starter Al-Farouq Aminu.
Miller will showcase his talents in the summer league along with fellow rookies Anthony Davis and Austin Rivers. While he helped Kentucky win a championship last year as a senior, Miller's best individual season came as a junior. That year, he averaged 10.9 points and 4.6 rebounds per game, while shooting nearly 45 percent from the three-point line.
While not as heralded as his Wildcat teammate, Anthony Davis, Miller will play an important role in New Orleans' future. He was a bit of a steal when the team selected him with the 46th overall pick. He has good size at 6'8 and is a decent shooter. He was a good defender at Kentucky and could be a solid role player who becomes a poor man's Landry Fields in the NBA.
Miller has a decent opportunity to crack the rotation in his first year. He's the kind of shooter the Hornets will sorely need from the backup squad with Marco Bellinelli not expected to return. He won't be as flashy as the other rookies in this class but he could make a surprise impact this season.
9. Greivis Vasquez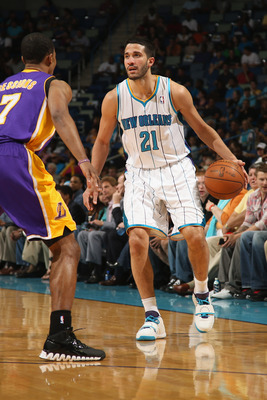 Chris Graythen/Getty Images
Position: Point Guard
2011-12 Statistics: 8.9 points and 5.8 assists per game
Greivis Vasquez is a vastly underrated backup point guard. He has great size for the position, at 6'6, and he's a solid passer. He finished second on the team in assists with 5.8 a game, just behind starter Jarrett Jack's 6.3.
He was one of only three Hornets to play in all 66 games last season and one of only two expected to return this season. Small forward Al-Farouq Aminu is the other.
Vasquez really came along as scorer in the final month of the season, scoring in double digits nine times in 14 games. The Hornets will need that scoring off the bench and his size will make him a tough matchup for opposing guards. It will particularly come in handy when he shares the backcourt with the shorter Austin Rivers.
With another solid season, Vasquez could be in line to replace Jack, if Jack leaves as a free agent next summer. His pass-first style may benefit a Hornets team that already has enough scorers in the starting five.
He's a guy to keep an eye on next season.
8. Xavier Henry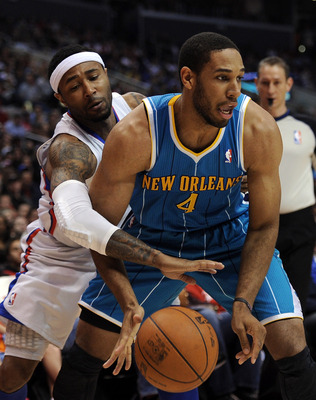 Harry How/Getty Images
Position: Guard/Forward
2011-12 Statistics: 5.4 points and 2.4 rebounds per game
Xavier Henry had quite the illustrious career at Kansas. He broke the Jayhawk record for most points in a debut by a freshman with 27 against Hofstra. He became the first Kansas freshman to score 30 points in a game since Paul Pierce with 31 against LaSalle.
That led to him coming out as a freshman and being selected by Memphis with the No. 12 pick in 2010. With the Grizzlies, he flamed out, which is why the Hornets were able to nab him in a three-team trade last year.
Henry hasn't offered much as a Hornet but he's a valuable asset as a 21-year old shooting guard with potential. While he hasn't shown the same deep stroke he had in college, it's impossible to think that Henry has forgotten how to shoot.
His best chance at playing time this season will be seeing some action at small forward or benefiting from an injury to either Austin Rivers or Eric Gordon at the two. He's tough and athletic and, occasionally, he shows off his promise like he did in 19-point outing against Dallas in February.
Right now, he could be considered a bust but he's young enough to turn things around once he regains his famous shooting touch. On a Hornets team that will grow together over the next few years, Henry has a second chance to breathe life back into his career.
7. Al-Farouq Aminu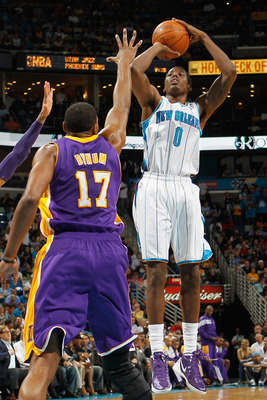 Chris Graythen/Getty Images
Position: Small Forward
2011-12 Statistics: 6 points and 4.7 rebounds per game
I've never been a huge fan of Al-Farouq Aminu. Like Henry, he's a former lottery pick who hasn't lived up to his potential thus far. He isn't much of a shooter and isn't a great defender despite his 6'9 frame.
However, like Henry, Aminu's only 21 and he seemed to show signs of life once he wrestled the starting small forward job away from Trevor Ariza in the final month of last season. Aminu averaged 8.7 points and 6.8 rebounds a game in the month of April, when his playing time went up.
This season, Ariza is in Washington and the starting job is Aminu's to lose. He'll never offer much from the three-point line but he has some potential as the team's fifth scoring option in the starting rotation. He's tall, athletic and could put up sneaky scoring and rebounding numbers as the guy teams will slack off on.
As with Henry, New Orleans is Aminu's second chance to resurrect his career. The team seemed to believe enough in him to give him the starting job this season and not push hard to replace him during the offseason.
It's time for Aminu to reward the team for their faith. As the starter with the biggest question marks, this has to be the season Aminu steps up. Otherwise, the team won't hesitate to replace him next summer when the free agent class is as deep as their pockets.
6. Jason Smith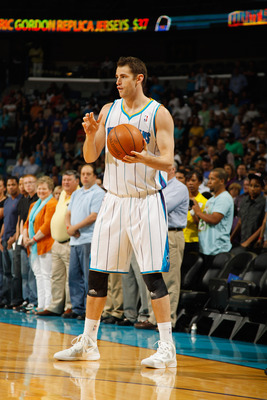 Chris Graythen/Getty Images
Position: Power Forward
2011-12 Statistics: 9.9 points, 4.9 rebounds and 1 block per game
You could have made a case for Jason Smith cracking the starting lineup alongside No. 1 overall pick Anthony Davis this season. He had a pretty good 2011-12 campaign, where he played in 40 games and made 29 starts.
At 7 feet tall, he's the tallest guy on the team and he's one of New Orleans' better inside scorers. The knock on Smith is that he doesn't rebound nearly as much as he should for a guy his size. You can find small forwards that can grab five rebounds a game.
However, Smith is a decent shot blocker and isn't afraid to mix it up inside and get his points. He even showed some three-point range at times last year, although he's hardly the second coming of Dirk Nowitzki.
With Davis and Ryan Anderson entrenched as the dynamic duo inside, Smith will lead the charge as the team's main backup big man. He can provide a spark off the bench and also play good defense. His rebounding numbers need to improve but he's a quality young backup who is only going to get better.
5. Jarrett Jack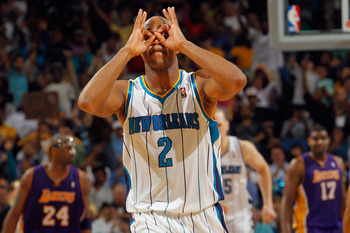 Chris Graythen/Getty Images
Position: Point Guard
2011-12 Statistics: 15.6 points, 6.3 assists and 3.9 rebounds per game
It was a toss-up for me between Jarrett Jack and rookie Austin Rivers, especially with Jack coming off a breakout 2011-12 season. Inevitably, I went with Rivers' potential over Jack's big season.
Last year was Jack's first season getting extended playing time as a starter since 2007-08 with Indiana. With big shoes to fill in the departed Chris Paul, Jack responded with a career year. He was second on the team in scoring and lead the team in assists.
This year, he'll be playing for a new contract, as he's a free agent next summer.
The question is, was Jack's 2011-12 season a sign of things to come or did he benefit from the absence of Eric Gordon?
With Gordon back 100 percent(for now) and the additions of Anthony Davis and Ryan Anderson, Jack no longer is the team's primary scoring option. In fact, he drops down to fourth in the pecking order. As good as his assist numbers were last year, Jack has only averaged over five assists a game twice in his seven-year career.
The truth is Jack is a shooting guard stuck in a point guard's body. He isn't the pass-first floor general that his predecessor Chris Paul was or even his backup, Greivis Vasquez, is. It will be interesting to see if Jack becomes more of a passer with a new contract on the line or will we see him be more of a gunner to pad his stats?
Regardless, Jack doesn't need to carry the team like he did down the stretch last season. He has a promising team around him and his focus needs to be making them better and not worrying about his own numbers.
With Vasquez behind him and a free agent class loaded with point guards, Jack's chances of remaining in New Orleans past this season look iffy but he could change that by becoming a more well-rounded point guard this season.
4. Austin Rivers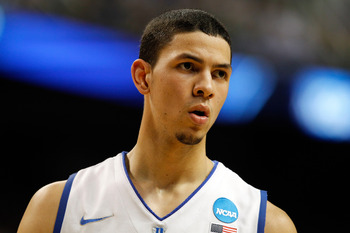 Streeter Lecka/Getty Images
Position: Guard
2011-12 Statistics: 15.5 points, 3.4 rebounds and 2.1 assists per game(at Duke)
I'll admit I didn't like the selection of Austin Rivers with the No. 10 overall pick at first. I was worried about his alleged ego and whether he could really be the point guard of the future that the team needs.
More and more, I'm starting to come around on that skepticism. I still have my doubts that Rivers can be an NBA point guard. He's too ball-dominant and his assist numbers at Duke suggest he isn't much of a passer. He is, however, a dynamic scorer with a very good jump shot.
Still, the same things could have been said about Stephen Curry, who has a similar skill set to Rivers and has become a solid NBA point guard. Now, Rivers isn't the player that Curry is but it's not impossible to think he could one day be on that level.
For now, he offers the Hornets an offensive spark, which is something they don't have beyond Eric Gordon and Jarrett Jack. The selection of Rivers may have miffed Gordon, who took as a sign the team was looking to replace him, but it will end up working out in the end.
If Rivers can handle the point and prove that he's interested in making others around him better instead of calling his own number, the Hornets will have a steal in the former Blue Devil. He has a good pedigree as the son of Boston Celtics coach Doc Rivers and he'll benefit even further from a good coach like Monty Williams.
The Steph Curry comparison may seem crazy but, if it ends up being accurate, Rivers will be ranked much higher on these lists going forward.
3. Anthony Davis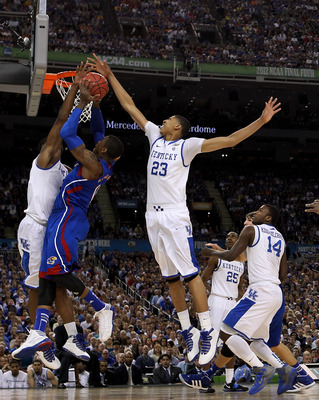 Ronald Martinez/Getty Images
Position: Power Forward/Center
2011-12 Statistics: 14.2 points, 10.4 rebounds and 4.7 blocks per game(at Kentucky)
Hornets fans haven't been this excited about a rookie since Chris Paul came to town. Anthony Davis is the most hyped Hornets big man since the team had Alonzo Mourning.
Davis is coming off a one-and-done season with Kentucky where he won a national championship and broke many records, including the single-season record for blocks. He's freakishly athletic and an absolute beast on the boards.
Davis will be the future face of this franchise. While he won't manage the same defensive numbers in the NBA that he did at Kentucky, Davis will establish himself as one of the game's best shot blockers. He has great ball-handling skills, which stem from his days playing point guard in high school.
If Davis can improve his offensive game, he'll be a mega star. He'll need to develop a consistent jump shot and add some more bulk to his rail-thin frame and not rely so much on his athleticism. At only 19, Davis has plenty of time to develop his game.
For now, he's the team's best defensive presence and rebounder. He's only third on this list because he isn't as established as the remaining players on the roster. If he can avoid injury, he can be something special and turn around the fortunes of a New Orleans franchise that has suffered for too long.
2. Ryan Anderson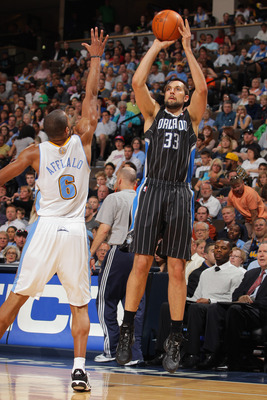 Doug Pensinger/Getty Images
Position: Power Forward/Center
2011-12 Statistics: 16.1 points, and 7.7 rebounds per game
The Hornets got a real bargain when they turned backup center Gustavo Ayon into the NBA's reigning Most Improved Player in Ryan Anderson.
After years of being buried on the bench, Anderson had a breakout year, becoming one the game's best deep-shooting big men while also showing a knack for crashing the boards. Anderson shot 39 percent from three last year and boosted his scoring average from 10.6 to 16.1
With the Hornets signing Anderson to a four-year, $36 million deal, the team now has a stretch four that will force opponents to step out of the paint and give young big man Anthony Davis room to breathe under the basket.
It will be interesting to see if Anderson's big year was a contract-influenced fluke or the sign of a guy finally producing when given the opportunity. By shedding himself of the mess in Orlando, Anderson joins a young team on the rise. He'll team with Davis to form a solid rebounding duo and the presence of Eric Gordon takes some of the scoring load off of Anderson's shoulders.
Anderson has gradually improved his scoring and rebounding over the past three seasons. He'll never be much of a defender but he's the proven second option New Orleans desperately needed.
1. Eric Gordon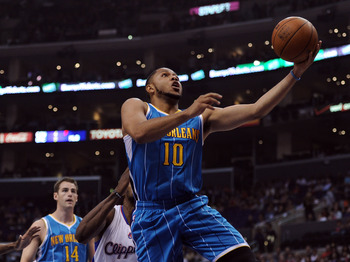 Harry How/Getty Images
Position: Shooting Guard
2011-12 Statistics: 20. 6 points, 3.4 assists and 2.8 rebounds per game
If you want to be technical, Eric Gordon isn't technically on the Hornets roster yet(neither is Ryan Anderson, until his trade to New Orleans is made official by league offices). Gordon is a restricted free agent and, if he had his way, he'd be a member of the Phoenix Suns.
Instead, he'll end up being a very rich and miserable man in New Orleans once the Hornets inevitably match Phoenix's max offer.
Gordon hasn't done himself any favors by openly complaining about not wanting to be in New Orleans. However, when you look closely at Gordon's beef with the team, he has a legit case.
He claims the team didn't contact him during the offseason and then he sat back and watched the team draft a similar guard in Duke's Austin Rivers. Naturally, it gave Gordon the impression that he was unwanted in the Big Easy. He also thinks the team is using the rules of restricted free agency to hold him in New Orleans, where he doesn't want to be.
It's a matter of miscommunication between management and its star player. Yes, GM Dell Demps and head coach Monty Williams should have done a better job of getting Gordon on the same page prior to Phoenix offering Gordon a huge contract. That's their fault.
However, it's Gordon's fault for letting ego and insecurity convince him into committing public image suicide. Gordon's going to be in New Orleans for a while(unless he foolishly leaves Phoenix's offer on the table and signs a one-year deal so he can hit free agency next season). It's not wise to irritate the fans by voicing your displeasure in the media.
You should learn from Dwight Howard, Eric. Once the fans turn on you, your career is in deep trouble. You gain nothing from making yourself look like a selfish jerk, as Howard is doing with his Brooklyn pipe dream.
Now, if you want to get technical again, Gordon was the team's leading scorer last year. Of course, he only played in nine games. That's why Gordon should just be fortunate to have been offered a max contract. Gordon's lack of durability has plagued him throughout his career. He owes it to Hornets fans to put together a healthy season and become the star we think he'll be.
As unfair as Gordon thinks the restricted free agency process is, it's also unfair to the fans to watch the centerpiece of the Chris Paul trade whine aloud about how the team low-balled him in January with a $40 million offer.
If Demps and Williams can keep Gordon content and Gordon can stay healthy, this Hornets team could do big things. Gordon is a vital part to New Orleans' big picture. It's important that management makes that point understood with their franchise player.
Otherwise, Gordon won't technically be an ex-Hornet in four years. He'll actually be one.
Keep Reading

New Orleans Pelicans: Like this team?