Auburn Football: Ranking Which Tigers Must Become Big-Time Leaders in 2012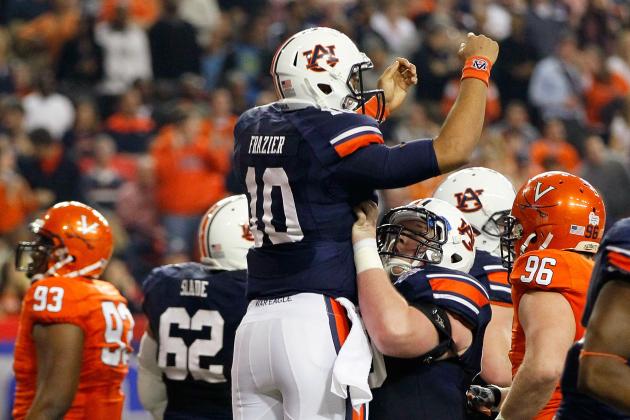 Kevin C. Cox/Getty Images

Right now is the most crucial period for the Auburn Tigers as they develop their team for 2012. It is the summer workout period—the coaches are the players. Names like Emory Blake and Philip Lutzenkirchen are expected to be leaders, but there are eight others that must become big time leaders for the Tigers to succeed in the 2012 season.
Auburn has leaned on the youth excuse for some of last season's woes—which is a partially viable argument—but there was also a lot of problems with communication and visible leadership for the Tigers on the field.
The team looked scattered at times during play, with no real on-field general making the tough transitions that offenses would make against the Auburn defense. Conversely, the Tigers offense had an injured Emory Blake disappear for much of mid-season, and no clear-cut answer at quarterback to provide on-field stability.
Auburn doesn't lack talent heading into 2012—they lack proven leadership. If these eight players rise and perform on and off the field this summer, Auburn will be a nasty foe and SEC contender by September 1.
Begin Slideshow

»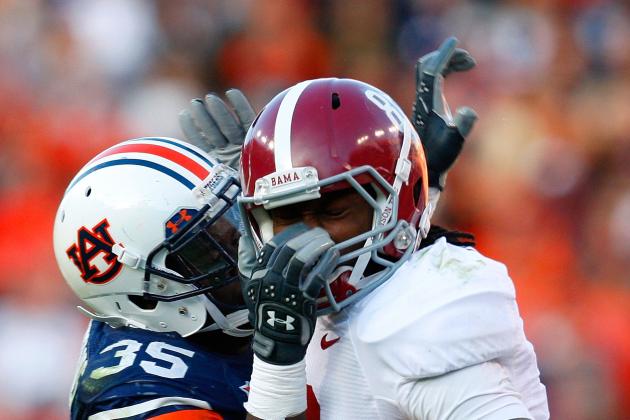 Kevin C. Cox/Getty Images

There was not a lot of fanfare that followed Jonathan Evans to Auburn. He was a modest recruit that was a bit undersized for an SEC linebacker, but he had ties to Auburn as his brother Chris was an Auburn linebacker from 2005-08.
Evans was thrown into the fire as a freshman in 2009 when the Tigers were thin at linebacker and started him in the Iron Bowl giving him exposure to the biggest of stages from his first season. The Tigers have since used Evans in a utility type role from the linebacker position, allowing him to bounce around to both positions on the outside.
This year Evans is battling the very talented Kris Frost for the starting outside linebacker position, but whether Evans starts or not is beside the point. Evans is one of the few seniors on this team, and his senior leadership is desperately needed.
Evans finished the 2011 season as the ninth leading tackler for Auburn despite battling injuries and only playing in 10 of 13 games. This year Evans will need to be a major leader for the Tigers as he is one of the most experienced linebackers on the roster and has seen the highs and lows of college football.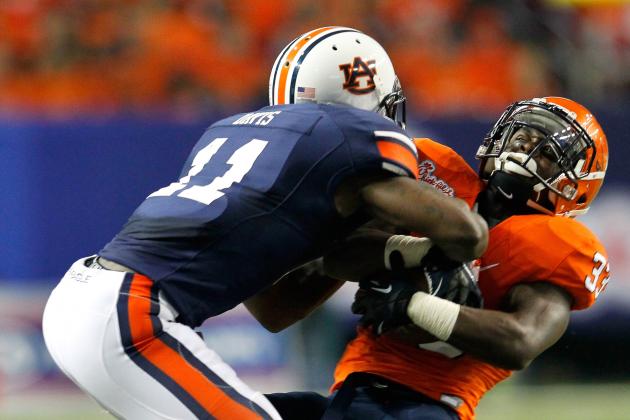 Kevin C. Cox/Getty Images

Chris Davis will be one of the starting cornerbacks for the Tigers when the 2012 season kicks in Atlanta. By the end of the 2011 season, Davis had become one of the hardest hitting, most dangerous cover corners in the conference.
Davis finishes the 2012 season as the fourth leading tackler while only playing in 11 of 13 games. As a cover corner, he has great hip fluidity to read the break of the receiver that he is covering in man.
There have also been some times that Davis has been dangerous with big hits in zone coverage. Davis' ability to inspire the defense with his fierce strikes and big plays in pass defense will be important for Auburn in 2012.
As a leader, Davis must become more vocal and help guide a youthful secondary to find the right fits and reads. Davis needs to make major moves in on-field leadership this season as he will anchor one side of the VanGorder defense.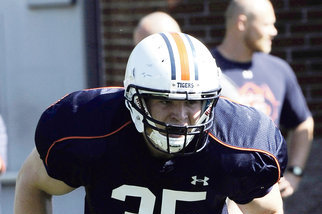 AP Photo
Jay Prosch is a beast of an athlete. He is a beast of a football player as well and a great Auburn man. Prosch will need to be a major leader for this offense as he shows his teammates what drive and determination can do.
Prosch was a little known recruit coming out of high school in 2010, and was a bit of a tweener as he played multiple positions in high school.
When Prosch chose Illinois, his work ethic and weight room fanaticism turned him into the most feared lead blocker in the college football game where he capped his sophomore season with All-American honors. Prosch transferred to Auburn to be closer to his mother, who is battling brain cancer.
This year the Tigers have nicknamed their new teammate "Juggernaut" because of his freakish abilities in the weight room and on the field. Prosch will be a big time leader for the Tigers, but a lot is silent leadership.
As he continues to take his lunch-pail mentality to the field and weight room daily, his teammates will follow and Auburn will be a much better football team for it.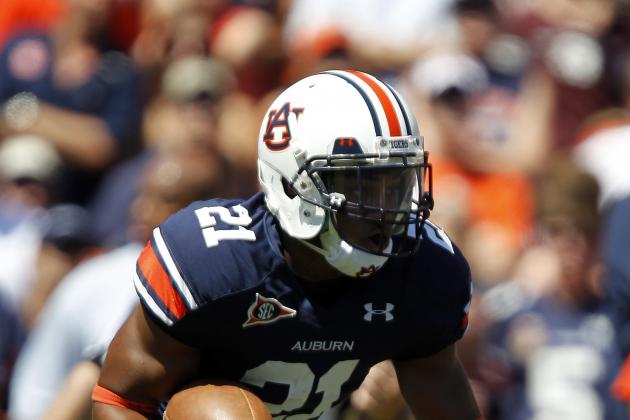 Butch Dill/Getty Images

Having two running backs that need to step up with leadership on this list may seem redundant, but bear with me.
Mason is expected to be the feature back when kickoff comes this fall—if for no other reason than, when given the responsibility to be "the guy" against Virginia last year in the Chick-fil-A Bowl, he showed that he could run up the middle and handle the role while averaging 7.1 ypc.
When looking for a size and speed combo for the 2012 season, Tre Mason and Corey Grant are neck and neck. They may even share duties as the primary impact back.
Where Mason could show the most leadership is in self-less competition. If Mason keeps grinding he will get his carries, and his teammates will respect his willingness to share in the glory with his fellow backs.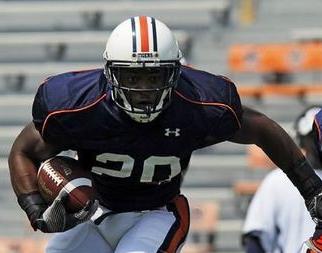 Todd Vann Emst Photo
Onterio McCalebb is the obvious de facto starter at running back for the Tigers this season, but Auburn needs a leader to rise beside him that can handle every down-type carries. Grant is that guy.
Grant is a back that carries weight well and has track star speed. He is also a third-year sophomore that has played in a pro-style based offensive scheme before. Grant may not be the starter at running back, but his understanding of the new offensive concepts and work ethic are something that his teammates will cling to.
The battle for the every down back will come down to Tre Mason and Grant, with both being great options for the Tigers. Grant lands at No. 4 on the list of importance simply for his experience in a similar collegiate offense, and his self-less work ethic.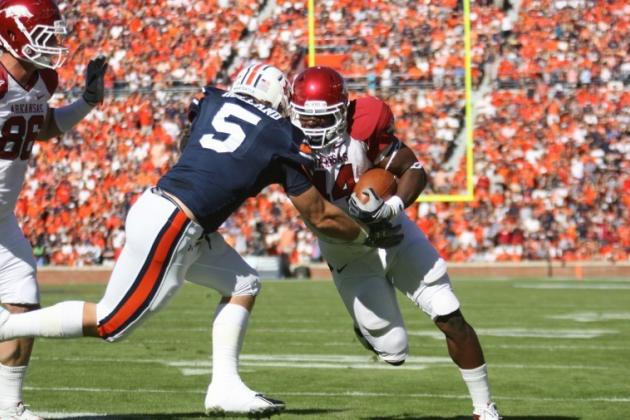 Jake Holland is another member of this year's Tigers that is a rising junior and earned playing time during the national title year. Holland has seen greatness, and he knows how the Tigers can achieve it.
This may seem like a choice that should already be considered a major leader for the Tigers, but with the injuries and mixed time a year ago with Eltoro Freeman in the middle, Holland has not really laid full claim to this defense.
The throne for the defensive captain is ready and reserved—it is now time for Holland to take the seat and run this Brian VanGorder scheme from the middle. Holland has the work ethic that will make his rise in leadership a reality this summer and fall.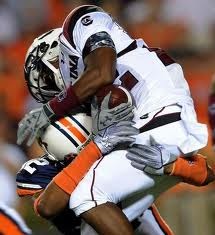 When McNeal arrived at Auburn in 2010 there were no questions at the starting safety positions. Aaron Savage was returning from injury—as was Zac Etheridge. There were backups, but McNeal was expecting to come in and earn some playing time as a freshman.
When injuries mounted in the secondary, McNeal was tossed into a starting and supporting role much larger than he expected on what ended the season as a national title winning football team.
This season, the Tigers have one of the most talented groups of athletes in the secondary in the country, but not much leadership.
McNeal was the team's third leading tackler with 74 total tackles in 2011 and got those numbers silently. He also snagged two interceptions and forced two fumbles.
This season McNeal needs to be a major vocal leader for the Tigers this summer and on the field this fall for the defense to improve on last season's terrible No. 51 passing defense.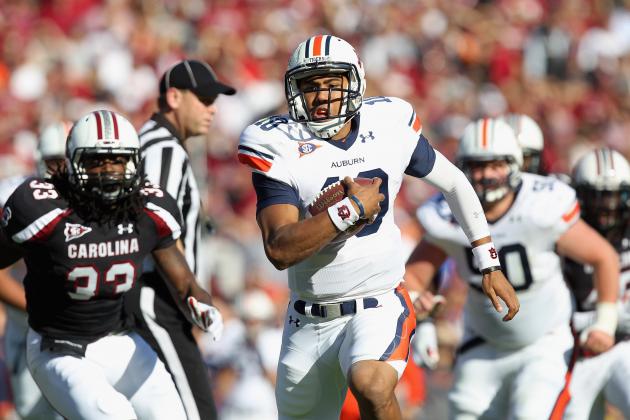 Streeter Lecka/Getty Images

This is an obvious choice for No.1. Kiehl Frazier appears to be in the driver's seat when it comes to the quarterback race, and Auburn's offense needs him to be.
The Tigers rotated three different signal callers a year ago, causing issues in timing and in trust when the offense took the field. Auburn lacked "huddle" leadership—a problem that must be answered by the first week of fall camp.
This summer workout period will go a long way in helping determine the leader at the position, even without the coaches being able to take part in the workouts. Kiehl Frazier will walk into fall camp with the swagger that is needed for him to earn the starting nod.
Frazier is the most important leader that will rise this fall. If the quarterback position has questions in the Scot Loeffler offense, the Tigers will be in trouble. The stable of backs will help, but Frazier is the single most important piece to the looming offensive success for Auburn in 2012.