Power Ranking the MLB Teams Going into the Second Half Using Summer Blockbusters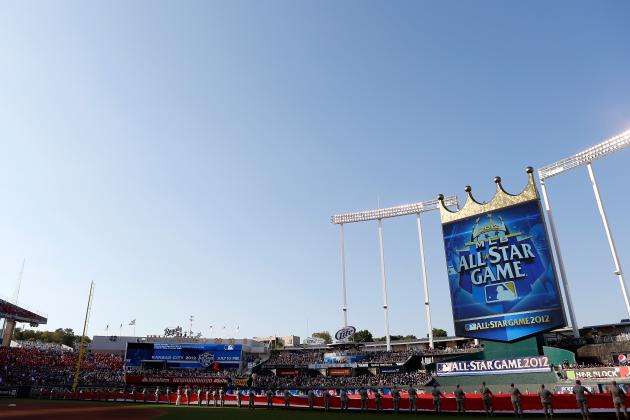 Jamie Squire/Getty Images

The 2012 All-Star Game is behind us which means it's time to start looking forward to the second half of the MLB regular season. That also means the second half of the summer movie season is approaching which means it's time for my annual power rankings using the summer blockbusters.
Here's a rehash of the criteria I use to rank the teams and films:
Only movies released up to this point are included. So that means no The Dark Knight Rises, as much as I want to throw that at the top.
My opinions of the film count towards where I rank it. For example, if I liked Battleship a whole lot more than say, Moonrise Kingdom, then Battleship gonna get a bump in the standings, but we both know that won't happen.
Other people's opinions of the movie count as well. I'll be factoring in what critics thought of it as well as what the general public had to say in terms of box office performance. As for the critics, I'll be using Rotten Tomatoes as the basis of their opinions.
Ultimately, I give the edge to box office performance since I'm of the mind films are made to entertain the masses. Unless a film is deemed flawless by myself and critics, ticket sales are going to be huge in determining the rankings.
For the teams, I take into consideration how they did in the first half and how well I think they're gonna do in the second half.
Lastly, not every summer movie is gonna be here, just the ones that count. So those of you looking for the Katy Perry movie, sorry to disappoint.
All right, any questions on the rankings can be asked in the comments section below. We're going in descending order starting at 30, so let's get to ranking.
Begin Slideshow

»
Kevin C. Cox/Getty Images

Battleship film rating (according to RT critics): 34%
30) Chicago Cubs 33-52
29) Houston Astros 33-53
28) Colorado Rockies 33-52
Man, these teams just seem to be going nowhere, kinda like the plot in Battleship. It was like Rihanna's agent demanding the movie to have aliens just for her to be in it, but whatever.
The Cubs 12-game losing streak back in May gives them the honor of being number 30. They don't have much to look forward to as it seems they will be in sell mode within the next week or so.
The Astros recent losing streak to start July puts them at the 29th spot. Unlike the Cubs, they already traded all of their players of value last year. They just have to wait for those prospects to develop.
As for the Rockies, they have some bad luck as their best players are injured and they are paying Michael Cuddyer a bit too much for what he's doing. Carlos Gonzalez and Dexter Fowler are the lone bright spots for the team.
The Rockies are likely going to hold on to them, but if an offer comes that blows them away, they will have to consider, to paraphrase the great Liam Neeson, firing all the weapons on that trade.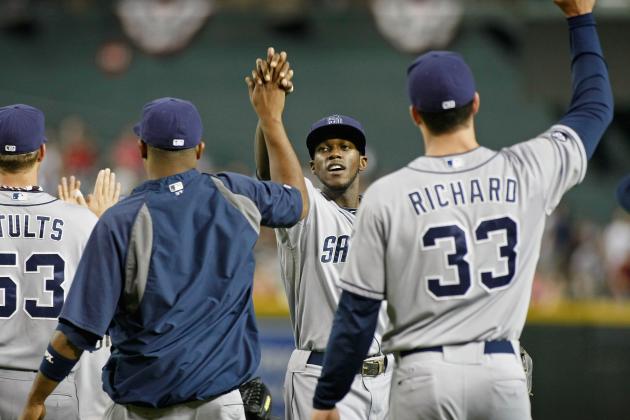 Ralph Freso/Getty Images

Rock of Ages film rating (according to RT critics): 41%
27) San Diego Padres 34-53
26) Seattle Mariners 36-51
25) Minnesota Twins 36-49
Hard to blame anyone for not wanting to see a film about a bunch of middle-aged rockers surrounded by a love story concerning a small town girl and a city boy. There was not much to draw in audiences much like the teams in this division.
The Padres rank last or near-to-last in every offensive category. Their best offensive weapon, Carlos Quentin, is going to be the subject of trade rumors in the next couple of weeks, so expect him to be gone by August.
Then there's the Mariners who are no better offensively than the Padres. Felix Hernandez is up to his usual tricks and poor Jesus Montero isn't living up to the hype that brought him to Seattle.
The Twins have gone into a free fall since being the best team in the AL Central just two years ago. Their offense is still strong, it's their pitching that needs work. This was a team that once prided itself on pitching and defense. Now they're relying on their offense to win games.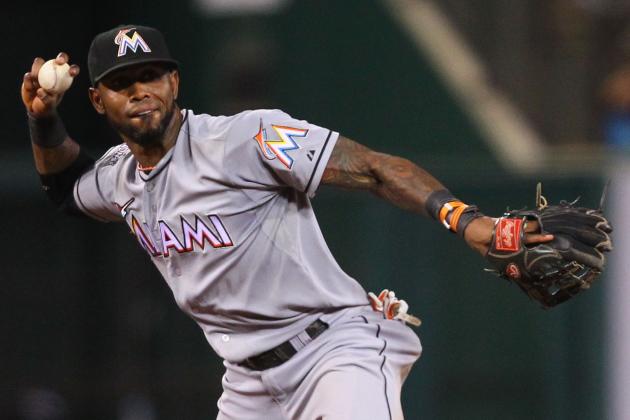 Dilip Vishwanat/Getty Images

Snow White and the Huntsman film rating (according to RT critics): 49%
24) Kansas City Royals 37-47
23) Milwaukee Brewers 40-45
22) Miami Marlins 41-44
Snow White and the Huntsman attempted to change the image of the Snow White story to mixed reviews. It's fitting how the Miami Marlins are trying to do the same with the same results.
The Marlins started out strong but a brutal schedule against AL East teams caused them to fall and exposed their weaknesses. Now with Giancarlo "Formerly Mike" Stanton out at least six weeks, the Marlins are going to need to make up loss ground without him. They will likely finish around .500 unless a major trade happens.
Despite hosting of the All-Star Game, the Royals and their fans don't have much to look forward to this season other than booing Robinson Cano. Their kids will continue to develop but that Tampa Bay Rays-esque leap everyone thought they would make is gonna happen anytime soon.
Ryan Braun is doing everything he can to keep the Brewers afloat. Imagine where the team would be if that suspension wasn't appealed. Where the Brewers will end up will likely be decided after the nine game stretch against the NL Central powerhouses followed by a four game visit from the Washington Nationals.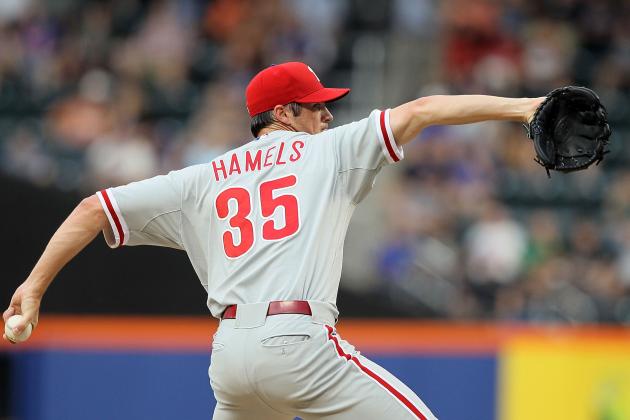 Jim McIsaac/Getty Images

Prometheus film rating (according to RT critics): 73%
21) Philadelphia Phillies 37-50
20) Oakland Athletics 43-43
19) Arizona Diamondbacks 42-43
Prometheus left people with more questions than answers. Leave it to Ridley Scott to confound his audience. Leave it to the Phillies to confuse their fans.
The Philadelphia Phillies were expected to be in the mix for the NL East title, but now they are struggling to reach .500. I almost placed them in the last division but Roy Halladay's return and the fact they still have Cole Hamels and Cliff Lee should help them do better in the second half, unless one of them gets traded. Guess we'll see.
The Oakland Athletics are doing a surprising job at surprising. Their stellar pitching is carrying them so far, but that won't be enough to get them out of the .500 range. They won't be competing for a playoff spot so look for them to be sellers during the trade deadline.
Justin Upton's having a question-filled down year which reflects in the Diamondbacks' record. Despite Upton's lack of production, their offense is still one of their strong points. They need the pitching to back up their offense and Upton needs to have a strong second half.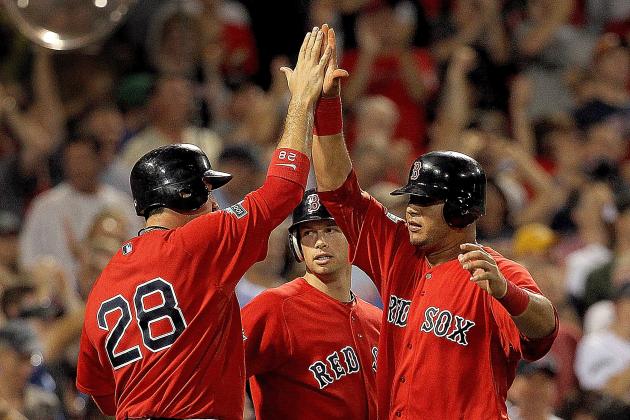 Jim Rogash/Getty Images

Men in Black III film rating (according to RT critics): 69%
18) Toronto Blue Jays 43-43
17) Boston Red Sox 43-43
16) Cleveland Indians 44-41
The Men in Black franchise's seen better days and their threequel was supposed to help turn things around. It didn't do that exactly, but it certainly didn't hurt it either. It was just missing a few things to really help the franchise return.
The Blue Jays and Indians are missing a few pieces to help push them to the top of their respective divisions, namely pitching. Ricky Romero hasn't proven to be the ace the Blue Jays thought he would be, and Ubaldo Jimenez is making the Indians regret that trade.
The Red Sox are trying to chase former glory to no avail. They should be a little alarmed that Adrian Gonzalez has as many homers as Dustin Pedroia and that Felix Doubront has a better ERA than Jon Lester or Josh Beckett.
It also doesn't help that they're relying on Vicente Padilla a bit too much. All of the wins they amassed in June were erased thanks to the Oakland Athletics and New York Yankees using a neuralyzer to make them forget how to win.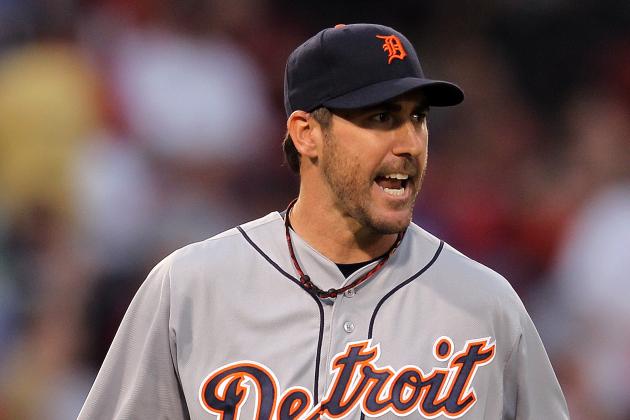 Jim Rogash/Getty Images

Brave film rating (according to RT critics): 77%
15) Baltimore Orioles 45-40
14) Detroit Tigers 44-42
13) New York Mets 46-40
Pixar was going on past glory to sell Brave. While visually striking, it didn't match up to Pixar's gallery of other films which include Up, the Toy Story trilogy, Finding Nemo and Wall-E.
The Orioles, Tigers, and Mets have all seen better days with their current teams not quite matching up to the powerhouses of the past.
The Orioles haven't been baseball relevant since the late '90s, but their current team is trying to match the caliber of those teams. No one really knows how they're doing it outside of Adam Jones. They're just winning and I'm just gonna leave it at that.
The Tigers were hoping to cash in on the duo of Miguel Cabrera and Prince Fielder. It hasn't worked out for them yet as they're sitting in third place for the AL Central. Justin Verlander is doing everything he can to win them games, but he needs help on the pitching end.
The New York Mets are surprising people as contenders for the NL East crown. They won't win it however until Johan Santana can consistently pitch well. For every game he throws a shutout, he pitches a complete dud the next time out.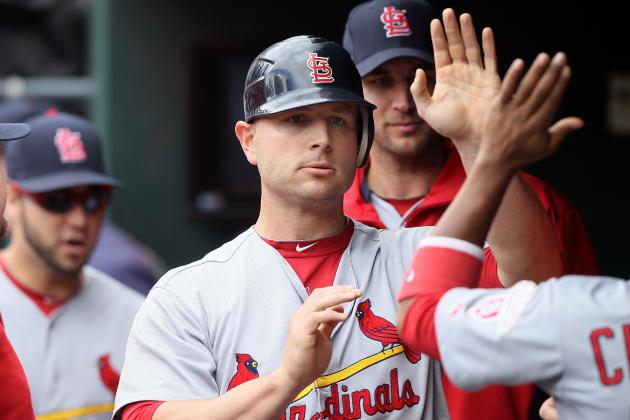 Jim McIsaac/Getty Images

Madagascar 3: Europe's Most Wanted film rating (according to RT critics): 75%
12) Tampa Bay Rays: 45-41
11) St. Louis Cardinals: 46-40
10) Cincinnati Reds: 47-38
Since DreamWorks doesn't have the roster Pixar has, Madagascar was just a bit more enjoyable. In fact, it was more enjoyable than what I expected it to be.
These three teams are more enjoyable to watch than those in the last division. The Rays are always finding ways to win under Joe Maddon. The Cardinals are living their post-Albert Pujols days quite comfortably and the Reds are pitching themselves to the top of their division.
The Cardinals and Reds are going to have a heated battle for the NL Central. The Cardinals have the offense to match the Reds pitching. The Reds haven't fared well against the Cardinals so far, and that might be the deal breaker as they are going to play a lot of games down the stretch.
The Rays have the misfortune of playing in the AL East which is a lot tougher this season. Their success is going to depend on how soon Evan Longoria returns and how well he bounces back from being on the DL for so long.
They're going to be in contention for one of the AL Wild Card spots, but to do clinch, they need their young rotation to step it up.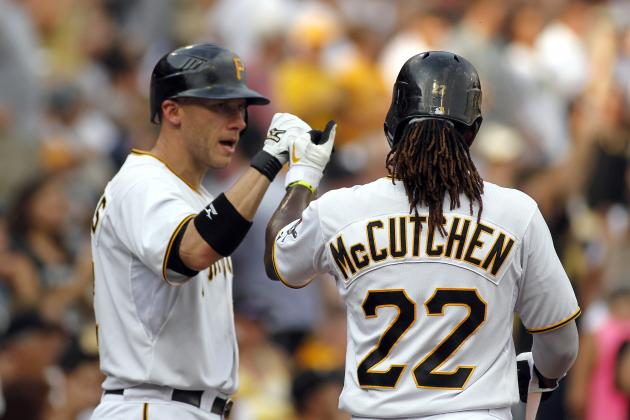 Justin K. Aller/Getty Images

Moonrise Kingdom film rating (according to RT critics): 94%
9) Atlanta Braves 46-39
8) San Francisco Giants 46-40
7) Pittsburgh Pirates 48-37
I nearly left Moonrise Kingdom off the list in favor of Ted, but that 94% rating convinced me otherwise. While being a great, nearly fantastic film, it doesn't hold the draw of remaining two films on this list. Let's just say the most people would elect to see The Dark Knight Rises instead.
These three teams aren't World Series contenders just yet. They also don't hold the draw of the remaining teams.
The Braves lack the starting pitching to carry them deep into the offseason. It remains to be seen if Ben Sheets will be able to help them out. I expect them to edge out the Washington Nationals for the NL East title, but I wouldn't be surprised if the Nationals find a way to hold on to it.
The Giants need a stronger bullpen and to get Tim Lincecum sorted out. Their offense is better this season, but that won't be enough to help them beat the Los Angeles Dodgers. Of late, their pitching has been letting up too many homers. That won't go well for them in the postseason.
The Pirates have been this season's biggest surprise. They're leading the NL Central despite nearly abysmal hitting. Pitching has been their strong point thanks to A.J. Burnett of all people.
Should the Pirates be able to hold off both the St. Louis Cardinals and Cincinnati Reds, it will be the biggest upset in a decade. That's saying a lot considering what happened last September.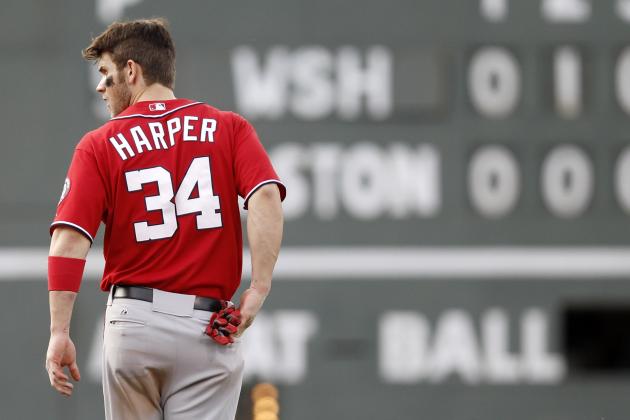 Winslow Townson/Getty Images

The Amazing Spider-Man film rating (according to RT critics): 74%
6) Chicago White Sox 47-38
5) Los Angeles Dodgers 47-40
4) Washington Nationals 49-34
This is where what the box office plays an important role in the rankings. The Amazing Spider-Man's weekend gross is nearly triple what Moonrise Kingdom has made in total. Spider-Man is more of a typical summer blockbuster and this list is all about summer blockbusters.
The White Sox have an all around decent team sitting atop the AL Central. Adam Dunn's resurgence and Alex Rios's great play has been part of why the White Sox are winning games. They're going to need another bat or pitcher if they want to hold onto the lead and contend for the World Series.
The Dodgers don't have the offense to best the teams ahead of them, but their pitching ranks among some of the best in the majors. They should be able to hold of the San Francisco Giants. With Matt Kemp returning this Friday and Andre Ethier on track to rejoin the club, the Dodgers have the pieces to win the NLCS.
The Nationals are the season's other great surprise by taking the Tampa Bay Rays-esque leap a season early. The trade for Gio Gonzalez helped pushed their rotation to the top. With Stephen Strasburg and Jordan Zimmerman pitching just as well, the Nationals have their sights on the playoffs.
Their young age and poor offense might derail the Nationals. That's why I see the Atlanta Braves possibly edging them out and the Nationals winning one of the wild-card spots this year.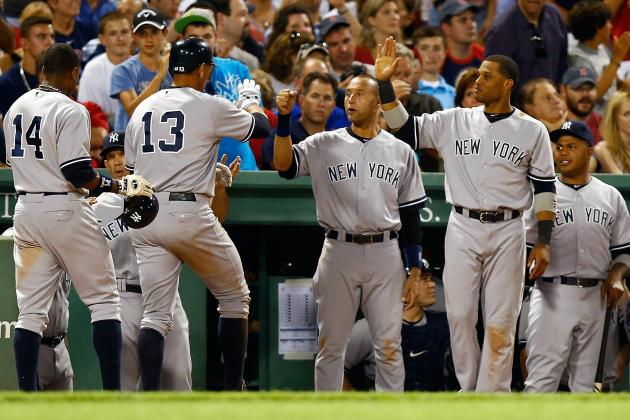 Jared Wickerham/Getty Images

Marvel's The Avengers film rating (according to RT critics): 93%
3) Los Angeles Angels 48-38
2) Texas Rangers 52-34
1) New York Yankees 52-33
Not much of a surprise here. The Avengers kicked off the summer movie season and has broken many records since opening night. It was able to take the biggest stars in the superhero movie world and put them together to make an outstanding film.
The Angels, Rangers, and Yankees have all put together the best teams in baseball this year, but not without its hiccups.
Albert Pujols started off alarmingly slow but has picked it up since. The one-two combo of Jered Weaver and C.J. Wilson will be able to keep the Angels in contention with Dan Haren hitting the DL. The Angel's youthful outfield has been their brightest spot so far, however. Mark Trumbo and Mike Trout are going to be the leaders of the Angels in years to come.
Despite all that however, the Rangers are still leading the Angels. The Angels will likely win a wild-card spot with Josh Hamilton's Rangers taking the AL West. The Rangers have the best offense in the league right now.
Yu Darvish has been as good as advertised, but they could still use another good starter to help them take the next step. Right now, they look like the favorites to take on the Yankees for the title of best of the AL.
The Yankees get the top spot for winning despite all of those injuries. Mariano Rivera, Brett Gardner, CC Sabathia, Andy Pettite, even Michael Pineda, those guys were important pieces to the team. Pineda is expected to miss the entire season, as is Rivera, but there might be some hope for Mo.
The Yankees started off miserably and still have to solve their RISP problems to win the World Series. But as of right now, they look like locks to reach the World Series especially with their players coming off the DL.