New York Yankees: Report Cards on the Bombers' 1st Half of 2012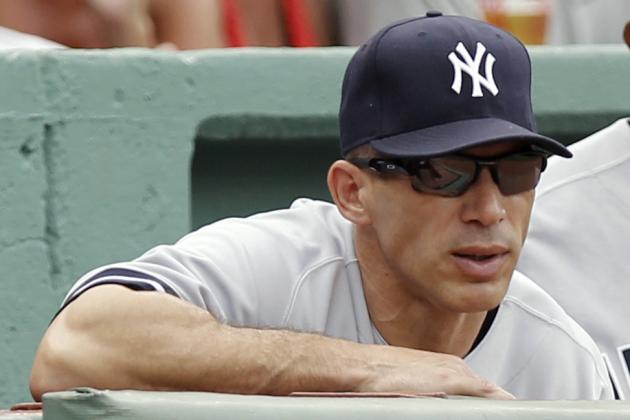 Winslow Townson/Getty Images

During the week of the All-Star break, it's a week to evaluate how teams have performed in the first half of the season.
The New York Yankees are 52-33, in first place of the A.L. East and have the best record in baseball.
They're seven games up in the division over the second-place Baltimore Orioles and they're also 5-1 against their rivals, the Boston Red Sox.
How have their players fared so far in 2012?
In this slideshow, lets give out the grades of how the Yankee players have done in the first half of the 2012 season.
Begin Slideshow

»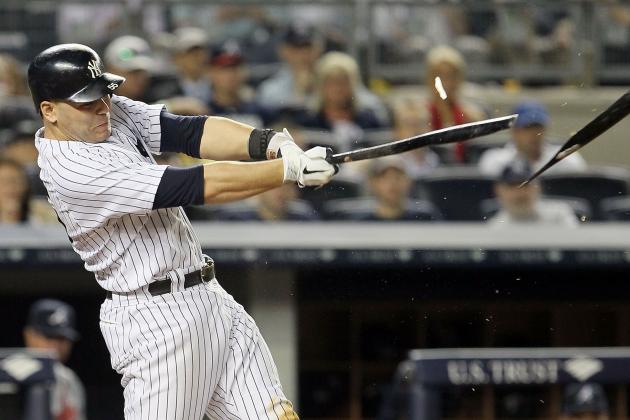 Jim McIsaac/Getty Images

2012 stats: .179, 8 HR, 21 RBI
Entering his walk-year as a free agent, it's been a rough season for the Yankees' catcher, as his power numbers are down and his batting average is below .200.
He's dealt with nagging injuries recently, which has also caused a drop-off in production.
His defense behind the plate has still been good despite the nagging injuries, managing the Yankees pitching staff and calling the games behind the plate, which is ultimately the biggest importance of Martin's role with the team.
However, if he could hit for a higher average, that would not only benefit Martin, but the Yankees as well.
Grade: D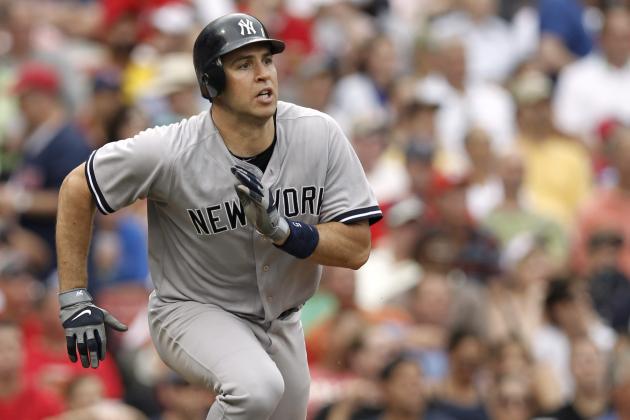 Winslow Townson/Getty Images

2012 stats: .250, 15 HR, 59 RBI
Mark Teixeira's average has hovered right around the .250 mark lately, but he's still on pace to hit 30 home runs and drive in over 100 RBI, which he has done every year with the Yankees since 2009.
He still plays solid defense over at first base, which is something they could never replace if he ever got injured.
Whether he hits in the number three or five spot in the lineup, Teixeira continues to be a dangerous hitter who can still drive the baseball from both sides of the plate.
Grade: B+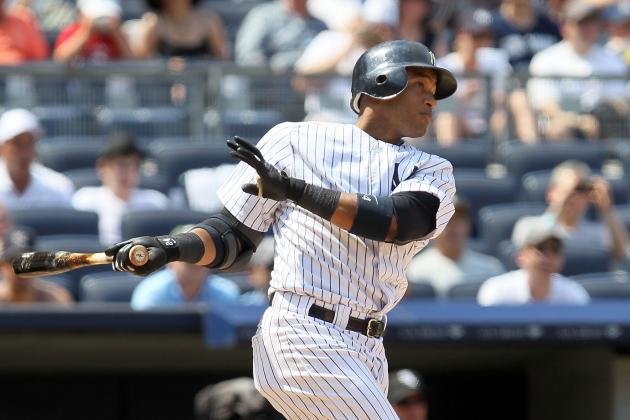 Jim McIsaac/Getty Images

2012 stats: .313, 20 HR, 51 RBI
Robinson Cano has had a good first half to his season, as he is second for the Yankees in home runs and RBI.
Cano was voted to be the starting second basemen for the American League in the 2012 All-Star Game, even though his performance in the Home Run Derby was one to forget.
Despite that, Cano has turned into the Yankees' most lethal and complete hitter who can hit for power and average.
Grade: A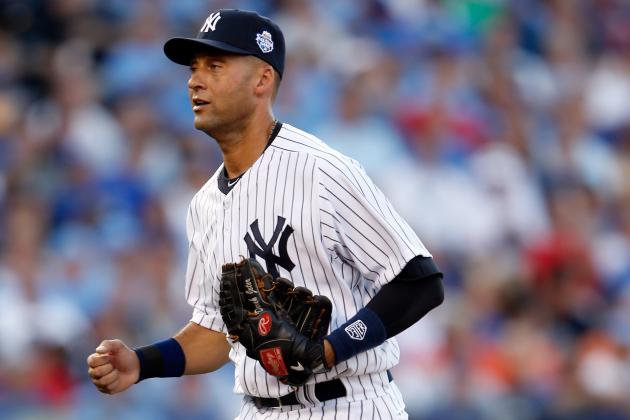 Jamie Squire/Getty Images

2012 stats: .308, 7 HR, 25 RBI
The Yankees' captain got off to a tremendous start to the season, hitting near .400 and at times, was playing better than when he was 28 years old.
Now at 38, Jeter is still defying father time by showing the baseball world that he's not even close to being done and has done a tremendous job as the Yankees everyday shortstop and lead-off hitter.
His average dipped some since April, but he continues to be a great hitter in the Yankees lineup.
Jeter was also voted to be the starting shortstop for the 2012 All Star Game for the American League.
Grade: A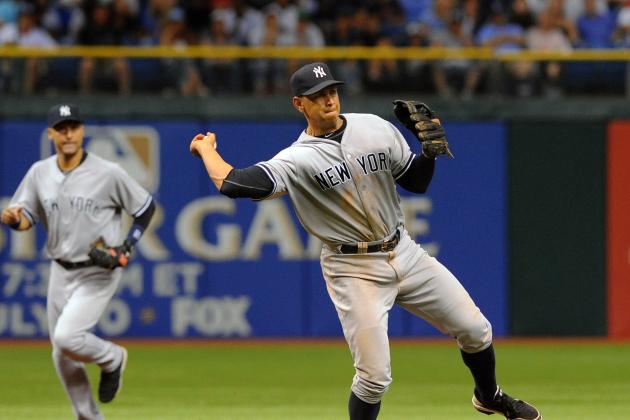 Al Messerschmidt/Getty Images

2012 stats: .269, 13 HR, 38 RBI
It's been a slow start for the Yankees' cleanup hitter.
His average is down and his power numbers are extremely down, yet Joe Girardi still bats him in the middle of the lineup.
Girardi thinks A-Rod will turn it around and have a strong second half for the Yankees, something the Yankees will definitely need if they want to keep a hold of their division lead.
The fans would probably trade a bad few months in the regular season for one more memorable October that ends in a World Series victory.
Grade: C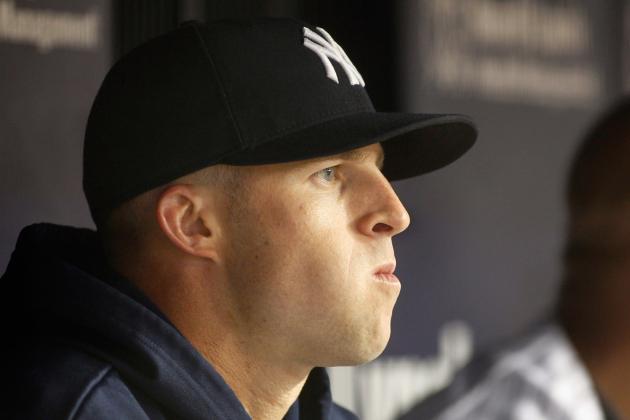 Mike Stobe/Getty Images

2012 stats: .321, 0 HR, 3 RBI
Brett Gardner has played a total of nine games for the Yankees in 2012.
He's been on the disabled list with an elbow injury since April 18 and is not expected to be back until late July.
The Yankees have gotten by without Gardner in the lineup, but what he brings to the team has been missed.
Gardner's speed and defense in the outfield will be a great asset to the team if and when he does make his return to the Bronx.
Grade: INC.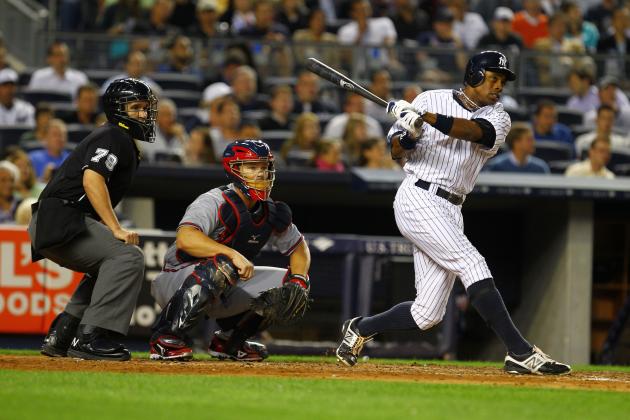 Al Bello/Getty Images

2012 stats: .248, 23 HR, 48 RBI
The Yankees' starting center fielder is having another fine season as he leads the team in home runs despite his low batting average.
He's on pace again to hit 40-plus home runs for the Yankees and could be another MVP candidate if his numbers are a repeat of 2011.
He was also the starting center fielder for the American League in the 2012 All Star Game with his good first half.
It would be nice if his average were a little higher, but his power numbers are still solid.
Grade: A-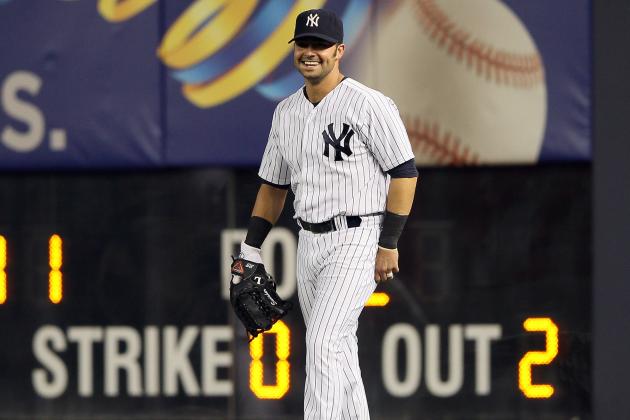 Elsa/Getty Images

2012 stats: .262, 13 HR, 51 RBI
Nick Swisher in his contract year has put up solid numbers for the Yankees and could really make it tough on them to re-sign him when November hits.
With Andre Ethier off the market, Swisher will be one of the top free agent right fielders who averages around 20 home runs and 80 RBI, which is what he is on pace for in 2012.
I think depending on how Swisher finishes in the second half and how he performs in October will ultimately determine if the Yankees decide to bring him back.
But up until now, Swisher is producing his typical numbers.
Grade: B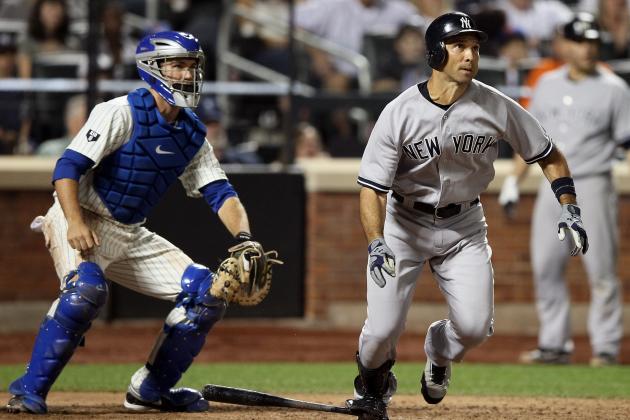 Elsa/Getty Images

2012 stats: .240, 11 HR, 36 RBI
Raul Ibanez has given the Yankees more than they could have expected when they gave him a one-year, $1.1 million deal this winter.
Ibanez was signed to be the primary DH taking over for Jorge Posada and Jesus Montero, but with Brett Gardner on the DL since April, Ibanez has played a lot of games in the outfield for the Yankees.
At 40 years old, Ibanez is still very athletic and can play the outfield if needed for the Yankees, although he really shouldn't play in the field everyday.
If they can get Gardner back and put Ibanez back solely as a hitter, it will make the Yankees lineup a deeper and better one.
Grade: B+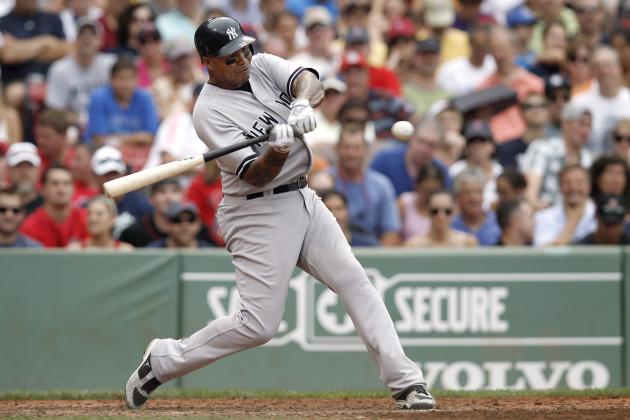 Winslow Townson/Getty Images

2012 stats: .244, 11 HR, 22 RBI
When the Yankees brought in the Braves' former star outfielder, everyone thought Brian Cashman was crazy. But in reality, Andruw Jones has been a solid fourth outfielder for the team.
In 2012, he's already hit 11 home runs, where as in 2011, he hit 13 all season.
Jones was supposed to be the primary starter against lefty pitching, but with Brett Gardner's injury, it's given Jones more opportunities to play for the Bombers.
In the last series before the All-Star break, Jones torched the Red Sox for four home runs, looking like the home run hitter he did in his prime.
Grade: B+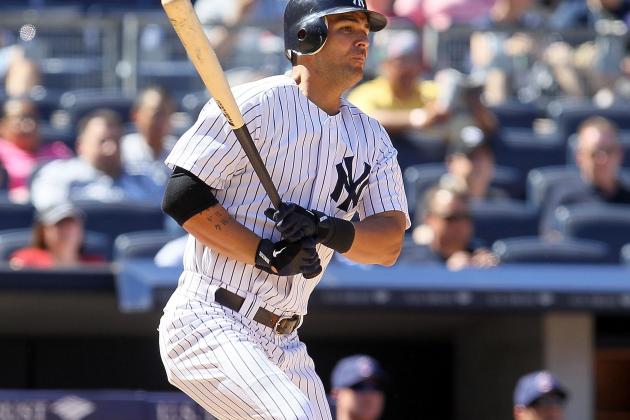 Jim McIsaac/Getty Images

2012 stats: .282, 7 HR, 19 RBI
I really liked the signing of Eric Chavez last year to add depth to the Yankees bench. When they brought Chavez back for 2012, it was a great decision to make.
Chavez has been able to play first and third for the Yankees while coming up with some big hits and home runs for the Yankees.
On defense, he still can show signs of being the Gold Glove third baseman out in the field.
His presence in the locker room and in the dugout has been a positive and a plus for the Yankees.
Grade: B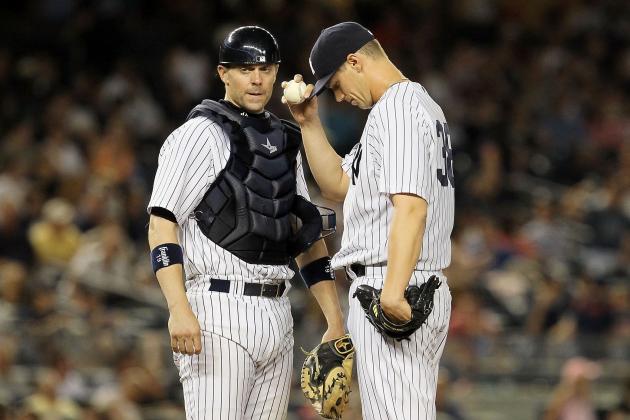 Jim McIsaac/Getty Images

2012 stats: .252, 0 HR, 10 RBI
He was brought in right before the season to be the Yankees' backup catcher, which surprised many because everyone thought Francisco Cervelli was going to be the backup.
Stewart has done everything you can expect out of a backup catcher: play decent offense and play solid defense behind the plate.
Some have even pegged Stewart as being CC Sabathia's personal catcher for how well they have worked together when the Yankees' ace pitches.
His offensive numbers aren't flashy, but as a backup behind the plate, Stewart was a fine addition.
Grade: B-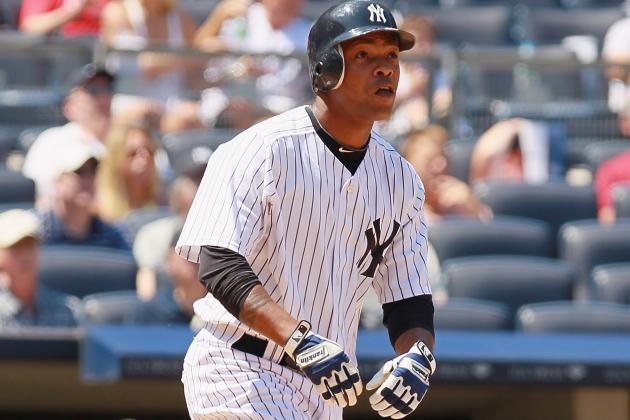 Mike Stobe/Getty Images

2012 stats: .260, 3 HR, 6 RBI
Dewayne Wise was slated to be the fifth outfielder for the Yankees, but with Brett Gardner's injury, it moved Wise into the fourth outfielder's spot.
He plays a solid defense, but his bat doesn't warrant him to be an everyday starting outfielder.
As a late-inning defensive replacement, Wise is still a good player for Joe Girardi to have out there.
In a blow-out game against the White Sox this year, Wise got a chance to pitch for the Yankees and was able to hold his own against the Chicago hitters.
Grade: C+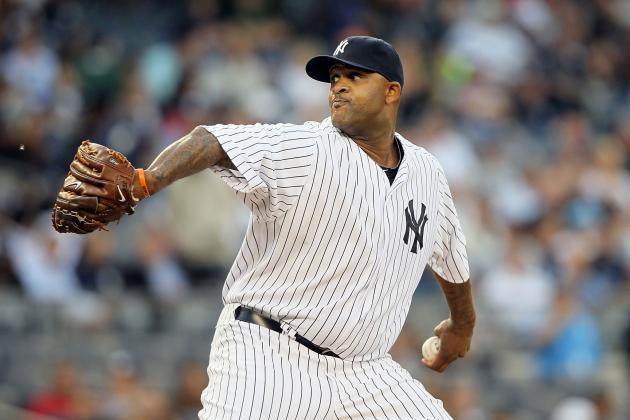 Jim McIsaac/Getty Images

2012 stats: 9-3, 3.45 ERA, 103 strikeouts
The Yankees' ace continues to have another fine season in pinstripes.
He ran into some minor injury problems late last month, but he's not expected to miss much time and should be back on the mound when the Yankees return from the break.
CC Sabathia continues to rack up innings and strikeouts along with the wins, and hopefully his groin injury won't slow down the big left-hander.
If the Yankees are going to win the division and win in October, they will need Sabathia healthy.
With his strong first half, Sabathia made the 2012 American League All-Star team, but because he was on the DL, was not able to play.
Grade: A-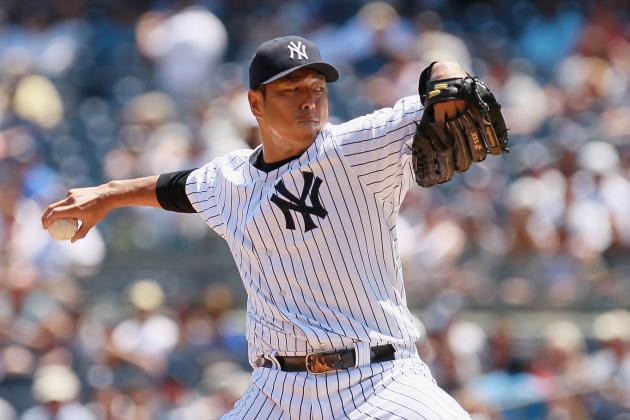 Mike Stobe/Getty Images

2012 stats: 8-7, 3.50 ERA, 83 strikeouts
Hiroki Kuroda got off to a rocky start with the Yankees, but really settled in and has been a solid pitcher for the Bombers.
Kuroda at times has looked lost on the mound, but for the most part, Kuroda has looked like a strong pitcher who chews up innings and has been very durable and solid.
In most of his starts, when Kuroda has been on the mound, the Yankees have had a chance to win.
The Yankees will need Kuroda to continue his success in the second half if they want to make the postseason.
Grade: B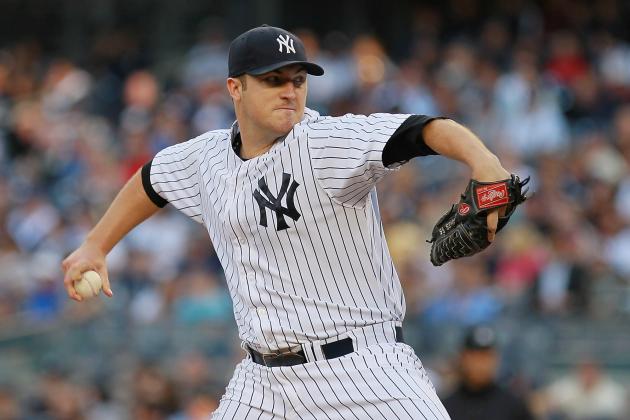 Mike Stobe/Getty Images

2012 stats: 9-7, 4.33 ERA, 92 strikeouts
Phil Hughes started out horribly for the Yankees and was very close to being demoted out of the rotation.
But ever since May 1, Hughes went from a 1-4 start and a 7.48 ERA to a 9-7 record and a 4.33 ERA, which has saved Hughes' job within the rotation.
He still has the occasional poor performance, like he did in his last start against the Red Sox, but he's due to get double-digit wins in 2012 and continues to pile up strikeouts and innings.
If Hughes can continue to do what he's done since May 1, the Yankees will benefit from it.
Grade: B-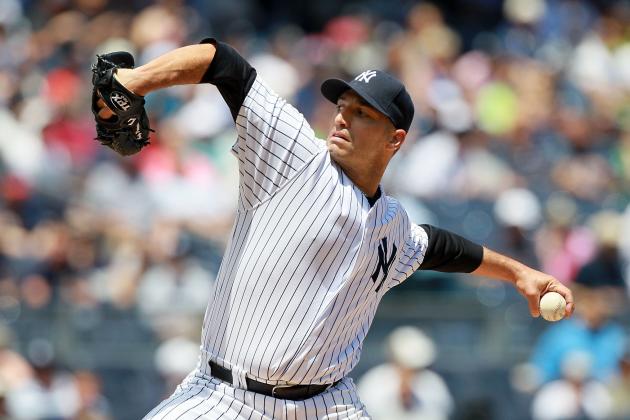 Jim McIsaac/Getty Images

2012 stats: 3-3, 3.22 ERA, 59 strikeouts
Andy Pettitte retired before the 2011 season and was out of baseball all of last year, so when he announced he was making a return to the Yankees for 2012, it was a big deal to the team.
Given the fact that Freddy Garcia was struggling and Michael Pineda was out for the season with an injury, having Pettitte back turned out to be a big deal.
In his first nine starts, Pettitte had a 3-3 record with a 3.22 ERA with 59 strikeouts in 58.2 innings.
On June 27 against the Indians, Pettitte suffered a fractured ankle when he took a line-drive off his ankle, and will be out for six to eight weeks.
It was a tough injury for the Yankees to have, given he was pitching brilliantly and they hope he can be back and healthy in mid-August or early September.
After a year off, Pettitte looked like hadn't missed a beat for the Yankees.
Grade: A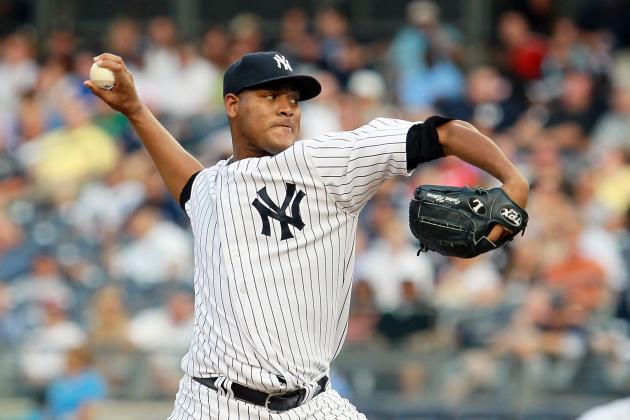 Jim McIsaac/Getty Images

2012 stats: 10-3, 3.92 ERA, 100 strikeouts
Ivan Nova started out 2012 as the Yankees' fifth starter, but he's been one of their best starters in 2012.
He was the first starter for the Yankees to win 10 games, which he accomplished this past Sunday by defeating the Red Sox.
He's given the Yankees a lot of innings; 110.1 to go along with the 10 wins and 100 strikeouts.
What's impressive about Nova is that he got his ERA down from 5.69 back on May 19 to 3.92 on July 8.
Nova had an impressive second half in 2011, and if he has a repeat performance of it in 2012, he could have a chance to win 20 games for the Yankees.
Grade: B+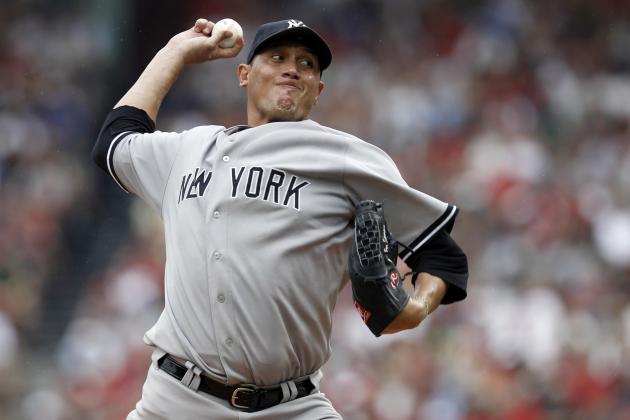 Winslow Townson/Getty Images

2012 stats: 3-2, 5.23 ERA, 32 strikeouts
At the end of April, Freddy Garcia lost his spot in the Yankees' rotation, mostly due to the fact that he had an 0-2 record with a 12.51 ERA.
As a long reliever for the Yankees, Garcia has pitched better and has gotten his ERA down and his velocity has seemed to returned to where it was in 2011.
When both Andy Pettitte and CC Sabathia landed on the DL in a span of 24 hours, Garcia made a return to the rotation and has been much better in his second stint in the rotation.
Against the Red Sox before the break, Garcia held Boston to one run over 6.2 innings to get his third win of the season.
The Yankees have been rumored to make a deal for a starter before July 31, and how Garcia pitches will determine if they decide to make a move or not.
Grade: C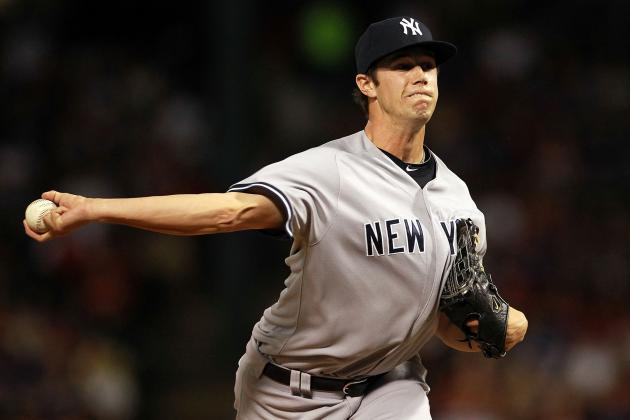 Ronald Martinez/Getty Images

2012 stats: 0-0, 2.70 ERA, 14 strikeouts
When the season started, nobody really knew who Cody Eppley was, but because of injuries to the Yankees' bullpen, it gave the 26-year-old an opportunity.
He was called up on April 20 and has done a great job with the Yankees in the bullpen.
In 29 appearances, he's pitched in 23.1 innings and has a 2.70 ERA with 14 strikeouts. He does have 11 walks and his control can be erratic at times, but given that he barely pitched for the Rangers in 2011, he's been a steady arm in the Yankees' bullpen.
In the second half, it'll be interesting to see how Eppley can perform for the Bombers in key games when they are chasing a pennant.
Grade: B-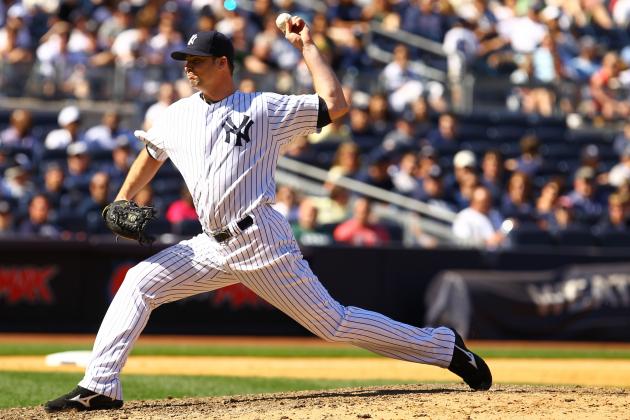 Al Bello/Getty Images

2012 stats: 4-0, 3.77 ERA, 41 strikeouts
Boone Logan went from being the third lefty in the Yankees' bullpen to the number one lefty by default in 2011 due to injuries to Damaso Marte and Pedro Feliciano.
Feliciano is still on the DL and Marte is out of baseball, but Logan has done well for the Yankees.
In 43 appearance, Logan has pitched in 31 innings, has a 4-0 record with a 3.77 ERA with 41 strikeouts.
In a year where the Yankees bullpen has had to call up a lot of different people and go with some younger names most might not know about, Logan has been one of the consistent relievers the Yankees and Joe Girardi has been able to count on.
Grade: B+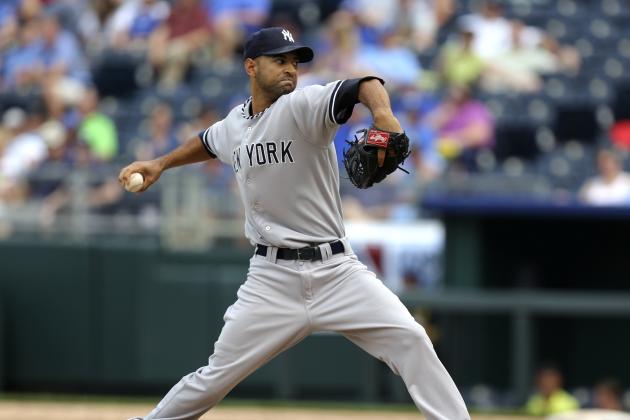 Ed Zurga/Getty Images

2012 stats: 0-1, 6.48 ERA, 34 strikeouts
Cory Wade's 2012 was going just fine until the middle of June.
Wade gave up a tying home run to the Washington Nationals on June 16 and since then, it's like the wheels came off for Wade.
Since that blown save, he's allowed 16 earned runs, which has skyrocketed his ERA all the way up to 6.48, which not only got him demoted to Class AAA, but it forced the Yankees to trade for Chad Qualls.
Wade got called back up for the second game of the double-header against the Red Sox at Fenway Park on July 7, but that was another disastrous outing.
In 0.2 innings pitched, he allowed three runs on four hits and put the game out of reach for the Yankees in the 9-5 loss.
Wade has clearly fallen out of favor in the bullpen and with the returns of Joba Chamberlain and David Aardsma looming, he may not be back for a while.
Grade: F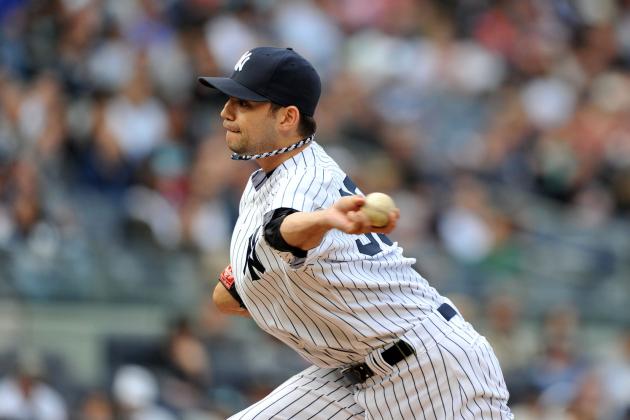 Christopher Pasatieri/Getty Images

2012 stats: 2-0, 2.55 ERA, 23 strikeouts
Clay Rapada came into the season hoping for a chance to win a spot in the bullpen, and with injuries to Pedro Feliciano and Cesar Cabral, Rapada got onto the roster almost by default. But he has done very well in 2012.
Rapada has become the Yankees lefty-specialist pitcher, which is also known as the "loogy," or the lefty one-out guy.
In 41 appearances, Rapada has a 2-0 record with a 2.55 ERA and 23 strikeouts in 24.2 innings with the Yankees.
In fact, Rapada has been so effective, he hasn't allowed an earned run since June 7 against the Rays.
His ERA then was 4.30, and he hasn't allowed a run in 18 straight appearances, which is why his ERA is now at 2.55.
For someone who wasn't originally thought to be on the team when the season started, Rapada has held up very well.
Grade: B+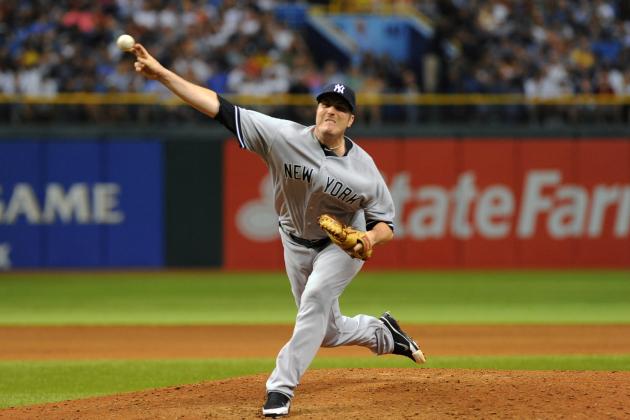 Al Messerschmidt/Getty Images

2012 stats: 1-1, 4.41 ERA, 20 strikeouts
The Phillies slowly started to sell off their trade chips late last month. In their second trade of June, they traded Chad Qualls to the Yankees on July 1 for a player to be named later.
Qualls had been designated for assignment, and with Cory Wade's struggles in 2012, the Yankees needed help.
Thus far for the Yankees, he's pitched in 3.1 and allowed one run with a 2.70 ERA, so for a small sample size, he's looked decent on the mound.
The question is going to be how Qualls can hold up pitching in bigger situations for the Yankees when they are chasing the pennant come the second half of the season.
Grade: C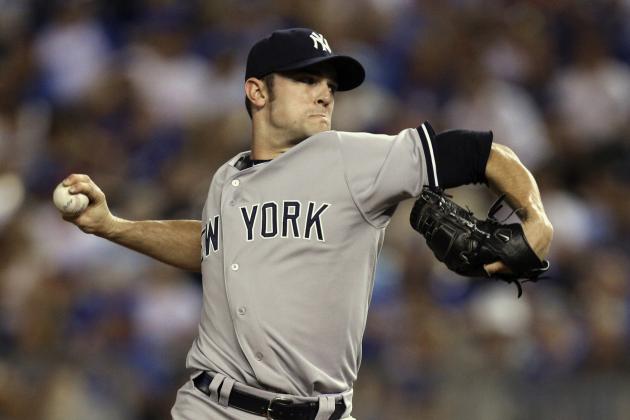 Ed Zurga/Getty Images

2012 stats: 0-3, 2.55 ERA, 40 strikeouts
David Robertson got a chance to be the closer when Mariano Rivera went down with an injury, but he hit the DL and was out from May 12 until June 15.
Since his return back in mid-June, he's been regaining his form that made him an All-Star a year ago, piling up strikeouts.
He's had a couple of poor performances where he's given up a couple of go-ahead home runs to the opposition.
He still has nine holds for the Yankees and has 40 strikeouts through just 24.2 innings, which is a terrific ratio.
Robertson is clearly meant to be the setup man for the Yankees as to being the closer.
Grade: B-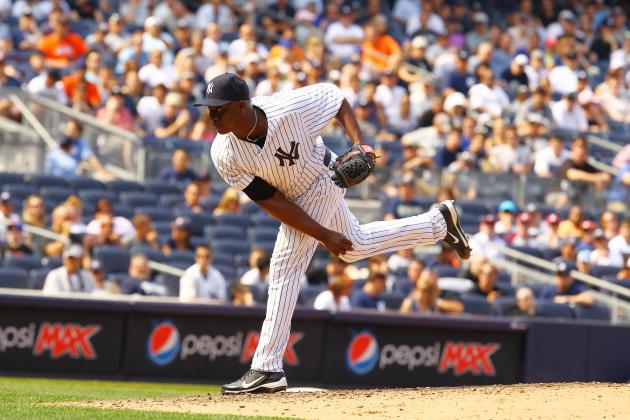 Al Bello/Getty Images

2012 stats: 2-0, 1.60 ERA, 34 strikeouts, 20 saves.
When Mariano Rivera went down with the ACL injury, Joe Girardi said both David Robertson and Rafael Soriano would split time as the closer.
When Robertson went on the DL on May 13, Soriano became the closer by default, but he's done a great job in the role.
He's 20-for-21 in save opportunities and the only one he blew was back on June 10 against the New York Mets.
He's only allowed six earned runs all season and no home runs.
In 33.2 innings, he has a 1.60 ERA with 34 strikeouts, which are very good numbers. And in 2012, he looks much more comfortable pitching in the Bronx.
With the opt-out looming this winter, it'll be interesting to see what Soriano does.
Grade: A+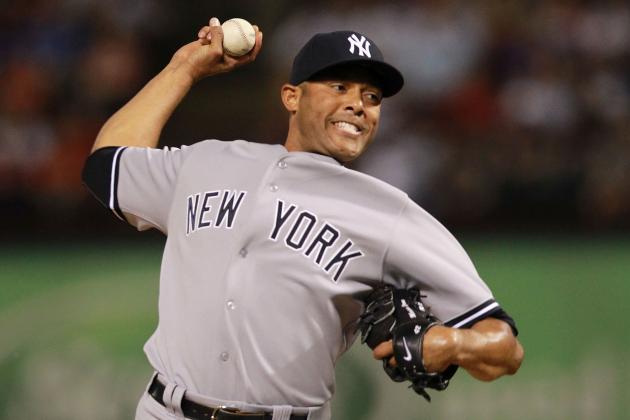 Ronald Martinez/Getty Images

2012 stats: 1-1, 2.16 ERA, 8 strikeouts, 5 saves
When the 2012 season began, we all kind of thought this would be the final hurrah for the Yankees closer.
That was until May 3, 2012, when Mariano Rivera was shagging fly balls in the outfield of Kauffman Stadium in Kansas City and tore his ACL, which required surgery and he was expected to miss the rest of the 2012 season.
Rivera quickly declared that he was not through just yet and wanted to return for the Yankees in 2013 because he didn't want his career to end like that.
However, there's some hope for Rivera in 2012, as Joel Sherman of the New York Post reported that Dr. Keith Pyne said that Rivera's rehab is progressing faster than expected and there's a slight chance he might make it back for 2012.
In May, the Yankees didn't expect to see Rivera back until 2013. But if they can see him anytime in 2012, whether it's September or even October, that would be a tremendous victory for the Yankees.
Grade: INC