Dwight Howard Sweepstakes: Which Team Needs Him Most?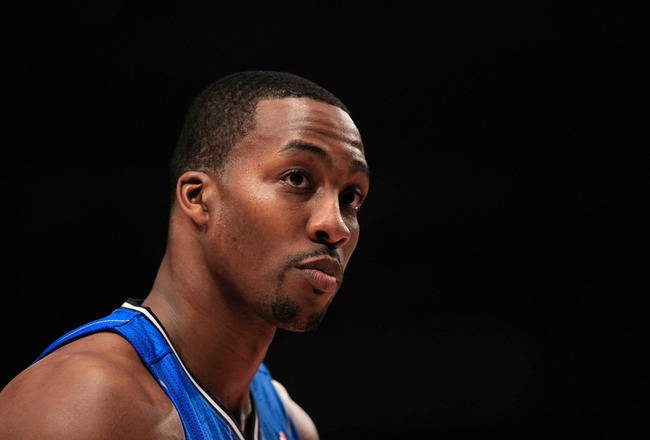 Chris Trotman/Getty Images
The Dwight Howard trade rumors have dominated the offseason, but what NBA team would get the most benefit from the elite big man?
ESPN reports that the Magic are in talks with no fewer than four teams hoping to acquire the most dominant center in the league. Yet while Howard could make nearly any team a contender, some of his suitors are closer to a championship than others.
When the dust settles, Howard could be leading a powerhouse on a deep run through the postseason next spring. However, there are cellar-dwelling franchises out there that would be transformed by adding a bona fide superstar into the mix.
Of the five teams currently involved in the Dwight Howard sweepstakes, let's break down which teams truly need him most and which would simply like to have him.
5. Orlando Magic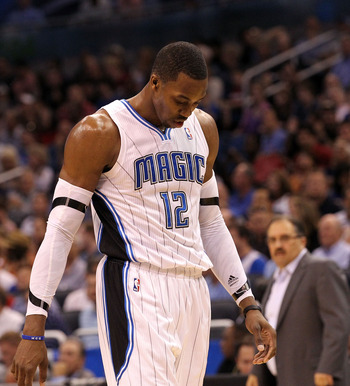 Sam Greenwood/Getty Images
With all the trade rumors floating around, it's easy to forget that Howard could conceivably still be in a Magic jersey next season.
If that is the case, none of the parties involved will be pleased.
Howard has been trying to get out of Orlando since the lockout ended. After more than six months of turmoil, he is a dark cloud over GM Rob Hennigan's rebuilding efforts. The Magic would be better off bottoming out and getting a higher draft pick than keeping a disgruntled Howard and going nowhere anyway.
On top of that, Howard's departure would bring in a bevy of future draft picks. The Orlando Sentinel reported prior to the 2012 draft that Hennigan wants to use the training he picked up with the Thunder front office to restock the Magic with prospects. Trading Howard would be the perfect way to acquire the picks necessary to do that.
Even if Hennigan would likely receive choices in the late first round rather than the lottery, they will be of more use to him than a disgruntled center on a team in transition.
4. Los Angeles Lakers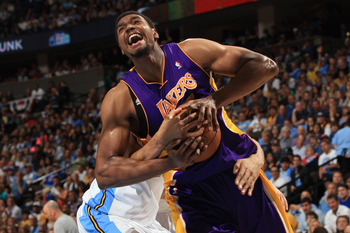 Andrew Bynum
Doug Pensinger/Getty Images
Though the Lakers have been linked with Howard since last December, they happen to have the only other franchise center in the NBA.
Howard put up his usual impressive statistics last season, averaging 20.6 points per game and 14.5 rebounds per game. In Los Angeles, Bynum kept pace with 18.7 points and 11.8 rebounds per game even while getting fewer touches and playing with more capable rebounders.
When we consider their numbers per 36 minutes, the disparity shrinks further. On the scoring front, Howard averaged 19.4 points to Bynum's 19.1, and Howard pulled in 13.7 rebounds to Bynum's 12.1.
In any potential Howard deal, Bynum would go either to the Magic or to a third team to facilitate the swap. However, the Lakers really have no pressing need to give up assets for Howard when they already have a dominant center on their roster.
3. Brooklyn Nets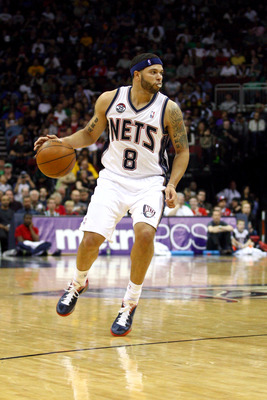 Deron Williams
Chris Chambers/Getty Images
Brooklyn may be Howard's preferred destination, but the Nets are already improving in leaps and bounds without him.
Billy King has arguably been the busiest GM in basketball this offseason, throwing around eight-figure contracts to fast-track his rebuilding effort. First, it was a four-year, $40 million deal for Gerald Wallace, followed by a trade for Joe Johnson and his $90 million in remaining salary. These deals convinced Deron Williams to resign to a max deal, giving the Nets a strong core moving forward.
The only thing missing in Brooklyn is a post presence. Unfortunately, the Nets do not have the cap space remaining to take on some unsavory contracts Orlando would like to dump. They will likely resign Brook Lopez if they cannot complete a trade, but the Nets would have become instant contenders with Howard onboard.
Howard would be the final piece of a new Big Three in Brooklyn, but the Nets can find their way back to the postseason with the players they have now.
2. Atlanta Hawks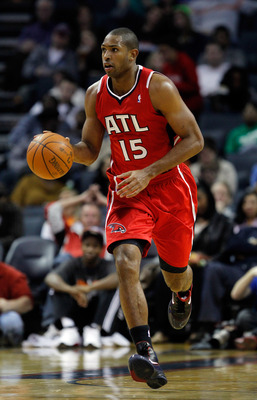 Streeter Lecka/Getty Images
The Atlanta Hawks have been a poor man's version of the Lakers in recent years.
With a high-volume scorer in Johnson and two strong post players in Al Horford and Josh Smith, the Hawks' roster is constructed in a similar way. There are many differences between the two teams, but one in particular is relevant to the Howard sweepstakes: Horford is no Andrew Bynum.
Though he was injured much of last season, Horford's numbers were about on par with his career rate, which is to say they paled in comparison to Howard's. The Hawks center has averaged 13.7 points and 10.1 rebounds per 36 minutes in his career. With those statistics, he is a serviceable player, but not a star on Howard's level.
According to the Atlanta-Journal Constitution, the Hawks were prepared to offer Horford to Orlando along with Jeff Teague and draft picks. Though Atlanta had previously fallen out of contention for Howard, it was fine because the Hawks still had the core of a good team.
Now Atlanta is back in the mix, looking to make a major upgrade of its interior. If the Hawks pull this off, it will make the difference between a good team and a great one.
1. Houston Rockets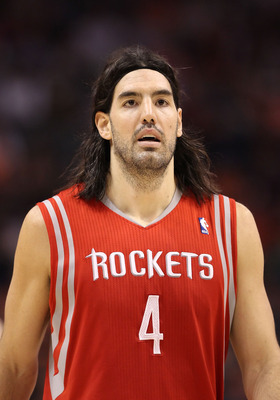 Luis Scola
Christian Petersen/Getty Images
There is a youth movement happening in Houston, and the Rockets are in need for both star power and a center.
After the Rockets missed the playoffs for the third straight season, Morey decided to keep his stockpile of young talent and blow up the rest. Kyle Lowry is destined for Toronto, and Kevin Martin and Luis Scola are both on the block, according to ESPN. Though Houston would be hard-pressed to trade all three and still hit the salary floor, the Rockets have officially entered a rebuilding effort.
Houston has an overabundance of forwards, with no fewer than six post prospects on their roster. What they do not have is a true center. A guy of Howard's caliber would take the pressure off Houston's forwards and allow them to develop alongside a superstar.
According to NBC Sports, Houston would cease their pursuit of Howard only to acquire Bynum in a three-team deal. Either way, the fact remains that the Rockets needs a presence on the interior, and Howard would help them more than he could help anyone else.
Keep Reading