Alabama 2012: 3 Men Who Could Stop Tide from a BCS Title Repeat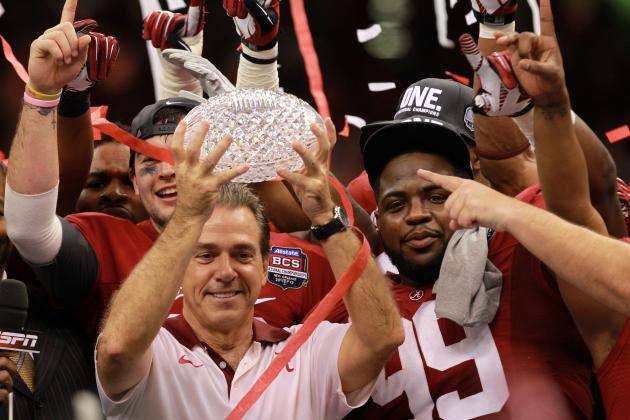 Ronald Martinez/Getty Images

Winning a national championship in college football is not an easy thing to do. Winning two out of three is extremely rare. Winning three out of four is almost unheard of. And to accomplish any of these feats when your jersey says Alabama on it is even more difficult.
As the Crimson Tide gets closer and closer to the start of fall practice and begins to really focus on winning yet another BCS National Championship, there are 12 other schools circling their calendars, marking with a bright red Sharpie the day that they get their shot at the defending champs.
It is no secret that the Tide has lost a lot from last year's title run. Names like Hightower, Barron, Richardson and Upshaw are now bright lights in Alabama history, but no longer available for on-field action.
The new generation of 'Bama superstars come with quite a bit of hype themselves. Chris Black, Amari Cooper, T.J. Yeldon and more are expected to have immediate impact in 2012.
With the stockpile of talent that head coach Nick Saban has amassed year after year, Alabama appears to be fully loaded for years to come. Alabama does not rebuild under Saban, it simply reloads
But with the many changes that will be seen on the field for Alabama this fall, there are sure to be some mistakes. Players will miss assignments and run the wrong routes. Blocks will be missed and arm-tackling will occur.
As is always the case in big time college football, mental lapses will most certainly lose ballgames.
Looking at the gauntlet that the Tide will call a schedule in 2012, there are many places where Alabama could potentially trip up. A particular night game in Baton Rouge this November comes immediately to mind. But there are three athletes in particular who could single-handedly blow the Tide right out of the national championship picture.
Begin Slideshow

»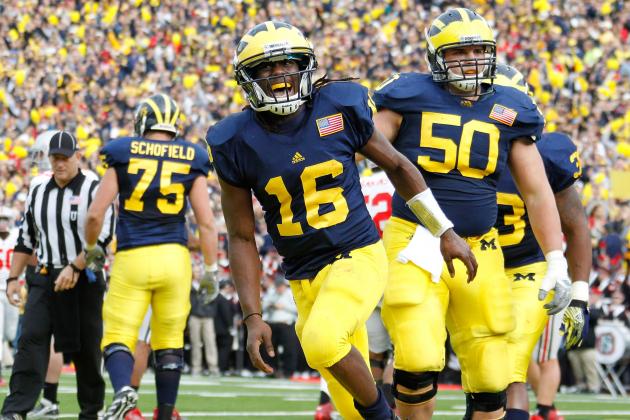 Gregory Shamus/Getty Images

Returning for his senior year, Michigan's Denard Robinson is one of the most threatening forces in all of college football. With catlike quickness and enough of an arm to be dangerous, Robinson is a true double threat.
Through the air, Robinson completed 55 percent of his passes in 2011, including 20 touchdowns. He did throw 15 interceptions, though, and has a tendency to try and force the ball into tight holes.
The thing that makes Robinsion the Heisman Trophy candidate that he is, however, is his ability to run with the ball. With 1176 yards and 16 touchdowns on the ground in 2011, Robinson was 31st in the nation in rushing yards. Averaging over five yards per carry, he just about single-handedly beat rival Ohio State last season.
Linebacker Dont'a Hightower has left the Tide for the bright lights of the NFL. Hightower was the best "spy" Alabama had last season. His ability to maintain his position and, at the same time, keep a close eye on an opposing quarterback that might have a mind to take off will have to be replaced.
And as if it is not hard enough to track Robinson down on a regular Saturday, the Tide will have to do it in their Sept. 1 opener at the Jerry Jones Dome in Dallas. This does not leave Alabama a whole lot of time to prepare for a threat the likes of Robinson.
Michigan is going to have to deal with some very lofty expectations this season and a win over the defending champs would set Ann Arbor on fire.
Finishing 13th nationally in total passing yards last year, Tyler Wilson has Razorbacks fans thinking that this year might be their turn for a national title run. Wilson completed over 63 percent of his passes in 2011 while compiling 24 touchdowns and only throwing six interceptions.
He has an extremely strong arm and has never been afraid to throw the ball deep. Also a solid decision maker who rarely makes unforced errors a la Alabama's own A.J. McCarron, Wilson will not be intimidated by the spotlight of a big game either.
Alabama is replacing three of its four starters in the defensive secondary this season. If the Tide can survive the Michigan game, their reward will be the Razorbacks. This will be the first true test for the inexperienced secondary and having to do it in Fayetteville will only make it more difficult. Alabama could walk away from this game with a new set of defensive stars, or with an exposed and undermanned secondary.
Wilson has faced the difficult SEC West schedule before and now has the experience as well as the confidence to make Arkansas a legitimate national contender. Beating Alabama early in the season could be the game to put them over the top.
As one of the two newcomers to the Southeastern Conference, not too may SEC fans know a whole lot about Missouri. After a 4-5 start in 2011, quarterback James Franklin hit his stride and led the Tigers to four consecutive wins to finish the season.
Franklin threw for 2,865 yards in 2011, along with 21 touchdowns and just 11 picks. His accuracy has continuously improved, making him a legitimate passing threat. Like Michigan's Robinson, though, Franklin has much more than a good arm.
Franklin also ran the ball for over 900 yards last year, including 15 touchdowns. With another dual-threat quarterback, Mizzou will evenly mix the run and the pass, making it virtually impossible for opposing defenses to know what is coming next.
Missouri is convinced that it will be able to compete right away in the SEC this year, much because of Franklin. The Tigers face Alabama at home and are likely to be on the hunt for their first signature win in their new conference.
Even though this game is in the middle of the season and comes after a bye week, Alabama's young defense will once again have to prepare for a little bit of everything before facing Franklin and the Tigers in Columbia.