Japan Olympic Men's Soccer Team 2012: Updated News, Roster and Analysis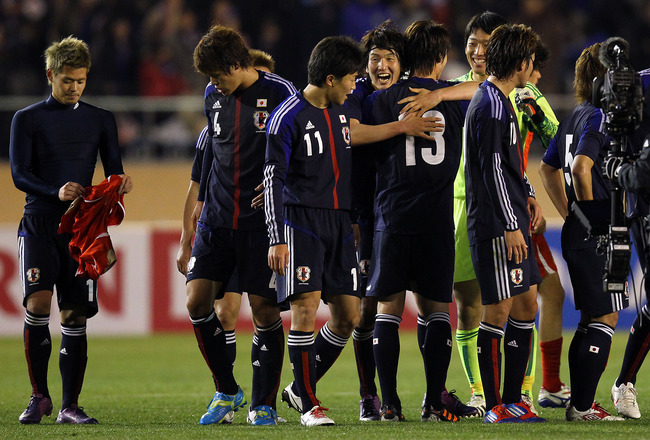 Koji Watanabe/Getty Images
Japan has finalized their 18-man roster for the 2012 London Olympics. While it may lack some of the firepower of other countries' rosters, they are a good technical team and could surprise a side that are looking beyond the matchup in the knockout rounds.
Japan has a solid roster, but left some outstanding talent off their side. This might impact their tournament projections, but the expected matchups make any real threat of securing a medal low.
We discuss those items and more in the slides ahead.
Final Roster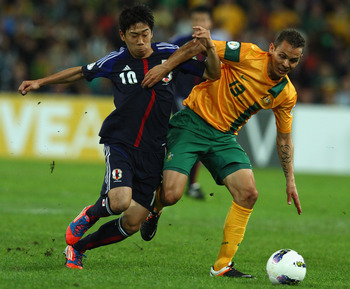 Shinji Kagawa was one of the surprising omissions from Team Japan.
Robert Cianflone/Getty Images
Olympic rosters can include three players over the age of 23. Japan's final roster only includes two such players, despite a rich talent pool from which to choose.
Also missing from the roster is recent Manchester United signing Shinji Kagawa, playmaker Keisuke Honda and Ryo Miyaichi, a teenage phenom who plays for Arsenal.
It is difficult to tell what the thinking was behind the "Blue Samurai" team. Head coach Sekizuka appears focused on fielding a tactical defensive squad, but they will need to be able to score on Spain and/or Brazil if they plan to win a medal.
Per goal.com, when asked about leaving Miyaichi and other players off the roster, Takashi Sekizuka wasn't overly responsive. "We looked at their performances and their positions, and we discussed a lot of things in coming up with our list of 18 players," Sekizuka told reporters.
Goalkeepers
Shuichi Gonda (age 23)
Shunsuke Ando (age 21)
Defenders
Yuhei Tokunaga (age 28)
Hiroki Sakai (age 22)
Maya Yoshida (age 23)
Kazuya Yamamura (age 22)
Gotoku Sakai (age 21)
Daisuke Suzuki (age 22)
Midfielders
Takahiro Ogihara (age 20)
Taisuke Muramatsu (age 22)
Keigo Higashi (age 21)
Takashi Usami (age 20)
Hotaru Yamaguchi (age 21)
Hiroshi Kiyotake (age 22)
Forwards
Yuki Otsu (age 22)
Kenyu Sugimoto (age 19)
Kensuke Nagai (age 23)
Manabu Saito (age 22)
Reserves
Akihiro Hayashi (age 25)
Kazuki Oiwa (age 22)
Takuji Yonemoto (age 21)
Ryohei Yamazaki (age 23)
Key Players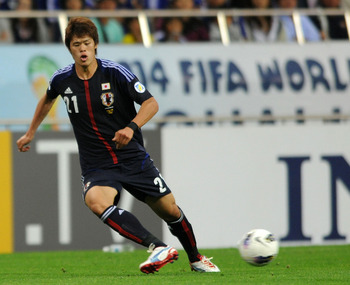 Kaz Photography/Getty Images
Shuichi Gonda, Goalkeeper
Gonda is a talented keeper who plays for FC Tokyo. He is one of the better goalies in Japan, and coach Sekizuka is expecting him to keep opposing teams from scoring.
Japan seems focused on defense and minding the net to advance in the Olympics, and Gonda is at the center of that effort.
Sekizuka opted to leave the third of his available overage players, goalie Akihiro Hayashi, off the final roster. Many thought he would be a better option than Gonda.
Yuki Otsu, Midfielder
Otsu is an attacking midfielder who plays for Borussia Mönchengladbach in Germany's Bundesliga. He is one of the few members from the Japan side that is currently playing in Europe, and brings a wealth of talent and experience.
Hiroki Sakai, Defender
Another Bundesliga player, Sakai was signed by Hannover in June. He's considered a dynamic defender with good tackling skills.
As is often reflected in teams from Japan, he can move forward and be part of the offense as well. He has the size (6'0") and skill to be a strong force in the Olympics.
Main Challengers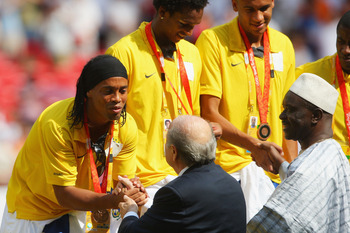 Stu Forster/Getty Images
Brazil
Widely considered the favorite to win the tournament, Brazil hopes to win their first gold medal in the Olympic Games. They have had two silver and two bronze since some professional players were allowed to join teams in 1984.
Brazil's soccer federation has amassed an amazing roster and appear ready to assert their dominance in the Olympics. Their biggest challenge could come from the pitch they are playing on as opposed to the teams they face.
Great Britain fans will be out in force and could be the deciding factor in the knockout rounds.
Spain
The side from Spain are one of the top threats in the tournament. They won the UEFA European Under-21 Football Championship last year, demonstrating the talent they have from their younger players.
They also boast three players from their Euro 2012 championship team.
Spain are loaded with players from the Premier League, including David de Gea (Manchester United) and Juan Mata, an over-aged option from Chelsea.
Mata won the Golden Player Award in the aforementioned 2011 UEFA tournament.
Great Britain
While Great Britain hasn't placed a soccer team in the Olympics since 1971, they should be ready to compete on their home turf. They are led by the talented Welsh captain Ryan Giggs, a midfielder who plays for Manchester United.
The team is loaded with Premier League talent, but they may not be enough. While they have experience, they have not played together. Team G.B. were given a berth in the Olympics without qualifying and simply haven't developed the cohesion other sides have.
Mexico
Mexico grabbed the other top seed in the tournament and is a favorite to make one of the medal games. They were basically unstoppable in CONCACAF qualifying, going 3-0 in group play. They won their two knockout games to earn the top seed.
Their future looks solid, but the youngsters that took third in last year's U-20 World Cup may not be ready to win an Olympic medal.
Prediction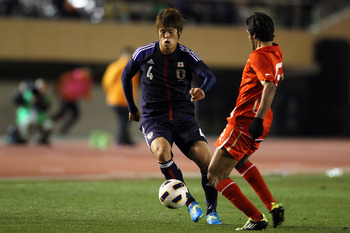 Koji Watanabe/Getty Images
Japan will not likely have enough firepower to earn a medal in soccer at the 2012 Olympics, at least not on the men's side.
Japan is expected to be one of two teams to advance out of their pool, which includes Spain, Honduras and Morocco. However, Spain is one of the gold medal favorites and will likely take the top seed from Group D.
As team two from Group D, Japan would face the winner from Group C. That will likely be Brazil, pretty much ending the tournament for Japan.
Some of the decisions made regarding the roster made it appear that Japan was more interested in giving certain players international experience than placing their best team on the pitch. Their road to a medal game looks to be torturous, which could have had some bearing on looking to the future.
Keep Reading