WWE Raw SuperShow, July 9: GSM's Analysis and Aftermath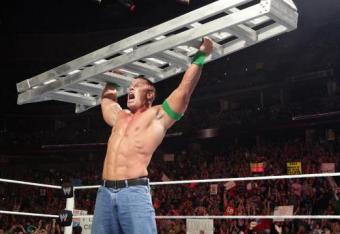 John Cena is the last man standing. (Courtesy of WWE.com)

After a near seven month hiatus, I return my reviews of WWE programming to Bleacher Report. What better what to return than with my exclusive thoughts on one of the most atrocious shows of the entire year?
With only six days left until WWE Money in the Bank, this show featured minimal action, illogical angles and straight-up silliness.
Here, I will analyze each significant segment presented on the show. I will also provide a combination of aftermath and wishful thinking about what we hope to see in coming weeks.
WWE Champion CM Punk, AJ, and Daniel Bryan Opening Segment
Odd opening segment to kick off the show. As much as I enjoy this on-going saga featuring AJ, WWE Champion CM Punk and Daniel Bryan, the whole "marriage" thing felt a bit unrealistic.
Of course, this is wrestling after all, but it was simply strange to say the least. Sure, everyone played their roles well here, but this segment didn't do much for this viewer.
World Heavyweight Champion Sheamus def. Jack Swagger (non-title)
Meaningless match with World Heavyweight Champion Sheamus defeating Jack Swagger. Sheamus has already been established as a dominant force so there was no purpose to this match.
AJ, CM Punk, and Daniel Bryan Opening Segment
The fact it lasted nearly two minutes didn't help either. Alberto Del Rio's promo on the Titantron that followed was fine, at least it hyped their World title match for this Sunday.
Tensai and Dolph Ziggler def. Intercontinental Champion Christian and Tyson Kidd
Throwaway tag team match with Tensai and Dolph Ziggler defeating Intercontinental Champion Christian and Tyson Kidd. My issue with this match was that none of the superstars received entrances, it was joined in progress, and it ended within a minute.
What does that say about the competitors involved in the World Heavyweight Championship Money in the Bank Ladder Match?
Obviously, it makes it feel like it's unimportant. Although, Tensai's domination did help rebuild some of the heat he's lost in recent months. Nonetheless, the destruction of Kidd has my fingers crossed that he won't be removed from the MITB match following the attack.
Brodus Clay def. Drew McIntyre
Typical squash match between Brodus Clay and Drew McIntyre. It's a shame to see Clay go from headlining shows in his mini-feud with Big Show back to squashing irrelevant superstars.
John Cena and Kane vs. Chris Jericho and Big Show
They've taken one step forward and two steps back with his character, so I'm hoping they find him something to do in the very near future.
John Cena and Kane def. Chris Jericho and Big Show via DQ
Solid tag team match with John Cena and Kane defeating Big Show and Chris Jericho via disqualification. Although the action was good, the logic behind it wasn't.
Why would Cena tag with the same man who decimated him for three months earlier this year?
The bout received great time, but the two commercial breaks took away from it and hindered the action. Since when can you get disqualified for pulling your partner out of the ring?
I'm glad Jericho mentioned his past history with Show in Jeri-Show from 2009, but it wasn't made as big of a deal as it should've been.
I question the move having Cena be the last man standing at the end of the segment, since it's pretty predictable that he'll be winning on Sunday anyways.
Sin Cara def. Heath Slater to Qualify for the World Title MITB; Bob Backlund Returned
The Anonymous Raw General Manager is revealed
Fine match between Sin Cara and Heath Slater. We've seen it a hundred times before, so it was obviously nothing new.
I love the idea of inserting Sin Cara into the Money in the Bank Ladder Match since his style matches nicely with the environment of the match-up. Bob Backlund's return was a fun surprise, as was seeing him lock the Crossface Chicken Wing on Slater.
Jerry Lawler def. Michael Cole; Anonymous Raw General Manager Revealed
Horrendous segment with Jerry Lawler defeating Michael Cole. I can easily assure you that the poll was rigged. It was in favor of "No" on WWE.com minutes prior to it being aired on Raw.
What did this match accomplish exactly?
The finish with the Anonymous General Manager switching the result of the contest was an exact repeat of what occurred at WrestleMania 27. Even worse, Hornswoggle was revealed as the Anonymous Raw GM.
Yes, Hornswoggle.
After two years of build up this was the result. I respect the WWE in the sense they finally tied up the loose end, but seriously?
CM Punk & AJ vs. Daniel Bryan & Eve
WWE Champion CM Punk and AJ def. Daniel Bryan and Eve
Brief match with WWE Champion CM Punk and AJ defeating Daniel Bryan and Eve. This contest featured four of the best workers in the company today and could have been given more time.
It was quickly forgotten by the end of the night since the segment that followed focused even more on AJ with it being decided that she's not marrying either man. It added a sense of intrigue going into the WWE Championship Match at Money in the Bank, but where is the focus on the WWE title?
Overall Show
Overall, a terrible show that did very little to get me excited for Money in the Bank this Sunday, given the amount of hype (or lack thereof) it received throughout the night. The action on this show was too short to mean anything while most of the promos were uninspiring.
Some of the segments were not only meaningless, they had absolutely no place being on a go-home show for a pay-per-view in only six days.
GSM out.
For my full live Raw Reactions, click here.
Visit my website at Next Era Wrestling, as well as listen to my SAVE US GSM radio show that airs every Thursday night at 10/9c for more of my thoughts and writings, along with WWE/TNA news, reviews, recaps and more.
Listen to internet radio with Spoilerspodcast on Blog Talk Radio
This article is
What is the duplicate article?
Why is this article offensive?
Where is this article plagiarized from?
Why is this article poorly edited?